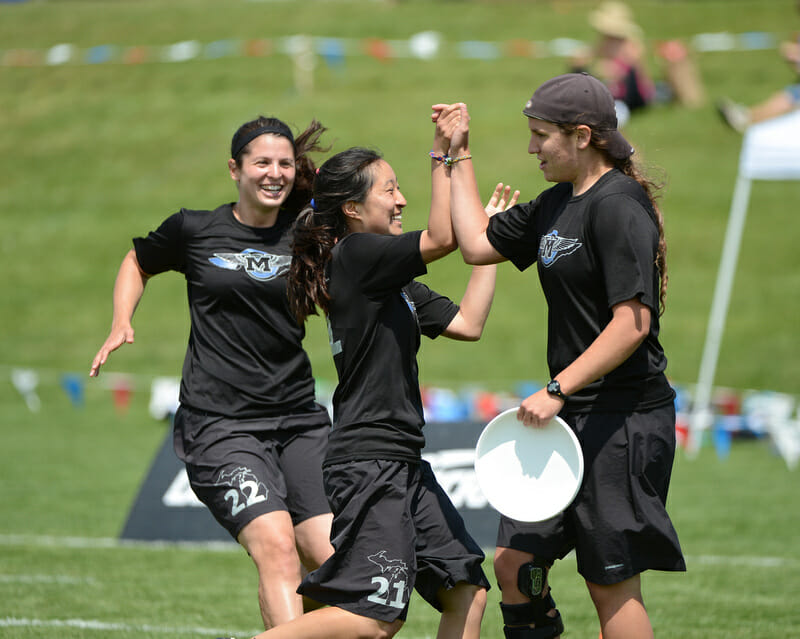 With one bid and four top teams that all have a shot at it, the Great Lakes Region is a very interesting one this season. Normally the domain of Michigan Flywheel, the team had a heavy turnover last season and has been rebuilding all year.
Notre Dame, Northwestern, and Michigan State all have realistic paths to the game-to-go. Can they overcome Michigan's historic success and big-game experience? 
THE TOP CONTENDERS
Notre Dame
We are not picking a favorite in this region, as it feels like a total tossup. Notre Dame comes in as the one seed after taking down Michigan State in the finals at Conferences. But can they sustain a high-level of play without historic success and a proven system?
They lack of big games against tough opponents always makes it harder to win at Regionals, and Notre Dame has just two of those: Minnesota and Florida State (both losses). But wins are wins!
Notre Dame is led by captains Kelsey Fink and Kelly Taylor, and have had big contributions from senior Devlin Lynch.
They run a strong zone, which, given that conditions are going to be calm and sunny this weekend in Rockford, Illinois, may not be a huge advantage.
#23 Michigan
It's hard to pick against Michigan Flywheel at Regionals, even in a rebuilding year like this one. They lost a lot of talent last year, but have clearly improved over the course of the season, finishing 6-1 at Centex to take the Division II title.
Although they lost to Michigan State at Conferences, they turned around and crushed them 12-4 later in the day to take second place. They never faced Notre Dame.
2012 Callahan winner Paula Seville is now coaching the young squad. While you, of course, can't replace a Callahan winner, they get big contributions on the field from Meeri Chang and captain Annie Fisher.
Michigan has been inconsistent, but they have the most big-game experience and a rock-solid program. Those are elements that tend to win you games on Sunday at Regionals.
THE BUBBLE TEAMS
Michigan State
With a win over a rebuilding Michigan at Conferences, Michigan State has to like its chances heading into Regionals. They lost to Notre Dame twice, but close, and notched a win over Michigan — their first in five years — early on Sunday.
Watch for captain Marissa Heim and Sarah Craddock to be making plays for Infamoose.
Northwestern
Northwestern has the best win of any of the teams in the Great Lakes region, an 11-10 victory over #3 ranked Iowa State.
Lien Hoffman has come back strong from an early season injury and can lead this team to Nationals.
Despite a four seed, they may be they most dangerous team in the Region — they've simply been plagued by inconsistency. Their game against Notre Dame will tell us a lot about what's likely to shake out on Sunday.
PREDICTIONS
How can you pick in this region? It's really anybody's to take. We lean towards Michigan, but that's admittedly biased based on past success. Northwestern has the highest ceiling and, if they play their best, will take the bid. But they haven't been able to sustain high-level play this season.
Can Notre Dame stay on their hot streak? Can Michigan State surprise everyone? More questions than answers in this region.