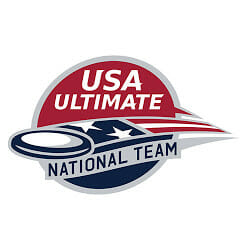 USA Ultimate announced this morning the 13 athletes selected to represent the United States at the 2013 World Games in Cali, Colombia, this summer.
After an invite-only tryout of 78 people, the coaching staff pared the list to 20. Those players played in two training sessions, one of which took place in Boston as the team scrimmaged against an Ironside/Brute Squad combo team. The World Games team took the 15-12 win.
The staff then had to make the final cut from 20 down to 13.
"Selecting thirteen players from our initial 20 was very difficult for Matty and me – all of the U.S.A. team members are great ultimate players, and all of them were at some point shuffled into or out of the final roster in our minds," said coach Alex Ghesquire, who also coaches San Francisco's top Open team, Revolver. "We have ended up with an outstanding group of players going to Colombia and an outstanding group of alternates to back them up. I'm certain that the challenge ahead of our team is significant and that all of our players are up to it."
The players that made the final roster are:
MEN
– Ryan Farrell (Johnny Bravo)
– Ashlin Joye (Revolver, SF Dogfish)
– Beau Kittredge (Revolver, SF Dogfish)
– Mike Natenberg (Doublewide)
– George Stubbs (Ironside)
– Mac Taylor (Revolver, SF Dogfish)
– Dylan Tunnell (Chain Lightning)
WOMEN
– Georgia Bosscher (Heist)
– Cara Crouch (Showdown)
– Sarah Griffith (Riot)
– Cree Howard (Fury)
– Octavia Payne (Scandal)
– Alex Snyder (Fury)
The final seven cuts — of course all outstanding players who will serve as alternates — were Anna Nazarov, Brett Matzuka, Chase Sparling-Beckley, Nick Spiva, Rohre Titcomb, Russell Wynne, and Sandy Jorgensen.
You can follow the team on their blog and their Twitter account.
Team USA has won back-to-back gold medals at the World Games in 2005 (Germany) and 2009 (Taiwan). In 2009, the World Games raised the roster limit from 11 to 13.