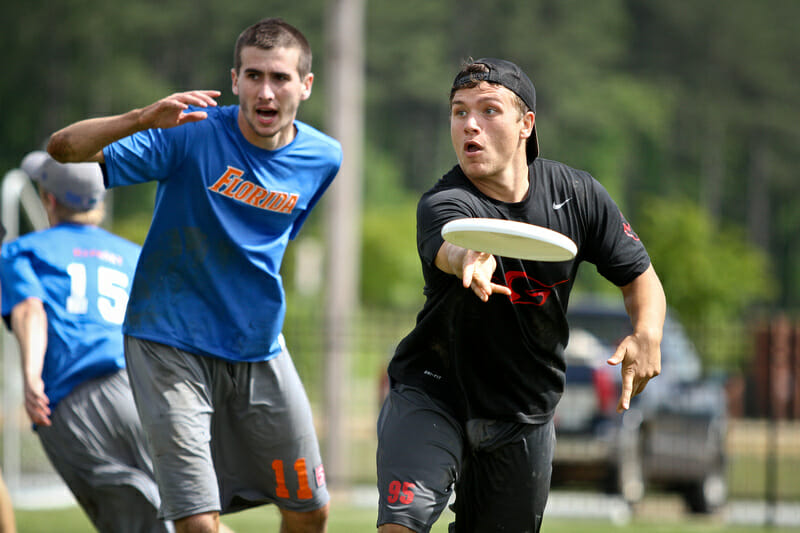 It's been well-documented that the top of the college Ultimate world is an exclusive club. That club extends beyond just those that win National Championships; year in and year out, the same teams qualify for college ultimate's most prestigious tournament.
What gives? Why do we see the same teams on top? Evidence suggests that self-confidence plays a large role in performance in sports. Teams that "know how to win" — and have the confidence in the biggest games — consistently rise to the top. But there is also research that finds that regaining lost self-confidence on a team-wide scale can have an indelible impact on a team's performance.
So, when a team like Georgia misses Nationals for two straight years after qualifying every year since 2005, how does that team regain that confidence that it needs in order to make it back to the top?
The answer, for Georgia, was not a simple one. It was a long process that included a coaching change, powerful leaders, and a young defensive group that is to die for.
Well into the fall (merely a week and a half before its home and only fall tournament), Georgia's now coach, Ben Gray, was approached by the team leadership to join the program and help restore Jojah to its former glory. Gray was an integral part of Arizona's run to Nationals in 2008 and brought a new mindset to Georgia's sideline.
"The way I wanted to be coaching was to make sure that we were always framing things in a way that was positive for the team and looking forward," Gray said. "I think there was a different mentality that I was bringing and I think it was maybe time for someone who was outside of the program to come in."
That mentality became crucial to improving the team's confidence as Georgia dropped its first game at Regionals to a much lower-seeded Auburn team and struggled to double game point victory over Tulane.
"After the Auburn loss, we were in the huddle and I told them, we have two choices," Gray said. "We can get real pissed off about this loss and that can guide our day and our weekend or we can look at the facts and look at what the facts tell us. That is that this loss doesn't really mean anything in the grand scheme of this tournament. It might if we lose again but if we take this loss and go from here, we'll be alright."
Gray said that the team was still reeling from their first round loss and Tulane took advantage, but by halftime UGA settled in and got into its rhythm. That confidence held for the remainder of the weekend as Georgia closed out pool play with victories over Tulane and Florida. Those victories placed Jojah in prime position for bracket play. The team handily beat Alabama in quarterfinals, and eked out a win over Conference rival Georgia Tech in semifinals to guarantee its spot in Madison.

Where did that rhythm came from? It's simple if you ask Gray. He attributes Georgia's regional victories to his young defensive group and the team's veteran leadership.
"Those guys on the D line wanted to be in there and wanted to succeed and those guys really helped us out," Gray said.
Gray estimates that, over the course of the weekend, the defensive unit for Georgia had a 25-30% conversion rate on break opportunities. According to Gray, without that tenacity and efficiency, this article might be about Georgia Tech or Florida.
"There were just too many situations that we were in that if that wasn't the [conversion] percentage, we wouldn't have won those games," Gray said.
Don't just take coach's word for it, though. Senior captain Cameron Macke has felt his confidence as a player renewed by having a young, athletic defensive unit at his back.
"I think at the beginning of the year we focused a lot on offensive efficiency," Macke said. "But this team never has been and probably never will be a real pretty offensive team. It can be a little nerve-wracking to have multiple-turn points but even in our game-to-go against Tech where we had a bunch of marathon points back-to-back-to-back, we got all those."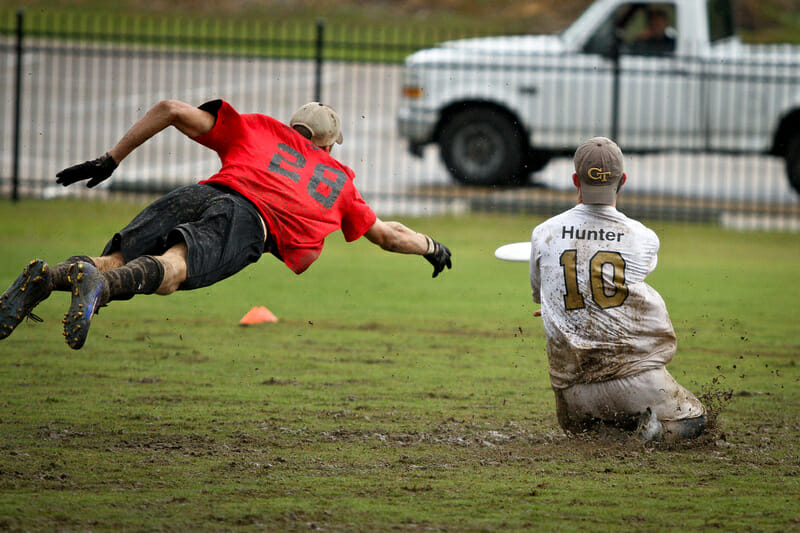 In talking with Gray, when it came to his young defensive unit, he couldn't mention one guy without mentioning another three. He threw out an army of names in the likes of Mike Peters, a serious deep threat defender; Shawn Paul, a mid-cutter defender; and rookies Sam Little, Tyler Haskell and Ryan Pappafotis, the first two of whom took turns covering Florida's Bobby Ley and Georgia Tech's Jay Clark.
Pappafotis, who was nominated for the All-Freshman team in the Southeast Region, spent the Regional finals matched up against UCF's Mike Ogren.
"They grew a ton over the year and learned how to play defense against players like Jay and Bobby Ley," Gray said. "Not shutdown, but contain and neutralize. Those guys played great defense and were the guys getting us a lot of turnovers."
Having such a deep and interchangeable system leads to Georgia throwing an unrelenting man-to-man defense in even the worst of conditions and asking each of the players that comes on the field to win his matchup.
Beyond an uncompromising defensive strength, Gray found that the team's veteran leadership had stepped up in terms of leading the team confidently. That group is a group led all too quietly by senior Max Leonard.
Leonard has been a mainstay for Georgia since his freshman year in 2010 (he got legitimate playing time against Oregon at Nationals [see 14:00-21:00, he's #8] and again in his sophomore season in the game-to-go against Florida). Though he's not the flashy player with the hype that Georgia has in Elliott Erickson, Gray attributes as much of Georgia's success this season to Leonard as he does to any other player.
"He never gets any love and he is the guy on our team who makes everything happen on offense," Gray said. "He should be on the All-Region team and he makes everything happen on offense. His breaks are crazy and he skies people all the time and he never gets the love he should."
So, if it's confidence that Georgia needs, then they certainly have that. At the very least, between an aggressive, athletic and potent young defensive group and an offensive leader with the abilities to conduct an admittedly haphazard attack they know where they should be placing their confidence. All they have left now is to actualize that confidence into results over Memorial Day Weekend.