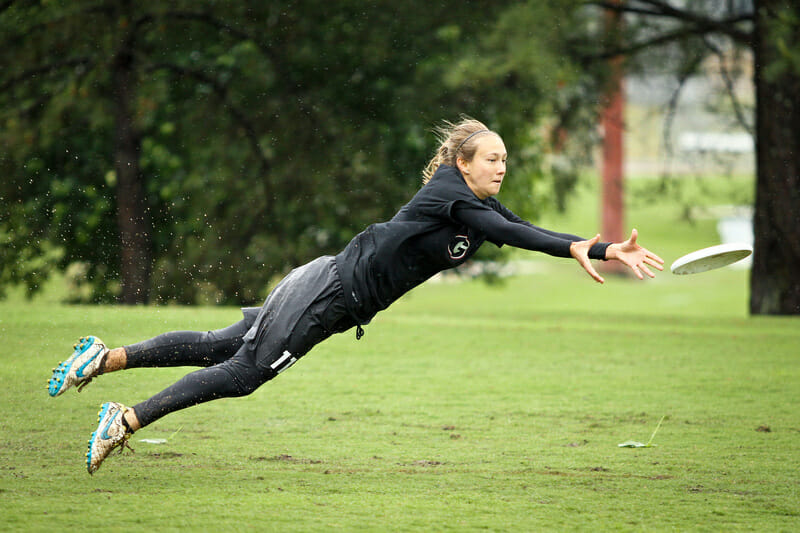 While the Pool of Death is a common topic of discussion at big tournaments, Pool B is interesting as the Pool of Redemption (trademark pending). Four of the five teams in this pool were not at the College Championships last year. All four of those teams, however, have previously attended the Championships; in fact, three of them have won a collegiate title. Even the Pool B team that was in attendance last season — British Columbia — is looking to improve on earlier poor performances.
For each, they can put last year's mistakes behind them and focus on accomplishing something bigger and better. Carleton and British Columbia look like they could be dominant over the rest of this pool, but it gets interesting for the final bid for a spot in the Prequarters.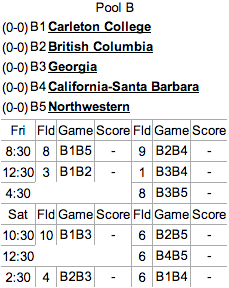 Carleton Syzyzgy Returns To Championships As A Favorite
Stars to Watch: Anna Reed, Julia Snyder
X-Factor: Flannery McArdle
Last's year College Championships lacked a familiar sight in Carleton Syzyzgy. Having fallen at North Central Regionals to Iowa State, they failed to qualify. A mainstay, the program won the title in 2000 and reached the finals in 2004. They emerged the champions of this season's strongest region, the North Central, defeating #3 overall seed Iowa State to claim the crown.
Their tournament record is strong, but maybe not typical of such a high seed: 2nd place at Queen City Tune Up, 5th place at Stanford Invite, and 6th place at Women's Centex. However, they've lost just seven games this season, and those losses have been to four teams that are all in the mix at the College Championships (Oregon, Iowa State, Iowa, and Washington). Like a few of the other top seeds, they've struggled with injuries and attendance, coloring their results. Their #2 seed overall is earned.
Syzyzgy is led by the powerful duo of seniors Anna Reed and Julia Snyder. Reed is a returning All-Region selection and one of the game's elite handlers; Snyder will be on USAU's U-23 Women's team. When on the field together — which has not been enough this season — they are difficult to stop with their incredible throwing talents and high pressure defense. Freshman Kirstie Barton and senior Taylor Want help out with handling. Downfield, senior Marley Hartman-Filson provides a dangerous deep threat and is great in the air, while senior Grace Quintana is able to use her speed and athleticism to get open. Flannery McArdle, like Hartman-Filson, is a tall target and the team's most skilled cutter, capable of taking over a game. Still, Syzygzy relies on Reed, a versatile break thrower with a long range forehand huck who can play tenacious dump defense, to make big plays when the team needs them.
After Beating The Best Once, Can British Columbia Do It Again?
Stars to Watch: Catherine Hui, Rena Kawabata
X-Factor: Crystal Koo
British Columbia has, in the past two years, finished 19th and 11th at the College Championships, both times from the third seed in their pool. This year, expectations are much higher. "Every player, every practice, every sprint, every throw [has] led us to this moment," senior Captain Rena Kawabata told Ultiworld, speaking to a unified team with intentions to "take Madison by storm." The T-Birds, who won the Championship in 2008, are looking to make the most important tournament their best tournament. "Our goal is take the title," said Kawabata.
It would be their first title of their season. Twice they've had a chance to win one — first at the President's Day Invite and then at Pacific Coast Conferences — and twice they've been defeated by Oregon. As Kawabata noted, however, "to be the team that notched Oregon's only loss says a lot," referring to a 12-8 Pres Day win over the #1 overall seed. UBC has only six losses this year, with all of them coming to College Championships teams (Oregon, Washington, and Wisconsin). Along the way, they've earned the respect of their Regional rivals: Oregon's Jesse Shofner said, "I can't wait for the rest of the country to see how good UBC is," while Washington coach Kyle Weisbrod said, "If the weather is good, they are the team to beat."
The Thunderbirds' roster shows why so many strong teams recognize them as a threat. Senior Catherine Hui is one of the division's top performers (the only woman with 15+ goals, assists, and Ds at last year's Championships) and one of two UBC players joining Canada's World Games team. She's supported by Kawabata, another high quality cutter who is very capable once she catches the disc. She's a creative thrower and one of their best weapons against zones.
Senior Crystal Koo, a Canadian U-23 team member, does the bulk of their handling, and has been playing very strong as of late. Missing will be injured freshman cutter Mira Donaldson, a dominating presence who joins Hui on Canada's World Games squad. They will be rejoined by cutter Amira Maddison, who combines with Ellen Schelew and Lisa Wong to give them a stable of weapons.
Worthy of mention is also Gera Stancheva, one of the Northwest's top handler defenders, and an important counter to the strong throwers they'll see in their pool and this weekend. "[Our] style of play is a calm and collected offense with some great deep looks to our speedy receivers," explained Hui, adding in that defensively they have a variety of junk looks. They've had some struggles with zone offense in bad conditions this season, so it'll be favorable if the winds are as calm as the Thunderbirds are.
Georgia Dawgma's Large Senior Class Looking To Go Out With a Bang
Stars to Watch: Lane Siedor, Emily Lloyd
X-Factor: Hannah Leathers
These days, few remember that Georgia Dawgma has a title to their name. It could be because, since that 2001 win, they've only returned to the big show three times. This season will be the first time since 2006.
This version of Georgia, however, has been building up to this. "What's special about this year is not the number of seniors; it's the cumulative effort of those seniors and of the entire 26-person roster," said coach Amble Johnson when asked about their senior class. "We increased the patience, support, and accountability of the whole team culture. Basically, the team has had to learn how to win, and that's hard work."
Two straight years they've been in the Southeast Regionals final, in a one bid region, and fallen short to Florida. The Dawgma class of '13 — more than a full line's worth that will be leaving Dawgma at the conclusion of the tournament — has swelled in size, and Georgia's resurgence is the culmination of a program rebuild.
The year started well for Georgia, who won their hometown Classic City Classic in the fall, and started spring with an undefeated win at the Florida Winter Classic. They would finish the regular season 14-5 with victories over Ohio State, Texas, and Central Florida.
They went on to an undefeated run through the Series, winning the Southeast, netting them the highest seed (11) a Southeast team has had at Nationals since the regional redraw. Worrisome are losses to Northwestern & Florida State, and some close calls against weaker competition along the way. It is safe to say they won't be just happy to be there, but they'll need to step it up to push the top teams.
The Dawgma rotation runs fairly deep, but four players shine as true standouts. Junior Lane Siedor is the center of the team, a 5'10" hybrid player who operates almost exclusively as a handler offensively, and has the size to make an impact on defense. Senior cutter Emily Lloyd is a very explosive downfield threat, comfortable coming under or making well timed deep cuts. Senior Julia Fuster is a defensive virtuoso who takes on the toughest downfield matchups.
This year has been a breakout for senior Hannah Leathers, a dynamic weapon capable of making the highlight reel plays. They also get great contributions from senior handlers Courtney Farrell, a poised deep thrower and a reset machine, and from handler-defending senior Anraya Palmer.
Their horizontal stack offense runs with a patient and mechanical efficiency, though they struggle to use the width of the field. Defensively, coach Johnson describes them as "athletic and tough." More importantly, they are committed and intense on defense; Johnson said, "When we're playing well, we're absolutely parasitic."
A Return to the Championships Not Enough For UC-Santa Barbara
Stars to Watch: Alicia Thompson, Lisa Pitcaithley
X-Factor: Katie Hawn
The 2012 College Championships marked the first time in six years that the Burning Skirts were not in the final. That's because they failed — shockingly — to get out of the five bid Southwest region. Now that they have returned, they are back to the same aspirations as one would expect from a true powerhouse program: "Win Nationals." If they accomplish that goal, UC-Santa Barbara will net their sixth title, the most recent coming in 2011 and 2009.
The Skirts' year got off to a solid start (if you look past the Santa Barbara Invite's weird rain-soaked revamp), notching wins over Washington and Texas while playing well against Oregon at Pres Day. At Stanford Invite and Women's Centex, however, they'd drop games to California, UNC-Wilmington, and get blown out by Tufts on their way to a 7-6 showing.
Their rival, Stanford, beat them in a dramatic Regional Final, 12-11. "We have had a few starters out at every tournament due to various injuries," the team told Ultiworld, "We are all finally healing and will be ready to go for the Series." They also explained they had been building depth with open lines, even in competitive situations.
UCSB returns 2012 2nd Team All-Region player Alicia Thompson, a senior Captain who can handle for the team, but is often used as an initiating cutter. In spite of ligament surgery, she remains one of the Southwest's most feared weapons. Lisa Pitcaithley, a former Junior Worlds alternate & current USA U-23 Mixed team member, made the move to the college women's game, where's she been a dominating influence. Rangy, athletic, and very skilled, Pitcaithley is capable of making jaw dropping plays.
But it may be senior Captain Katie Hawn that can help put them back into the conversation. She's a quick downfield target that moves confidently in the lanes. Kaila Pollart, the team's third senior Captain, is able to use her height to noticeable effectiveness as a handler. Sophomore Noelle Neason is also an offensive contributor to watch out for.
A Challenging Weekend Lies Ahead for Talented Northwestern
Stars to Watch: Lien Hoffmann, Angel Li
X-Factor: Lien Hoffmann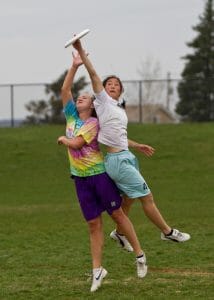 Following the theme of redemption, Northwestern is appearing in their sixth Championship since 2000. While their program has finished as high as 5th at the tournament, last year they finished 5th at Great Lakes Regionals. A lot can change in a season.
Northwestern had some struggles in the regular season for a team with their aspirations. They are just 2-6 against teams in the Championship field, with some disappointing results at Queen City Tune Up and Women's Centex. Playing without senior star Lien Hoffmann, who was recovering from a ligament injury, certainly played a part, but their stumbles are spread out. There are definitely bright spots that show they could be dangerous — wins over Iowa State and Georgia stand out — but losses to Colorado State and Dartmouth reveal inconsistent play.
Gung Ho, like many midwestern teams, has had to battle tough conditions, and often has not fared well against the elements. They've traversed the Series so far without a loss, but in an underwhelming Great Lakes Region. Taking them lightly would be ill advised, but it's hard to expect a string of upsets from them.
Tempered expectations for Gung Ho are not born of lack of talent. There are few players in the country that can take over a game like Hoffmann. She's an explosive cutter, capable of generating separation against defenses gameplanning for her. Being that quick doesn't hurt on defense, either. Senior captains Angel Li and Carol Li (unrelated) give the team steady hands, smart upline cuts that their offense depends on, and strong throwing to their numerous targets. After that, a group of cutters share downfield responsibilities: senior Brooke Stanislawski, junior Alex Chudler, and senior Katie Raynolds. Rose Gruenhagen, the third senior Captain, has proven an important defender for Gung Ho as well.