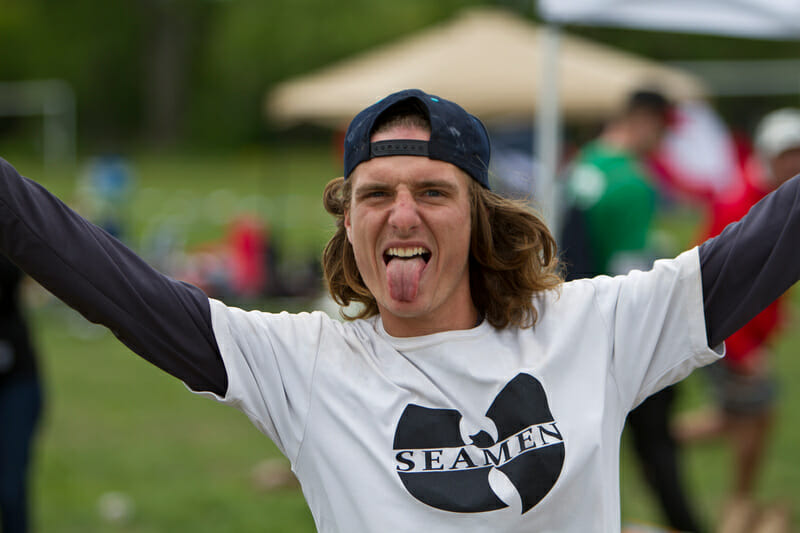 All weekend, players and coaches have talked about how the College Championships are all about timing. Sometimes the timing works out for you and sometimes it doesn't. Sometimes, the stars align and you have the game of your season at the time when you most need. Sometimes, you run into a team that is having the game of its season and yours collapses right in front of you regardless of what you try to do.
That is exactly what happened between the Colorado Mamabird and the UNC-Wilmington Seamen. UNC-W was a buzzsaw in this game and Mambird, try as it might, could not do anything to get Wilmington out of its comfort zone. The Seamen triumphed by a count of 15-11.
The game began auspiciously for Colorado. Wilmington has been employing a unique strategy in several of its games this weekend that involves throwing fast, rolling pulls that land in-bounds and roll out of bounds very close down field. This has allowed UNC-W to stop any set plays that opposing teams have called and clamp down of defense from the moment the game begins.
That style led to two fast breaks for Wilmington who took a 2-0 lead. Behind stellar first half play from star Jimmy Mickle, who accounted for all but two of Colorado's first seven goals by either throwing or catching the score, Mamabird would eventually tie things up at 3-3, but the fast start was instrumental in UNC-W shaking Colorado up from the get-go.
"With those two breaks, 2-0, history was on our side," UNC-W coach Tully Beatty said after the game. "In 2010 you could see it in their faces, this year, you could see it in their faces. History was on our side at that moment."
(Writer's note: Beatty was referencing the 2010 College Championships where UNC-W upset Colorado on the same field, in the same round, by the same score with, believe it or not, one of the same observers).
Wilmington coaches Greg Vassar, Tully Beatty, and Brian Casey spent the better part of their postgame interview passing credit back and forth to each other for the strategic changes they've made for this tournament.
"You have to put Tully Beatty in your article," Vassar said. "He's the architect of today, the attack approach in the Pitt game, the level-headedness in planning out everything from our warm-up to what these guys eat before this game, it was [Beatty]. These guys played their hearts out here, this guy coached his ass off."
Beatty sent an e-mail to Ultiworld later in the evening to make an effort at correcting Vassar's statement.
"Vassar was kind with his words about me, but its his team, make sure thats clear," Beatty wrote.
That referential, respectful, and together style of coaching has clearly rubbed on Wilmington's players as there were no stars in this game. Though the Seamen have their fair share in seniors Tommy Lamar and Mark Evans (among others) there were numerous players that played large roles this victory. For Wilmington, that just shows what this team is capable of.
"We're a team that is real streaky," Vassar said. "We probably haven't put together a complete game all season until today, right here. We kept talking about that, 'If we put together a complete game, we're not going to be able to be stopped.' We got broken once and turned it over twice on offense. Every other point for O was one possession."
That efficient play meant that there was nothing Colorado could do to catch up. Mamabird switched up its defenses, from zone to man, from hard forces to flat marks, matchup changes were made downfield, but none of it mattered as the Wilmington machine continued to roll.
Eventually, Wilmington pulled at 14-11 and, on Beatty's recommendation, threw a zone that Colorado hadn't seen yet and CU turned the disc over on the first throw once the zone was in place. The Seamen scored that possession on an inside flick from Evans to Lamar to break for the win.
Earlier this season, Vassar told Ultiworld that he thought this team had the highest ceiling of any team that he had coached. When asked if he thought this game, a nearly perfect one by his team, was evidence that they had finally reached that ceiling he gave a wry smile.
"No, we got broken once," Vassar said.
See more photos from the College Championships on UltiPhotos.