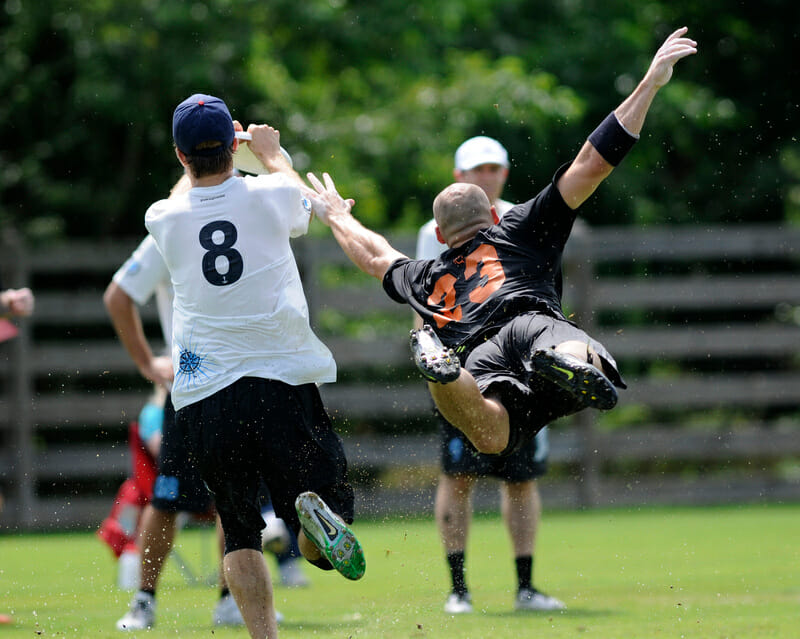 On a beautiful 4thof July day, Raleigh's Ring of Fire opened its club season against perennial powerhouse Boston Ironside. Facing long odds, Ring came out fired up in front of its home crowd. They were dominant in the air on O, and the aggressive D that has been such a staple of the team was generating turns against a rattled Boston OLine.  Execution errors prevented Ring from converting break opportunities, but they were outplaying a talented and experienced Ironside team. Despite going into half down a break, Ring was confident.
But Ironside pulled away, outscoring Ring 7-3 in the second half while playing at a level that only Revolver has matched thus far in the tournament.
They negated Ring's downfield aggression by pushing the disc to the breakside, and then looked to huck off of lateral movement, proving that they too have the weapons to succeed in the deep game.  Ironside has looked strong since, going undefeated through six games.  They've handled most of their competition with relative ease (including defending champs Doublewide) despite playing fairly open lines, and have only been truly challenged by San Francisco's Revolver.
Ring, the home team at this tournament, has yet to get a signature win.  They've played the top teams close and handled their business against the lower seeds, but they've yet to prove they have the consistency on offense to beat the very best.  The Defense is there, and with Ring you know the effort level will be as well, but at this point in the Ironside looks too polished and too disciplined to drop this game.  Boston is undefeated on the week and will be heavy favorites to play into the Sunday championship game.
Ring Statistics:
We spoke about some of our advanced Ring analytics during their live streamed game against Euforia.  Handler Paul Weeks has been a bit all over, with tons of yardage but also a fair number of turnovers.  But our estimate contribution metric rates Weeks, along with fellow UNC co-captain Noah Saul, as the top Ring players.  Both occupy very central handler roles for Ring when they play.
The next two players rate highly for very different reasons: Justin Allen (U23 Worlds) and Dennis Tarasi are DLine-oriented players that also know how to grind out cuts after turnovers.  They are the top players in terms of blocks generated (PT-adjusted), though Brett Matzuka (Team USA) ranks third and close to Allen on that stat.  Allen specifically has racked up a lot of offensive yards while avoiding turnovers; combined with his defensive intensity and his bids, it's easy to see why our numbers like him.  Weeks and Christian Johnson (U23 Worlds) are two defenders that have done well denying touches and yardage.
| | |
| --- | --- |
| Player | Expected Contribution Per Point |
| Weeks | 0.162 |
| Noah | 0.088 |
| Dennis | 0.085 |
| Allen | 0.080 |
| BC | 0.069 |
| Brett | 0.059 |
| Christian | 0.043 |
| Tristan | 0.034 |
| Roy | 0.033 |
| Bender | 0.027 |
| KP | 0.017 |
| JNorris | 0.016 |
| Michael Gastaldo | 0.015 |
| Micah | 0.008 |
| Andrew Ryan | 0.006 |
| Jarrett | 0.003 |
| King | 0.002 |
| JonNutt | -0.007 |
| JTorell | -0.008 |
| Eric | -0.014 |
| Berk | -0.014 |
| Conklin | -0.021 |
| Pope | -0.024 |
| Mullen | -0.035 |
| Tuba | -0.038 |
| Toner | -0.040 |
Ironside Statistics:            
The parity of talent on Ironside makes it difficult to identify any single stud player.  They've done a great job sharing the disc, sharing touches, and sharing assists.  Of course George Stubbs is there near the top in goals scored and yardage gained, but Alex Kapinos is right there in scoring (.3 goals per point played). Josh Markette has done a great job of playing efficiently, leading the team in involvement yards per turnover committed and ranks number two in total expected contribution.
Predictions:
Husayn Carnegie (Ultiworld Contributor): Ironside 15-12 Ring
Sean Childers (Ultiworld Statistics Editor) Ironside 15 – 14 Ring
Charlie Eisenhood (Editor-in-Chief): Ironside 15 – 11 Ring
**The statistical analysis was generated using the UltiApps tracking application, freely downloadable on your iPhone or Android device from Ultiapps.com