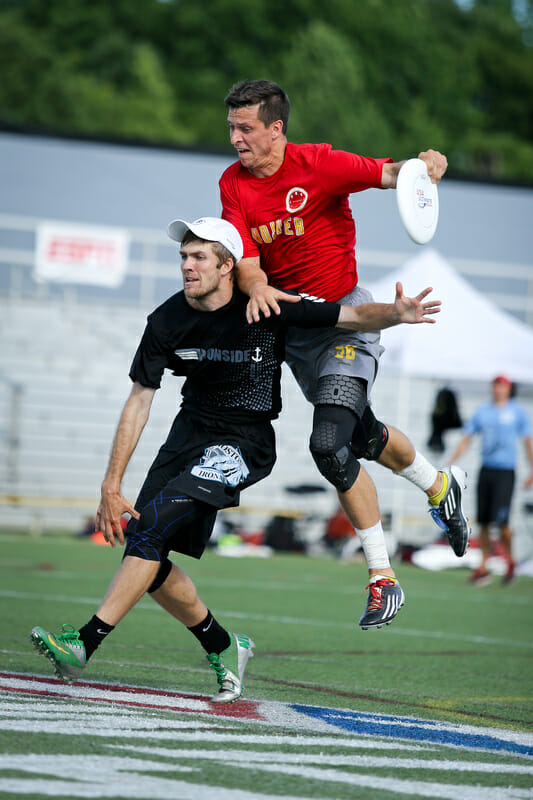 On double game point of Revolver's pool play game against Ironside, Beau Kittredge was visibly upset about a teammate's poor decision turnover, one that led directly to an Ironside victory. In their rematch in the finals, Kittredge demanded the disc on double game point with a powerful deep cut and brought down the score past two defenders to earn Revolver the 2013 US Open title.
The 16-15 win looked remarkably similar to their previous matchup in the tournament, with Revolver taking a first half lead before Ironside was able to string together some late breaks to get even. There was little separating the two teams.
"It came down to one missed throw in the first [game] and one good catch at the end of this one," said Kittredge. "It always comes down to one play here or there that will decide a game."
Both teams were playing extremely even to start the game. The offensive lines were working down the field smoothly with a 15 to 20 mile per hour wind at their back. Josh "Cricket" Markette was quarterbacking for Ironside as the Revolver offense spread out the touches with good disc movement and strong cutting.
The first break of the game came with the score tied 3-3. Ironside's Peter Prial caught a disc right on the side of the endzone as he was bumped hard out of bounds by his defender. After a foul call, the decision went to the observer who ruled that Prial was both out of bounds and that there was no foul, giving Revolver the disc.
Replays showed that Prial had his foot inbounds, but the decision was final: it would be the first turnover of the game.
The Revolver defensive line worked it crisply up the field into the wind and punched in the score to rookie Jordan Marcy. He was one of many new Revolver players to make a big impact on the weekend.
"I'm actually really excited by the new players," said Kittredge. "Last year, I was extremely frustrated with the attitude of the team, which might have been a little bit of, 'We've been good for so long.' [The retiring players] were kind of burnt out, maybe. They were all good players that were playing last year, but there wasn't really that grr, that bite. These young players really have that."
Lucas Dallman, another rookie, would make a great deep cut on the ensuing downwind D point to put Revolver up two breaks. The teams traded out on offense to an 8-6 halftime lead for San Francisco.
Ironside started the half with a critical hold on offense after a turnover thanks to a big interception by Alex Kapinos in the Revolver endzone, grabbing the disc a split second before the offense. Revolver then had two unforced turnovers on their ensuing offensive possession to allow Adrian Banerji to punch in Ironside's first break of the game.
The Ironside offense would be broken once more in the second half, but they played even better than in the first. Particularly impressive was George Stubbs, who threw some outstanding assists, including a perfect 3/4 field flick huck to Peter Prial.
Stubbs, though, would not see a point on the D line. Normally, in a tight game, he would have played most of the points down the stretch.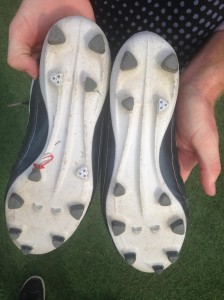 He was not at full speed, he said, due to the poor condition of the turf causing his hamstrings to tighten up. Many players were slipping on the shallow, impacted surface. Stubbs lost three cleats on the field.
"My semifinals and finals was not me at 100%, which is a little bit frustrating," he said.
The defensive line was able to generate some breaks, however. After Stubbs hit Prial to make it 13-11, the defense rattled off two breaks. Rusty Ingold-Smith had a big layout D on a dump pass to get Ironside the disc and a tie game, 13-13.
The game had all the qualities of their pool play matchup: an early Revolver lead, a second half Ironside comeback, and, ultimately, a double game point with Revolver receiving.
This time, though, Revolver would not make a mistake, putting it up for Kittredge to make a big play.
Josh Wiseman had an outstanding game for Revolver, and the team looked surprisingly cohesive despite bringing in a large rookie class.
"Every game we've been battling," said Kittredge. "Especially because a lot of us have never played together."
Ironside was frustrated after the loss, particularly because of their poor defense that never generated much pressure on Revolver's offensive line. Most of Ironside's breaks came from unforced errors, not blocks or pressure Ds.
"I think we were halfway between playing a poachy zone and man defense," said Ironside coach Josh McCarthy. "And were not committing to either one. And even when we committed to the man, we were still sagging way too much."
Captain Russell Wallack said they still need to get more organized as a defense; the goal right now is to focus on individual improvement. "It's been a resilient weekend," he said.
Both teams enjoyed the early season opportunity to play against the country's top competition. Revolver walks away with a $2,000 cash prize for winning the tournament and the 2013 US Open title.
Normally, these teams don't compete until August. "It's a good reality check," said McCarthy of the early season test. "It's going to be a tough haul for every team here, every team at Nationals."