The best of the best in the Men's Division.
Ultiworld's 2016 Club Awards are presented by BE Ultimate; all opinions are those of the authors. Please support the brands that make Ultiworld possible and shop at BE Ultimate!
With Nationals over and the winners crowned, it is time to take a moment to recognize the top performers in the Men's Division this season. While the talent of the division reaches far beyond short lists, the All-Club teams are meant to honor those players who put together the best seasons in the Men's game this year.
While we consider both regular season and postseason performance, because of the nature of the club division, we weight success in the Series and at Nationals above all else. The All-Club teams are selected based on input from Ultiworld reporters, contributors, and editors.
Jimmy Mickle (Denver Johnny Bravo)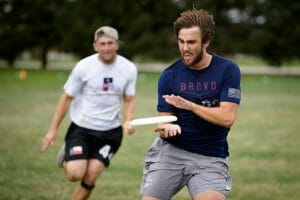 At the start of the season, Denver Johnny Bravo called 2016 a rebuilding year. In the era of the Triple Crown Tour, a rebuilding year can mean missing the Club Championships. It means weathering the storm of roster turnover and calling a 15th place finish at an elite tournament a learning experience.
But at the end of the season, there was Bravo, a bunch of Rocky Mountain dudes playing beautiful vertical stack with chords composed by Jim Schoettler, in the semifinals at Nationals that was conducted by who else? Jimmy Mickle.
Mickle's been labeled a top talent for years, but he keeps looking stronger and more capable every year. He leads off Ultiworld's 2016 All-Club Men's 1st Team as both Player of the Year and a record fourth straight appearance on this list.
There was no question about who was the top threat for Denver this year — Mickle doled out ten assists against Chicago Machine during a Nationals pool play game, in the wind no less. He already knew how to cut deep and make big plays; now he's running the show at the top of the division. As Bravo's maestro, he tied for second in total assists in Rockford with 25, over only five games.
As he's adjusted to the ebb and flow of club and semi-pro competition, his disc command has become masterful. Mickle moves his mark effortlessly. In Bravo's offense, that meant getting a full look at the open and break side lanes from anywhere on the field. When defenses locked down on unders, he uncorked a deadly accurate hammer that should have even Jonathan Nethercutt taking notes.
First-teamers make the list after incredible seasons of being their excellent selves on the field, but also by making the players around them better. Bravo has talent downfield, but Ben Lohre wouldn't have led the Club Championships in goals were it not for his Player of the Year teammate. What's really crazy is that at 25, Mickle has room to grow.
Kurt Gibson (Boston Ironside)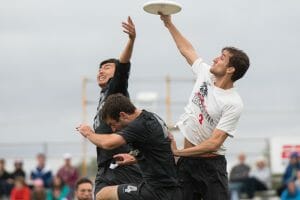 Welcome back to the first team, Mr. Gibson.
The most talented journeyman in ultimate supercharged the 2016 champs, Boston Ironside, with 25 assists and nine goals at Nationals. Gibson factored into 42% of Boston's 84 goals in Rockford. Given how much he likes to be around the disc, it makes sense. What's more impressive is that he pulled that off while slotting into an offense already controlled by one of the more dominant backfield generals in the division: Josh Markette.
Gibson played both ways in big moments for Ironside. He took the field in 21 of the 27 points played in the men's final. At 32, and battling toe-to-toe with San Francisco Revolver's best, he looked a little more gassed than he did when he coolly led Johnny Bravo to a title in 2014 — but he still did it.1
Ironside needed an influx of talent to push them over the edge after nine straight semifinal appearances without a title, but Gibson's contributions went beyond his touches and points. The Boston team admitted that they needed a mental shift, and nothing helps spur a team to victory like someone who has made a habit of winning big games.
With his staggering array of throws, defensive versatility, and leadership, Gibson returns for his third appearance on the All-Club first team.
Nathan White (San Francisco Revolver)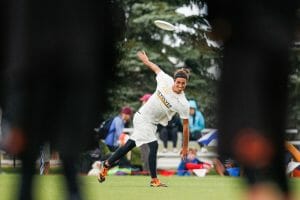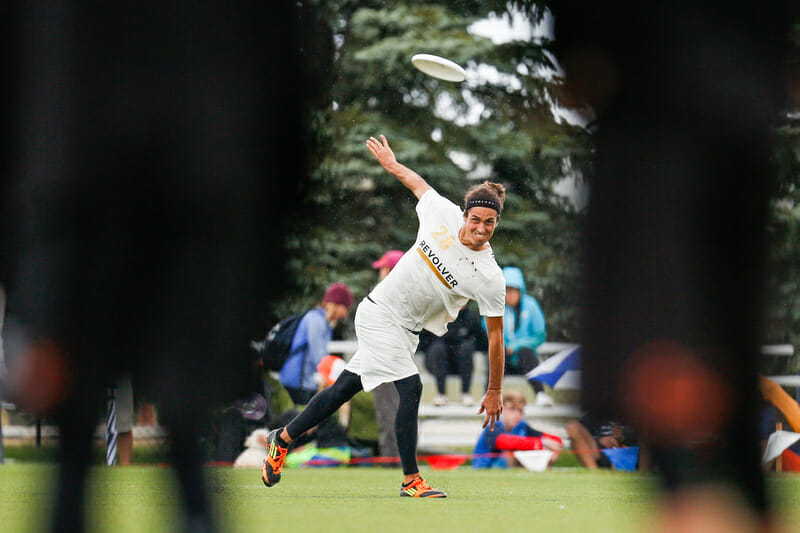 San Francisco Revolver went two full lines deep on defense all postseason long. One of them was led by a true ultimate renaissance man and team captain, Nathan White.
He carved out his spot in San Francisco last year, subbing in on the D-line to act as the centerpiece of a pace-changing zone that Revolver flashed at opponents to take them out of their rhythm. With his wide wingspan, he was the perfect obstacle to bait sky-high shots over the front line for his teammates downfield to knock down, while using his footwork to keep the wall clear of darting cutters.
This year, at age 24, the 6'5" White has broken out of the tall-guy mold. His improving quickness has helped him expand his roles on the field. He still plays the apex in a zone look, but this year he was a go-to handler cover for the D-line. He stayed with his often smaller assignments and improved his mark to the point where, coach Mike Payne noted, he could be both flat and forcing one way at the same time.
That got him two fireworks-worthy hand blocks in the Championship bracket at Nationals. He stuffed a Jonathan Nethercutt throw in the semifinal against Raleigh Ring of Fire and then blanked Jared Inselmann's flick after an Ironside timeout late in the stall count during the final. He laid out low and superman style just a few throws later to give Revolver a late lead, 12-11.
White was literally and figuratively big for his team all season. Even with his active role on the field and getting touches after the turn, he registered only two recorded turnovers between the US Open, Pro Flight Finale, and Nationals.2
Ultimate has reached a point in its growth where disc skills and training have allowed for players to advance well beyond the classic roles that their physical statures would have slotted them in a decade ago. Nathan White was a shining example of that in 2016.
John Stubbs (Boston Ironside)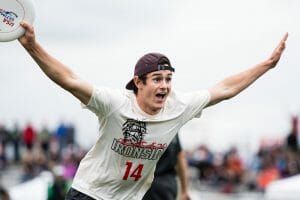 In 2014, Jimmy Mickle won a title in college with Colorado Mamabird, the Callahan Award, Ultiworld's College Player of the Year, and a club title with Denver Johnny Bravo.
Look out Jimmy, here comes John.
In 2016, John Stubbs motored Harvard Red Line to a finals appearance, won Ultiworld's College Player of the Year, and was a major contributor for Boston Ironside as they outplayed history into their first club division title.
The comparison is apt. Few players have made such a seamless transition from college star to club star, without sacrificing any of their abilities on the move into a higher division. Even at such a young age, when youthful exuberance is supposed to be endless and recovery can still be an afterthought, Stubbs made himself a factor on a championship team after a taxing run through the calendar year. He played every big point for Red Line when it mattered in the college season, notched himself a late-addition roster spot on Team USA, and still showed up big in early October for a Boston team that relied on one of the most grinding, exhaustive styles of offense in the division.
Stubbs' endurance wasn't nearly as necessary for Ironside as it was for Harvard this spring, but there he was on the line in big moments, making critical plays, and finishing the title run with 12 goals, just behind team-leader and club legend Jeff Graham. The Boston vet lead the team with 13 goals in Rockford, and he has 14 years on the 21 year-old Stubbs.
Stubbs brings reliable defense and an uncanny ability to get open in a division where college players his age are often only lucky enough to be role players in pool play. He's now been dragging stronger, older defenders behind him since his first club finals appearance in 2014.
If he keeps going on his current trajectory, Stubbs may find himself matching another of Mickle's many accomplishments: earning a perpetual spot on this list.
Josh Markette (Boston Ironside)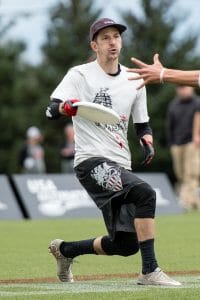 Ironside may have loaded up this year between newcomers and returners, but the main mast of the Boat was still one of the division's best talents in 2016. Josh "Cricket" Markette won his second club title at age 37 and he didn't look a step slow.
Markette is always a key distributor on the field, but, this year, he was able to operate downfield more often for the Boston O-line with Kurt Gibson and Jared Inselmann staffing the backfield. Able to share the duties of holding the disc and moving the mark to open up lanes, Markette worked his wizardry off the front of the stack, diving underneath for a pass and bouncing the disc out to whichever continuation he pleased. He notched a respectable 10 assists and five goals in Rockford, and made our entire staff wish that we could track hockey assists for every Ironside game.
This is Markette's third appearance on the All-Club 1st Team3 and it is well deserved. In spite of age and history, he looked his calm and collected self all season. Maybe ice water just runs through his veins on routine from May to October.
Nicky Spiva (Washington DC Truck Stop)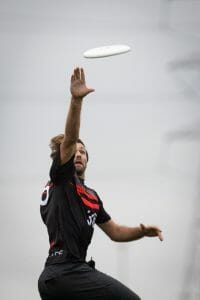 Washington D.C. Truck Stop was phenomenal all season, right up until an unexpected loss to Raleigh Ring of Fire in quarterfinals at Nationals. They overwhelmed most opponents with sheer talent, but in the tight spots, Nicky Spiva came up huge.
His confidence, now fully integrated in D.C., was palpable. It's defined in a backhand huck he launched on double-game point in the semifinals of Pro Flight Finale against Bravo. Truck got the block they needed for a chance at a score, and, instead of trying to gather themselves and work it slowly downfield, Spiva immediately sent it long and struck gold.
Like many of his fellow first-teamers, Spiva is a utility player, the kind who causes problems for opponents. He is a strong cutter with a handler's eye for deep space, who has the quickness and vertical to make his catching window extra large to clean up discs throw high or wide. While last year he may have moved around the D.C. lines a bit because he was still fitting in, this year he was able to work where the team needed him; there, he flourished.
Truck Stop was loaded with talent in 2016, but Spiva was their gamebreaker. When the pressure was on and the sidelines tensed, he offered his best stuff.
Grant Lindsley (San Francisco Revolver)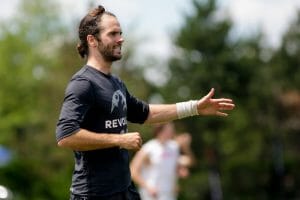 When a player is nigh-uncoverable for every point of every game for an entire season, he makes this team. That was Grant Lindsley in 2016, who capped off his rookie year with San Francisco Revolver by rising quickly to the top of opposing leadership's matchup problems.
It's almost as if the Revolver offense was made with Lindsley in mind, although the scheme existed long before he arrived. With his teammates downfield clearing the lane each time he was the next cutter, Lindsley unleashed his speed. It takes great field awareness to work well in the isolation offense, and, armed with lightning quick stutter steps and double cuts, he fit in beautifully. Lindsley chewed up yards at an incredible rate, regardless of the opposing team, game, or individual matchup.
After the catch, he was the most trustworthy thrower on Revolver's starting O-line. Between the US Open, Pro Flight Finale, and Club Championships, he had only one turnover. San Francisco's isolation offense relies on hyper-confident fakes and fundamental throwing, and Lindsley easily fit the mold with a deadly flick fake that kept his throwing lanes open and allowed him to hit the next cut.
On a team that spreads out their points, Lindsley was Revolver's third-highest goal-scorer in Rockford.4 But his season can't and shouldn't be measured in how many times he found the end zone. It should be measured in yards. If ultimate adopted the trackers and cameras that power Synergy's advanced statistics in basketball, Lindsley would've broken the machines — or at least records.
---