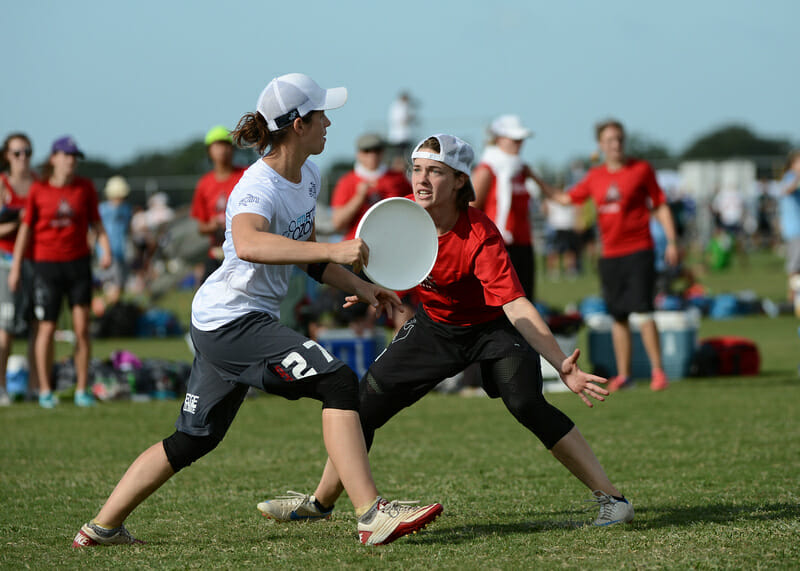 Atlanta's Ozone is a team that could be described as proud, but unsatisfied. A brief look at the team's past results reveals where that comes from: over the past four years, two quarterfinals losses. In the eight years prior, four semifinals appearances and four quarterfinals showings. The lack of recent success doesn't go unnoticed.
"In past years, Ozone has played at very high levels with the top teams but struggled with consistency," said captain Maureen "Mo" McCamley.
Last season backs up McCamley's diagnosis. Ozone went 2-2 against Scandal, but only one of those games was decided by fewer than five points. The Atlanta women would wreck Nemesis 15-5 at ECC, but couldn't beat them at Virginia Fusion. They'd lose to in-region opponent Phoenix three times leading up to the Club Championships before beating them 15-11. They'd also fall to Molly Brown, whom they had beaten earlier in the year.
Ozone's trying a few new things to turn their flashes of greatness into a consistent high level of play.
"Our returners committed at the end of last season to begin their training early and we're starting this season at a higher level of fitness and competitiveness in practice," McCamley explained. They've been using the Edge Ultimate program, which their male counterpart Chain Lightning also uses, to get stronger.
"As a team, we committed to more pre-season weight training to improve our power [and] durability," said the captain, before slyly adding, "and biceps pics."
The returners aren't the only way bringing a stronger and faster brand of Ozone ultimate. The rookie class fits the mold well.
"I think every team begins tryouts wanting to improve their overall athleticism and skill level with their new recruits and we feel Ozone has done that this year," McCamley said.
They bring in seven new players, four of whom were plucked from the rosters of the Atlanta mixed scene and from nearby colleges. Celine Sledge (Bucket) and Hannah Leathers (Bucket, University of Georgia) bring downfield quickness and polished, but aggressive throwing skillsets. Meg Harris (Southern Revival, Emory University) and Sam Stovall (Southern Revival, Kennesaw State) each bring a high level of defensive intensity. Harris is a highlight reel waiting to happen.
The remaining three rookies are imports. Ali Stargell (Tabby Rosa) travels up from Florida to play with the team, and is described as a "tireless cutter." Jinny Eun and the legendary Miranda Roth-Knowles have both played in the area in the past and are both former Seattle Riot veterans. Their poise and disc skills will be on display for their "tryout weekend" at Terminus.
"We're really excited about our new additions and each has already carved out a role on the team that we believe is going to push our team to the next level this year," said McCamley.
In with the new means that the old are out, and in this case, that means the loss of some strong talent. It starts with Liz Duffy, unquestionably one of the best women in the game. Lauren Childs is another veteran departure, and is joined by Sarah Owenby, Sandra Davis, and a few others. Important to note is also the loss of coach Kate Leslie.
"You can't replace the quality of coach that we had in Kate, so we decided to go with quantity with the much larger [Chris] Goodson," McCamley explained, referring to their 6'5" new coach. Goodson has functioned as a veteran leader of Bucket for the past few seasons, and McCamley said he has ramped up practice intensity. She also lauds Goodson's "natural gift" for individual feedback.
The returning Ozone group gives Goodson and the rookies a strong foundation. McCamley's presence oozes experience, bolstered by the giant throws and confident attitude of mainstay Katherine Wooten. Kate Wilson and Angela Lin are dynamic threats. Meanwhile, the younger generation is anchored by Lane Siedor and Emily Lloyd, two of the team's best cutters: Siedor is long and aggressive, and one can describe Lloyd with the football term "downhill runner."
"We're focusing on the fundamentals and trying to breed an aggressive defensive mentality to compliment an offense that looks to take advantage of opportunities," McCamley said. She explained that they were focusing on better understanding one another so they can best take advantage of their collective talent. In the end though, she thinks their versatility may be their greatest weapon.
"Our effort level and talent should keep us in contention for most games but our ability to adapt to other teams will be the key factor to our success this year," she said.
As the hometown team at Terminus, there's a little something extra on the line even at this fairly early tournament. The Atlanta ladies are 5-1 on the season, falling in the finals of Winston Cup Challenge to Scandal. This weekend's Pro-Elite Challenge will pit them against much tougher competition. McCamley spoke to the team's mentality to building over the course of the season, using tournaments to push themselves outside of their comfort zones. Still, Ozone wants to show everyone whose city Atlanta is.
"Of course, it would be great to defend our home turf so look for us to bring a little extra motivation," said McCamley.
With a number of changes to the team and to the gameplan, there's a definite risk. Ozone's battle for consistency begins at home.