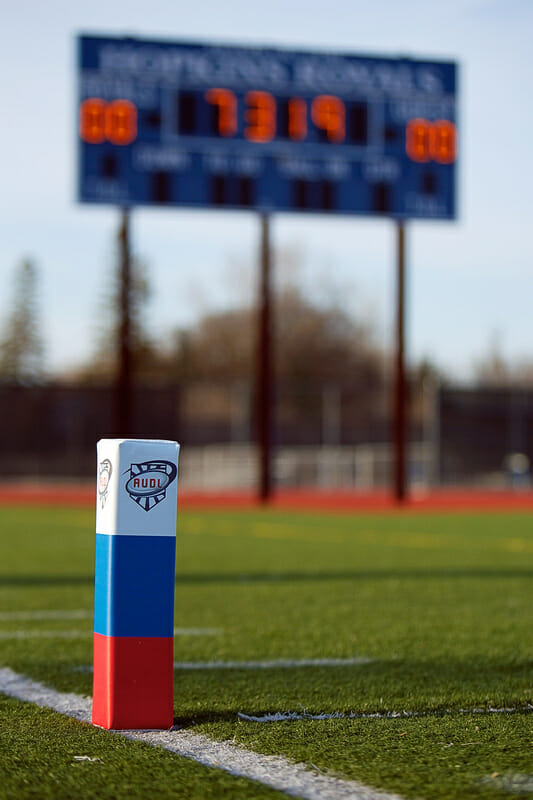 Looking back to the regular season, very little separates the Indianapolis Alleycats and the Madison Radicals. The teams met three times this year and each game hung in the balance; the Radicals won all three games, but never by more than four points.
Now, the Alleycats, who have steadily improved all season after dealing with heavy turnover, head to Madison tomorrow afternoon for their biggest game of the year. Despite getting swept in the season series, they're confident.
"We're going into this weekend not guaranteeing a win but expecting a win," said Alleycats coach Scott O'Brien.
They may have more reasons than they realize to be confident. Madison will be playing without some of their top players, including Pat Shriwise (at a wedding), Brian Hart (U23 World Championships), and David Schleicher (broken foot).
However, Madison is deep and, as coach Tim DeByl pointed out, they are 9-1 against the top teams in the Midwestern Division, despite missing players for some of those games. "It's going to be a very good game," he said.
Madison hopes to get another big performance from Scott Richgels, who has been an Indy-killer this season. Tom Coolidge will join the offense to replace Shriwise.
For Indianapolis, the plan is more of the same. For nearly the first time this season, they are completely healthy. Cameron Brock, the league's leading scorer, and Keenan Plew are some of the AUDL's most potent offensive weapons.
Madison knows that.
"Our goal is basically to get them to swap roles," said DeByl. Plew is a frequent source of Brock's scores, and Madison wants to try to contain Brock while stopping Plew's continuation looks.
"We need to make some of the secondary handlers higher usage," added DeByl. "They tend to work through the primary one or two and they are very good, but when we try to make their third and fourth handlers attack, they get in trouble."
The Alleycats, who pride themselves on their game preparation, feel good about how they will slow down Richgels.
Indianapolis has really developed as a team over the course of the season, something even DeByl pointed out.
"Indy has really impressed me," he said. "They are the one team all season that has continued to get better as the season went on, so while it's true we've beaten them, I feel like they are peaking."
Judging by their confidence, O'Brien feels the same way. "We have a lot of guys who were a key player on their team in college or in club, so we are pretty confident," he said.
Indianapolis, perhaps because of their lack of a high-level men's club team, feels that they are generally overlooked as one of the league's stronger teams. They thrive on feeling underrated and are ready to prove the doubters wrong.
Earlier this week, they tweeted at the Toronto Rush, the #1 seed in the Eastern Division, that "nobody expects [them] August 4th" in the AUDL Championship game, but that they should.
Madison, missing some of their top cutters, has to be nervous, but they have had players step up in the past, and a 3-0 record against Indy has to have them feeling good about their chances. Playing at home with one of the best fan bases in the league can't hurt.
Both coaches acknowledged that it would be a great game. With so little separating the two teams and each with ample time to strategize coming into this weekend, it will be a dogfight.