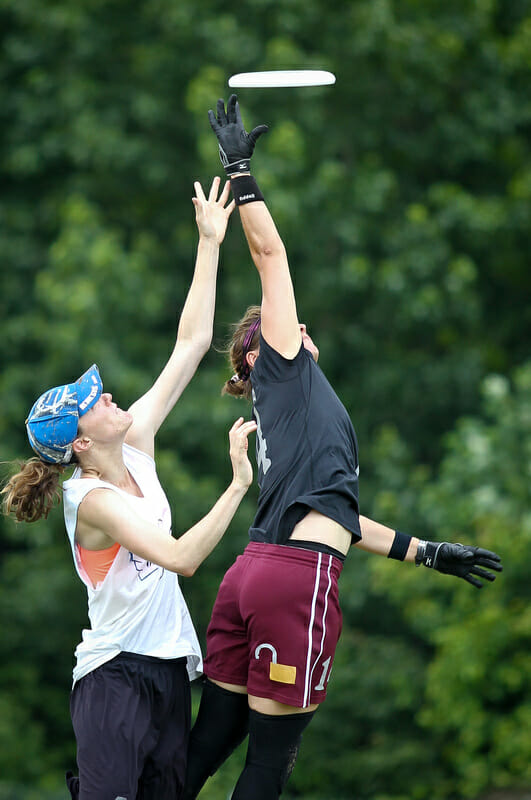 Chicago's Heavyweights will give us another exciting weekend of elite clubs matching up with teams looking to climb the ladder and maybe steal a strength bid for their region. The format divides the ten participants into a pair of pools: a power pool of four teams and a six team pool. The teams from the power pool will all make quarterfinals, where they'll crossover with the top four finishers from the other pool.
Chicago Nemesis Looking To Gel Before Pro Flight Finale & Series
The tournament's home team and #1 seed will be Nemesis. They are competing in only their second tournament of the season, coming off a month-long break after their undefeated run at Atlanta's Terminus.
For some of the team, this will be their first tournament with the Chicago crew. U-23 Women's notables Kami Groom and Cassie Swafford will both be suiting up for their season debuts.
"Certainly, a special kind of chemistry is formed during tournaments and we're excited to incorporate them into our flow," said team member Carol Li. "They are all a bunch of extra weapons that we didn't have at Terminus, so it will be a nice warm up with our full roster going into Labor Day."
Their additional players have had over a month's worth of practices to integrate, but you never really know how the pieces fit until challenged.
The top seed is the same spot they began last year's tournament, before going 1-2 in pool play and eventually falling in the semifinal and finishing 3rd overall. The team that eliminated them in that semifinal? Madison Heist. That's the same Heist team they beat 9-8 in a lightning-shortened game at Terminus and the same Heist they play at 5:30 PM Saturday afternoon.
"We're expecting it to be a really, really great game. Heist took us out last year at [Heavyweights] and we got the narrow win in Atlanta with the weather cancellations," said Li. "We're looking to quiet all those whispers from Atlanta with a definitive win against them this weekend."
Li explained that Nemesis will be looking to key in on same of Heist's top players. That likely refers to Robyn Wiseman and Georgia Bosscher. How they utilize top defenders like Groom, Swafford, Kelly Johnson, and Christine Dube will be an interesting component to pay attention to.
Heist Out For Revenge
The other side of that 9-8 Nemesis win at Terminus was the Madison team. They were brewing a comeback before the storms rolled in and stole their thunder. The format at the Pro-Elite Challenge left Heist with no shot at winning the tournament.
The loss to Nemesis is one of only three losses they've suffered all season, leaving them 1-3 against teams in the Ultiworld Top 10.
Heist has been quietly positioning themselves for a solid seed at the Club Championships. Currently, Madison occupies the #8 spot in the Ultiworld Power Rankings and #10 in USAU's club rankings. While they'll have to get past their biggest regional competition (Minneapolis Pop), winning Heavyweights would be a great sign for their chances in Frisco.
Chicago Dish & Spicy Tuna Each Eyeing A Bid
When the season began, few people had these two Chicago area teams on their radar. But here we are, looking at the 17th and 18th ranked teams in USAU's metrics; Dish is just 15 points behind Portland's Schwa and Spicy Tuna is merely 11 points behind that. For them, every score could be huge.
Dish comes into Heavyweights undefeated, having won SCINNY and Motown Throwdown, beating a very similar field of opponents at each event. The competition at Heavyweights is stiffer. However, if they can place in the top two in their pool — a very achievable goal — they'll likely get a crack at Minneapolis Pop or Nashville DeSoto, and a solid shot at breaking into the semifinals.
Meanwhile, Spicy Tuna has only two losses this season. Those losses both came at the hands of Dish (once at SCINNY and once at Motown Throwdown). The margin of victory was a combined three points, so a rematch will be anyone's game.
Regional Teams Trying to Step Onto National Stage
Minneapolis Pop has already taken a shot at some elite competition at Colorado Cup two weeks ago, and they'll be at Labor Day (not to be confused with the Pro Flight Finale) where they will see some other good teams. Their Colorado Cup weekend gave them a one point win over Bent and a four point victory over Green Means Go, but, otherwise, it wasn't a strong showing. Pop will be hoping for a more powerful statement in Rockford.
Nashville DeSoto is the final seed of the power pool. They haven't seen a team from the Pro or Elite Flight since early June, still in the tryout phase (and they went 0-3 in those games) but also haven't lost any of their other games. A much more polished DeSoto will look to their top end talent like playmaking cutter Ashton Wollett, impressive defender Sam Hill, and handler Colleen Callaghan to help them show everyone they can compete with the best.
Houston Inferno has racked up plenty of wins leading up to Heavyweights, taking just two losses. While one of those was against DeSoto at in the final of Huckfest, Inferno performed well at both Huckfest and Chesapeake Open. While Inferno is out of the bid picture, if they can play well from the #2 seed in Pool B, they'll finally get a look at themselves versus a high caliber opponent.