Plenty to play for in the second of two SFI events as teams hovering around the bid cutoff look to make a move.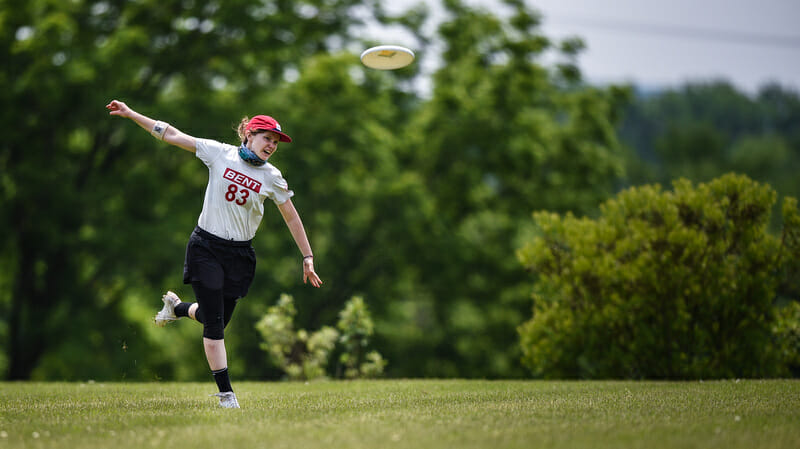 While the West saw its own Select Flight Invite two weeks ago, this weekend the East will have its turn for some Triple Crown Tour action.
Five women's teams headed to Columbus this weekend have already had a taste of the TCT in 2019 — Columbus Rival, Minneapolis Pop, Madison Heist, and Colorado Small Batch kicked off things at the Pro-Elite Challenge a few weeks ago, and San Francisco FAB is double-dipping on SFI fun after an appearance in Aurora as well. Everyone else already has a tournament or two under their belts. For all teams, the depth of talent on offer this weekend means they'll have a chance to either accumulate some rankings points or see the chance at a bid fall away. We'll see some early season rematches, some potential in-region rivalries, and almost certainly a shakeup in the rankings after this weekend.
Tournament Profile
Date: July 27-28
Location: Columbus, OH
Weather:  Mostly sunny, temps in the mid to high 80s, 7-12 mph winds
Top 25 teams: 7


Filming Schedule
Ultiworld will be filming three women's games this weekend at the Select Flight Invite East, to be released after the tournament. Access to the footage will be available to Full and Plus subscribers. Here are the games:
Seattle Underground v. New York Bent (Pool Play)
Women's Quarterfinal (TBD)
Women's Final (TBD)
The PEC Club
Four of the SFI teams competed at Pro Elite challenge just two weeks ago, which should have them warmed up and ready to go for this weekend. #9 Columbus Rival had the strongest showing out of all of them in Aurora, the only one to earn a spot in the quarterfinals and really hold their own against the division's elite. The no.1 seed coming into this weekend, Rival should be gunning for a tournament title to enhance their credentials as a legitimate Nationals quarterfinal threat. Although Zoe Hecht will still be absent after U24 duty, another new pickup Paige Soper will look to storm the field just as she did at PEC. Soper was dropping perfect hucks to Sophie Knowles at altitude two weeks ago, and Columbus will look to ride that combination and gameplan again.
We predicted in our Club Season Primer that the North Central would struggle earn more than one bid this season and this looks truer than ever after their trio of top teams stumbled in Aurora. #25 Minneapolis Pop and Madison Heist — the two North Central contenders headed to SFI — failed to earn a single out of region win at PEC. An upset loss to #24 Denver Small Batch saw Pop drop to the bottom of their pool, although this result doesn't seem to have affected the rankings too much as Pop once again enters the weekend seeded at the top of their pool above Small Batch. SFI East gifts us with a pool play rematch between the two, where Pop will hope they find better luck closer to home.
Heist will also have to step up their game at SFI East to perform better than they did at PEC. They dropped all their games that weekend, falling on double game point to Pop in their closest game of the tournament. We'll need to see some more big plays from Rachel Enyeart and Margaret Walker this weekend for Heist to collect wins — this may be the North Central's last chance to avoid being a one-bid region.
Northeast Bid-Hunters
There are four teams from the Northeast headed to SFI East this weekend, all desperate to secure a third bid for a region with two dominant powerhouses. That cohort will invade Columbus looking to gobble up as many algorithm points as they can. Thankfully for them, they are spread across the pools, giving them a chance to try their hand at squads from other regions. While they'll surely be cheering each other on during Saturday pool play, if any match up in the bracket on Sunday, expect a fierce battle to establish a hierarchy and claim a mental edge over their rivals that will almost certainly come into play later in the season.
We already saw #18 Boston Siege, #21 New York BENT, and Halifax Salty duke it out at the Boston Invite, where they took first, third, and fifth place, respectively. Siege started their season strong, beating BENT along the way to a tournament title. BENT recovered with a double game point victory against Portland Frolic to secure third place at BI and the No. 7 seed coming into this tournament — look for them to provide a stiff challenge to Seattle Underground in their pool.
Salty is one of two Canadian teams joining this weekend, as the Halifax outfit gets their exciting first taste of TCT action. Salty will be seeing a lot of unfamiliar faces in this tournament but will try to make the most of the opportunity being a similarly mysterious opponent. While they're excited for their crack at top-seeded Rival, they should anticipate tight games against Indianapolis Rogue and Virginia Rebellion.
The only member of the Northeast contingent that wasn't at Boston Invite is Ottawa Stella. Stella went 2-2 in their sanctioned games at New York Warmup in early June, but hasn't seen any action since. They enter as the no.5 seed by dint of a strong performance at last year's Regionals, and may find it challenging to hold seed with a much-changed roster from the one that competed at Devens last September.
Traveling East from the West Coast
While SFI was split up into two geographic events this year, we saw some East Coast teams compete in Aurora a few weeks ago, and now we'll see some from the West head to Columbus. #19 Seattle Underground, Salt Lake City Elevate, Denver Small Batch, and San Francisco FAB were all in action together at Eugene Summer Solstice earlier this summer, and are now traveling to take a swipe at some East Coast foes, which should make for some new and exciting matchups.
Perhaps the biggest challenger to Rival this weekend is Seattle Underground, who are looking for a strong performance as the No. 2 seed. After qualifying for Nationals in 2017, they came up a few spots short of earning a bid in 2018 and couldn't get past Riot or Traffic at Regionals. This summer, they have already beaten #11 Vancouver Traffic and played #3 Seattle Riot close at Summer Solstice, which should give them a confidence and momentum heading into this weekend.
FAB is the only team who will be competing in both SFI events this year, and should provide some valuable connectivity to the rankings. They had a good run in Aurora, going 4-2 and finishing in fifth place. Despite their large margins of victory in that tournament, as well as a win over Elevate in Summer Solstice, FAB enter the weekend as the no.10 seed overall, and a strong third seed in their pool. In another pool play rematch, Salt Lake City will get their chance to turn the tables on FAB Saturday in Columbus.
Small Batch may have an ugly 3-11 record across two tournaments so far, but that undersells how competitive they've been against top competition at Eugene Summer Solstice and PEC. Looked at another way, Denver is 3-0 against teams who will be in Columbus with them this weekend,1 perhaps portending a better-looking overall tally come Monday. Entering as the no.9 seed, they'll again look to exhibit patient backfield play from their handlers while playmakers Lo Guerin and Kati Turner go to work downfield.
Lower Seeds Looking to Make a Move
#22 Florida Tabby Rosa will want to continue their winning streak after they decisively took home the crown at the ATL Classic 2019. Kate Travaglini has unsurprisingly been a valuable addition to their roster as she racked up several assists and goals on their road to victory in Atlanta. It's been more than a month since that outing, so hopefully the crew from Gainesville can maintain their energy going into this tournament, especially facing some northern teams in their pool.
While Tabby Rosa beat Virginia Rebellion in the ATL Classic final, the second place finisher responded with their own tournament championship just a month later. Rebellion are fresh off winning their own home tournament, Scuffletown Throwdown, cruising past almost all the other teams in attendance — almost. They were the only team to beat the two-time reigning YCC U20 Girls champs Chapel Hill Warhawks, but did so in a close two-point final.
Like Tabby Rosa, Indianapolis Rogue had their only tournament about a month ago. Indy Rogue went 6-0 in a big round-robin at SCINNY 2019, and did so with ease. Their close seeding with Rebellion at the bottom of Pool A though could make for a nailbiter to decide who goes on to bracket play.
Pittsburgh Hot Metal had a strong start at New York Warmup, even notching a win over BENT (in unsanctioned play), but came up short against them and other teams in Boston Invite. They're looking to use this tournament as another opportunity to build team chemistry and come out with competitive matchups against elite teams.
Chicago's second team, Dish, held as the third seed at Fort Collins Summer Solstice earlier this summer, but haven't seen any of the teams coming into this tournament yet and haven't traditionally been able to hang at the national level. The Great Lakes is still dominated by Nemesis and Rival; Dish will have to do something special this weekend to upend that narrative.
---
They own a win over Pop in pool play at PEC and bettered both Elevate and FAB in Eugene. ↩