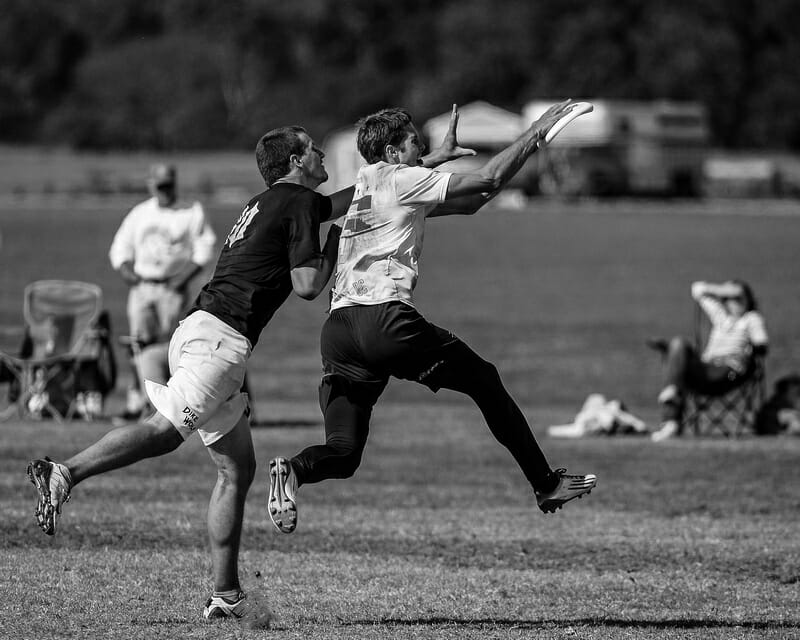 Editor's Note: The author plays for Dire Wolf.
Upon the dissolution of Southpaw prior to the regular season, many wondered if a team would rise up to truly challenge Truck Stop for the Mid-Atlantic Regional title.
The obvious choice was Oakland out of Pittsburgh and, for much of the season, it seemed the game to go in the finals of Mid-Atlantic Regionals would pit the two squads against each other. Oakland was consistently ranked in the Top 25 by USAU's algorithm and they performed well at the Chesapeake Open and Invite.
However, following an Oakland strategical maneuver that proved to be a failure, landing them with their second biggest loss of the season, fourth year team Pittsburgh Dire Wolf emerged from the other side of the bracket to find themselves up against the mighty Truck Stop squad in the finals.
Dire Wolf came out hot, putting intense pressure on Truck's cutters with a simple flick force, leading to several turnovers by their O-Line and converted two for goals to gain an early 4-2 advantage. Truck Stop quickly called a timeout to regroup and calmly put in their next O point.
While the deep game had been Dire Wolf's strength all weekend, it now failed them. Two unforced errors and two very good blocks by Truck's big men helped the top seed bounce right back with four straight breaks until Dire Wolf was finally able to stop the bleeding with a connected huck from Tad Wissel to Mike Pannone. Truck would go on to take half up 8-5.
The second half began with yet another Truck break before Dire Wolf made a strategic change of their own, moving from a horizontal to vertical stack. This opened things up a bit for Dire Wolf as they were able to put in their next four O points as well as add a break of their own to make it 13-10. But a floaty huck was easily D'd by Truck Stop who answered with a huck and Truck Stop closed the game out with one final break after a layout D on an upline cut gave them a short field.
Truck Stop won on the strength of their D-Line, who broke seven times for goals, compared to Dire Wolf's three breaks. Additionally, Truck Stop's conversion rate was somewhere upwards of 80% after generating the turnover. Going into the game, Dire Wolf knew they wouldn't be getting a ton of breaks and their O-Line would have to play strong if they wanted to come away with the upset. However, Truck's suffocating defense and playmaking ability proved a bit too much to handle.
To their credit, Dire Wolf did not go down without a fight, making defensive and offensive adjustments to their strategy whenever Truck seemed to get comfortable. A switch to force middle late in the game was partially responsible for their third and final break. They forced Truck to make plays, with only a couple unforced errors.
Truck's depth also served them well in the finals. With many of Dire Wolf's top players pulling double shifts throughout the game, Truck's fresh legs on defense kept everything tight and once they generated the turn, they were able to score easily on a few deep shots to very open cutters.
Check out more of UltiPhotos' Regionals photography.