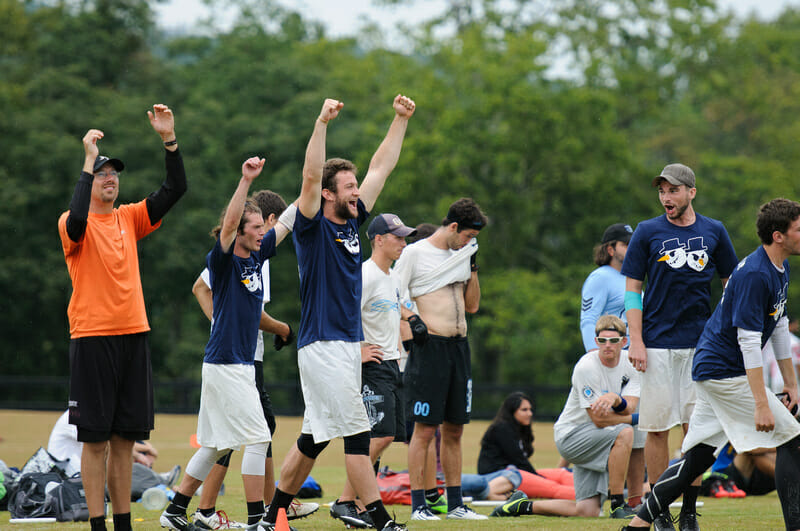 With the new Club Championships format, everyone in the bracket will advance to Friday with a chance to make a run at the National title. Whether you finish 3-0 or 0-3, you'll have a shot in prequarters.
Let's take a moment to consider the "expected" prequarters matchups. Assuming everything goes to seed, here are your games on Friday morning.
Revolver (1) v. Furious George (16)
GOAT (2) v. Condors (15)
Doublewide (3) v. Madcow (14)
Johnny Bravo (4) v. Florida United (13)
Machine (5) v. Truck Stop (12)
Ironside (6) v. Sub Zero (11)
Sockeye (7) v. Ring of Fire (10)
PoNY (8) v. Chain Lightning (9)
As a starting point, let's note that Sub Zero upset Ironside 15-10 in the finals of the Chesapeake Invite. Ring of Fire had a late lead on Sockeye at the Pro Flight Finale before watching it slip away at the very end.
The possibility of upsets is very high, especially once you consider that the tournament is very unlikely to go straight to seed. Pool B (GOAT, Sockeye, Sub Zero, Madcow) and Pool C (Doublewide, Ironside, Ring of Fire, Condors) are going to have potentially nasty crossover games. Three of last year's semifinalists are in Pool C!
It is hard to imagine that teams won't be paying close attention to the outcomes of their crossover pool's games. The final round on Thursday could be very interesting.
Ultiworld will have in-depth coverage of the pools later this week.