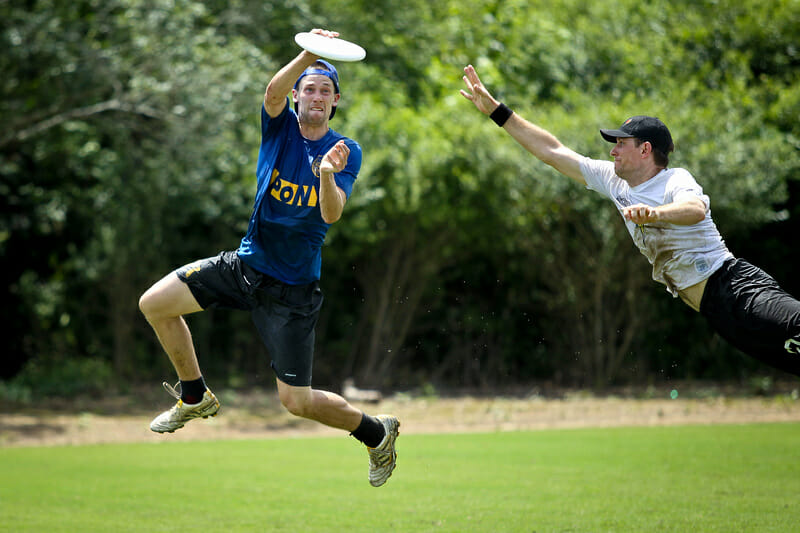 New York's PoNY heads into Nationals with one of the most fascinating story lines in the sport. Ever since their surprise tournament victory at Terminus in July, the talk around the division is whether PoNY is for real — can they actually contend with the elite teams?
The whispers and sideline talk from other top teams has generally been a tone of skepticism towards the New Yorkers. But that didn't stop PoNY from defeating many of those very teams (or at least teams on the same level) at the Chesapeake Invite in August.
The only thing more shocking than the regular season turnaround PoNY already showed would be an even deeper nationals run. Last year they lost all their games at the club championships and finished last.  But that doesn't remove the intrigue from the story in the least. Whatever Pool D team that draws PoNY in the prequarters might think they've got a lucky break.  PoNY will be fighting to both prove them wrong and hold onto at least their 8th seed — the last one to get Pro Flight status in 2014.
Pride of New York in a Nutshell
Overall Indicators:
Overall #8 seed at Club Championships
2012 Nationals Performance: 16th place
#8 in Ultiworld Power Rankings
#8 in Skyd Power Rankings
#7 in USAU Club Rankings
Positives:
Finally on the elite stage and winning the close games they lost last year.  Backed up Terminus win with confident performances at Colorado Cup and Chesapeake Invite, going 14-4 in the regular season
Playing smart Ultimate. Has weapons to aim for deep, like Robbie Gilles, but not overly reliant
Heavy roster turnover in the past few seasons has left the team a bit younger, yet stronger defensively
Star cutter Jack Marsh has given the team strong leadership both on and off the field
Question Marks:
Normally a bubble nationals team, early success has come as a surprise even to some of their stars1
Inexperienced and frankly thin at the end of the roster compared to other potential semifinalists; could be problematic given team-first attitude and relatively open lines
Traditional Ho-Stack offensive system is a bit simple. Except for Marsh and Chris Mazur, O Line players tend to stick to their original positions
Barely snuck into Championships after nearly being upset by Garuda (Boston's second team) at Regionals. Positive team energy and grittiness stayed strong throughout, though
Season Recap:
Expectations were understandably subdued for PoNY coming into the 2013 club season. After an odd 2012 regular season — where PoNY seemed to play everyone close but could never close out a win — PoNY took one of the last bids to the 2012 Club Championship. In Sarasota, they finished dead last while still playing some quality squads close. Bayesian reasoning can be argued either way here: The last place finish at 2012 Nationals might suggest PoNY is unlikely to go on a deep run this year, while two seasons worth of close score lines suggests that PoNY is better than those losses and belongs towards the top. As you can see in the "Overall Indicators" section above, there is actually a strong consensus that this is a team in the middle of the elite pack.
But it wasn't only the 2012 results that made PoNY's Terminus win in July a surprise. The New York Rumble, an MLU team featuring many PoNY players, missed the playoffs after struggling to beat Boston and D.C. The roster departures seemed to outweigh gains, starting with star Dan Heijman's season-ending injury picked up during the Rumble season. Other skilled longtime New York players like Alex Masulis, Ben Van Heuvelen, and playmaker Tim McGougan were out (McGougan has since rejoined the time).
The youth movement appeared to have helped at Terminus, where PoNY took down Chain Lightning in the final and only lost to Truck Stop. Players like Gilles, Marsh, Markian "Muk" Kuzmowycz, and Rob Baker were stretching teams deep and coming down with shots where they were only slightly favored. If you want to hear support for that theory from the well-spoken Marsh (trained as both a lawyer and circus manager), you'll need to read between the lines.
"I think we've got a good mix of experienced guys and new guys," he told Ultiworld. "We get to just toss our experienced guys on the O line and let them be steady, then our D guys (some of them new) get to be the spark. I don't know that it comes directly out of having new and young guys on the squad, but the level of buy-in on the team has been high."
The assumption was that PoNY's win was a fluke, as other teams were shorthanded at Terminus. Colorado Cup and Chesapeake Invite quieted that talk. Yet there are a few situational factors to keep in mind at Nationals.
First, PoNY finished one point behind #6 ranked Sockeye in the USAU rankings. That means if everything holds to seed in Frisco and both teams exit in the quarterfinals, Sockeye will automatically qualify for the Pro Flight tier while PoNY fights it out in a 6 team bracket. Second, PoNY's placement in Pool A has some strategic disadvantages. PoNY will need to defeat Truck Stop, a team that's been a tough matchup dating back to the MLU season for New York. The prize for that win will likely be a brutal prequarters matchup against the Pool D's third seed.
Marsh's leadership has instilled a positive, team-first attitude that will try to ignore those variables. "Truck Stop is a strong team with a lot of talent," he said. "We don't feel like they've seen our best game yet. We hope that they will see all we have to offer next week."
Playing Style:
Offensively, PoNY sticks with a traditional horizontal stack setup, especially on their O Line. The cutters downfield are all athletic in their own ways, but Marsh and fellow captain David Vuckovich add deep throwing ability with their own speed. Backfield, Mazur and Riley are the most involved handlers and are usually flanked by an conservative third handler. That's important because those two — especially Mazur — aren't afraid to throw deep, over-the-top, or to test themselves with throws in tight windows.
Mazur in particular will be one of the more dynamic players in Frisco. He won the MLU Eastern Conference MVP award, we spoke about him at length after PoNY's loss to NexGen2, and he caught the winning goal in the regional game-to-go. Moving Mazur to the O Line presents opponents a difficult matchup challenge, especially given that Marsh, Gilles, and Kuzmowycz have to be accounted for downfield. Ultimately the risky move seems to have paid off, but it's still risk.
PoNY's offensive problem spots have been relatively typical. Their endzone set will need to be better at Nationals than it was at Terminus, where a mix of poor spacing, average dump cuts, and risky throws forced PoNY into tight windows where it mattered most and almost cost them the tournament (though they came down with some). At Northeast Regionals, especially in the tight games against Ironside, PoNY's horizontal stack drifted too deep. This only served to shorten the window and increase the running demands on tiring downfield cutters like Marsh and Kuzmowycz; one Ironside defender was able to use that extra space and a predictable cut to get a rare layout D on Marsh.
The fatigue may have also affected decision making. PoNY's horizontal cutting system isn't as isolation heavy as some other structures and may cause extra wear on the downfield players if the spacing gets off. Finally, a lot of the offensive players are specialists, very good at what they do but a bit more limited in other areas.
Defensively, PoNY has a lot of good athletes and bodies to throw at teams. Luke Wolckenhauer, shown in the clip above, can bid on anything; Baker, Albert Alarcon, and Andrew Wilkes also get tough matchups.  PoNY likes to hedge against early pull plays and hucks by running a zone-to-man look. The hybrid is more wall and matchup like than cup-based, but it didn't cause Ironside a ton of difficulty at regionals and it will be interesting to see how long the New Yorkers stick with it at Nationals. The D Line's offense brings back McGougan as a big addition to complement other handlers and may be dangerous going deep.
Likely Ceiling:
Semifinals. It's easy to dismiss PoNY and think they'll be in a dogfight for Pro Flight status — that is probably a smart bet everything considered. But there is a lot of competitive balance in the Men's Division this year. Of the other top 8 seeds, PoNY has only played three3. "The Triple Crown hasn't exactly given us the opportunity to play those [elite] teams," Marsh told us.
Likely Floor:
Prequarters exit. Pool D is a madhouse to crossover into. One surprise result in an early Thursday round there could throw everything off and drop a team like Bravo or Machine onto PoNY; losing to Truck Stop in pool play would do the same. The only upside is that, given their regular season ranking, a loss in prequarters would likely put them into the bracket that can still fight for Pro Flight status. Regardless of what happens, PoNY's story is going to be one to follow for most of the weekend.
Worst Match-Ups: 
Johnny Bravo and Truck Stop.  We've already spoken a bit about the difficulties of the DC matchup.  But many of those games between New York and D.C — along with PoNY's battles against Boston's Ironside — have tended to be relatively close.  There are signs that PoNY could break through if they can make a play or two at the end.
PoNY lost by three to Bravo at Colorado Cup.  More importantly, the teams employ a similar, athlete-based style and horizontal stack offense.  Yet on talent, dynamism, and pedigree, Bravo is still one notch ahead. It would be a tough game for PoNY to get past.
---
"We're still kind of getting used to the fact that we're as good or better than anybody," said Kevin Riley after the Chesapeake Open. ↩

Then we wrote this: On one of the few points when Mazur didn't see defensive workhorse Dillon, he caught every other pass before making a stunningly well-calculated hammer throw (in wind) for the assist. A dynamic thrower who likes to have the disc and take risks, it will be important for PoNY to find the right balance for his usage as he moves into an offensive line role.  If this game was any indication, he's up to the challenge. "My entire career I've been a defensive player, I've always had the mentality that if I get it, I can throw to the endzone," Mazur told us. "Now I have way more responsibility to control the tempo and make sure that the possession is really valued." ↩

We're not counting GOAT at Terminus ↩