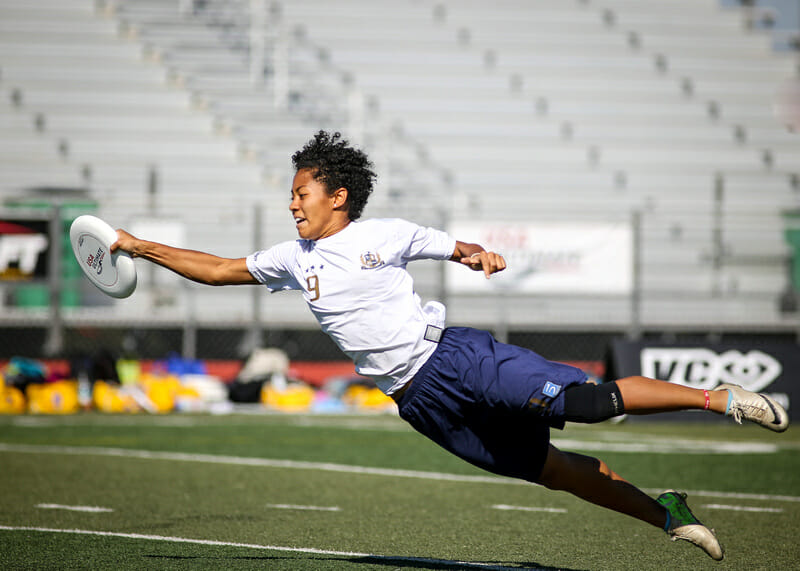 FRISCO — They say the only way to be the best is to beat the best. Washington DC Scandal may have taken that mantra to heart, playing both of the top two teams — and strongest two programs of the past decade — in the Women's Division in the last two rounds of bracket play at the Club Championships. Not only did they rout Seattle Riot in the semifinals 15-7, but they repeated the process against a vaunted and heavily-favored San Francisco Fury team.
Scandal defeated Fury 14-7 in the final, beating the pair by a 29-14 aggregate, an unexpectedly dominant performance that unquestionably earned them the crown as the Women's Division Club Champions.
"For a lot of us, its been a four year process honestly," said Scandal captain and star Octavia "Opi" Payne. "From my very first year, a bunch of us came on Scandal, and we could tell from that first season that it was the start of something new. We implemented and threw away strategies and systems that didn't work, fine tuning year after year. And it showed. Every season we finished a little bit farther than we did the previous season. This season just happened to be a breakout year."
It took four years for Scandal to complete their ascent, but this year, the pieces came together. Over that time period, the team has added talent to their roster. However, that isn't the only complement brought in to build up the team. They made changes to their offensive and defensive systems. A team culture was designed and refined. Yet the addition that may have pushed them over the top was Alex "Dutchy" Ghesquiere, the team's first year coach.
In Ghesquiere, the team had the confident leader and strategic element that characterizes winning teams. Fellow Scandal coach Mike LoPresti's experience with the players and the team helped ease the transition and assisted in the team's design. An expert at building team culture and mentality, Dutchy gave the players the belief to play with — and beyond — even the most elite of competition.
"Playing some of the best teams in the world, regardless of how good the system is, there are going to be times when it's not working and you can begin to lose confidence in that," said Payne. "He's a rock for us. He gave us faith that we needed to stick to our game."
Ghesquiere, who also coached Team USA at the World Games in Cali, Colombia, earlier this year, drove the team hard to buy in to Scandal as an entity. It was that trust that protected them from the intimidation many teams fall victim to when playing Riot or Fury, especially in such high stakes games.
"Everyone just bought into the system," said Alicia White, a veteran who had already won championships playing with Fury. "And that's the most important thing: everybody being on the same page. We knew it was a page that we could trust."
Midway through the game, it actually appeared the tables had been turned on the reigning champions. Where Fury had so long held the power to suffocate other teams with their talent and legacy of success, they suddenly seemed intimidated by Scandal's defensive pressure, the conditions, and the possibility of failure. Despite having played in the finals so many times previously, including the most famous comeback in competitive Ultimate history, a typically collected and even-keeled Fury team looked rattled.
The upwind and downwind game created a lot of challenging throwing situations, which continued to victimize Fury's veteran handlers. Alex Snyder and Lauren Casey piled up turnovers, and a number of players seemed afraid to make plays. However, the shaken and unfocused performance was exemplified by a play in which, when working through a zone, a Fury handler swung the disc to an open Cree Howard, who was standing very clearly multiple yards out of bounds.
"We've seen a lot of teams that lose before they get on the field [with Fury]," said Ghesquiere. "We knew that if we stood our ground and played toe-to-toe, and didn't give them that advantage of being seven time champions and let that get in our head, we knew they were going to be surprised by the intensity."
A confident Scandal team continued to get strong performances from their stars and role players alike. Anne Mercier delivered the type of rock solid handling performance she's known for, but Kath Ratcliff was equally as dangerous with the disc in her hands. Jessie O'Connor played a great game, willfully executing Scandal's offensive system while playing strong defense. Kirsten Unfried, Jenny Fey, Sandy Jorgensen, White, and Payne all made a number of big plays that contributed to the decimation of their opponents.
Jorgensen, White, and Payne in particular stood out as the stars that Fury's defense mishandled. Jorgensen's defensive sphere of influence downfield forced Fury throwers to work with a much smaller space of disc movement. White's trademark consistency and intensity were on display; she plays the same way in the National Championship as she does in a pool play game at Regionals, which is to say with extreme efficiency. Payne had a crucial layout block, was dangerous going up the line, and, despite some silly throwaways, was a key to Scandal's offense on the turn.
"[The wind] was great for what Scandal did, and their players made plays," said Fury coach Matt Tsang. "They're so aggressive off turns, with Opi hucking to Sandy. It worked incredibly well in this game, especially for upwind/downwind."
There are few ways to overstate the impressive play of Scandal on Saturday and Sunday in Frisco. For a team just breaking into the top tier to peak so dramatically, leaving their opponents straining just to keep up, is remarkable. It is a testament to not only the intense physical preparation of the DC women, but also the challenging mental and emotional commitment to success.
"Once you've got the legs, you've got to get the whole team to buy in to breaking out of their shells and really putting their whole heart into it," said Ghesquiere. "After that, you let the players do what they can do."
The players clearly showed what they can do. Through their play, they spoke of their commitment and sacrifice to Scandal and to their game. It was very obviously a team win of the highest caliber. Payne, the emotional leader of the team, made a powerful statement after the game.
"It's the greatest moment of my Ultimate career," said the Team USA World Games team member, who won a Gold medal in Cali earlier this year. "It means everything."