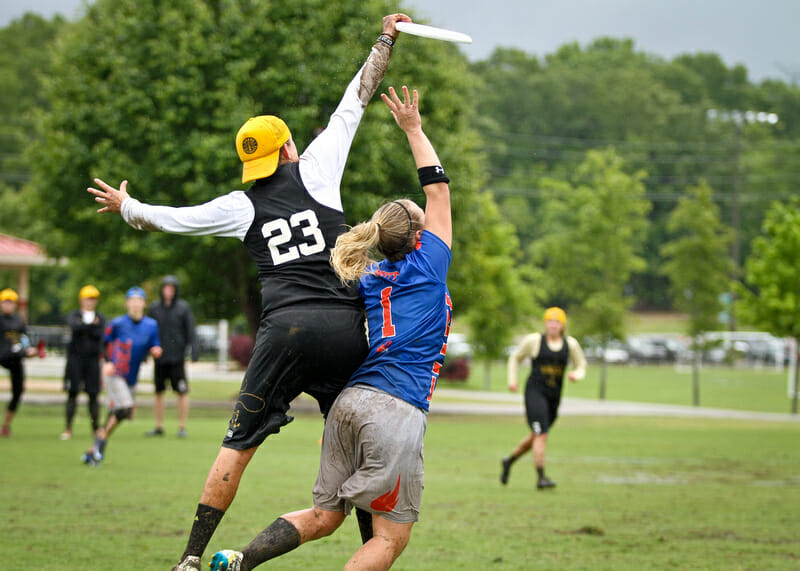 Full Field Hammer, the author's former blog, transitions to Ultiworld as a Southeast-focused vertical.
Last season was a bit of a landmark year for the Southeast in the Women's Division, with the region earning two bids to the College Championships and nearly a third. The talent level has clearly risen in this part of the country and teams are continuing to develop more sophisticated systems, deeper rosters, and competing on a national stage.
The Southeast is in transition. Reigning Southeast champ Georgia Dawgma is undergoing a lot of turnover. Central Florida, who coming off a solid showing in their first nationals appearance, is looking to build on that without letting their regional rivals catch up to them. Florida graduates their dynamic duo, but has a deep team that could make them even better than last year. And no one is quite sure what to make of the talented, but enigmatic, Florida State team.
Down the line, Georgia Tech and Emory both looked primed for big years. Alabama might finally make their move, but the Gulf Coast may be a bigger threat with Tulane, Auburn, and Vanderbilt in the mix for more bids to Regionals.
Let's take a closer look at where each team stands as we approach the flagship fall tournament, Classic City Classic.
*Denotes new addition
Central Florida Sirens
In: Sunny Harris, Mariel Hammond, Erin Goding, Steph "Eli" Williams, Alexa Wood, Carolina Gonzalez-Llanos, Brianna Ballard, Coach Joe Tilley
Out: Katie Fox, Samantha Young, Amy Price (may be back in the spring), Tina Hierholzer, Laura Payne
The likely favorite for this year's regional title, the Sirens return two of the region's best players: Mariel Hammond (1st team All Region 2012 & 2013) and reigning Southeast Player of the Year, Sunny Harris. Each spent the club season with Tabby Rosa. The Sirens might not have won the region, but they finished the highest of any team in the Southeast, falling just short of a quaterfinals appearance at the College Championships.
Harris will, again, be the team's most important cog, operating as both primary handler and the team's deep deep in their incredibly effective zone. Hammond will reprise her role as a dangerous cutting threat, moving perhaps from one of the region's best to one of the nation's best. Coach Joe Tilley will be another valuable asset, the brains behind the muscle of Harris, Hammond, and their stable of athletes.
What they lost is most of their supporting cast. Gone are the reliable throwing talents of Katie Fox and Samantha Young. Gone are the speedy deep cuts of Amy Price. Gone is the veteran leadership provided by Tina Hierholzer and Laura Payne. The region is even more familiar with the vaunted zone defense that UCF relied upon heavily last season. Can they overcome these losses?
They'll be turning to some players to step up into new roles, led by Eli Williams and Alexa Wood, who both were 2013 All-Freshman selections, as well as Carolina Gonzalez-Llanos (another Tabby Rosa player, but who will be abroad in the fall). They'll be looking to these three to step up as cutters and defenders. Erin Goding offers a balanced and experienced skillset, but very possibly could be converted into the handler Harris will need by her side. Brianna Ballard could also prove a valuable addition, as she was seen playing with them at a recent round robin. The other variable is the possible return of Price in the spring, who'd give them an important experienced cutter.
Georgia Dawgma
In: Lane Siedor, Hannah Leathers, Lily Stockton, Kate Hines, Melissa M, Julie Holmes, Michelle Yang*, Erin Chun*
Out: Emily Lloyd, Julia Fuster, Margie Quinn, Courtney Farrell, Anraya Palmer, Katie Franchot, Coach Amble Johnson
Much has changed for Dawgma since their trip to Wisconsin last spring. After winning the Southeast, they had a disastrous performance at the Championships, leaving the tournament as the only Women's team without a victory. As the most dominant program in the region, they'll have to prove their resilience, with a large graduating class and a powerful challenge in front of them.
The list of personnel who won't be rejoining the team is long and impressive. Ozone cutter Emily Lloyd has graduated, along with shutdown defense and playmaker extraordinaire Julia Fuster. Handlers Margie Quinn, Courtney Farrell, and Katie Franchot are also out, along with do-it-all athlete and tweeter Anraya Palmer. To top it off, Coach Amble Johnson is also gone, after five seasons in Athens. Lloyd, Quinn, Farrell, Fuster, and their coach all garnered All-Region recognition in the past two seasons.
Fortunately, they return plenty of talent, but the most important piece may be Lane Siedor (1st team All Region 2013). With so much change around, the consistency Siedor has provided as a leader on the team for years now will be crucial. She'll be working hard with fellow captain and Ozone teammate Hannah Leathers. Leathers had a dominating breakout year last season and the two will form a duo that will be very hard to match up with.
Flanking Siedor and Leathers will be returners Lily Stockton, Kate Hines, Melissa Merrill, and Julie Holmes. Holmes has spent two years playing club mixed with Southern Revival and is ready to step into a handling role, along with the quick Stockton. Hines and Merrill will be asked to become primary cutters and both have the athleticism to cover top offenders. Former Emory player Michelle Yang is likely to join Dawgma, coming off her first year with DeSoto and Paideia alumna Erin Chun should also provide additional firepower.
Florida State Seminole Ladies
In: Kristin Lloyd, Megan Reeves, Kari Tomarelli, Stephanie Hurwitz* (torn ACL), Lisa Fitton, Lauren Brunner, Lari Ferreira
Out: Lauren Collins, Sarah Clark, SJ Campbell, Tiffany Clarkson, Coach Matt Childs
The Seminole Ladies breakthrough year was everything but, as they rammed up against the borders of their potential but couldn't quite crack through. A few out of region losses kept them from getting the Southeast a third bid and they fell in a surprise loss to FUEL at Regionals that ended their year. Last year looked like one of the most talented teams fielded in Tallahassee, but their developing program could make that statement one that is repeated season after season.
One major constant has remained through the rise of FSU: Megan Reeves. What she lacks in size she makes up for in pretty much everything else. Lightning quick with the disc and without it, plus armed with monstrous hucks, she's been one of the region's top handlers for her entire career. Her experience is invaluable to a fairly young squad.
Kristin Lloyd will be one of the most interesting players in the region. A very naturally gifted player, with a smooth movement style and great field vision, Lloyd's one of the best downfield threats in the Southeast. The question is if the Seminole Ladies can put the personnel around to send her into the cutting lines or if she'll have to spend the majority of her time behind the disc. She's big in the air and capable with the disc, and an early 1st Team All-Region candidate.
Players like big play machine Kari Tomarelli and the tireless Lisa Fitton will help deal with the blows of losing Sarah Clark, Lauren Collins, SJ Campbell, and Tiffany Clarkson. Things looked rosier when Stephanie Hurlitz, one of Tulane's big three, was joining the roster, but a torn ACL could sideline her for the year. Lari Ferreira, a speedster with increasing disc skills, could also be in line for a breakout season.
Florida FUEL
In: Sarah Gardiner, Emily Witt, Kyra Catabay, Michelle Kraslow, Reba Havis, Alana Hardeman, Sarah Espinoza, Jen Higgins, Didi Elsner, Coach Jenna Dahl*
Out: Jackie Fane, Jenna Dahl, Monica Hurst, Morgan Hartmann, Sam Dame
When you say goodbye to the Jackie and Jenna Era of FUEL, do not shed a tear for Gainesville nor throw the baby out with the bathwater. Florida is not going anywhere and returns a diverse cast of contributors who aim to follow up on how FUEL finished last season: a surprising 3rd place in the Southeast.
Despite losing two of the region's best throwers, FUEL's handler group will remain solid. Kyra Catabay and Reba Havis both spent their summer handling for Tabby Rosa, and Didi Elsner was more or less a practice player for the squad. Alana Hardeman will also see a lot of touches. In fact, UF will be able to afford pushing skilled players like Havis downfield, which may alter their offensive scheme a little.
Their throwing group will have targets downfield, despite losing Monica Hurst and the unicorn-rarity of a healthy Morgan "Momo" Hartmann. Sarah Gardiner is strong as a cutter and difficult to deal with in the air. Michelle Kraslow and Sarah Espinoza are both quality athletes. First year captain Emily Witt, however, is a breakout candidate this season, with quickness, explosiveness, and an increasingly well rounded skillset on both sides of the disc. Watch for Witt to push for an All-Region selection.
Coach Lili Morris has an interesting opportunity/challenge in front of her redesigning the team without its stalwart playmakers. It'll be worth watching to see if they make drastic changes to offensive and defensive style or adapt the personnel to a system that has been successful in years past. Oh, and Jenna Dahl's not completely out of the picture, as she'll be assisting Morris on the sidelines.
Without field-stretching throwers, but plenty of skill & depth, Florida may just dump and swing the Southeast to death all year long. This team has the potential to surpass last year's productivity and could be a threat to regain the regional crown.
Georgia Tech Wreck
In: Lily Ponitz, Xenia Wirth, Cate Woodhurst, Maria Linebaugh, Ashley Brown, Donnya Adjari, Sandhya Srivatsan, Coach Leah Tsinajinnie*
Out: Leah Tsinajinnie
The region can breath a sigh of relief: Leah Tsinajinnie's reign of terror over your marks and your deep defenders is over. You're mistaken, however, if you think Wreck will be a pushover now. In fact, this year's version of the Georgia Tech women could be stronger than last year's and even in the mix in the Southeast.
The team returns a litany of young and developing talent and some veteran leadership. Lily Ponitz, coming off a club season with the mixed squad MK Ultimate, Xenia Wirth, Maria Linebaugh, and Sandhya Srivatsan give them a good group of experienced athletes balanced with strong skill levels. Ashley Brown (2013 All-Freshman) and Cate Woodhurst provide a good handling 1-2 punch. Donnya Adjari seems like she could break out for Wreck as a defender and cutter.
While Tsinajinnie had some injury issues over the past couple of the seasons, the team was able to learn how to play without her gamechanging throws. It'll reap benefits this season and you can expect a strong defensive team. If they can effectively capitalize on turns, their depth and speed could make them strong enough to compete with some of the region's elite on a game by game basis.
Coaches Maddy Frey and Allison Douglas will be helped out by Tsinajinnie this year as well. That's a lot of elite club experience to bring strategically to the sideline for those smart engineering kids.
Emory Luna
In: Abbey Hewitt, Zina Stavistky, Caroline Pearson, Nellie Ochs, Kira Lou*, Phebe Kemmer, Coach Meg Harris*
Out: Meg Harris, Ariella Fatielson, Erin Zwier
Emory is a bit of a mystery coming into this season. It is tough to decide what to make of them after their regular season flop last year and strong play in the Series. Their major loss is Meg Harris – another top player in the region transitioning to a coaching role – and they lost a few other seniors who made plays for them. Harris was one of the region's premier athletes and did a lot for Luna's small rotation, so replacing her will be difficult.
Luna will be looking to their young core to continue their development. Caroline Pearson spent the year playing with the vets on Tabby Rosa's offensive line and looks like she could grow into one of the region's newest stars. New captains Zina Stavistky and Arianna Robbins (abroad in the fall) both continue to grow as handlers, and Stavitsky in particular could emerge as one of the best in the Southeast. Signs point to a return of cutter Abbey Hewitt, coming off yet another year with Bucket, and one of the quickest and most aggressive targets you'll see. Behind that group is a deep & hard working roster that plays within their system.
Helping to ease the losses of Harris, captain Erin Zwier, and others will be the addition of Kira Lou, a senior with youth ultimate experience and a well rounded game. She'll be thrust into a big role for Emory this season. The return of senior handler Nellie Ochs from an injury filled season should also bolster the team's strength. In spite of having one of the worst coaches in the game, there's a good chance Luna will be an improved unit. Their ceiling, however, remains a mystery.
Georgia College Lynx Rufus
In: Paige Carver, Katie Pulliam, Lauren Lee, army of rookies
Out: Marissa Hicks, Stephanie Shane, Charmaine Tesina
The Southeast's premier D-3 team, Georgia College Lynx Rufus is in not just a rebuild, but perhaps a redesign. Last year's team relied on incredible chemistry, built on the strength of a small roster playing together so much, and good depth with few to no weak links. A truly unfortunately timed injury to team leader and star Marissa Hicks just before the D-3 Championships sent them into the penultimate tournament without their centerpiece.
It was good practice for the ground they'll break this seasons. Hicks and Stephanie Shane (Southern Revival) are gone, along with Charmaine Tesina, a big blow to such a small roster.
However, the remaining trio of the super speedy Paige Carver (Bucket), Katie Pulliam, and Lauren Lee won't be alone. Rumor has it that Georgia College has lots of reinforcements, a cavalry of new rookies giving them the extra legs they've lacked exactly when they needed them. Rumor say their rookie class outnumbers their entire roster from last season.
Lynx Rufus will likely take a step back this season, but they'll be a wild card come the Series and their long term prospects could look very different than they were projected at the end of last year.
South Florida Scallywenches
In: Teal Dabney, Morgan Brazel, MK Stephan, Therese Doebler
Out: Tessa Walter
South Florida is trying to stabilize into a more long term program, but they'll battle losing talent. They've got a veteran group returning, but will likely struggle to replace primary handler Tessa Walter. Her break throws were the trigger to the USF offense, but the Scally Wenches will turn elsewhere to a starting point. Fortunately they return a group of athletes developing into more well rounded threats.
Morgan "Bernie" Brazel will be asked to take on a significantly greater number of big throwing situations. The same will be true of Teal Dabney, whose height is a great weapon for her when dealing with opposing marks. MK Stephan and Therese Doebler will also have to help balance the loss.
South Florida will be able to ride their top talent to a lot of success in the region. If their athletes can be utilized intelligently, they could finish in the top 6. Florida Winter Classic will be very telling for USF's prospects this season.
Auburn
In: Joanna Vogt, Rachel Sedlacek (speedster athlete), Mandy Williams, Kristine Fedoranko*
Out: Katie Cuson, Katie Rutenbar
The rumor is that Auburn looked very solid in early fall action. That may be helped by the presence of veteran handler Katie Cuson, a 2013 2nd team All Region pick. She'll be heading out in the spring, leaving the team in the capable hands of Joanna Vogt. Vogt, a team captain, will really need to step up her game to help keep the Auburn ladies in the mix.
Fortunately, she'll have help. The roster appears to be deeper, meaning stronger team defense and greater offensive efficiency. Rachel Sedlacek is a yardage eater with her athleticism. Mandy Williams will be another important factor on both sides of the disc. Kristine Fedoranko comes into the program with solid youth and club experience already under her belt, and will provide an immediate impact.
Tulane Muses
In: Hannah Weisbecker, Anna Clauson*, Julia Turkevich, Sue-Claire Lichtveld
Out: Stephanie Hurwitz, Hannah Mellman, Mallory West
Tulane provides an intriguing case this season. They appear to be the strongest program in the Gulf Coast Conference, and it was a shock to see them fall at the Conferences Championships for a second consecutive year. Now, with their trio of studs – Hurwitz, Mellman, and West – all having moved on, we will see if they have built the Muses program up enough to stay on top.
One factor that could help them stay is the addition of Anna Clauson, a former captain of Paidiea Groove. She'll be in the running for the region's best freshman. Returners Hannah Weisbecker, Sue-Claire Lichtveld, and Julia Turkevich will be captaining and some of the team's top weapons as well. Turkevich is abroad in the fall.
One of the things that has benefited the Muses are their numbers. If they continue to recruit and retain as they've done, they are likely to continue getting stronger. If the Gulf Coast pushes through, you can bet Tulane will be part of it.
Vanderbilt Dames (VUDU)
In: Sophie Chen, Maggie Knab
Out: Emily Dayton, Adeola Adebiyi
Vanderbilt has remained a bit of a mystery. They surprised many observers in winning the Gulf Coast, but then were even more surprising in defeating Florida at Regionals. Emily Dayton was the trigger woman for this offense as their primary handler and rebounding from her loss will be challenging.
Sophie Chen returns and will be one of the team's biggest weapons all over the field. We've learned never to count them out and they've already turned in good fall results. This is a team to keep an eye on as the year progresses.
Alabama Ramma Jamma
In: Megan Wojick, Caroline Marsh, Ahsha McQuain
Out: Abbey Sedlacek
Alabama showed a lot of potential to begin emerging as a premier team out of the Gulf Coast and begin building towards regional relevance. However, their lack of depth began to really take a toll, and they wound up getting knocked out at Sectionals. It was obvious Ramma Jamma was a team still finding its way and its identity, but most importantly, how to win.
This year, that won't be as much of an issue. They bring back a strong trio of Megan Wojick, Caroline Marsh, and Ahsha McQuain; all three spent the year playing with Nashville DeSoto. That means they'll be armed with the knowledge of how to run effective practices, set goals, make adjustments at tournaments, and the strategic knowledge gleaned from club.
On top of that, the Bama Three are all going to be that much better from a summer of practicing against club competition. Shallow programs make it tough for their top talent to develop good habits, but all three won't have that issue. With Tulane having lost so much, Alabama could finally make a move to rule the Gulf Coast and compete at Regionals.
Georgia State Vixen
In: Molly Snipes, Deven Knobloch
Out: Victoria Thompson, Irene Tsinajinnie (recovering from ACL tear)
It'll be strange seeing Georgia State play without handler Victoria Thompson, whose inside flick break has been wreaking havoc on the SAPP Conference for years. Last year, the combination of Thompson and Molly Snipes (Southern Revival) made this team a threat.
This year, Snipes returns, more dangerous than ever. Devan Knobloch, a Vixen captain, will be handed the reins as the team's top handler, though Snipes may be relegated to backfield play on occasion as the team's top thrower. The loss of Irene Tsinajinnie to injury dealt a serious blow to GSU, removing one of their most experienced and skilled players. There's a chance she may return for the end of the year.
Of slight note, Emily Lloyd, formerly of Georgia, is at GSU with remaining eligibility. All signs point to her not cleating up for Vixen, so the point is mostly moot. However, should she have a change of heart, it'll change the outlook of this team completely.
Other News
Kennesaw State continues to develop a program. They're still building fundamentals, but have a strong support system that should make them one of the fastest development teams.
Miami appears to be fielding a team this year, which they didn't last year. Former Callahan winner Jody Dozono is heading up their team as a coach, which could change the fortunes of their squad. I don't expect them to be impactful this year, but they could change regional bid allocations and be something to watch down the line.
There was a chance Tennessee Boss would fold this season, losing so much of their already small roster, but rumors of their demise were inaccurate. A huge recruiting class has salvaged the team. Elodie Kruk is returning and they'll add another strong player in the spring.
Tennessee-Chattanooga also is sending a team to fall tournaments, so they may be around in the Spring and come the series.
The rest of the Gulf Coast remains mysterious. LSU is apparently having a strong fall and made strides at Regionals last year. Ole Miss and Mississippi State still figure to be outside shots at qualifying for Regionals, but are expected to still be around. There may be even more teams joining their Conference, as teams like Rhodes, Memphis, and Harding may be appearing in fall tournament lineups.
Fall Notes
Itchfest has come and gone, where Vandy, Tulane, and Tennessee all performed well, while Georgia went 2-2.
KSU's Rookie Round-Up passed, with Florida beating Emory on double game point in the Final. FSU went split squad, as did Georgia Tech, and both looked solid.
Bid City Huckers has no results reported.
A Florida Round Robin hosted FUEL, FSU, UCF, Miami, and USF. The Sirens ran away with it – without Mariel Hammond playing – to win the one day event.
Hootenany Showdown is this coming weekend, November 2-3. USF, Bama, Emory, UTC, Auburn, LSU, and GSU will all be in attendance.
We'll be providing coverage for Classic City Classic November 16-17, where the region's top teams and strong teams from across the country will clash in action that will give us a real read on teams; its closest thing to spring ultimate in the fall.