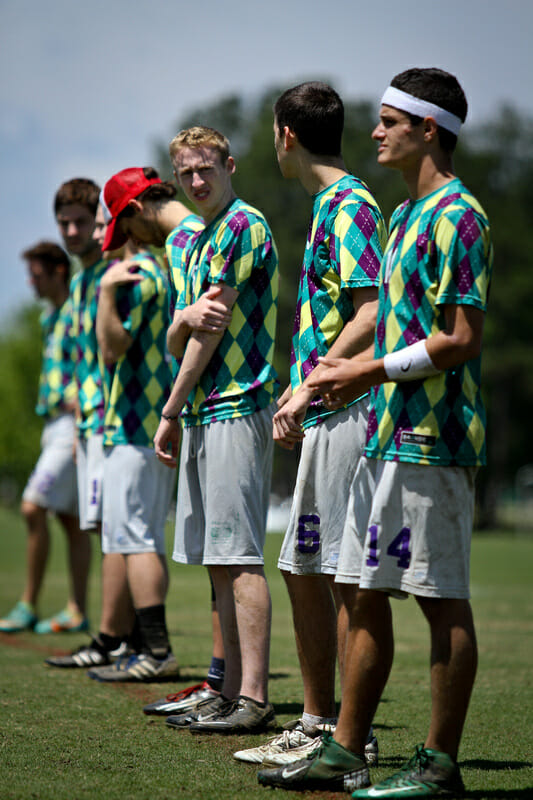 The Classic City Classic featured four teams from the Gulf Coast section this past weekend: Alabama, LSU, Tulane and Auburn. No one familiar with this section would have expected Auburn and Tulane to finish above the two teams that have a combined 13 of the 15 sectional titles. Not only did the two finish above the other Gulf Coast Teams, but both Tulane and Auburn reached the quarterfinals on Sunday. So how exactly did two five seeds jump up to a star-studded Sunday?
Tulane Delivers Dynamic Offense
Tulane Ultimate utilizes a high powered handler offense led by Patrick Dougherty and Brandon Xuereb. This year they'll be throwing to the versatile Greg Cousins and the 2012 Junior Worlds player Evan Walter. Tulane has ventured away from the horizontal stack they know and love and is using a vertical stack in an attempt to isolate the aforementioned playmakers.
"Our practices are a lot more focused than they have been previously," said Tulane captain Greg Cousins. "At the beginning of the year, our coaches, co-captain Chase Hamilton, and I all sat down and road-mapped the fall. We each have a specific area of the game that we teach and work each practice."
Though Tulane employs a dramatically different style than Auburn, their results in Athens were very similar. After a late cancelation from Cincinnati, Tulane needed a win over Florida or Georgia Tech for a shot at the championship bracket. Both teams fell just short of reaching last year's National Championships. Tulane took down both on Saturday. The only loss in pool play came to the eventual champion UNC, setting Tulane up for a quarterfinals matchup with #1 ranked Central Florida. But on Sunday morning, Central Florida was too much to handle for Tulane, when the Dogs of War came out on top 15-10.
However, Cousins was never disappointed in his team. "In the huddle, we talked about the difference between winning a game and not losing a game," he said. "Good teams don't lose, great teams win." Only time will tell if Tulane can become a "great" team in the tough Southeast Region.
Auburn Focuses on the Basics
Auburn Ultimate is led by a core group of veterans with years of experience. The offense is driven by Captains TJ Martin and Ryan Landry, both of whom got a summer of club experience with the inaugural season of Southern Hospitality (Alabama). Martin chalked up their big weekend in Athens to their more demanding fall practice style.
"We've focused more on perfecting the fundamentals early on rather than trying to get too complicated," he said. "With double the vet club experience coming back this year and the addition of a handful of high school club players, we have a good base knowledge of the game."
Those high school club players are five Birmingham YCC players that contribute to a stellar rookie class. With such an intense focus on the absolute fundamentals, Auburn's turnovers were minimal, enabling them to hang with the big teams in their pool.
The new fall practice strategy empowered the defense as well, leading to break opportunities against the best competition CCC had to offer. Veterans Evan Boecking led the defense along with Garris Bugg (who made the play of the year for Auburn last year).
As the five seed in pool A, Auburn faced off against the one and three seeds in the first two rounds. After a strong effort resulting in a three point loss to Virginia Tech Burn, Auburn suffered a double game point loss to Central Florida. They quickly found themselves with a 0-2 start and would need three straight wins to have a shot at the championship bracket. They got those three wins using what Martin calls a "one-point-at-a-time mentality."
They fought their way back through Eastern Michigan, LSU, and Emory. On Sunday morning, the eventual champion UNC was too much to handle, but the Auburn Tigers finished the day with an impressive win over James Madison and close loss to Michigan.
Auburn showed those watching this past weekend how important the fundamentals are to a young team — not just to learn the game, but to succeed as well. It will be interesting to see what this talented group can do when practices take a strategic turn in January.
***
Auburn and Tulane are both looking to put the Gulf Coast section back on the map in this year's Southeast region. With Auburn's mastery of the fundamentals and Tulane's dynamic offense, some of the region's serious challengers for once might not come only from teams that call Georgia or Florida home.