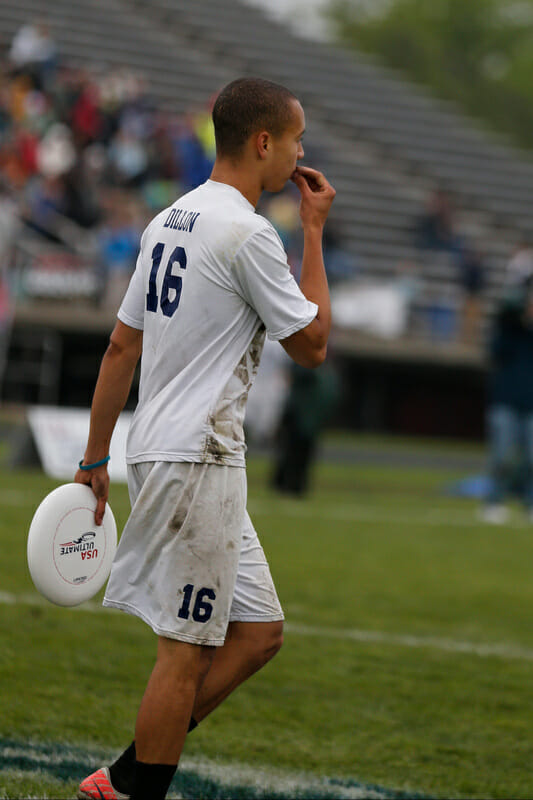 "We need to improve more than any team in the country this year," University of Pittsburgh head coach Nick Kaczmarek tells me.
Yes, that University of Pittsburgh.  Two time-defending National Champion University of Pittsburgh.  It's probably not something you'd expect to hear from the coach of a defending champion, who, by the way, had their largest margin of victory in the tournament finals at Nationals.
But it's the mantra Kaczmarek says he tells to himself every morning.  And if Pitt wants to three-peat, he's right.
Losses
Alex Thorne and Tyler Degirolamo have since graduated. It's like losing Batman and Robin – if instead of Robin, there were two Batmans.
Make no mistake; these two were the best tandem in college Ultimate since Tim Gehret and Kurt Gibson in 2006. Thorne and Degirolamo played together for five years, in five consecutive trips to nationals and leave behind a serious trail of hardware: six 1st team All-Region selections, two Callahan Top 5's, and a USAU Player of the Year selection.
Other big losses include Isaac Saul, Zach Kaufman, Michael Brenner, Michael "Mick" Van Ness, and Ethan Beardsley.  Those guys would be devastating losses for any school in the country.  All told, Pitt must replace seven starters from the 2013 championship team.
The Class of 2017
In college Ultimate, roster turnover is a fact of life.  But Pitt is uniquely able to wave goodbye to quality veterans and then immediately welcome a class of extremely talented rookies.
As a Pittsburgh area Ultimate player and proud alumnus of the West Penn section, I've followed Pitt in some capacity since 2005. I always thought the class of 2015 was Pitt's best group of rookies – headlined by offensive line starters Max Thorne and Pat Earles, as well as defensive beast Trent Dillon, and lots of experienced role players. The 2015 rookie class was so packed with talent it seemed like there couldn't be enough playing time – mathematically –to get all of the deserving young players on the field.
This 2017 Pitt class might be even better.
Pitt's biggest freshman name is Jonah Wisch, who has already played professional Ultimate in the MLU with the Philadelphia Spinners. Of the 10 rookies selected, six have played organized Ultimate before.
Kaczmarek is no stranger to youth Ultimate. He's coached Pittsburgh's U-19 team since 2005 and has seen first hand how much more skilled, athletic, and prepared incoming freshmen are today.
"A lot of them have been playing for a long time in high school leagues. One of the cool things for me is I get to see a lot of them come up from high school or middle school even. Jimmy Towle, (Pitt freshman), played U-16 with Dave Hogan, who's one of [Pitt's] coaches. I've seen Jimmy playing since 9th or 10th grade. They are excellent. It used to be we'd get kids who'd played before but weren't athletes, or just raw athletes."
Pretty quickly upon asking Kaczmarek and senior captain Aaron Watson if Wisch was a favorite to make the Ohio Valley All-Freshman team I realized my error. They both agreed he was probably the favorite. Then they kind of leaned back and thought about it and added another rookie who would have a good shot at making it. Then another. And, later, two more.
Kaczmarek has almost singlehandedly forged a pipeline between the Pittsburgh high school Ultimate league, (PHUL), and Pitt. The proof is in the pudding. Take a look at their roster.  Both Thornes, Marcus Ranii-Dropcho, Aaron Watson, Pat Earles — former standouts like Chris Brenenborg, Colin Conner, and Julian Hausman. They all played PHUL and they all played U-19.
The thing that separates them from other college programs is that Pitt is actually getting these kids. They're above the crapshoot and constant struggle of trying to talk a prospective recruit out of playing club soccer. They don't have to take someone just because they can throw a flick like you would anywhere else. They're putting dudes on the B team that would start on a lot of other schools in the country. Pitt has become a college Ultimate destination for good high school players.
Pitt will also pick up stud lefty Sam VanDusen who will be transferring from the University of Dayton. The rich get richer.
Looking at the Fall
It's not gospel, but you can usually get an idea of how good a team is based on their fall results. Though most people, myself included, would consider Pitt's fall a bit nontraditional. They only went to two tournaments: Cincinnati Autumn Showcase as X/Y teams, and Steel City Showdown as one squad. At face value it looks light. Captain Aaron Watson assured me it was anything but.
"We were much more focused on what we were doing here at campus." Watson sounded almost exhausted, just thinking back on the tryout process. "What we ran our rookies through was much more extensive than in previous years."
More practices. Longer practices. Track workouts. All work and no play (no tournament play, anyway) in Oakland last semester. If you've got good enough players to scrimmage against in house, why spend the money to travel? Why go to a tournament where you might only get one good game Saturday and two good games Sunday?
This different approach to the tryout process is a direct reflection of the completely unique position Pitt is in; they have to sift through some really good players and make cuts. Still, when narrowing down a roster there's going to be a learning curve for guys with some baseline level of Ultimate experience and athletes who are pure rookies. "If you match up a kid who had played in high school against a kid who's never played before there are going to be obvious differences," Kaczmarek said. "You want to give them equitable opportunities and try to accelerate the growth of those kids who are seeing it for the first time so that they have a fair shot at competing against everyone else."
One interesting thing of note is that Pitt lost a tight upwind/downwind game to Cincinnati at Steel City Showdown.
"We have no excuses. They outplayed us," Watson said flatly.
Like Pittsburgh, the Cincinnati area has a budding youth Ultimate scene that is beginning to pay dividends at the college level.
Kaczmarek said he was flat-out impressed with the Cincinnati team. "Some of those guys are coming up from Flying Pig (YCC team) and they have a very experienced program, they didn't lose many people and they play tough defense. Combine those things and I think you have a pretty impressive team that should be contending for a spot at nationals this year."
Pitt remains favored to win the Ohio Valley Region again, but the Steel City Matchup against Cincinnati may have been a preview of the regional final.
Familiar Faces
I was told the only guys whose positions are written in ink are Max Thorne and Pat Earles on offense, and Trent Dillon on defense. At the top of the roster, Pitt still has captains Marcus Ranii-Dropcho1, Tyler Kunsa, and Aaron Watson still working on finding the best possible fit.
Where those three end up doesn't really matter. They'll play somewhere and they'll produce. It's the rest of the rotation that needs to work itself out.
"With seven graduating starters there are seven spots to compete for and there's a group of 10-12 underclassmen who have never started for this team . . . and they have to step up and prove they have what it takes," said Watson of the open positions.
Kaczmarek went more into specifics, putting onus and responsibility on specific players and saying it was finally "time" for them to step up. Pete McCloskey, Christian Pitts, and Joe Bender were all mentioned as athletes who "all have the capability . . .  and they've been right there in the past."
That will be the meter for Pitt's success in 2014.  Max Thorne is going to catch goals and Trent Dillon is going to get Ds.  But how are the new starters playing? – that's what will determine if Pitt will be playing deep into the tournament at Nationals.
What's scary is that some of these guys just haven't gotten the chance yet because they've been playing behind elite college players.
Pittsburgh's Play Style:
Pitt's offense uses a lot of different set plays to get Max Thorne the disc first – any way possible. The other three cutters make room after the disc is centered so he can get the disc underneath. That can take a variety of forms: Often they'll side stack and clear across to open the break side, other times they'll give more of a ho stack/spread look and send three guys deep.  Pitt's offense is really good at making space.
Lots of these are essentially "GO!" plays. Meaning, if they get a regular man defense look you better believe they're going to run a play. Once Max gets the disc it's off to the races and they're in flow. They move the disc really well, reset with easily, and rarely find themselves in high stall situations.
Pitt's offense is also designed to incorporate lots of breakside action.  Many of their set plays, their reset system, and their stack placement are designed to get the disc to the breakside and keep it there. Pitt had some of the most skilled throwers in college last season — across the board, their throwers have the best inside-out breaks in the college game, as well as their patented high-release around flick to counter when needed. Their offense is fast-paced and dynamic–rarely anyone holds the disc passed stall 3. Their cutter timing and ability to get 3 or 4 looks all in the same stall count are two big reasons why their offense is so hard to stop.
On defense, there are no huge surprises. Pitt has a lot of junky sets in their playbook, including a 3-3-1 diamond (the same as Arizona's) and a 4-2-1 (4 man cup, 2 wings, 1 deep). They often use them to stop the other team's plays, then they usually transition out of it.  Pitt relied on the zones heavily against UCF in the finals last year and expect to see them play zone again this year against the more athletic teams like Wisconsin, Minnesota, and UCF. When the ESPN announcers mentioned that Pitt has 30 variations on their defense, all that really means is they have 5 or 6 different looks, each with 2+ small tweaks (small tweaks could just mean forcing flick or backhand). Still, in college to have 5 or 6 defensive looks to throw at a team over the course of the game is impressive.
But most often Pitt uses their athletes to play hard man defense.  Typically they front aggressively, using their athleticism to make up ground and create Ds in the air.  Senior captain Tyler Kunsa is a nasty handler cover. He's a smart defender that you're not going to fool with corny jab steps. Kunsa also did a lot to get the disc moving for Oakland on a turn this fall, so he could be fixed on Pitt's defensive line.
One player to watch: I've seen Joe Bender play a lot over the years. He's got good footwork, patience with the disc, and, above all else, is a really competitive dude. Bender wants the disc, and I agree with Kaczmarek that it's time for him to put it all together. Look for Bender to separate himself from the pack and pick up a lot of that available playing time this spring.
Season Outlook
This is as close to a legitimate D1 athletic program as there is in college Ultimate. They lose big name players, they replace with high profile recruits. With recruiting classes like these, it's not rebuilding. It's reloading.
Nick Kaczmarek is the backbone of this program. He deserves as many bouquets you can throw at a coach (as reflected by his two USAU Coach of the Year awards). One thing that many teams struggle with, especially at the college level, are first year captains – who can be overly aggressive, too passive, bad communicators.  Just when they get the hang of leadership, captains may graduate, and the team has to go through those growing pains all over again with the next guy.
Pitt doesn't have to deal with random philosophy changes. Kaczmarek has been around the program as a player or coach for a decade and doesn't appear to be going anywhere. As long as he's at the reigns, Pitt will always be in the conversation to win a national title. They are still a favorite to move into Black Tide territory this this spring.
Spring Tournaments: 
ACCUC, January 25-26
Warm Up: A Florida Affair, February 14-15
Stanford Invite, March 1-2
Easterns, March 21-22
Coaches:
Nick Kaczmarek
Dave Hogan
Captains:
Aaron Watson, senior
Marcus Ranii-Dropcho, senior
Tyler Kunsa, senior
Trent Dillon, junior
**The author of this piece played against Pitt for five years and has also played club with some Pitt alums.  Contributions from Cody Johnston were valuable additions to the piece.
---
Ranii-Dropcho's big pulls may push him to defense if the O Line handlers are getting it done ↩