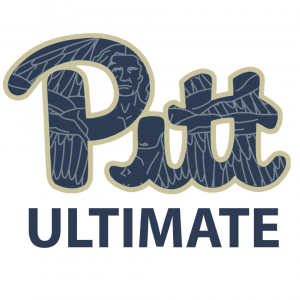 Pittsburgh
Established
1998
Based in
Pittsburgh, Pennsylvania
Nicknames
En Sabah Nur, University of Pittsburgh
Short Name
Pitt
Personnel
Coaches
Nick Kaczmarek, Colin Conner, Christie Lawry
Captains
Michael Ing, Andrew Lehmberg, Ben Morgenstern
Roster Announcement
pittultimate.org
Postseason titles
Regional
titles (7)
2018, 2017, 2015, 2014, 2013, 2012, 2011
Championships (2)
2013, 2012
Postseason appearances
Regional
appearances (14)
2018, 2017, 2016, 2015, 2014, 2013, 2012, 2011, 2010, 2009, 2008, 2007, 2006, 2005
Championship
appearances (14)
2018, 2017, 2016, 2015, 2014, 2013, 2012, 2011, 2010, 2009, 2008, 2007, 2006, 2005
Links
Website
pittultimate.org
Twitter
@PittUltimateM
Instagram
@PittUltimateM
Snapchat
pittultimate
Youtube
youtube.com
USAU Page
play.usaultimate.org
Pittsburgh is a college ultimate team based in Pittsburgh, Pennsylvania. The team competes as a member of the Ohio Valley region in the College D-I Men's Division of USA Ultimate (USAU).
Recent Ranking
Pittsburgh dropped to #8 (from #7) in our College D-I Men's Power Rankings on March 18th, 2020.
Recent Videos
For more videos try searching our video archives on VHX.
Seasons
Year
League
Region
(finish)
Section
(finish)
Regular Season
Postseason results
Captains
Coaches
Wins
Losses
2018
USAU
Ohio Valley

1st Place at Ohio Valley Regionals

2nd Place at College Championships


2017
USAU
Ohio Valley

1st Place at Ohio Valley Regionals

T-5th Place at College Championships


2017
USAU
2016
USAU
Ohio Valley

T-3rd Place at College Championships

2nd Place at Ohio Valley Regionals


2015
USAU

T-5th Place at College Championships

1st Place at Regionals


2014
USAU

T-5th Place at College Championships

1st Place at Regionals


2013
USAU

1st Place at College Championships

1st Place at Regionals


2012
USAU

1st Place at College Championships

1st Place at Regionals


2011
USAU

T-5th Place at College Championships

1st Place at Regionals


2010
USAU

T-3rd Place at College Championships

2nd Place at Regionals


2009
USAU

T-5th Place at College Championships

2nd Place at Regionals


2008
USAU

T-11th Place at College Championships

2nd Place at Regionals


2007
USAU

T-9th Place at College Championships

2nd Place at Regionals


2006
USAU

T-13th Place at College Championships

2nd Place at Regionals


2005
USAU

T-13th Place at College Championships

2nd Place at Regionals