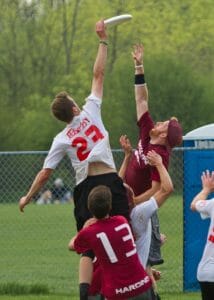 Can anyone dethrone the Postmen? That's the question for the rest of the Northwest this season. The University of Puget Sound Postmen have dominated the Northwest region for the past two seasons. In addition to being a perfect 14-0 at Regionals and winning most of their games by a wide margin, the Tacoma squad has finished as DIII runner-up in both 2012 and 2013. Late last season, Pacific Lutheran Reign looked ready to take on the Postmen but they couldn't get it together when it counted most. Can Lewis and Clark reestablish themselves as a Nationals contender? Will Whitworth shock the region yet again?
The Southwest has been a forgone conclusion for the past few seasons as well; the Claremont Braineaters are the cream of the (limited) Southwest crop. While anywhere from three to five teams have participated in the regional tournament, last season was a two-dog race. Don't be surprised to Claremont and Occidental squaring off in the game-to-go again this Spring.
With five West coast opponents facing off at DIII Warmup, we'll get an early indication of the front runners from the Northwest and Southwest regions.
#2 Puget Sound Postmen
The Postmen should again be a force to be reckoned with on the DIII scene this season. Well coached and disciplined in their approach, UPS aims to break the two-year streak of losses in the Division III finals.
Captain Daniel Mozell explains the mindset of the team after two tough losses: "Consecutive second place finishes is actually something we're proud of. Most teams' seasons end in a loss, ours just happened to be in the finals. Our team talked about it, though, and we never want to end up second again. We've decided that leaves us two options: We can train really hard to be in the best shape possible or we can get fat and lazy so we don't even make it to nationals."
Expect the former from the Postmen this season.
UPS lost a number of key players to graduation, most notably Spencer Sheridan, Peter Geertz-Larson, and Sam Berkelhammer. The team will be hard-pressed to replace Sheridan, who controlled the disc a great deal in their vertical offense. Fortunately for the Postmen, they return both Eric Hopfenbeck (U23 tryout) and Mozell, who are both explosive two-way players. Hopfenbeck and Mozell were the only two players at 2013 Nationals to record at least nine goals, assists, and passes defended. Look for Dylan Harrington, Brenden Femal, and Riley Carpenter to bolster the UPS D-line. Jack Derham, Alan Henzy, Connor Sleeper, and star freshman Rob Korbel should contribute for this hardworking bunch as the season progresses. The team's mantra continues to be "boring offense and exciting defense," a system that reaped benefits for them last season.
Despite a strong 2013 from Pacific Lutheran Reign, Mozell considers Lewis and Clark Bacchus who finished third at Regionals, to be their toughest opponent on route to another Nationals appearance.
"The only team from our region that we have played during the fall was Pacific Lutheran University, who we defeated handily with a split squad…," he said. "Lewis and Clark is an extremely skilled squad who went 6-0 at Beaver Brawl and look to be our closest competition in the region. It's a pity the way rankings work that they were left out of Nationals last year because they would have taken down some top teams."
Mozell went on to talk about some East coast teams that UPS has on their radar.
"Countrywide, I would say that Stevens Tech is shaping up to have a good season, with a few AUDL players and consistently upward mobility in the rankings over the past couple of years," he said. "Amherst has also come out this season high in the rankings following an impressive run at Nationals last year."
Puget Sound will be attending DIII Warmup, PLU BBQ, Stanford Open and possibly some other high level tournaments. Mozell would like to test themselves against strong DI competition, however he's been faced with a common hindrance of DIII teams.
"Unfortunately many of the TDs I've spoken with are looking to make their tournaments "elite" but how can they determine a team's level without evidence?" he said. No matter the level of the tournament, the Puget Sound Postmen should continue to produce wins and be a staple on the DIII scene this Spring.
Claremont Braineaters (#12)
When Claremont looks ahead to 2014, their sights are set far past their Regional tournament.
"Our goal for this season is to become the best team we can be," Captain Alex Cloud explains. "If we accomplish this, I expect we will win D-III Nationals. We hope to develop our mental game so that we can maintain peak performance even when everything isn't going our way… We are inwardly focused. I think every Claremont player would agree that the Brains can run with anyone in the division, granted we work hard to prepare over the course of the season."
Yet since winning a National Championship in 2011, behind the strong play of Markham Shofner and Tommy Li, the Braineaters have consistently qualified for Nationals while finishing no better than 7th place once there.
This season, Claremont will be without its three 2013 captains — Zach Purdy, Daniel Geller, and Devin Drewry — all who have graduated after playing large roles for the Braineaters last season. However, Cloud emphasized the impact that their new players will have on the team.
"We've picked up more notable freshmen than I can name here, but I must mention Bruce Service and club Worlds player Jordon Lim, two talented rookies that can handle, cut, and love getting huge layout Ds," he said. Lim should be the early favorite for Freshman of the Year out of the SW-III and give Claremont impressive experience out of a young player.
Sophomore Jimmy Bright-Dumm and junior Alex Gruver are two of Claremont's top players. Bright-Dumm exhibits booming backhand hucks as well as impressive aerial dominance. A two way player, Gruver will be a reliable cog in the Brains' system.
As Cloud explains, this system will transform itself as the season progresses. "We have quick handlers that love to play the dominator game, such as captain Chris Brown and myself, as well as numerous cutters that will win almost any 1-on-1 matchup they are presented with, so it will be interesting to see how these potentially conflicting styles develop as our offense takes shape," he said. "We have a lot to work with so ultimately it's going to be a matter of developing consistency and integrating our talent into a single cohesive system." In all likelihood, Claremont will return to Nationals, but it will be the production of their younger and role players that will dictate just how far Braineaters go.
Lewis and Clark Bacchus
After qualifying for Nationals in both 2011 and 2012, Bacchus failed to reach the big show in 2013. With no strength bids and the presence of the dominant Postmen, Lewis and Clark was aware of the challenge and unlikelihood of qualifying. "Missing nationals last year was definitely disappointing, but we were a very young squad," said Captain Kyle Barton. "That, combined with the fact that our region received no strength bids prepared us for the possibility (or arguably, the probability) that UPS would take the only bid to nationals last year. Our primary goal was to build our program. We knew that we would have a strong squad this year, and we're excited that the hard work has paid off."
Bacchus appears to have the blueprint for 2014 success. After not graduating a single senior and bringing on a bevy of elite coaches, the group may be inline to return to the top of the division. "Mario O'Brien was our head coach last year. He, along with assistant coach Riley Meinershagen, definitely helped to develop our program and to prepare us for this year. This year, however, we are being coached by Rhino captain Sean Parker, along with Lewis & Clark alum Ben Lohre. Sean's been great in developing more sophisticated workout and conditioning plans for the team. He's also been super helpful in lending his expertise to our cutters down field, helping us stretch our offense out more, preventing picks as a result of a clogged stack," explained Barton. There's no questioning the experience of O'Brien, Meinershagen, Parker, and Lohre, and it would be hard to argue that the Bacchus coaching staff hasn't been one of the best in any college division.
This mentoring paired with the chemistry of a veteran roster has Barton and Bacchus excited for the Spring season: "Our go-to players include a strong class of seniors that have been playing together for four years, and largely starting for three…We did not graduate any players from last year. While we were exceptionally young in 2013, we're excited about our ability to perform this Spring because this team has had two years to really develop some chemistry and add to our disc skills."
Offensively, the team will rely on junior Will Shaw (Rhino) and senior Barton (Engine 45) to work the disc onto the break-side while Ben Whitenack will use his size and speed to stretch the field. However, the bread and butter of this offense will be underneath cuts as long as they can outwork their defenders. Harrison Chase, Sam Franer, and Greg Soto (all three of Portland Knife Fight) will anchor the Bacchus D-line and generate hard-earned breaks.
Playing in a tough region like the NW-III may make it tougher for Lewis and Clark to get out of the region, but Barton knows that high quality preparation will be beneficial in the long run: "We consistently play against talented DIII squads such as UPS and PLU. In addition, we generally play a number of games against strong DI programs, including Oregon and Washington. Overall, we'd much rather be in a highly competitive region like this one, so that we are prepared for the level of competition that we see at Nationals." Bacchus will work hard this spring to earn a strength bid for the Northwest and show what they have on the biggest stage. They'll be tested at both DIII-Warmup and PLU BBQ.
Pacific Lutheran Reign 
Reign endured a polarizing Spring of 2013. After three impressive finishes during the regular season, Reign appeared in position to challenge UPS for the one bid to Nationals out of the NWIII. Unfortunately, PLU faltered at the conference tournament, getting upset by Whitworth, Lewis and Clark, and not even giving Puget Sound a decent game.
"I think we might have peaked a little early, but we also got hit by the injury and illness bug," Captain Clayton Bracht said. "We just couldn't stay healthy, and when your team isn't 100% healthy for the series, you're going to struggle. This season we're just looking to constantly get better at each practice, game, and tournament. As long as we do that, we should have a good season."
Hopes are high for the team as they head into the spring season. Riley Swanson and Matt Ostendorf will anchor the D-line while Bjorn Slater will be looked to to make plays on offense. While they grabbed Elliot Cohen away from the Postmen and have developed sophomore Tyler Glass, they'll struggle to replace the nine seniors they lost to graduation. Reza Refaei and Nicky Domenichini come in as talented freshmen with high-school experience and will take the burden off of some of the veterans.
Bracht understands the strength of the region and knows that Reign will need to work hard to make it to Ohio: "The NW-III is what it is. We know that we will always have to bring our "A game" and that we need to take our entire region seriously, no matter the team. Anyone can beat anyone on any given day. Obviously UPS has had a hold on the spot in our region for the past few years, but our goal is still to get that bid out of our conference." When the long-ball is clicking for PLU, they can be a dangerous bunch. Expect a better finish than last season's underwhelming performance.
Whitworth Ruach
Surprisingly, Whitworth was the talk of the Northwest in the 2013 series. Going into regionals, Ruach had only played at PLU BBQ, where they finished a thoroughly unimpressive 0-7. Going into Regionals seeded seventh out of seven teams, they appeared to be nothing more than a game that the top seeds would be forced to play to qualify for Nationals.
However, Ruach played inspired Ultimate and placed second in the region, upsetting PLU and Lewis and Clark. "The main reason that we did so poorly at PLU BBQ was that we only had nine players, and we were just dead tired after a few games," Captain Clayton Bracht said. "In the series we had two more guys and we were able to keep everyone fairly fresh…Our first game was against PLU and we were all pretty nervous. We ended up breaking them three times in a row to win on universe point 14-13. That win got us so fired up that we were unstoppable in our next game against Lewis and Clark. We were up 11-4-ish and their coach called for the forfeit."
Whitworth would appear to be a legitimate contender this season, but injuries and a loss due to study-abroad appear to hamper their chances at competing at their peak level. Khoe along with fellow captain Matt Goodale will both miss the series with ACL injuries and Connor Otheim will be studying in Costa Rice, leaving Ruach without three of their best players. Brothers Conner and Bryan Walsh will likely carry the load for this team in their horizontal stack.
Ruach loves to huck the disc and will look to set up a zone when they don't convert on long-balls. The unpredictable conditions in the Northwest favor pressuring zone-defenses. Young and talented players like Jonny Burge (Sophomore), Peter Bachmann (Sophomore), Matt Keiper (Junior), and Will Sogge (Freshman) will do what they can for Ruach, but don't expect them to challenge the likes of Puget Sound and Lewis and Clark for a regional title.
Occidental Detox
Occidental had a steady 2013 that ultimately ended at the hands of Claremont. They showed flashes of promise with wins over a strong (but tired) Amherst team, Cal Poly-SLO and a one point loss to Puget Sound. However, they went 0-2 in their two matchups against the Braineaters and just missed out on Nationals.
"We had a lot of talent last year and underperformed all year, and I think that was a big wake up call for us," Captain Jacob Surpin told Ultiworld. "So far this year our focus has been on keeping it small and trusting in the process. We're definitely fueled by last year, but we don't focus on it. We just want to go practice by practice and game by game."
Occidental lost four of their key players, most notably Noah Donnell-Kilmer, a two way player and captain. Still, they appear reloaded and will turn to some younger players who have both developed and recently joined the team. Surpin told Ultiworld that Occidental had added more than ten new players. He specifically mentioned Kai Foster, a junior who's playing college Ultimate for the first time after growing up and playing in Amherst, Mass, and Spencer Goldman, a freshman, as two potential stand-out players.
"Kai is 6'2″ and is one of our big O-line cutters," said Surpin. "Spencer will both cut and handle for D-line this year, and will play tons of points. We're also expecting huge things from our crop of sophomores, including O-line cutter Dan Terner." Terner was one of Occidental's top freshman last year and has the ability to have a huge impact on games, while Surpin mentioned David Phillips as another sophomore on O-line who can play at both the handler and cutter positions.
But look to Occidental to mostly fall back onto their veteran talent — talent that often carried them last season. Andrew Featherston (U23 tryout), Zach Bruno, and Surpin will lead the team, which focuses on versatility on offense. Everyone can be relied on to shift from cutting to handling as points progress.
6'5'' Conrad Preston exemplifies this versatility of their system, as he transitions from O-line cutting last season, to D-line handling this season. This team has relied too heavily on low-percentage hucks in the past and will emphasize more intelligent deep-looks in the coming season. If they can limit ill-advised turnovers and allow the disc to run through the right players, Detox can give the Braineaters a run at the region.
Westmont Wildfire
Wildfire may be the team to throw a wrench into the equation in the Southwest. They fell 11-13 to Occidental at regionals last season and 12-14 in 2012. They play an unorthodox style of Ultimate that involves unconventional throws and a liberal approach to strategy. However, they've found a way to make it work and put up points against decent opponents. A spirited group of guys to play against, Westmont has an outside shot at a pulling off an upset.