What to watch for among the story lines and contenders this weekend in Winston-Salem.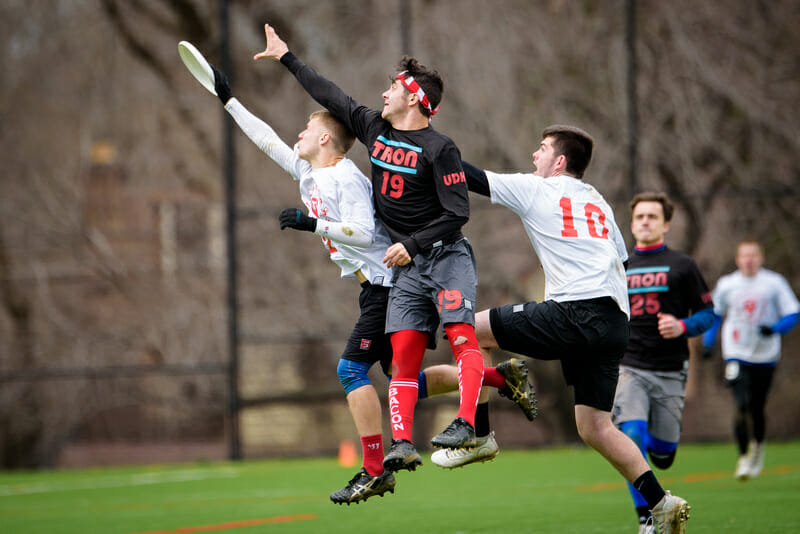 Some teams subscribe to the mantra "Natties or bust," keeping their season-long goals front and center throughout the spring. For others, a call to "win the moment" drives team culture. Regardless of what idea guides each team, this weekend's National Championship tournament in Winston-Salem, North Carolina will be the culmination of great effort and great sacrifice for 16 of the top DIII Men's teams in the country.
For newcomers, the achievement is particularly sweet.
Indiana Wesleyan will be making its first appearance at Nationals in Travis Carpenter's final year. Says Carpenter, "At times, I questioned our own methods and wondered if we were doing things right and if all of our hard work was really worth it. This accomplishment makes it all worth it." A program that began just four years ago arrives at Nationals with a target on its back: the number two overall seed at the top of the group of death.
UNC-Asheville is making its first Nationals appearance in seventeen tries. "For four years now, I've wanted nothing more than to make Nationals," says senior Chad Gerber, "And all the time and energy I have put into this goal helped to make the dream finally become a reality."
For Adam Schrag, captain of 15-seed Knox, the language is different, but the meaning is there just the same: "We've focused a great deal on the idea of 'eating' over the course of our season; when we're on our game and going wild on the sideline, we're able to fully embrace the idea of 'eating' everything in our path. We're coming to celebrate our success and grind out one last weekend for each other. We can't wait."
At the intersection of these three perspectives lies something of the spirit of college ultimate: gritty, competitive, light-hearted, team-oriented and purely, deeply fun.
For each of the sixteen teams that will be competing for a shot at the title this weekend, there is a field in Winston-Salem waiting. For one, there is a trophy too.
Major Storylines
Seeding Controversy
USA Ultimate's decision to re-run the algorithm before Nationals has been widely criticized. Perhaps most fundamental to the criticism is the fact that USAU did not tell teams they were going to re-run the algorithm and use it to generate pools. Teams threw meaningless consolations games at conferences because the precedent dictated they would not be punished for doing so.
Instead, the rankings changed dramatically in the aftermath of the Series so far, which has created two pools of death. Lewis & Clark (+14), John Brown (-13), and UNC-Asheville (-12) were all big movers; Bryant jumped from unranked to number one in the country.
Two title contenders — Bryant and Richmond — face off in Pool A along with perennial powerhouse Carleton GOP and a team which traditionally competes at the DI level, Colorado College. Using the end-of-regular-season rankings, Pool B consists of the #1, #2, #5, and #6 teams in the country. One team from each pool will be eliminated Saturday. Assuming the second place teams in each of these pools win their cross-over, they will get the top seed from the other group of death to start the day on Sunday.
The nature of championship play is to be unforgiving. However, these seedings — and the draw which follows from them — push past the point of difficulty and lower the quality of the tournament.  
Asked for comment on the pools and seeding, USA Ultimate replied, "We take seeding very seriously, and our choices were made with care."
Can Franciscan Repeat?
When the college season ended last year and Franciscan completed their undefeated run to the title, the answer to this question seemed obvious. Dominic Schuster, Tommy Koch, Stephen Babcock, Jay Ratajczak, Tony Bort, and JP Bort were all going to return for another year – how could they not repeat?  
Obstacles, in the form of injuries and semesters abroad, prevented Franciscan from playing at their peak level for most of the spring season. With Ratajczak back for Easterns, they won the title. Now, Babcock and the Borts are back too. No one, not even the Franciscan team themselves, has played the squad which will toe the line at Nationals this weekend.
If Franciscan can find their rhythm with a newly reunited team, few opponents will be able to stop their quick movement and efficient conversion. While not the runaway favorites, Franciscan appears more likely to repeat than at any point so far this season.
Team Previews
We've broken the field down into three groups: contenders, challengers, and qualifiers. For each team, we have listed their most recent USAU ranking, Ultiworld ranking, and regular season strength of schedule 1, as well as made a note of important results throughout the season. Debate and disagreement about these classifications is encouraged; all orders within sub-groups are alphabetical.
The Contenders
Three teams have separated themselves from the rest this season. With wins at Layout Pigout and Easterns, Richmond and Franciscan proved they can beat the best teams in the division. Both were dominant in their tournament wins, beating Brandeis by five and four respectively. Neither team has lost a game in the Series so far.
Despite not playing ten sanctioned games in the regular season, Bryant has also established itself as a clear contender for the National title. After a one-point loss to Brandeis in the National semifinal last year, Bryant responded by routing them in the Regional championship three weeks ago.
With the right tactics and a little luck, any of these three might walk away as National champions. Although others could make a run on Sunday, a winner coming from outside of these three seems improbable.
Bryant
By the numbers: USAU #1, Ultiworld #6, SOS (-)
Key results: UConn (L, 9-13), Brandeis (W, 15-9)  
Why this is their year
Bryant leads with their defense. No team has found a way through their tall and adaptable zone so far this season. With rain in the forecast for Winston-Salem, a slippery disc will not be any thrower's friend, and hitting blades and overs in wet conditions will be extremely difficult. While a strong team all-around, Jacob Garfinkel may be the most athletic player in New England and a difficult match-up for any team. They have experience in Sunday elimination games and are motivated to out-do last year's third place finish.
Why it might not be
Although Bryant played some unsanctioned games in the spring, they did not get experience against the best teams in the division. Athleticism also matters far less in wet and muddy conditions than in ideal ones. Contenders Richmond and Franciscan rely more heavily on disc skills and quick movement than Bryant does, which may prove a better tactic in the conditions. Additionally, they could face a daunting run through the bracket as the first and second place teams in Pool A (likely) face the first and second place teams in Pool B in the quarterfinals Sunday morning in match-ups worthy of semifinals.  
Franciscan
By the numbers: USAU #9, Ultiworld #1, SOS #15
Key results: Wheaton (L, 14-16), Richmond (L, 10-13), Brandeis (L, 11-13; W, 13-10), IWU (W, 15-5)
Why this is their year
Look no further than Easterns. After hiccups at Midwesterns and Layout Pigout, Franciscan turned it on in the biggest regular season tournament of the year. They have only been improving since and are confident in their abilities.
"Despite winning Easterns, we will not let up. We cannot let up," says captain Tommy Koch. "The last team to win DIII Easterns came in last place at Nationals. I can assure everyone that will not happen with us."
Stopping Franciscan's shallow horizontal stack and quick movement requires athletic defenders and efficient switches. Few DIII teams run this kind of help man-defense effectively or have the personnel to do so. Zone defense opens up Franciscan's arsenal of overs and allows Schuester to go every other pass up the field.
Why it might not be
At times this season, Franciscan has been caught playing down to their competition. One lapse this weekend is enough to end their season. Keeping their mental focus is a tall task by itself, and as teams learn their style of play, they will find ways to take away what Franciscan wants most. It is hard enough to win once, and harder still to win a second title in a row — no team has done it yet in DIII.
Richmond
By the numbers: USAU #5, Ultiworld #4, SOS #21
Key results: Franciscan (W, 13-10), Brandeis (W, 13-10; W, 15-10), UNCA (W, 13-5; W, 15-12)
Why this is their year
Richmond dominated what was likely the most challenging regional championship tournament in the country. They were broken fewer than ten times all weekend, and when their defense generated a turn, they converted almost every time. Henry Babcock and Joey Cullison form a handler-cutter pair as strong as any in the country. Babcock's range of throws open up the deep lane, the break side, and everywhere else on the field; Cullison's speed and athleticism are a match-up nightmare. Most teams will have to choose to put their best defender on one of these two players and leave the other to do damage. Richmond has beaten Brandeis twice and Franciscan once, and their only bad game of the season came in 25mph winds that they will not see this weekend.
Why it might not be
Richmond has only qualified for Nationals one other time and relies heavily on freshman handler Chris Selwood to initiate the vert stack movement. While he has had a terrific first year, if Richmond's opponents use their physicality and speed to shut down Babcock, it may be too much to ask a freshman to carry them to a national championship. They also face the same concern with the quarterfinals draw as Bryant.
The Challengers
Parity has been a hallmark of the division this year. Eleven teams enter the weekend with a real chance at making the semifinals.
Air Force
By the numbers: USAU #6, Ultiworld #9, SOS #5
Key results: Lewis & Clark (W, 9-5; W, 8-7), Carleton-GOP (W, 13-11), Claremont (W, 10-6), IWU (L, 6-10), John Brown (L 12-13; L, 8-12; W, 11-10, W, 13-10)
No team has wins against as wide a range of opponents as Air Force, nor has any DIII team played as many games as them.
Senior Mitch Willis leads a defense that is willing to challenge their opponents to go over the top and will lay out to prevent unders. Their handlers may not have the flashy throws or quick give-and-go movement that others do, but they know their roles and hit open throws. Air Force's horizontal stack is effective, but when they have played equally athletic, but perhaps more versatile defenders, they have had less success.
Air Force has been streaky down the stretch, with a quarterfinals exit at Easterns followed up by an undefeated run through a competitive South Central Regionals tournament. They are 3-0 against Pool C opponents Lewis & Clark and Claremont, although the win against Claremont was in a consolation match. They will need to limit unforced errors and connect on their hucks if they are to challenge for a spot in quarters and semis.
Brandeis
By the numbers: USAU #7, Ulitworld #3, SOS #4
Key results: Franciscan (W, 13-11; L, 10-13), Richmond (L, 10-13; L, 10-15), IWU (W, 9-7), Bryant (L, 9-15)
Brandeis is a team used to finishing second: to Richmond at Layout Pigout; to Franciscan at Easterns; to Bryant at New England Regionals; and, of course, to Franciscan in the National Championship last year. In championship games this season, they have lost by five, four, and six respectively.
Captain Elan Kane is unfazed by the close calls: "Nationals is the time we get to show everything we've been working on since the fall – from our conditioning to our various strategies to our fundamentals."
A tight reset system and versatile zone defense should keep them in contention in most games and prevent them from falling behind weaker opponents. Still, they have not executed at their highest level on Sundays this spring. They will not need a perfect weekend to make quarters, but to advance beyond that will take a consistent level of play above and beyond what they have shown this season.
Carleton-GOP
By the numbers: USAU #13, Ulitworld #15, SOS #8
Key results: Lewis & Clark (L, 9-12; W, 5-4), Air Force (L, 11-13), Cal Poly-SLO (L, 6-13), UNCA (W, 11-6)
Despite a very strong regular season, GOP finds itself in a brutal Pool A, behind two teams capable of taking the title.  
"We don't concern ourselves with things we can't control like seeding or who is in our pool," says senior handler Max Longchamp. "We're just going to go out and play frisbee each point the best we can."
GOP's carefree attitude and willingness to lean on a deep bench of role players has brought them success in the past, and this tournament should be no different. Longchamp paces the offense alongside junior Dan Black, and junior Zack Considine has developed into a strong cutter down field.
Against a very talented St. John's team in the North Central regional final, GOP's offense was clean and efficient. When they got turns, they converted, winning the game 15-12. Although they did not reach the semifinals at Nationals last year, their experience and strength of schedule should prepare them to give any team a game this weekend.
Claremont
By the numbers: USAU #8, Ultiworld #2, SOS #3
Key results:  Air Force (L, 6-10), Cal Poly-SLO (L, 9-13), Utah (L, 11-13)
Claremont played their entire slate of regular season games before March and cruised through a relatively weak Southwest region to return to Nationals again. Their tough schedule was made even more difficult by heavy wind and rain, and they have become accustomed to beating zone defense and other junky looks.   
Heading into the Nationals, injuries are a major concern. Three d-line starters are recovering from injuries, as is senior cutter Jimmy Bright-Dumm. Tighter lines with more cross-over have improved chemistry, but they will need their defense to play their best to avenge their early-season loss to Air Force and claim to top spot in Pool C.
Colorado College
By the numbers: USAU #11, Ultiworld #16, SOS #27
Key results: Air Force (L, 11-12), John Brown (W, 13-7; W, 10-8; W, 9-8; L, 7-10)
Five year ago, Colorado College qualified for DI Nationals, and 2016 marked the first year they were eligible to return to DIII competition. They enter as the fourth seed in Pool A.
At Conferences, Colorado College was dominant, beating John Brown twice to take the conference championship. Regionals was less convincing, as they fell to Rice, John Brown, and Air Force. When they are playing their best, CC's speed and depth can win them almost any game.
Senior Ian Adams and freshman Grant Mitchell lead the offense, and both can switch from handler to cutter and back again. Adams' size makes him a deep threat from the handler position, and Mitchell's hucks and speed allow him to play wherever he wants on the field. Adams is the only senior on the team, and while CC may lack experience in big games, they are sure to be a threat for years to come.
Georgia College
By the numbers: USAU #8, Ultiworld #18, SOS #26
Key results: UNCA (L, 6-11; W, 15-10)
Georgia College has become a staple of the DIII Nationals scene, advancing out of the Southeast every year since DIII was created. This year's team uses their speed and athleticism to challenge opponents all over the field. While they have played an easier schedule than most, they have learned to peak at Nationals.
After a contentious and hard-fought loss to Bryant in the quarterfinals last year, Georgia College is motivated to improve upon last year's fifth place finish. They will need standout cutters Caleb Shorthouse and Nathan Vickroy to have big weekends if they are to return to the quarterfinals this year.  
Indiana Wesleyan
By the numbers: USAU #3, Ultiworld #5, SOS #2
Key results: Wheaton (W, 15-9; L, 6-7; W, 13-12), Franciscan (L, 5-15), Air Force (W, 10-6), Brandeis (L, 7-9)
Indiana Wesleyan's first appearance at Nationals has been years in the making and full of close calls and near-misses. Miserable conditions at conferences and Regionals made qualifying closer than it should have been, but IWU claimed their first Great Lakes title along with a berth to Nationals.
IWU has won big games not through sheer dominance, but rather by attrition. Their cutters work hard to run their opponents into the ground, and on defense, they use a mix of zone and man looks to gum up offenses.
Travis Carpenter largely stays in the handler position, and IWU looks to their cutters' athleticism to generate movement from their vertical stack. Heading into Nationals, they have prioritized learning new zone defenses so that their offense will be prepared for whatever their Pool B opponents throw at them.
To claim the top spot in Pool B, IWU will have to avenge their Easterns loss to Brandeis and take care of business against John Brown and UNCA – a difficult task both on paper and in practice.
John Brown
By the numbers: USAU #14, Ultiworld #8, SOS #17
Key results: Air Force (W, 13-12; W, 12-8; L, 10-11; L, 10-13), Colorado College (L, 7-13; L, 8-10; L, 8-9; W, 10-7)
One of the teams that got the short end of the stick from the re-run algorithm, John Brown dropped from the #1 team in the country to outside the top ten despite not playing a game in March and finishing second in a strong South Central region.
Their regional rivals credit John Brown's depth and strong fundamentals for their high ranking. Aric Powers makes few mistakes with the disc, and senior captain Ethan Penner is a complete player and two-way threat. Their team is very young – over half their regional roster were underclassmen.
At Nationals, the whole team will back playing together again (Penner missed Regionals) and should give every team in the pool a game if they can find the rhythm that sent them to the top of the ranking in February and March.
Lewis & Clark
By the numbers: USAU #2, Ultiworld #14, SOS #18
Key results: Oregon (L, 4-11), Air Force (L, 5-9; L, 7-8), Carleton-GOP (W, 12-9; L, 4-5)
No team benefitted more from the re-run algorithm than Lewis & Clark, who saw their ranking jump from sixteenth to second after only one tournament, likely moving up two seed lines in the process. Still, their performance at Regionals was truly dominant, as they won every game but one by five or more.
Ben Whitenack is the heart and soul of this Lewis & Clark team and his leadership and play have been crucial to his team's success. He can change a game with his cutting or his defense, and teams will have to scheme around him to slow down Lewis & Clark's offensive attack.   
After a disappointing end to last season's campaign, L&C hope to return to the top of the division again by building off a strong Regionals performance.
UNC-Asheville
By the numbers: USAU #17, Ultiworld #10, SOS #9
Key results: UNCW (L, 9-12), Georgia College (W, 11-6; L, 10-15), Carleton-GOP (L, 6-11), Richmond (L, 5-13; L, 12-15)
Asheville's best tournaments were their first and last of the spring. At Queen City Tune-Up, UNCA played Michigan and UNC-Wilmington within three and came up just short of qualifying for the championship bracket. Then, at Regionals, they gritted out a one-point win against Elon and overcame a 10-12 deficit to beat Davidson behind a junky zone defense.
UNCA's offense runs through senior Clint McSherry, and his first-step speed off his break throws makes him an elite handler and a challenging match-up. Although Asheville is deeper than McSherry, they will need him to continue to play turnover-free offense for them to break seed and qualify for the championship bracket. When their offense is clicking, UNCA looks for give-and-go movement all over the field, and they are willing to lose yards to keep the disc moving.
First-year coach Kyle Silva has been a difference-maker down the stretch. His knowledge of set plays and ability to make the right strategic adjustments was critical to Asheville's success at Regionals. With a handful of nagging injuries leading into Nationals, Silva's gameplan and McSherry's play on the field will likely determine how far UNCA can advance in their first National championship appearance.    
Wheaton (Ill.)
By the numbers: USAU #3, Ultiworld (unranked), SOS #29
Key results: Franciscan (W, 16-14), IWU (L, 9-15; W, 7-6; L, 12-13)
Wheaton shocked the DIII world with an incredible run through the regular season and Series to qualify for Nationals for the first time in program history. Led by a core of seniors and a balanced offensive attack, Wheaton lost only three games all season – two of them to #2 ranked Indiana Wesleyan. They are tough and do not go down without a fight; their resilience and mental strength are among their greatest assets.
Looking beyond their winning percentage, however, reveals a team that played the weakest schedule of any Nationals qualifier. The Franciscan team Wheaton beat in February bears little resemblance to the team they will face on Saturday.
Senior handler Luke Rynbrandt will need to have a superb performance against Franciscan for his team to hold seed. Qualifying for the championship bracket should not be a great concern, but they will have their hands full with whatever team they face from Pool A.    
The Qualifiers
Knox and Connecticut College enter the weekend a tier below everyone else. While both teams made strong runs through their regional championship to qualify for Nationals, neither finds themselves in a strong position to challenge for the championship bracket.
Connecticut College
By the numbers: USAU #25, Ultiworld (unranked), SOS (-)
Key results: Colgate (W, 11-10), Hamilton (W, 15-7)
Connecticut College is undefeated entering Nationals, but did not play a regular season tournament due to school funding issues. They entered both conferences and regionals as underdogs and won both.
Walter Stuart's handling ability and give-go movement will be crucial to their success this weekend, as will Connor Wise's cutting. Their offensive balance has served them well to this point in the Series, but to make some noise this weekend, they will need everyone to play at a higher level.  
Knox
By the numbers: USAU #18, Ultiworld (unranked), SOS (-)
Key results: Wheaton (W, 13-8; L, 5-9), IWU (L, 6-10)
For Knox, the story of their success begins with Harper Garvey. His handling ability is on par with the best throwers in the country, and he has earned the praise of many of his opponents.
According to rival Travis Carpenter, Garvey's throws are "some of the best I have seen in my entire life." In the windy and miserable conditions at Regionals, Knox was able to exploit their opponents' fatigue and use their sideline energy to propel them to win the last bid.
"Every guy who stepped out onto the field wanted it badly, and I think that that showed through our well-rounded win that was a total team effort," says senior Adam Schrag.  
Knox will need to clean up their drops and cutting to challenge in Pool C, but Garvey's ability by itself means they should not be counted out in any game.
What To Watch For
USA Ultimate's decision not to move the tournament location and instead play with rainbow discs in light of HB-2 has

inspired controversy among some religious DIII schools

. It is important to remember entering the tournament what the circumstances are surrounding USA Ultimate's decision as well as ways in which the ultimate community can support each other and stand up for what is best about our sport.

The forecast for the weekend does not look great

. Wind should not be a problem, but rain and mud could privilege zone offense and mental toughness over athleticism and speed.

In a year where seeding has been so contentious, the draw in bracket play is of critical importance. Two of the probable quarterfinals matches (A1-B2 and B1-A2) should be thrillers regardless of who comes out on top in each of these two pools. The winner of Pool C, meanwhile, has a relatively easier draw than the other pool winners and seems likely to advance to the semifinals.

Last year, Franciscan entered Nationals the clear favorites for the title and, outside of their semifinal win against SUNY-Geneseo, largely maintained their dominant form. The championship match this year should be closer and has the potential to be a classic.
Good luck to everyone competing this weekend, particularly those seniors who will be playing their final college tournament.
---
Teams who did not play ten sanctioned games in the regular season do not have a SOS listed. ↩