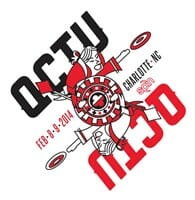 An incredible wealth of talent is descending upon Charlotte, North Carolina, to truly kick off the competitive college season at the 2014 Queen City Tune Up. Nationals hopefuls fill the field at QCTU, with storylines sprouting every which way from the bevy of notables. Top ranked teams are making their debuts. Fall stars are trying to show they are the real deal and not just doomed to turn into pumpkins at proverbial midnight.
And perhaps most importantly, the battles across regions for precious rankings points begin. With teams from eight different regions clashing – almost all of whom either made nationals last year or folded in their region's game to go – there's a lot on the line. This is especially true since USAU's new ranking algorithm will place greater weight on early season tournament results.
Tournament Pools
| Pool A | Pool B | Pool C | Pool D |
| --- | --- | --- | --- |
| Ohio State (#9) | Carleton (#3) | Tufts (#4) | Virginia (#10) |
| James Madison (#21) | Iowa State (#22) | North Carolina (#5) | Central Florida (#7) |
| Colorado (#8) | Northeastern (#18) | Michigan (#18) | Georgia |
| Northwestern | North Carolina-Wilmington | Florida State | Kansas (#23) |
| Dartmouth | Maryland | Pittsburgh | NYU |
#3 Carleton Syzygy and #4 Tufts Ewo Making Debuts
One of the most intriguing elements of Charlotte is finding out just where these elite programs are. There are reasons to believe both will be strong contenders for the duration of the year, pushing even the best teams. However, there is also reason for doubt, especially since this weekend will be the first time both teams have truly competed as whole units.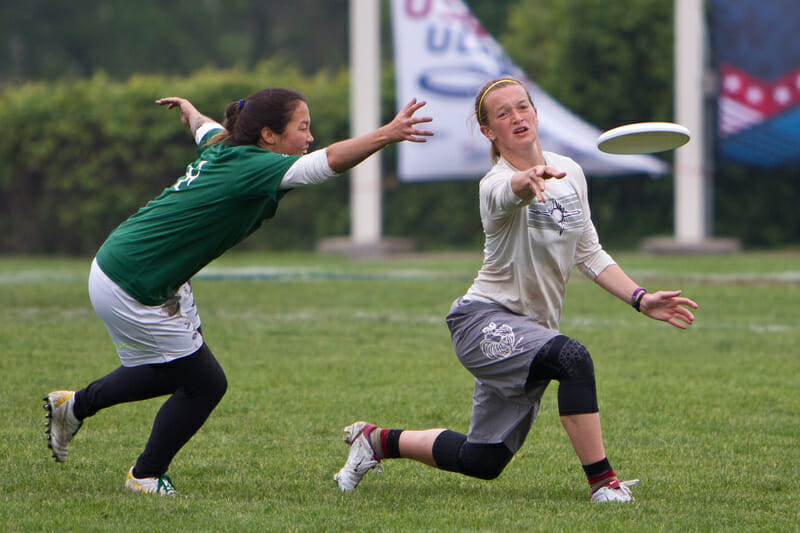 Carleton is coming a berth in the championship game, but after losing marquee names like Anna Reed and Flannery McArdle, they still have something to prove. Julia Snyder, an avatar of composure and execution, headlines for Syzygy, and will be handling with Kirstie Barton. McArdle, along with Marlena Hartman-Filson, will have their sizable roles filled by 6'0″ Emily Buckner and 5'11" captain, Briana Ricks.
You can expect their offense to attack the break side aggressively and their skilled handlers to be very comfortable against zone sets. QCTU was the first tourney of their spring last year, and they lost on double game point in the final to Iowa State, the second seed in their pool this season.
Ewo is in a similar situation, coming off a successful year, having reached Quarters last year. They did the same at QCTU, but at that point, they had Callahan finalist Claudia Tajima and all star Hailey Alm.
The cupboard is anything but bare. Mia Greenwald and Michaela Fallon both return after rookie years with Boston Brute Squad, while Qxnha Titcomb and Emily Shields (who is missing Saturday play) present versatile threats and are likely to be well known names by year's end. Add onto that the skill of Jojo Emerson and Laura Fradin, and you've got a scary lineup. That's not all, as they've picked up experienced rookies, like Paidiea Groove alumna Rachel Kramer.
"We have a very talented crop of rookies who we're excited to watch progress throughout the season," the Ewo captain told Ultiworld. The captains also are looking to reduce injuries, a problematic obstacle for them last season, so it wouldn't be a surprise to see them reaching into their depth.
"We're looking at this as an important opportunity to feel out the dynamics of the team and build chemistry," added the Ewo captains.
#21 James Madison Bitchmonkeys and #23 Kansas Betty Have to Show & Prove
On the opposite spectrum from the established powers of the NE and NC are James Madison and Kansas, up and comers trying to break into the top tier. Both teams had strong fall seasons and have the chance to prove that they aren't flashes in the pan. As Ultiworld Editor Charlie Eisenhood said astutely in our Deep Look podcast previewing the weekend, "The games don't matter until they matter."
JMU, for their part, remember falling in the regional semifinal last year at Atlantic Coast Regionals, and have grander visions for this season.
"That was a galvanizing moment for them," said Coach Alex Sirney, "They really came out of that saying 'we really need to focus on preparation.'"
The team actually built a little buzz last season, losing in the final of Winta Binta Vinta Fest and going undefeated at their home tournament, Bonanza. With Winta Binta snowed out this year, they stare down a much more competitive spring opener. A mix of strong returners and impactful rookies – some of whom are already taking starting roles – give JMU plenty of reasons to be confident they can live up to expectations.
"With our talent level, we have those expectations," Sirney said, "but we're trying to make sure those don't turn into pressure.
Kansas is also taking on the new challenges of moving up the totem pole.
"Our team is relatively untested when it comes to competing at a tournament of this caliber," said captain Kat Songer, "Our ability to perform in the fall leads us to believe that we have what it takes to deal with this new pressure."
Coming off a two loss fall, where they got fall wins (for whatever those are worth) over Colorado, Northwestern, and Iowa and won Missouri Loves Company, the bar is set as high as ever for Kansas. Songer, the trigger man for their squad, is a high powered handler on a team with a lot of depth at the position. Christina Baker and Caitlin Fitzgerald often join Songer in the backfield.
They put their disc skill to good use, looking to change fields and attack. "We try to be up-tempo and dynamic with fluid transitions," said Songer.
If their defense can keep up with tough opponents, like #7 Central Florida (in a game Ultiworld will be filming for your viewing pleasure), then they have a chance of making a big statement.
The First Step on the Road to Redemption for #19 Michigan, #8 Colorado, and #6 North Carolina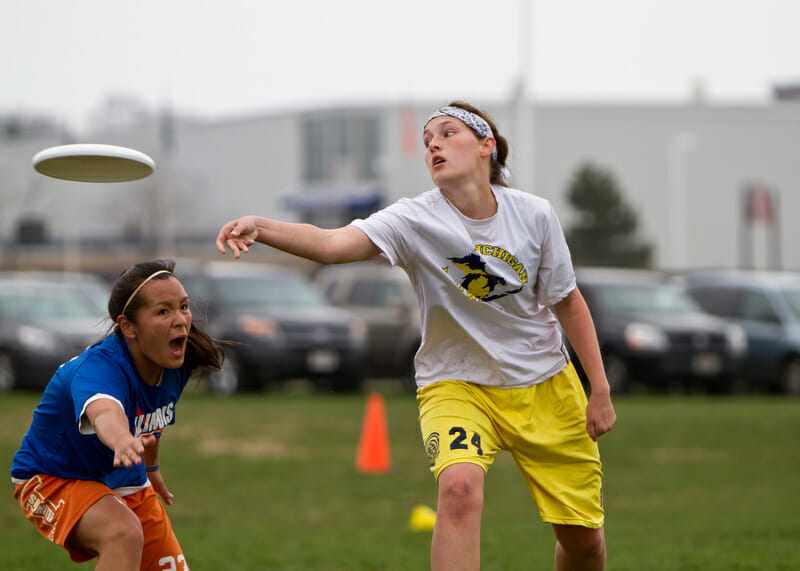 Three name brand programs absent from the College Championships last season are looking to turn those occurrences into abberations, and strong start to the spring is an ideal way to do it.
Colorado's returns from a team that lost in the game to go and their additions for 2014 make them very formidable on paper. Meagan Cousins returns after representing the red, white, and blue at the U-23 World Championships, headlining their returner group. They're adding a number of strong youth players, most notably youth stud Nhi Nguyen. It'll be important to see how cohesive a unit they are, integrating the batch of rookies and dealing with the travel.
Michigan Flywheel, like Colorado, was felled in the game to go last season, but has the pieces to be scary. Their key returner is Meeri Chang, a dynamic throwing threat able to pierce defenses with consistency and precision. Hannah Henkin was playing outstanding Ultimate this fall and the team has a veteran group of strong athletes downfield. Those returners will be glad to exercise the demons of last year, beginning in Charlotte, where their stumbles proved somewhat prophetic.
For North Carolina, who enters the spring considered a top contender, the back story is similar. A game to go loss closed the casket on 2013, but a core of impressive returners has them bouncing back.
"I think that our flaws from last year and the fact that we didn't make nationals is something that has driven us this year," said captain Shellie Cohen.
Cohen is a Callahan shortlister, and Coach Lindsay Hack has been pushing hard to develop other playmakers for Pleiades. One setback is that they'll be without their other star, Lisa Couper, this weekend, a devastating blow on both sides of the disc. Fortunately for UNC, they return some pieces they were missing during their strong fall. Kendall Beadleson will be asked to step into a big role downfield post-haste, while captain Bridget Walsh will also be looked to for leadership and to take on a greater offensive burden.
Historically, North Carolina performs very well at their home tournament, having made the semifinals each of the past four years, including winning the tournament in 2012. Performing well this weekend would be great, as they could use some momentum as they (and Flywheel) head to California for President's Day next week.
Inter-region Battles Begin the #Bidwatch
This year's bid picture looks fairly bleak if your interests reside beyond the Northwest. If the Northwest delivers on their sky high potential, it means there won't be very many bids to go around and ups the ante on matchups across regions.
The Atlantic Coast was a surprising one bid region last year; there's far too much talent for that to be enough again. There are five AC teams in the field, with three teams in the top 10 seeds. Can a shorthanded UNC avoid big upsets? Is JMU for real?
Early impressions of the Southeast don't scream a repeat year as a multi-bid region; Central Florida looks dominant, but nobody else has risen up. Florida State and Georgia both have work to do to get back into the mix and QCTU offers every opportunity.
Iowa State comes into the weekend with some definite question marks, but potentially under the radar. Wisconsin, who won't be attending, is generating some buzz. The North Central is highly unlikely to repeat last year's five bid feat, but how many they get this year is up for debate. Let ISU and Carleton present their opening statements.
On top of that, you have the South Central attempting to avoid another year a single bid region, with Kansas and Colorado in the field. Northeastern and Dartmouth would hate for the New England region to lose its strength bid – nobody wants to go through Tufts – and that means their games take on more meaning. Pittsburgh is in the same boat, with Ohio State holding the keys, so a second bid for the Ohio Valley would mean the world to them. Echo those sentiments for NYU, who has what looks like a strong Ottawa team blocking their path.
If you didn't follow, every region has plenty at stake. Teams often speak of improvement, of measuring themselves, and peaking at the right time when asked about such an early tournament. But believe these games matter now. Welcome to the meaningful regular season.
Players to Watch
Shellie Cohen – UNC
Cami Nelson – Iowa State
Julia Snyder – Carleton
Sunny Harris – Central Florida
Eva Petzinger – Dartmouth
Meeri Chang – Michigan
Hannah Leathers – Georgia
Kat Songer – Kansas
Alika Johnston – Virginia
Cassie Swafford – Ohio State
Nhi Nguyen – Colorado