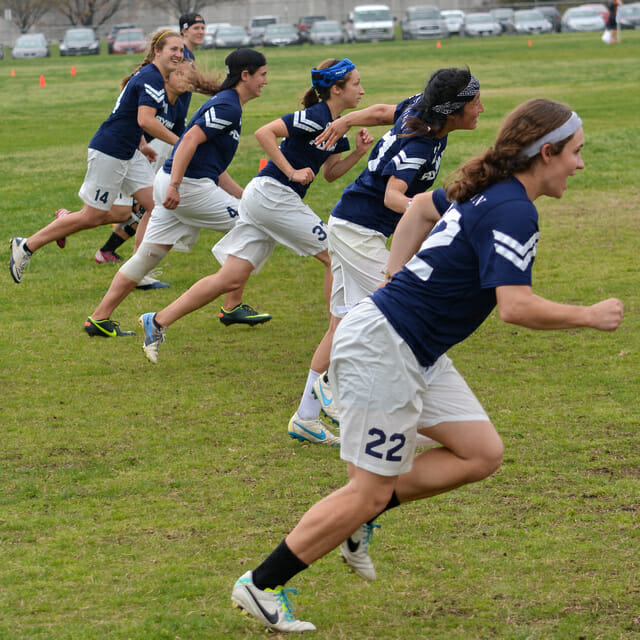 In the Fall, there was hope: perhaps Northwestern Gungho or University of Illinois Menace would muster the momentum and the wins to bring a strength bid into the cold, windswept Great Lakes region. Perhaps this region would make themselves heard over the noise from the coasts, and they would prove that the Midwest could actually throw down.
But instead, the regular season looked familiar: University of Michigan Flywheel was talented, driven, and unstoppable, Northwestern and Illinois battled back and forth for second and third fiddle, and the rest of the Great Lakes teams stayed predominantly in-region, developing their skills and developing their programs.
The Powerhouse
One team will go to Nationals from the Great Lakes, and it will probably be University of Michigan Flywheel. Several teams want the title, but Flywheel proved all season that they are on a different level than the rest of their region. Last year Northwestern had the roster and the focus to end Michigan's season, but nobody in the Great Lakes has the personnel to shut down Meeri Chang, Jacqueline "JJ" Tarik, Becky "Tots" Moore, Hannah Henkin, and Theresa Zettner this season. Their roster is small and deep; the list could go on.
Their record so far this season hasn't been flawless: they lost games they shouldn't have at an injury-ridden President's Day Invite and at the frozen Midwest Throwdown, but they put together a beautiful weekend at Centex. They went 70-18 against their opponents at Conferences, including a 15-10 win over Notre Dame in the finals. This had to have been a point of pride for Flywheel who lost the same game last year 6-8.
Michigan has played this Spring in rough weather, from snowy practices to Midwest Throwdown to a windy Centex, and the elements have sharpened Flywheel's throws into pinpoint-puts and breaks: sometimes Meeri Chang throws so low through the cup that the grass shivers. These reliable throws coupled with Jj's shutdown defense ensure that Flywheel will make it to the finals, and stellar play from the rest of their roster will cinch the game; who they will face is a toss-up.
The Hopeful
At the beginning of their season, University of Illinois Menace Coach Angelo Ramos said, "2014 is about Illinois earning respect and proving it belongs with the best teams in the Great Lakes region." Menace has certainly proven that they are one of the best Great Lakes teams this season — they have targeted their fundamentals this year, and after a rocky start at Music City Mash-Up they have compiled a tidy resume of wins in the Great Lakes and beyond. They have already beat Northwestern, Purdue, and Notre Dame twice each, and they had two hard-earned victories over Ottawa at Centex.
Their close wins and their close losses this season reveal a team building and rising: they have had shaky moments, certainly. When Menace is locked in, however, they are a handler-heavy team that counts on quick give-and-gos between captains Allie Fish and Jean Huang. Traditionally a cutter, Allie Fish finds the disc from positions all over the field while Jean Huang has the team's best trigger. Freshman Joline Chang (Neuqua Valley High School) is a popular candidate for FOTY, and alongside Bonnie Lin she will add speed and intensity downfield for Menace.
The Contenders
Purdue University AMOC has had a brief but successful spring – they weren't able to attend the storm-ridden Midwest Throwdown, but they nevertheless rolled through weaker teams at Chicago Invite, took Illinois to a close 11-12 loss, and they took down Notre Dame in the backdoor game for 2nd place at Conferences 9-6. Captains Kristen Dudley and Bridget Wellman will dictate the rhythm of their play this weekend, with the fast and dangerous Anastasia Foster working downfield.
Purdue has played and beat a wide swath of weaker teams; they rest on the cusp between the teams with eyes on Nationals and the teams for whom Regionals is already a victory. They have talented veterans and promising rookies, but they have a fairly long list of teams above them to work through to earn the bid they want. They have a shot at taking down Northwestern and Illinois, but if they make it to the finals, they won't be able to stifle Michigan's offense. Nevertheless, cleating up in the Regional finals would be huge for a team that stays under the radar and close to home.
Everybody expected Northwestern Gungho to have a rebuilding year, and they have; but to rebuild implies a broken system, and Gungho wasn't broken. They simply needed new parts. Seniors Alex Chudler, Ellen McGrath, and Jenny Li have worked hard to fill these parts throughout the season, and the road has been a rocky but steady one. Frustrating games at Queen City Tune-Up woke up the young roster, and a fruitless Midwest Throwdown showed the team which rough edges to polish.
Gungho knows they can't repeat last year's explosive victory over Flywheel, and that's okay; instead Gungho will hone their intensity, and they will work to beat Illinois after seeing them twice at Conferences. They don't have the right pieces yet, but they have the system, and they will rebuild.
For the first time all season University of Notre Dame Womb will step on the field with a full healthy roster: beginning with their captain Eliza Herrero in November, Notre Dame has attended every tournament without key players who were hurt. The team stepped up, however, and at Conferences they worked effectively through their competitors, taking second in a great game against Michigan 10-15, scoring more points against Flywheel than all the other teams combined.
For Regionals Notre Dame will welcome back many of their playmakers, including handler Heather Fredrickson and two influential cutters, Kristen Collins and Mara Jurkovic. Joining Kelly Gilmour and Kelsey Fink, Womb will look different this weekend than they have looked all season. Notre Dame knows where they stand: they acknowledge that Illinois and Michigan worked hard to get where they are, but like AMOC, they're hungry for rematches now that they're recharged to full power, and they could painfully surprise a team that looks ahead past their game.
The Builders
University of Chicago Supersnatch lost a beacon of talent in Phoebe Shambaugh since last season. Shambaugh had the best throws on the team and a knack for very quietly taking over the game. In her stead, Supersnatch gradually rebuilt their chemistry this year, adding young talent in Leah Kessler (Paideia) and even traveling to the Stanford Open in early February to seek warmer weather and different opponents. They have proven they can win against smaller programs like themselves, and they will do well against teams like Loyola, Michigan State, and Indiana. Look for them to decisively secure themselves a 6th or 7th place title.
Like Supersnatch, the Loyola University Sirens have been a small program for the past few years, led by a steady core of Seniors each year who work to inculcate more women into the sport. This year Haley Hudson and Ellen Hamel, two Chicago Club veterans, are the Siren's handling core, and Loyola's offense relies on their decisions, good or bad. The Sirens will have close games against Michigan State and University of Chicago, but none of these programs have successfully broken through to the upper tier of the Region like Purdue and Notre Dame have managed in the past few years.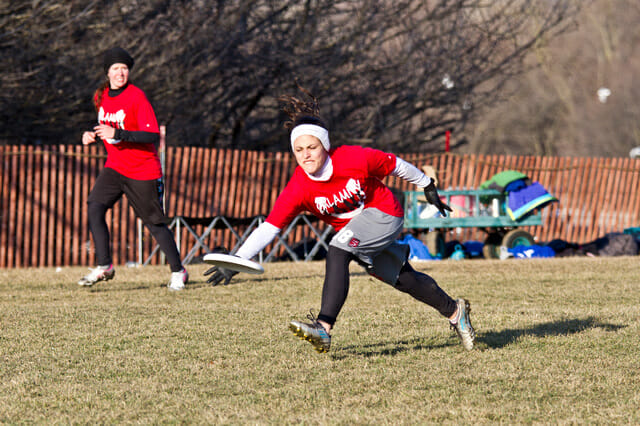 Speaking of Indiana University Calamity Jane, I must admit that they are a mystery to me: they won their first tournament of the season, the Ashevillian Invitational, which included a 13-11 win over Notre Dame.
They followed up with a strong performance at Music City Mash-Up, and they played all the way into the finals of the Kentucky Classic, losing only to University of Chicago 8-13. At Conferences they beat Eastern Michigan and Michigan State, but they are incredibly hard to pin down nonetheless. Will they avenge their loss against Supersnatch? Will they hold court over the Michigan and Northwestern B teams, or will they get trounced? There is no steady ground for predictions with Calamity Jane.
Michigan State University Infamous is similarly tricky to predict: they lose to Michigan B-Fly one day, and then they beat Loyola-Chicago the next day. Literally. Captain Lindsay Kappen described their fall season as "crazy ups and downs," and the trend persists. They are still building a program, they are still young, and they are still instilling the love of the game into bright-eyed rookies. They will grab wins over the runts of the Regional litter, but gusty winds and tighter zones could spell trouble for Infamous.
There are two things that will never come free in Ultimate: team chemistry and a good forehand flick. Many of the developing Great Lakes teams can understand this adage, but none so much as the Eastern Michigan Raging Peacocks. In only their second season of existence, the Raging Peacocks have worked hard all year to build their fundamentals and their chemistry, and it paid off when it counts.
For the Raging Peacocks, Regionals will be a unique opportunity to both play high-caliber teams for the first time and rematch rivals such as Michigan State and B-Fly. Every game will be a step forward: a step toward better field awareness, smarter decisions, and a better, stronger Eastern Michigan program.
Never Forget the B Teams
Don't let the label fool you: Michigan B-Fly is not a team to underestimate. They won all their games at Midwest Throwdown including a 9-7 upset over Valparaiso, and they beat plenty of full-fledged teams at Chicago Invite, including Michigan State 11-7 and Illinois State 9-7. B-Fly has all the resources of being associated with Flywheel while maintaining the sovereignty of an A team. Amanda Alexander is a talented, experienced playmaker for B-Fly, and they will make unassuming teams hurt this weekend.
Northwestern "Beastmode" made it to Regionals despite struggling with a small, injured roster and trouble with a windy Conferences. Coached by notable Gungho alums Lien Hoffmann and Carol Li – and only in their third year – Beastmode has the road map to building a more established program at Northwestern. Regionals is an unexpected dessert course for their season, and they will make the most of it.