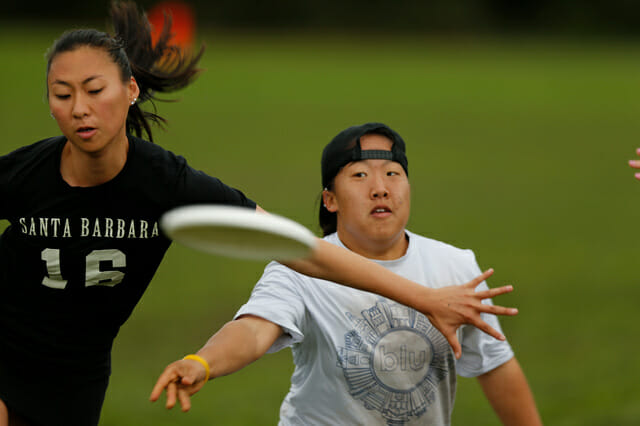 One of the most overlooked storylines of this year's regular season has been the Southwest's return to prominence. Led by the UC-Santa Barbara Burning Skirts and Stanford Superfly, who were both ranked inside the top 5 during Ultiworld's Power Rankings at points this season, the region snagged three bids to the College Championships. Not only have the region's best teams outperformed expectations, but the Southwest's depth has also shined brightly. UCLA, UC-San Diego, and UC-Davis have all made noise at points this season.
A third bid extends the potential qualifiers list nearly the full length of the field. Even teams seeded in the double digits might be thinking, "If we win a couple games at just the right time…"
Expect the west to get wild in Long Beach, CA this weekend at Southwest Women's Regionals as a talented crop looks to peak at the right time.
UC-Santa Barbara Burning Skirts Could Use Series' Urgency
The Southwest's number one seed enters the weekend coming off a great regular season, but with one well documented question remaining. They've suffered just four losses this season all to likely nationals qualifiers. The won Santa Barbara Invite and finished 2nd at Pres Day. Wins over teams like Oregon, Central Florida, and British Columbia justify their potential to make the semis at the show.
Something has just felt off. Close wins that shouldn't be close. Two losses at Women's Centex – when teams should be ramping up – by substantial margins raise questions.
And so UCSB will arrive in Long Beach the favorite, but no sure thing. The Skirts haven't dropped a game in region, but Stanford, UCLA, Davis, and UC-San Diego have all come close.
Close hasn't always been so bad for the Burning Skirts. They've pulled out a lot of wins in very tight games and aren't afraid of pressure. That lack of fear may soon be very relevant, as they'll see Stanford in pool play Saturday, a rival who has split the teams' past two meetings, both on double game point.
The Burning Skirt question is about their depth. It's at least seven games to get to the title, but the strength of the field could make seven a big number. It makes it all the more important that UCSB play with intent to dominate.
While they may be the shallowest elite team in the country, they are more like a hot tub: it doesn't have to be very deep to work very well. You've heard all about Lisa Pitcaithley, Callahan shortlister; rumor has it that the boys wanna be her, and the girls wanna be her. Kelly Gross, Noelle Neason, and Joy Kang flank Pitcaithley and the four of them are as scary as most teams' top seven.
Now that the Series is underway, we may finally see Santa Barbara play like their season depends on it. Because it does.
Bounce Back Weekend for Stanford Superfly
Stanford's surprise loss to UC-Davis in the NorCal Conference Championship game drops them to the third seed at the tournament and into a pool with rival UC-Santa Barbara. Right now, however, Superfly is probably a little more concerned with taking care of business. It has been a few months since a tournament weekend went Stanford's way, but this would be a great one to make theirs.
Elite status was lauded to Stanford after a strong showing at their hometown Invite, and with good reason. Wins over Central Florida and Washington were coupled with universe point losses to Oregon and Santa Barbara (from SB Invite) at that point. They were a nationals team returning experience, talent, and bringing in some impressive recruits.
Since that point, Superfly has failed to live up to that billing. The fight they've really been losing has been to injuries, claiming veteran playmakers like Jennie Lummis and Halsey Hoster. A shorthanded roster managed a 3-4 record at the Northwest Challenge. Then at Conferences, UC-Davis struck, beating them on double game point in the final.
A healthy Stanford is quite possibly still an elite team and definitely capable of rolling to another Southwest title. Monisha White and Steph Lim anchor their offense, with Maya White, Hillary Vance, and Halsey Hoster doing work downfield and freshmen Caitlin Go and Amanda Somvilay operating in the backfield. Their offense is patient and poised, while their defense is smart and pounces on mistakes.
Don't expect a seasoned team like Stanford to be too shaken by their recent foibles. Coaches Robin Knowler Davis, Jamie Nuwer, and Jenny Wang will have this group focused and ready for Regionals.
UC-Davis Rogue Living Up to the Name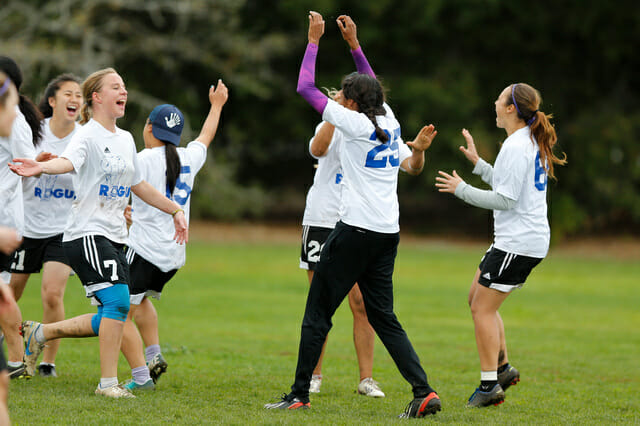 If the Southwest's headline bout was UCSB vs. Stanford, either someone forgot to tell UC-Davis, or they just decided to go off script. That's how they ended up the second seed at Southwest Regionals. It isn't the first time the unexpected has favored Rogue: they took the last spot at Stanford Invite the day before the tournament and won two games while playing quite well.
But all of that will pale in comparison to qualifying for the College Championships.
"We're not too concerned about past results. Our season has been focused on doing our best when get to Regionals," said Davis captain Michaela "Twister" Lee. "We're confident that playing our game will get us that bid to nationals."
It is a good thing they aren't too focused on the past results. Going into NorCal Conferences, Davis was 0-5 against the other top 5 teams at Regionals. Both the teams seeded after them in Pool B have blown them out at some point this season, and they even dropped an early season game to California (they also blew out Cal in their last meeting). But Rogue put together in the clutch against the favored Superfly.
"[Beating Stanford] was unexpected but not totally surprising because we know that we have the talent and cohesion to play that well," Lee said, "It was a great close game I think we just made a couple fewer mistakes."
The team is led by a deep senior class, with Lee's breakmark throws at the head. While Neena Kashyap, Kristina Geddert, Sarah Hartman, and freshman Cheryl Hsu will also be big players, UC-Davis relies on their depth. Lee calls her squad "a team of role players" and does so proudly.
They've spent the season defying expectations, and now just have to do it once more.
UCLA BLU Will Need to Recapture Early Season Form
If I told you UCLA had a 13-4 record, was 4-0 against the other top two teams in their pool (the tournament's #2 and #5 seeds), with three of those wins being blowouts, you'd feel pretty confident about them, right?
Now if I told you UCLA had a 4-10 record, with a five point win over one of their pool's lower seeds as one of those handful of victories, you'd be nervous betting on them, right?
That's BLU for you going into Regionals. 13-4 in their first two tournaments, dominating key in region opponents, and then 4-10 for the rest of the regular season. In fairness, the latter two tournaments are Stanford Invite and Northwest Challenge, two of – if not the – most competitive events of the year. But Santa Barbara Invite and President's Day are two of the most challenging early season tourneys you can find.
At SoCal Conferences, UCLA did deliver, thumping UC-San Diego twice, and only losing to Santa Barbara in a fairly competitive fashion. Because of their varied level of play this season, it is tough to predict how they'll fare against the top teams. It will be helpful that they seem to have UCSD's number – perhaps because their star player is a former San Diego stud.
BLU runs their offense almost entirely through Michelle "Chip" Chang, a big time handler with power and vision who came over from UCSD. Margot Stert provides strong support, while Kelcie Ralph and Alexa Cohen operate as the pistons, using their legs to do the work for UCLA downfield. The return of Katie Swinnerton will only bolster UCLA's attack.
The tournament's #4 seed and strength bid winner will need those other players to step up. If they put a full weight on Chang's broad shoulders, they might find themselves unable to defend the bid they worked hard to snare for the Southwest.
Spoiler Alert! UC-San Diego Psychos Ready to Rumble
If you want a wild card team that could throw a wrench in any one else's plans, it is probably, and aptly, the Psychos. They've been all over the map this season and have the energy, drive, and just enough talent to knock off just about anybody at any time.
They've put scares into UC-Santa Barbara twice this season, including being tied 13-13 at Centex before the Skirts pulled it out. San Diego has beaten Davis twice, including a 15-5 routing at Pres Day.
Weapons like captain Katrina "Tikka" Kalantar, Jillian Du, and Amelia Wong give the Psychos the firepower. They are athletic and scrappy on both sides of the disc, and Kalantar is one of the Southwest's best takeover players. The team has done a great job replacing the key seniors they lost to graduation last season.
Perhaps it is the lost experience that has also led to their inconsistencies. UCSD seems to have "played down" often this season, squeaking by lower seeded Regionals teams like Southern California, Humboldt, and San Diego State. They also seem pretty helpless against UCLA, who they'll have to do battle with in pool play. The average score of one of their games is about 13-4 in BLU's favor.
If the Psychos can cause enough chaos at the right time, they could slip in to Cincinnati. Beware the team that takes them lightly.
From the Southwest Depths
The other seven squads offer a mixed bag, but quite a few have the capability to upset someone in a single game, even if them putting together a run to 3rd place looks unlikely.
San Diego State comes into the weekend looking at a pair of wins against UC-Davis as a sign they can make some noise. This is a feisty team that can throw opponents off their mental game with their physicality and attitude.
Cal-Berkley and Sonoma have not had successful seasons, but have talent that could carry them to upsets. Kara Kelly's height and throws cause trouble for Sonoma's opponents and Candace Pacheco is also a handful. Cal's Marisa Rafter, when healthy, is one of the best players in the region and their squad is young, but driven.
Humboldt's Caitlin Winterbottom and Southern California's Annie Lee are also strong individuals on lower seeds who may challenge a top team or upset a middling squad that's taking aim at the third bid.
The Verdict
This could be the country's most chaotic Regionals. It is entirely possible no team comes out of pool play undefeated.
A fresh UC-Santa Barbara team is scary and Stanford sees them in round two, so expect the Burning Skirts to take Pool A, but I think Stanford avenges that loss in the final. UC-Santa Barbara takes the second spot while UC-Davis beats out UCLA for the final bid to nationals.
But the only thing I can safely predict is a tooth and nail battle for those top three spots.