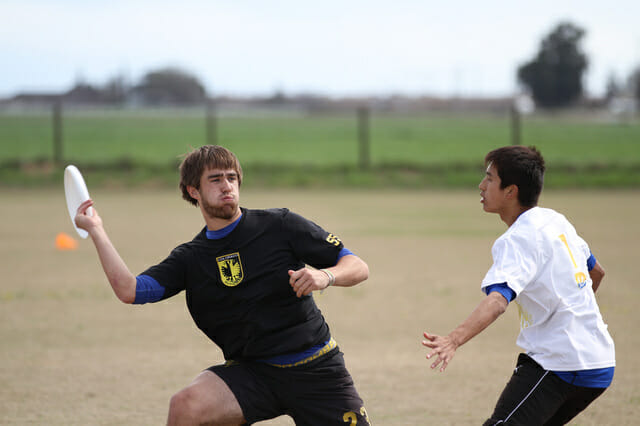 The coveted third bid is finally in the grasp of the South Central, perhaps the country's most talented region. Colorado and Texas need little introduction at this point, but the college scene will soon get introduced to a third team as the South Central sends another squad to Nationals.
That team is likely to be Texas A&M, the program long in development that has finally broken through with a great regular season performance and earned a bid. But perhaps they wouldn't even have needed it, since they upset Texas 15-13 in the finals of Conferences two weeks ago.
After the top three in the region, the talent level dips quickly, but there are one or two darkhorse upset candidates lurking in wait. Here's a look at this weekend's field.
The Favorite
Colorado
The number one ranked team in America, Colorado Mamabird will look to retake their place atop the South Central region with a clean sweep this weekend in Tulsa, OK. Last year, they fell to Texas in the finals 15-12 before advancing to Nationals with a 15-11 win over Texas A&M in the game-to-go.
Colorado, as the team with the country's longest-running Nationals qualifying streak (16 years), has more on their mind than simply getting to the show. They have an opportunity to claim the #1 overall seed in Ohio with an undefeated weekend, which will set them up well for their push into bracket play.
Mamabird has yet to face Texas this season, but beat Texas A&M twice at Centex. They are stacked with top talent more than any team except perhaps North Carolina. Jimmy Mickle, Hidde Snieder, Tim Morrissy, Pawel Janas, Stanley Peterson. The list continues.
But what is so surprising about this team is that last year's squad also had this array of talent, and they weren't particularly impressive. They failed to make the bracket at the College Championships and had a lackluster regular season.
But a slimmer roster and a focus on bringing in experience has sharpened the team's abilities. It does not hurt a bit to have the country's best player — Mickle — out on the line on a majority of points.
Mickle's talents are well documented. He can basically do everything you look for on the field: jump, pull, huck, play deep D, and get open. Opponents have to design their defenses to limit him — he forces adjustments single-handedly.
After a tough Sunday at Stanford Invite, where Colorado fell to UNC in the quarters, they have not lost. They swept the field at Centex fairly easily and had no problem dispatching their Conferences opponents.
They'll have their hands full with Texas again this year, a team that knows Colorado well and matches up well with them. Will Driscoll is probably one of the few players that has the size and speed to roll with Mickle one on one — will he get the assignment? A&M, as is displayed by their two losses to Colorado at Centex, doesn't match up quite as well and poses less of a threat to Colorado if they were to make the final.
Either way, Colorado won't see a serious challenge until the finals, as both Texas teams are on the opposite side of the bracket.
Texas A&M
The gap between the two elite Texas teams has narrowed significantly in the last two years, as Dalton Smith and Matt Bennett have grown as players and leaders. Their team's increased dedication and focus came to the forefront as they took down Texas by two in the Conference finals.
The win means little in terms of this weekend: both teams were going to be seeded 2 and 3, ensuring a Regional semifinals matchup regardless of who won. And the last time A&M beat Texas — the 2012 Conference finals — they went on to lose to them twice at Regionals.
But that is the power of the third bid. Last year, A&M proved they could hang at tournaments like Stanford Invite, but didn't do enough to earn an extra strength bid. They found themselves watching Texas and Colorado advance, again. Their focus this year is singular: make Nationals.
Smith and Bennett are the workhorse duo behind this team, but the team is not as reliant on the two of them as it was last season, when they often threw back and forth on offense.
David Na has been a valuable contributor, grinding out under cuts and greasing the offensive wheel. And Ben Lewis has scored a lot of goals for the team this season.
Though it may been unlikely that A&M will score an upset over Colorado or Texas, they have worked too hard to watch Nationals slip away from them again this year. Expect them to advance in some way.
Texas
Texas has been a bit of a mystery to me at times this season. They are one of the tallest teams in the country (they have 13 guys 6'0″+), they have a bonafide superstar in Will Driscoll and a legitimate Scotty Pippin in Mitchell Bennett, and they have the role players they need to excel.
Yet they just don't seem to dominate they way you might expect them to. They lost a game they should have won over Wisconsin at the Stanford Invite, they fell to Northern Iowa at Centex, and, as noted above, they lost to A&M at Conferences.
It seems at times that the team is just biding its time, waiting to pull out all the stops in the post season. Well, now's their chance. Why limit Driscoll's minutes any longer?
Driscoll and Bennett are no doubt the headliners on Tuff, but they have a very capable supporting cast. 6'3″ lefty Chase Cunningham is a defensive weapon, and Jordan Taylor, Carlos Vargas, and Chris Brooks all make big contributions.
The team is intensely system-driven, perhaps to a fault. Even Driscoll often seems to be more of a cog than an superstar. The system has resulted in great success for the team in terms of qualifying to Nationals, but feels like it lacks the flexibility to adjust.
This is nitpicky, of course, since the team is clearly very good. And they will have a great opportunity to defend their South Central title. Yet, whereas Colorado went back to the drawing board after a 2013 prequarters loss, Texas seems to have stayed the course after the same result. They'll make Nationals, sure, but do they have bigger goals?
The Contender
Arkansas
Arkansas is the new Texas A&M: a rising team from the South Central with a lot of young talent that is beginning to make some noise at the National level. While this may not be there year, it is a program to keep an eye on in the future. They showed they belonged this year at Centex with a pair of wins and close games against Arizona State and Northern Iowa. They have only lost to teams that were, at least at one point, ranked in the Ultiworld Top 25.
Led by Abe Coffin, a 2013 2nd team All-Region player who is a lock to get honors again this year, Arkansas swept the Ozarks Conference, blowing out both Wash U and Missouri. They have the best chance out of the field to reach the game-to-go. Do they have a chance in that game?
They lost to A&M 15-8 in early February. But if they are peaking, and they catch the right team at the right time, they could put up a fight.
The Rest Of The Field
The other 12 teams at Regionals are a clear step below those top four (and really, the top three are in a league of their own — each is ranked in the Ultiworld Top 5). It would take a total collapse for any of the big three to miss Nationals. But there will be lots of exciting games leading into the game-to-go — just a chance to play in that game would be an achievement for many of the teams in the field. Wash U, Missouri, and Oklahoma are the Ozarks teams that really have a shot at that game, but Colorado College may be in the best position to surprise. They put up 11 on Colorado in the Conference final and had an all-around solid season, losing close to Texas at Centex and beating some solid Regionals level teams.
Betting Lines
Odds to win the 2014 South Central Region
Colorado: -200
Texas: +125
Texas A&M: +350
Arkansas: +700
Other: +1000
Odds to advance to the 2014 College Championships
Colorado: -1000
Texas: -750
Texas A&M: -500
Arkansas: +400
Colorado College: +600
Other: +825