Pittsburgh strengthens their resume even more.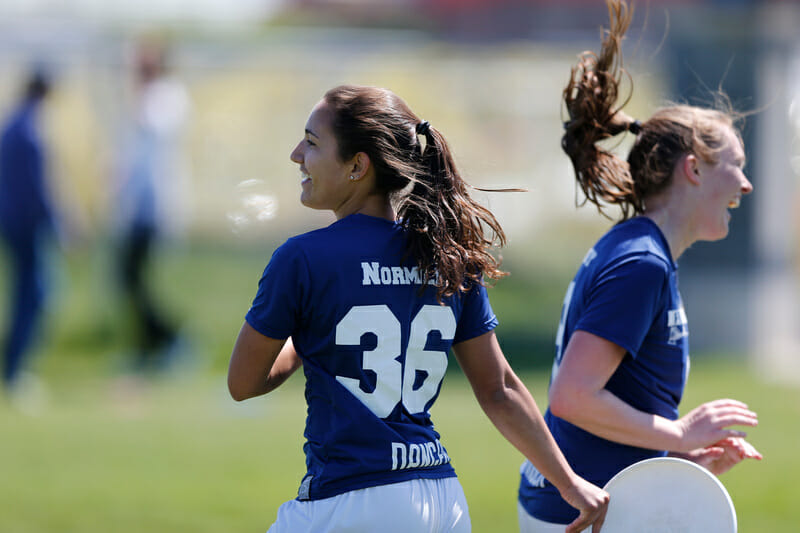 This year, we are hosting a new feature on Ultiworld: a bite-sized weekly recap of the action across the College Division. This will serve as a supplement to our standard tournament reporting and will offer a high-level look at the latest happenings and the biggest stories of the week.
Let us know how we can make this more useful by commenting below or emailing [email protected].
Men's
TCU Undefeated In 2016 After Another Tournament Win
While Texas Christian may not have had a lot of tough competition, a dominating performance at Dust Bowl, including a 10-6 win over Arkansas in the final, suggests a team that could be in the mix at South Central regionals this year. They have won every game this season by at least four points and sit at 17-0. They even got some Tulsa local TV press.
Again, they have not faced any upper tier teams yet this season. Their best win is over Arkansas, the 9th place finisher at SC Regionals in 2015. But keep an eye on TCU: they could be a challenger in April. And don't sleep on their chances to earn a bid for the South Central! All those blowout wins over mid-tier teams can do wonders for a team in the eyes of the USA Ultimate algorithm.
#3 Georgia College Solidifies DIII Resume
After a slow start on Saturday, DIII #3 ranked Georgia College came roaring out of quarters with wins over Miami, DIII #10 UNC Asheville, and Alabama Huntsville to take the Hundred Acre Wood title. GC, the reigning Southeast DIII champion, had to battle against a very good UAH team in the final. They trailed at half, 8-7, before rallying to a two point lead early in the second half. They held off UAH the rest of the way en route to a 14-12 win.
Elsewhere
…Top seeded New Hampshire beat out a 30 team field to take home the Bring The Huckus crown…One seed Houston comfortably took the title at H-Town Throwdown over Texas (B) in the final…Carnegie Mellon beat West Virginia 14-12 in the Huckin' In The Hills final…
Power Rankings
With basically no top teams in action over the last two weeks, there is no movement this week. Look to Stanford Invite to mix things up.
Looking Ahead
This Weekend: Stanford Invite is here! 13 top 25 ranked teams will compete this weekend out in Fremont, CA, for one of the regular season's biggest prizes: a Stanford title. How will #2 UMass and #3 Oregon stack up against a strong field? Tally Classic also offers a strong field this year, including #1 ranked UNC Wilmington and two other top 10 teams in #5 UNC and #6 Florida.
Next Weekend: The only quiet weekend on the elite college men's calendar for the month of March. Smaller events like Windy City Whammy and Rip Tide fill out the schedule.
Women's
#7 Pittsburgh Beats Virginia In Final, Split Season Series
Danger firmly established themselves as one of the east coast's premier teams with a strong Sunday that concluded with a 14-12 win over #16 Virginia. The two clashed on Saturday in pool play and UVA scored a statement win, but couldn't hold on against Pittsburgh's aggressive offense. With a 13-2 record and a 1st and 2nd place showing at major east coast tournaments, Pitt has built a lot of momentum heading towards their first trip to the west coast for Northwest Challenge.
The remaining semifinalists, #9 Michigan and North Carolina, both put together impressive weekends and fell by just two points to the finalists. UNC scored their biggest win of the season by topping Michigan in pool play, but ran out of gas going into the third place game, where Flywheel ran away with it.
Elsewhere…
…Clemson crushed every team they played by 7 or more (except their own alumni) to win their home tournament, Joint Summit…nice weekend for Delaware, whose B team won Space Jam while the A squad made quarters at Commonwealth…it was an undefeated weekend for Bowdoin at Bring the Huckus…Denver traveled to Dust Bowl and conquered all comers in their first tournament…George Washington defeated Carnegie Mellon to win the Cherry Blossom Classic…
Power Rankings
Commonwealth Cup's impact shifts the eastern landscape somewhat, with #23 North Carolina returning and cross-state rival UNC-Wilmington's four loss performance dropping them down the ladder. #11 Virginia's rebound after a slow QCTU powers their rise.
Looking Ahead
This Weekend: Finally, Stanford Invite weekend is here, putting the best teams on the west coast against a couple of contenders from across the country. Squads like #15 Notre Dame and #24 Florida State take on the field at Tally Classic while teams such as #18 Wisconsin and Kansas cleat up at Midwest Throwdown.
Next Weekend: Notre Dame goes for the back to back at Mash-Up, while Rip Tide and Atlantic City provide east coast action on March's only quiet weekend.