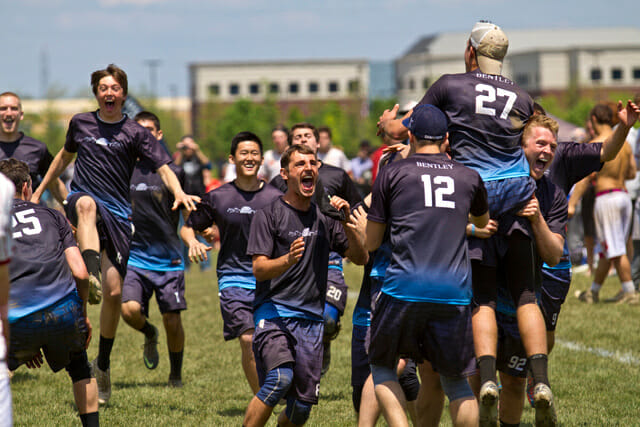 WESTERVILLE — It all happened in a moment. One second Elon was celebrating the break score that took them to an 11-7 lead, and seemingly one moment later they were left stunned, walking back to their sideline in disbelief after a 15-13 loss to Bentley in the DIII College Championship finals. It was the most dramatic moment in a weekend filled with upsets, comebacks, and great ultimate, culminating in an incredible championship game.
In a brilliant spectacle replete with highlight reel layouts, amazing throws, and shocking twists, Bentley Ice House took home their first ever national championship at the expense of Elon Big Fat Bomb.
Down 11-7, Bentley staged a comeback for the ages, scoring eight of the game's last ten points. Coming in as the number one overall seed, it came as no surprise that Bentley walked away from the weekend as champions. However, to write off the events of this weekend as chalk simply because the favorite won the title would overlook the suspense, excitement, and unbelievable moments that finally put the title in Bentley's hands.
The conditions were perfect on Sunday, as the off-and-on foul weather of Saturday gave way to clear skies and a light crosswind just in time for the big game between number one seed Bentley and number six Elon.
After trading holds for the first several points, a slightly overthrown huck from Bentley gave Elon the chance to break, which they punched in following a smooth series of force side cuts. In their tournament victory earlier this season at D-III Easterns, Elon's defensive line did a great job converting break opportunities, and that trend continued for much of the championship game.
Bentley's O-line lacked some of the polish they had shown earlier in the season. This potentially could have been caused by the Sunday arrival of several graduating seniors who had missed Saturday's games to attend their commencement ceremony.
Coach Henry Brecher told Ultiworld that he believes integrating the returning seniors into the offense they had gone with on Saturday was as issue the team had to work out for Sunday's games, and may have hurt the team's ability to play the clean, physical brand of offense they like.
Elon would get another break before halftime and enter the second half with an 8-6 lead and loads of confidence. They did an excellent job controlling the pace of the game and pushing Bentley out of their comfort zone with an unorthodox 2-2-2-1 zone and an offense that wasn't afraid to work the disc around until they got the look they wanted.
Speedy cutter Matt Cameron caught several points on deep shots as Elon used their speed and breakside flow to make up for the disadvantage in height they faced against a taller Bentley team.
Coming out swinging the second half, Elon really began to make Bentley uncomfortable, and they went on a quick 4-1 run. Bentley visibly began to press to end the slide, which only exacerbated the issue. Uncertain of how to work through the tricky Elon defense, Ice House took some low percentage, same-third deep shots that did not work out and gave the disc back to Elon's steady D-line offense who were more than willing to punch in all of the opportunities that Bentley gave them.
Bentley was so rattled that at 10-7 they turned a wide open swing off of the pull, giving Elon an easy break to take the scoring to 11-7.
At this juncture, almost everyone in the large crowd that had gathered to watch the game thought Bentley was out of it. They looked defeated and Elon had shown no indication that they were going to take their foot off of the pedal.
It was at this point, with their season on the verge of ending in heartbreak, that Bentley put together one of the best ten points runs you'll ever see.
After playing a rotation that gave twenty players significant minutes throughout the regular season and postseason, in crunch time, Bentley elected to turn to a ten man rotation that had their best players lining up both ways. Moving 1st team all-region cutter Max Rick back to the handler position gave Bentley the ability to stack their lines with more tall cutters and gave them more athleticism across the board.
With their best athletes on the field, Bentley's defense played on a level unseen until that point. Their defense shut down everything on the force side and made spectacular bids on anything to the break side. This pressure caused Elon's offense, which had been humming along all day, to crumble. They began making the kind of rushed decisions that had plagued Bentley earlier in the game.
After giving up three breaks, Elon was able to stop the hemorrhaging with a hold just as soft cap sounded with the score 13-11. Even after their run, Bentley would still have to score four out of the next five points to complete their comeback.
As it turned out, they would score every remaining point in the game.
Elon's offense was visibly shaken by Bentley's onslaught and began making mistakes that are uncharacteristic for such a high quality team, throwing straight into poaches and putting up bladey deep shots to covered receivers. Bentley took better care of the disc than they had earlier, and systematically marched down the field for scores nearly every time Elon turned it over.
A three point run after the cap gave Bentley their first lead since 2-1 and put them one point away from a title.
On the final point, Elon turned the disc in the endzone and Bentley moved down the field against Elon's zone. What had stymied and confused the Bentley offense early in the game now melted away in the face of an array of break throws and over the top looks that pushed the disc to the doorstep of the endzone and a national title.
As the last throw of the game bladed perfectly 10 yards into the waiting hands of a Bentley cutter, neither team really seemed like they could believe what was happening. Bentley was giddy to the point of disbelief over their tremendous comeback, while Elon looked on, unable at the moment to process how what had seemed like certain victory had slipped away from them so quickly.
There is such a mental and emotional aspect to ultimate, and it should not come as a surprise that the team to win it all this year was a team full of veterans hardened by the ups and downs of high level competition. In 2013 Bentley lost in the pre-quarters at Nationals, but the experience allowed them to be mentally ready for what they would face this weekend, and was essential to carrying them through the desperate moments.
Bentley showed they had the ability to persevere against adversity more than once on the weekend, as they found themselves in a hole to Claremont in the semifinals. Down 12-7, Bentley went on a huge run of breaks to force a double game point, which they scored to win and move on the finals. This game highlighted some of the chemistry problems that Bentley suffered on Sunday from reincorporating their seniors, and Claremont made the best of those opportunities to jump out to a substantial lead in the second half.
The Bentley offense finally found its footing and began to convert, while the defense turned up the intensity and had the belief that they could get the team back into the game. Coach Brecher credited his players for finding the fire within themselves that provided the motivated to keep working and playing with 100% intensity in games that seemed out of reach. "It wasn't a tactical change on defense," said Brecher. "The players just stepped up and made the plays we needed."
In general, the teams that did the best this weekend were teams that had been hardened by
disappointing experiences at Nationals in 2013. Three of the four semifinalists this year came from teams that did not make semis the year before.
OTHER SUNDAY THOUGHTS FROM DIII NATIONALS
The lone semifinalist that did not attend 2013 nationals was Elon, and their experience this year will surely be eye opening for the returning players. An extremely talented and disciplined team, Elon played a virtually perfect weekend of ultimate up until the last 30 minutes of the finals where it all got away from them.
Success in ultimate is not only contingent on talent and tactics, but on the ability to perform
under any circumstance, regardless of momentum or the importance of the game. Elon's collapse is in part due to the outstanding play of Bentley, but also their own reaction to the moment and inability to continue playing their game once momentum had turned against them.
Mental strength and intensity would be themes that resonated in action across the division. Semifinalist Carleton GOP is one of the most experienced teams in all of Division-III ultimate, and it showed as they were able to ride out a game of runs against Brandeis in in the quarterfinals to lock up their second trip to semis in three years.
Brandeis was unable to cope with the size and athleticism that GOP brought to bear, and could not get back into the game after Carleton went on a 5-1 run out of halftime. Brandeis was a team that had relied on its offense to grind down opponents and play mistake free ultimate, but began to deviate from their game plan and tried to force things once the game began to turn against them.
On the whole it was a successful weekend for Brandeis, but they demonstrated that once a team loses the thread on what their identity is, the game can quickly get away.
GOP would meet Elon in the semifinals for an exciting affair the demonstrated the athleticism and disc skills on both teams. GOP was able to work through Elon's zone that gave Bentley trouble, but they had trouble matching the speed of Elon's cutters and could not get the breaks they needed at the end of the day.
When they were allowed to dictate the pace of play and work through their game plan, Elon played some of the best ultimate of the weekend. GOP went blow for blow with Elon and came out on the losing side in one of the most entertaining games of the weekend.
Elon and Bentley meet on Sunday afternoon with one team having led their games consistently all weekend, and the other was forced to come from behind in both the quarters and semifinals. It would be the team that had struggled through adversity to get to that point that would come out on top. Both teams demonstrated that they were capable of playing brilliant ultimate, but Bentley showed that they could play through moments when they weren't playing brilliantly, and that ability to push forward when all hope seemed lost is a big part of why they emerged as champions on Sunday.