Washington may have proved they could play better than the 15-2 showing they had against Ohio State at the Northwest Challenge, but OSU is simply at a level above UW this season.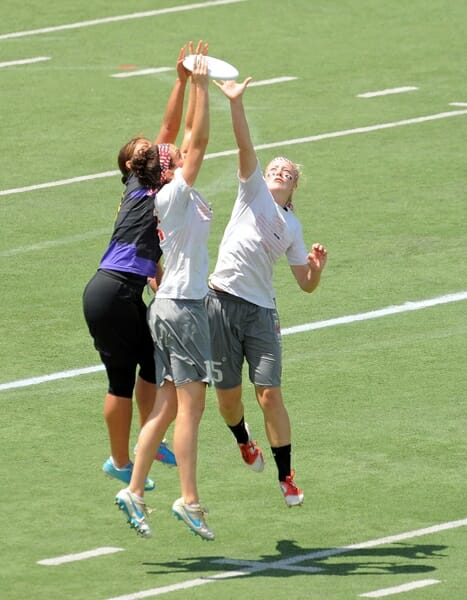 University of Washington had a lot to prove in their semifinal against the queens of the game, Ohio State Fever.
Ohio State has reigned wherever they play, from chilly fields in North Carolina to wet battles in Washington. This heavyweight team emerges every year from the otherwise weak Ohio Valley region to impose their near-flawless offense on hopeful teams, and their intuitive, physical defense exploits the smallest windows of opportunity.
Only Central Florida has forced Fever to change their game. Every other team they have played since nationals last year succumbs eventually to the relentless execution from Paige Soper, Cassie Swafford, and their deep roster of players who can catch, throw, and create clutch spaces into which the handlers can drop dimes.
Without set plays, Ohio State's offense has been tough to study for their opponents: how can one take meaningful notes on the intangible yet evident chemistry between the seven women on the field during any one point? They are unpredictable yet reliable; they turn to instincts and moments of brilliant spontaneity that evolve into unreal bombs from Paige Soper to receivers who magically appear open in space. They work hard, but their cohesion sets their baseline play higher than any other team in the country.
Ohio State stepped to the line with all the chips in their corner: their team was healthy, confident, and playing for their home state. They had a tight knot of loud supporters in their semifinal game, and their play in the semifinal game never diverged from their practiced calm.
15-2.
That is the final score from the last time that Washington Element and Ohio State faced off at the NW Challenge, and these numbers were on Element's mind going into the semifinal. All season, Element would fall to better teams with big losses that they struggled to fight back from. Once a team takes a healthy lead early, Element would falter to rebound. Their hefty losses to Oregon and Ohio State show a team that's fought their own mental game up through Regionals.
This weekend Element found a new level for their mental game this weekend. They tapped into a better mental game, emerging victorious from behind in games against UCLA, UC-Santa Barbara, and British Columbia. The mental switch in each game was palpable, particularly in Barbara Hoover's play. She started games quietly, and then she would suddenly press the gas and surge for Element, launching their comeback.
Element's approach to defense has been to out-grind teams, pressuring long points that tire their opponents. On offense they have the skills to work the disc into the end zone, but their fire stems from Amanda Kostic's bullets and Barbara Hoover's backhands.
They began their semifinal game with a chip on their shoulder, ready to prove that they could run with the nation's best. But their defensive approach couldn't produce turns against a team as dangerous and high percentage as Ohio State. At times their defense could slow Ohio State's flow, but Fever has years of practice completing high stall throws, and they don't grind: they wait patiently to find what they want. In the wind, few of Element's signature deep looks connected, as Fever had sufficient time to join Element's receivers under the disc.
Element's mental game succeeded despite their loss: they fought back from a massive deficit to gain breaks in the middle of the game, and they persevered despite demoralizing points scored against them. They made sure that 15-2 would never happen again. They fell to the overwhelming tsunami that is Ohio State Fever.
Ohio State, on the other hand, will add another notch to their trophy belt. They walked out of the semifinal game with their resume unsullied and their throne untouched.