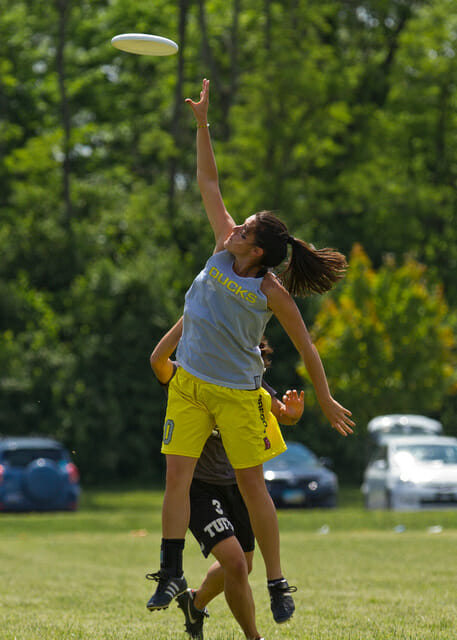 Oregon is a national powerhouse and the reigning champions, entering Sunday's quarterfinal round as the #2 overall seed and a major favorite. Fugue is undefeated, having won their last two games by a combined 17 points. They'll be well rested and well prepared.
Virginia, on the other hand, has had to fight hard to make it this far. Hydra entered the weekend seeded 13th, making them the lowest seeded quarterfinalist and only pool four seed to make it to Sunday. Scrappy and athletic, UVA is comfortable with the underdog role they'll be filling.
Oregon's bread and butter is well known: high pressure defense with players free to take risks and aggressive offense that moves the disc rapidly, fluidly, and gives them good field position. Callahan candidate Sophie Darch, Jesse Shofner, and Ashley Young have the keys to this sports car and they like to drive fast. Shofner can be streaky, but when she's on, the pint sized spitfire can spark massive runs and leave defenses wondering how to put out the fire. And she's been plenty on through pool play.
The Hydra style shares some of the same characteristics. In man, they like to get into the offender's space and challenge them to make hard plays. Their offense is also at its best when their handlers are active, changing the angles of attack often and making defenses adjust. Alika Johnston, Michelle Derieux, and Rebecca Meeker are keys to making that plan work.
However, unlike Oregon, UVA thrives in long hard points, where their fitness and speed can shine. Oregon wants to pin their ears back and make the points a track meet, but Virginia is fine with stretching things out for a few fast paced laps around the track. Their zones aren't as unstructured, though they have a few different looks to try and befuddle new foes.
The two teams haven't played each other this season and know little about one another. Expect the first few points to be spent designing matchups and identifying strengths and weaknesses.
Oregon's depth of skill will be an edge against Virginia. After Darch, Shofner, and Young, the team can turn to Alex Ode, freshman phenom Hayley Wahlroos, and fellow Fugue rookies Kaitlin Brunik to make plays with the disc. Olivia Bartruff, Adrienne Bovee (who has been on fire at nationals), and Dre Fontenot will often be on the receiving end, as well as making defensive plays. Who Fugue Coach Lou Burruss elects to put on Johnston – potentially Shofner, Fontenot, Wahlroos, or Darch – will be an important factor to watch.
Virginia has some difficult downfield matchups as well. Sarah Hansen has been a force, winning battles with her legs in game after game for Hydra. She'll draw tough matchups from the likes of Bovee and Ode as Oregon will look to wear her out; few teams have had any success with that. Meeker usually makes her impact felt coming underneath and Theresa Hackett is another threat to make plays as a receiver.
There is no doubt Oregon will having the betting lines stacked in their favor. Few expected Virginia to get this far in the first place. On paper, Oregon's depth and talent seems like too much for UVA to overcome. But so have so many situations that the underdog has faced. The prediction? Oregon is tested way more than expected, but ultimately, proves they still know how to win when it matters. Oregon, 15-11.