After all the ups and downs of the regular season, here we are. Emerging without significant challenge to the finals are the two teams we should have expected all along: Colorado and North Carolina.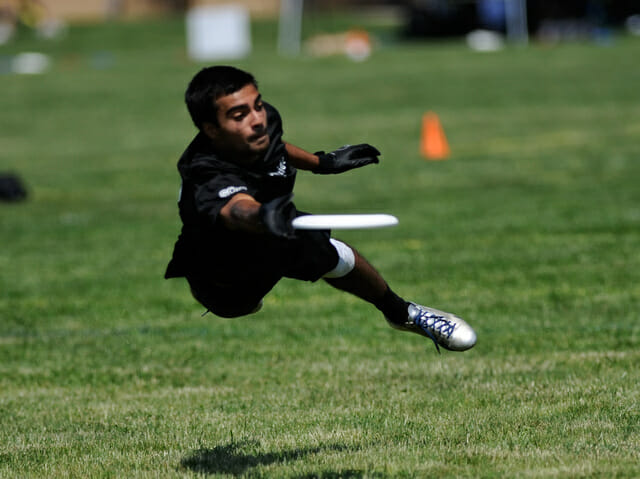 It feels like a long time ago that UNC and Colorado met in the quarterfinals of the Stanford Invite in a hotly anticipated matchup between the then #1 and #2 ranked teams in the country.
Since then, we've seen the rise of Michigan at Easterns, the fall of UNC in the Atlantic Coast Regional final, a dangerously-improved Pittsburgh team, and a wild weekend at the College Championships. UNC's stock fell sharply at the end of the year after a flat Easterns performance, the loss to Wilmington at Regionals, and the news that star defensive handler Ben Snell was out for the year with a torn ACL.
Yet, after all the ups and downs, here we are. Emerging without significant challenge to the finals are the two teams we should have expected all along: Colorado and North Carolina.
The two most talented teams in the country and the clear standouts of the regular season will now face off with more than a #1 ranking on the line. With a National title at stake, can you ask for a more exciting matchup?
In that Stanford game, UNC defended their #1 ranking with a 13-12 hard capped win over Colorado. That scoreline actually makes that game look a bit closer than it actually was — UNC dominated the first half and Colorado's final score didn't matter, as the hard cap had already gone off at 13-11.
But today's match will have a different complexion. UNC will be playing without defensive star Ben Snell, who matchup up on 2014 Callahan winner Jimmy Mickle throughout the game. Snell tore his ACL in the semifinals at Easterns. That will create new matchup issues for UNC, who don't have another obvious defender to put on Mickle.
Charlie Schaffner can take Mickle if he mostly stays downfield; Schaffner is one of the best downfield defenders in college. But he is not effective in a 10 yard box back in the handler set, so Colorado may try to mix up the looks they use with Mickle to keep the UNC defense thinking.
RELATED: Video Breakdown of UNC's win over Colorado at Stanford Invite
UNC coach Mike DeNardis had little to say last night after the team's semifinal win about adjustments they would make against Colorado. "It's going to be a similar gameplan, but there are some strategic adjustments we need to make from that game plan," he said. He wasn't going to elaborate.
You can understand why he's keeping his cards close to his chest. The teams are both packed with great athletes, smart systems, and deep benches. It is very likely the game will be decided by the strategic adjustments each coaching staff makes.
To this point, both teams have had a similar trajectory to the final. Both played down a bit to teams below them — UNC had to take down Tufts on double game point; Harvard and Wisconsin challenged Colorado. Both teams looked sharper yesterday, easily handling their opponents in quarters and semis.
Both teams' offenses looked clinical in their semifinal game. Colorado rolled over Oregon 15-8, and UNC pulled away late against UNC Wilmington to win 15-10.
KEYS TO THE GAME
Jon Nethercutt
UNC's star handler has to bring his A game, like he did last night in the 2nd half of the semifinal where he lit up the Wilmington defense for five assists, mostly on giant flick bombs. If Nethercutt limits his mistakes and keeps finding his cutters with his wide arsenal of throws, UNC's offense will be able to keep their D line on the field.
Nethercutt does have a tendency to be turnover prone in spurts; that won't cut it against Colorado.
Colorado's Resets
Colorado crushed Oregon not with giant hucks, but with a thousand reset cuts. Mamabird dump and swinged relentlessly, moving the disc with ease around the field and consistently finding the endzone.
When they faced UNC at Stanford, they had a much tougher time getting the around break off the sideline. That forced them into a number of reset turnovers and some poor huck decisions.
It may not be a sexy part of the game, but Colorado HAS to have those resets and UNC HAS to focus on shutting them down. The team that wins this battle could well win the Championship.
#Micklemania
The 2014 Callahan winner Jimmy Mickle is going to be the most dynamic player on the field in the final. How he fares may determine how Colorado fares. You know that UNC will be gameplanning specifically to deal with him, and he will need to mix his looks and threats in order to keep an edge. UNC's defense is too smart to let him just beat them with deep cuts, like he so often did at Stanford.
BETTING LINES
Point Spread: Colorado (-2.5) v. UNC (+2.5)
Moneyline: Colorado (-140) v. UNC (+115)