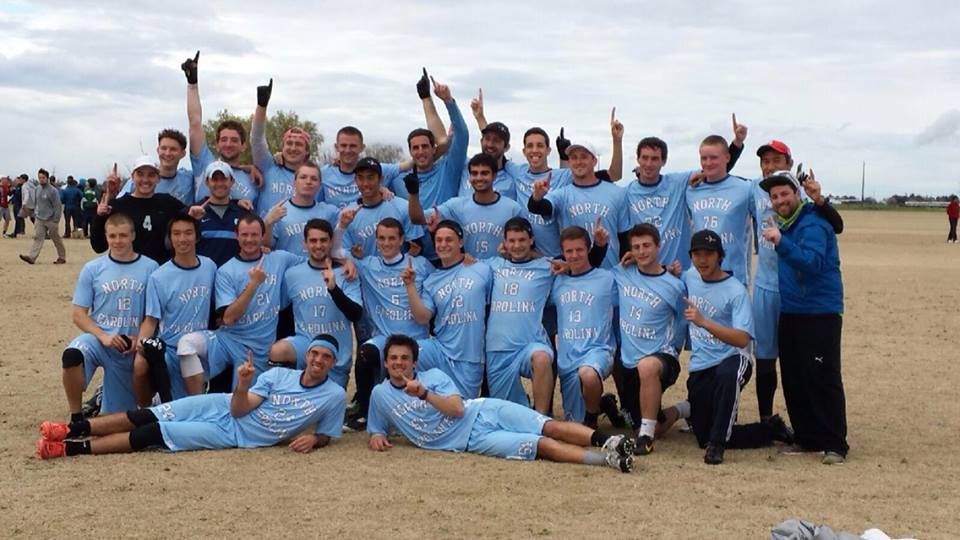 This year's Stanford Invite was defined by wind, rain delays, and upsets. Three out of top four seeds dropped at least one game in pool play and only UNC advanced past quarterfinals. Saturday's wind forced teams to play field position and the unifying downwind strategy was simply "huck and play D."
Sunday was a different story.
The UNC-Colorado showdown in quarterfinals was an instant classic, pitting the two most athletic, star-studded teams in college ultimate against one another. Better conditions on Sunday allowed us to see more meaningful tactical decisions, incredible individual performances, and the high level of play we are accustomed to at the Stanford Invite.
What players, possessions, and adjustments had the biggest impact on the game? How was UNC able to start so comfortably, end a bit shaky, and yet still pull off the win of the season so far? We break down the tape.
Darkside Minimizes Mickle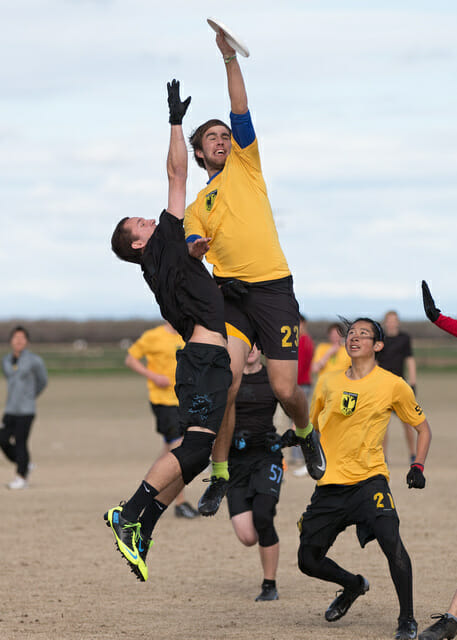 Jimmy Mickle is one of the most decorated players in college ultimate and the frontrunner to win the Callahan Award this May. Over the last few seasons, Coach Jim Schoettler has made a conscious effort to reduce the team's reliance on Mickle, but it's clear that Colorado still leans heavily on him.
Mickle started off the game with an upwind backhand huck to set up the early 1-0 break, as well as a big sky over Christian Johnson for the 2-2 downwind hold. But for the rest of the first half, he had little impact on the game and was surprisingly quiet.
UNC's D line controlled the entire first half, throwing a variety of looks to negate Mickle's athleticism and limit his throwing options. Among those looks included a 3-3-1 zone look with traps on the sideline, eager switching on downfield cutters, handler defenders that sagged into throwing lanes and, true to North Carolina style — gritty man-to-man that stopped Colorado's big-lane, isolation cutting style.
The most important part to that gameplan? Coach DeNardis kept making defensive adjustments, keeping his team one step ahead simply by taking Colorado out of their comfort zone and keeping Mamabird from establishing any offensive rhythm.
With UNC up 3-2 and Colorado receiving going downwind, Mamabird uses a sidestack to isolate Jimmy Mickle in space. UNC's D line immediately negates the set play by sagging off and running switches.
Once the initial play breaks down, watch how quickly UNC transitions back to man:
You can hear UNC defender Ben Snell, before the disc is even tapped in, directing his teammates and reminding them to keep their "eyes up." Yes, Mickle is still able to get the disc — but it's not the 20 or 30 yard gainer that Colorado's offense is accustomed to. UNC quickly recovers to man and two passes later, Tim McCallister generates a huge layout block on Hidde Snieder.
The combination of the wind and UNC's defensive adjustments forced Mamabird into (too many) tough reset passes, low percentage deep shots, and high-stall break throws. Colorado was plagued by unforced turnovers and Darkside's D line broke early and often throughout the first half.
The Matchup of the Season So Far: Ben Snell vs. Jimmy Mickle
After the first few points, Snell was assigned the Mickle matchup. Snell did an excellent job limiting Mickle as a deep threat and forcing him back towards the disc. Of course, with Mickle, you have to pick your poison; it's not totally clear whether you want Mickle beating you with his deep cuts or his deep throws.
But in a high-turnover half that was still somewhat affected by weather conditions, UNC and Snell made the right decision. By forcing him into the handler and front of stack positions, UNC limited his ability to consistently get big yardage gainers. Another reason that plan worked is because it forced involvement from other Mamabird cutters, in matchups UNC thought — rightly so — were more favorable for them downfield.
What Snell was able to do after the turn was arguably more impressive. At 4-3 with Colorado going downwind, a tipped layout block from McCallister creates pressure and Tim Morrissy overthrows Mickle on a strike pass. Check out Snell running the D line offense on the turn:
Snell hucks upwind from a power position, runs all the way upfield to get the first reset, hits the around break, and scores the goal to break 5-3. With both Jon Nethercutt and Christian Johnson off the field, Snell ran the show and got a break for the "pure" UNC defensive line. The most impressive part about this possession is that he does it all with Jimmy Mickle guarding him.
This clip also highlights one of the biggest problems facing Mamabird. Because Colorado leans so heavily on Mickle, he expends more energy on offense and has less to give if they turn it over. Of course, Mickle has been a two-way monster for NexGen and Johnny Bravo in the past; he has the track record of handling high workloads at an elite level. But Snell may just have a slight edge in cardio work rate, and, throughout the first half, he found ways to take advantage of Mickle's looser handler D and mark, getting free resets for his team's offense along the way.
Mamabird Structural Offensive Issues
A good portion of the Colorado turnover issues were simply execution mistakes. But throughout the game, they were also plagued by some structural issues that reduced their margin of error and may have led to smaller windows and execution mistakes. As Tyler Kinley pointed out during Ultiworld's livestream, Colorado really struggled to get the around swing off:
Watching @CUMamabird v @UNC_Darkside — bird can't get the around swing off and it just killed them

— Tyler Kinley (@tylerkinley) March 2, 2014
When Mamabird was able to break and continue with a swing, they usually won the point. When they found themselves stuck on the force sidelines for too long, their possession conversion dropped to around 50%. The clips in the embed below show it all: Some of these failed swing opportunities were due to good UNC marks, some were execution errors in weird conditions, but many of them were simply bad timing on the continuation and over-cutting on the force side of the vertical lane.
The Big Second Half Changes
Throughout the first half, UNC's offense dictated the pace of the game and Colorado's man defense did not create consistent pressure or generate blocks. Something needed to change.
Coming out of half down 4-8, coach Schoettler switched from man to a 3-3-1 diamond zone, identical to the one Arizona made famous last season. The adjustment to zone broke up UNC's pull plays, forced more passes, and changed the tempo of the game. Colorado ran the diamond on four of their first five D points, generating three turns and converting one upwind break. Schoettler's adjustment gave Mamabird momentum and allowed Mickle to stay on the field for more D points — and critically, with less running — as the deep in the zone.1
Pulling upwind at 6-9, Mamabird stays with the zone look, trusting it will produce turns. After working to midfield, UNC launches a hammer into the endzone and Mickle cleans up the easy D. Colorado's D line works out of their own endzone and Mickle launches a backhand huck to Pawel Janas for the goal and the play of the game:
This possession illustrates what Colorado was not able to do in the first half. Mickle clears downfield and the D line offense is able to earn an under, as well as move the disc off the trap sideline. When Mickle cuts underneath, he has separation from Johnson, allowing more time to wind up and launch the incredible upwind backhand huck.
The Reemergence
After a relatively quiet first half, Jimmy Mickle dominated the second half. He was directly involved in 6 of Colorado's 8 second half points, with 4 goals and 2 assists.
Recall that UNC was able to limit Mickle's athleticism with downfield switching, sagging, and zone looks in the first half. Darkside ran more straight man defense in the second half; Colorado made them pay with deep hucks to Mickle.
Opening up the deep game created space underneath that wasn't available in the first half. After catching several goals deep, Mickle earned big unders for the rest of the game. 3 of Mickle's goals were breaks and his ability to throw backhand hucks upwind forced the UNC defenders to play more honest.
The Unselfishness of the UNC System
UNC has superstar players that are nonetheless comfortable and willing to specialize to their role. Johnson is a deep threat with unrivaled pure speed; Nethercutt is the college handler who's job it is to take shots and switch the field.
We've already talked about his defensive work, but watch how Snell — a player with a fair claim to be UNC's most important player in his own right — takes a back seat to Nethercutt on UNC's most successful zone offense point.
The entire downfield UNC offense gives the handler duo freedom to work by not overcutting — instead, they space wide, keeping the zone as spread out as possible. As UNC works down the field, Snell realizes that the final cup-breakers will probably come from Nethercutt, so he works hard to stay available as a free reset for Nethercutt and dumps it right back whenever he touches the disc. How many other college teams have an all-star that is confident enough in his teammates to take a backseat?
Simple Offensive Mistakes Prevented UNC from Feeling Safe
Darkside had multiple opportunities in the redzone but drops, overthrows, and miscommunication plagued the UNC D line throughout the second half. At 11-9, UNC had three opportunities to break but couldn't capitalize on a single one. UNC's inability to score efficiently upwind in the second half left the door open for Colorado to get back into the game.
Down 10-11 and pulling upwind with the hard cap looming, Mamabird desperately needed a break to stay close. Colorado's Stanley Peterson and Jesse Fisher stepped up huge to keep Colorado in it:
Recognizing man, UNC runs their deep flood set play with Christian Johnson sweeping underneath. Downfield on the far side, Peterson reads the play, leaves his man, and forces a D by cutting off Johnson's path to the disc. Fisher quickly picks up and launches a backhand huck to Peterson, setting up Colorado for the break. After the timeout, Peterson breaks the mark to Mickle and he finds Fisher for the goal.
The Balancing Act with an Every-Point Superstar
Pulling downwind at 11-11, Colorado has all the momentum, but the final few points of the game highlight why Mamabird's heavy reliance on Jimmy Mickle is unsustainable. There is no doubt that Mickle's outstanding second half performance got his team back in the game, but it also wore him down physically and mentally.
After a UNC turnover near the upwind endzone, Mickle takes an aggressive shot downfield to Hidde Snieder but it flies out the back of the endzone. While hucking with the wind to one of your most athletic receivers isn't a bad decision, it's surprising that Mickle — arguably the best deep thrower in the college game when fresh — couldn't at least put this pivotal attempt on target.
Then, on the final point before hard cap, Colorado's O line had two possessions to push the game to double game point, but were unable to convert due to two uncharacteristic Mickle turnovers. The first was a low backhand throw ruled down by the observer, 30 yards outside the endzone; the second was a miscommunication on a dump throw that gave Darkside a short field to work with. UNC capitalized on the mistakes and broke downwind, effectively ending the game at 13-11.2
Conclusion/Takeaways
Colorado
Too much reliance on Mickle. When he's playing well, he carries the team. Of course, when your best player plays poorly, it's tough to win games. But the real problem for Colorado may prove to be that even when Mickle does play well, Mamambird relies on him too much, fatigue becomes an issue, and it may result in mental lapses at the end of games
Struggled early with the wind with too many unforced turnovers.
Showed ability to play high level defense and offense in spurts. Could be scary if they put it all together and do so more consistently
UNC
Incredibly intelligent D line adjustments, neutralizing other teams through smarts that play to their athletic strengths and preferred matchups
Snell, Nethercutt, and Johnson — all with Club Nationals experience — are the hardest trio to stop in college ultimate right now, and are playing to each other's special strengths
Dominant first half performance followed by a HUGE mental lapse/lull in the second half, barely hung on. Need to avoiding beating themselves
Related: failure to convert on chances. They could have taken half 8-3 and had tons of upwind chances in second half as well.  What makes that scary is, what coach DeNardis told Ultiword: "I don't think we've played the best ultimate we can play, yet."
***
---
Although Darkside's O line held against the zone on two easy downwind points and one 35+ throw upwind possession, UNC lost their patience a few times and forced throws. Losing patience and forcing throws still appears to be UNC's main weakness heading into the final part of the college season ↩

Note: hard cap had already went on before the last point was played so although Colorado scored to make it 12-13, it had no effect on the outcome ↩