The Ultiworld DIII editorial staff selects their top players of 2014 in the DIII College Awards.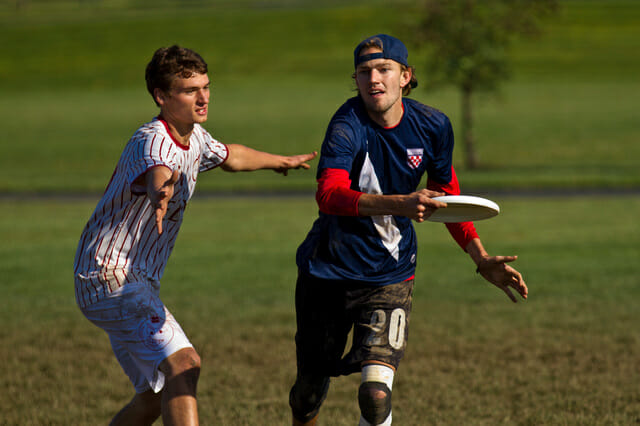 With another Division III college season in the books, the growth and level of competition of the young conference continues to be apparent. Here are your 2014 Ultiworld DIII College Awards for the Men's division. Descriptions of the criteria for each award mirror their DI counterparts, and all selections were made after discussion with the entire Ultiworld DIII editorial staff.  The final picks were determined by Jesse Moskowitz.
Player of the Year
James Robb (Richmond): Robb was the driving force behind every step of the Richmond Spidermonkeys' impressive season. After winning the MVP of DIII Easterns, the imposing cutter fueled the surprising upset of national finalist Elon at regionals.
At Nationals, Robb proved nearly impossible to guard even against the country's best defenders. Finishing 2nd in goals (20) and 7th in assists (17), Robb accounted for an astounding 54 percent of his team's total points scored. He finished with three goals, four assists, and a block in their eventual 13-15 quarterfinals loss to Elon.
The 6'4" five-tool player did everything Richmond needed him to do this season. Whether the point called for Robb to make the first under, touch the disc every other throw as a handler, or defend the opponent's best player, the Spidermonkeys' leader was up for the challenge. When the game was on the line for Richmond this season, Robb made it known that he wanted the disc in his hands.
First Runner-Up: Travis Carpenter (Indiana Wesleyan)
Second Runner-Up: Nicholas Mathison (Lehigh)
Offenive Player of the Year 
Will Shaw (Lewis and Clark): One Nationals player termed Shaw "the Dylan Freechild of DIII Ultimate" or 'D-Threechild,' if you will. It's clear from watching Shaw run the Lewis and Clark offense that he played on Portland Rhino with the 2013 Callahan winner.
Shaw finished Nationals with 35 combined goals and assists, frustrating some of the best defensive teams at the tournament. The handler was involved in 6 of the 10 points against Bentley, 6 of 12 against Carleton GoP, and 7 of 11 against Richmond.
His understanding of opposing defenses paired with his phenomenal break throws and quick first step made him a terror near the goal line. His hucks, particularly to Ben Whitenack, were clicking throughout Nationals making him the best-rounded offensive handler at the tournament.
Shaw was one of the main reasons that Lewis and Clark almost took down Puget Sound a handful of times this season and only a junior this past year, the Northwest will have to struggle to guard Shaw for yet another year.
First Runner-Up: James Robb (Richmond)
Second Runner-Up: Marques Brownlee (Stevens Tech)
Defensive Player of the Year
Travis Carpenter (Indiana Wesleyan): Despite not playing on one of the country's elite teams, Carpenter's defensive excellence cannot be ignored. A combination of great defensive instincts, excellent top-end speed, and dominance (vertically and horizontally) in the air make Carpenter an ideal defender.
Carpenter clearly understood poaching and baiting with respect to his athletic ability, at times purposely setting up out of position to entice defendable throws. The Indiana Wesleyan zone thrived on allowing hucks to go up to their deep-deep. All season, he has made huge defensive plays look routine.
His ability to play honest defense is not lost in his understanding of how to defend less athletic players. Carpenter is currently tied for fourth in the AUDL in D's despite playing one fewer game than the top and second ranked players.
In a weak Great Lakes region, the rising senior may be able to carry Indiana Wesleyan to a Nationals birth in 2015.
First Runner-up: Justin Ondrof (Bentley)
Second Runner-up: Nic Mathison (Lehigh) 
Breakout Player of the Year
David Abbott (SUNY-Geneseo): Unfortunately, Abbott missed Nationals with a broken arm. Still, his regular season was very impressive. The best player on one of the country's breakout teams, Abbott's absence was felt at Nationals. Handler movement was stagnant and Snail failed to defend against opposing resets- two of Abbott's specialties.
Like the DI Breakout winner, Pat Earles, Abbott was a key contributor in 2013. Yet, Coach Bryan Jones' ability to optimize Abbott in the Geneseo system made the handler that much more effective. The difference when Abbott has been on and off the field for Snail the past two seasons has been notable.
Anyone who has played Geneseo can tell you exactly who Abbott is, however he is still not a household name in the DIII community. Look for him to continue to make a name for himself next season and keep Geneseo as one of the top teams in the Metro East.
First Runner-up: Travis Carpenter (Indiana Wesleyan)
Second Runner-up: Anders Berglund (Carleton GoP)
Rookie of the Year
Jacob Garfinkel (Bryant): Perhaps no DIII team in the country was more reliant on a freshman than Craze was on Garfinkel this season. Henry Babcock played a large role at handler for a successful Richmond team, but he was able to fall back on a deep and talented roster. Bryant relied on Garfinkel to do a ton of their heavy-lifting all Spring. He always rose to the challenge.
Learning from senior Joe Scully, Garfinkel developed into a excellent handler throughout the season. Athletic and armed with an array of break throws, Garfinkel helped lead Bryant to an unexpected Nationals berth. In Ohio, the freshman accounted for 42 percent of his team's points (goals plus assists) and nearly a quarter of their D's. He finished tied for 4th overall in assists on a nearly three-to-one assist to turnover rate.
Stepping onto a Nationals level team and excelling is an impressive feat. Garfinkel will only get better with time and should make noise in the Northeast for the next three seasons.
Runner up: Henry Babcock (Richmond)
Second Runner-up: John Paul Bort (Franciscan)
Coach(es) of the Year
Henry Brecher and Ben Davis (Bentley): Brecher and Davis have put in the work to build Bentley into a perennial DIII powerhouse and they've been rewarded with a National Championship in 2014. Ichehouse established itself as the team to beat throughout the regular season. Preaching physical defense, systematic offense, and unmatched sideline intensity, Brecher and Davis had Bentley playing a level above their competition.
Despite missing seniors on Saturday of Nationals, Icehouse was able to plug in rotation players and not miss a beat. While many analysts expected Bentley to falter, they finished the day 3-0.
In the semifinals and the championship game, Bentley found themselves with late deficits. Down 7-12 to Claremont and 7-11 to Elon, Brecher and Davis kept the players' heads on straight, instilled confidence in their team, and led Icehouse to two unforgettable comebacks to win the tournament.
It's coaches like Brecher and Davis who prove that there's no ceiling for a Division III ultimate program.
First Runner-up: Sam Dinning and Lily Steponaitis (Brandeis)
Second Runner-up: Bryan Jones (SUNY Geneseo)
Editor's Note: Ultiworld does not cover the DIII Women's Division at this time.