The 2014 US Open concluded another exciting three rounds of action, and very little is sure going into the final round of Pool Play. Three semifinal spots are up for grabs among five teams! Check out our recap of the wild goings on in Minnesota.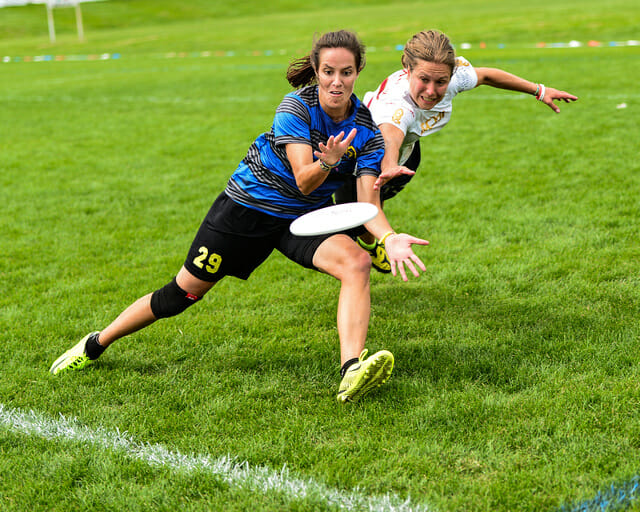 Only a single round of pool play remains at the US Open and, in that one round, there are numerous possible permutations of semifinalists. Day two contained upsets to rival day one's: like Fury the day prior, Scandal went 1-2, while Brute Squad fell to Showdown, but then beat Traffic.
Let's take a look at the day two's events and what it all means for tomorrow and beyond.
Rollin' Riot
There seems to be no slowing this Riot team down right now. Their reinforcements arrived in time to step in for some injured players, but overall, their 6-0 backs up that they have looked like the most impressive and complete women's team in Blaine, MN.
It isn't always pretty, but Riot has been getting the job done, converting at solid rates offensively. Their disc movement and ability to get the break side are critical to their offensive success. They utilize fakes expertly, often off of separation, forcing overcommitments from approaching defenders. Seattle is dictating play consistently.
Defensively, they've done a great job applying pressure in the right spots and keep teams out of rhythm. They've got a few looks up their sleeve, but have looked strong in man defense, where they can use intelligent marking and aggressive downfield play to close gaps and force difficult plays. Riot looks miles of ahead of where they did at this time last year.
Rohre Titcomb in particular has been a standout. She's been assigned some really challenging matchups on defense and actively advanced the disc well on offense. Her return is a big reason why Riot looks so strong relative to the other elite teams.
Reigning Champs Go Under .500
Perhaps Scandal thought Fury knew something they didn't, and wanted to emulate their 1-2 day, but for whatever reason, Scandal dropped two out of three today. That makes for three losses in their last four games. Scandal couldn't recover from first half mistakes against Riot (15-9) nor could they reign in their turnovers against Vancouver (15-12).
They weren't far from the notorious 0-fer, requiring an impressive run to end the first half up against London Iceni. Washington DC held Iceni off for a 12-9 win.
Despite their wealth of returners, Scandal has a healthy number of challenges that they have not responded well to. They are introducing new offensive systems and it is very clearly impacting their cutter flow. Alicia White and Anne Mercier are two of the team's best five players and key offensive pieces, and their handler depth is definitely taxed.
They'll need to find a way to end more possessions in the end zone and reduce turnovers tomorrow to even make the bracket and certainly to have any success there.
Consistent Inconsistency
The teams of the women's division – save Riot – have been plagued by inconsistency through the first two days of the US Open.
Scandal and Fury have both made their cases pretty strong, but Brute Squad, Traffic, and Showdown have also brought the good and the bad.
Traffic is the best example. Today's results echoed yesterdays: a big win (Scandal today, Fury Thursday) and a blowout loss (Brute Squad today, Riot Thursday). When their zone is plugging holes and giving them short fields, they are tough to beat. When their deep game is connecting, it opens up the under lanes and they happily exploit that. Rachel Moens, Laura Mason, and Katie Berezan all had strong moments today.
Brute Squad and Showdown is a bit different. Showdown's win over Brute Squad seemed to be triggered by Boston's uncharacteristic struggle to throw against the wind. The absence of some of their best offensive handlers was surely felt. Meanwhile, Showdown was able to use their athletes to make big plays and some small ball Sunny Harris & Mariel Hammond specials to snag a couple crucial upwinders.
Down to the Wire: Saturday Semifinals Scenarios
Here's the situation going into Sunday's final round of Pool Play:
Brute Squad (4-2) plays Scandal
Traffic (4-2) plays Showdown
Fury (3-3) plays Iceni
Scandal (3-3) plays Brute Squad
Showdown (3-3) plays Traffic
Riot (6-0) is already locked in at #1 and Iceni (1-5) and Bamboo (0-6) are eliminated from contention
That means these five teams are playing for three semifinal spots. Fury, Scandal, and Showdown all need wins to make the bracket, but none of them are guaranteed spots with just a win. Brute Squad and Traffic have their respective destinies in their hands: wins get them in.
Fury's situation is simple: beat Iceni and root for Traffic and Brute Squad to take out the opposition.
For Showdown, they need to beat Traffic, and need help. If Boston wins their game and Iceni wins their game, Showdown will be in. Their large margin losses to Fury and Scandal put them in a hole and they won't want to play the point differential game.
Meanwhile, Scandal's efforts begin with a victory over Brute Squad. If Iceni and Traffic win, that would land Scandal in the semifinals. If Fury and Traffic win, Scandal would be in a three way tie with Brute Squad and Fury for just two available spots; they lost to Fury by 7 on Thursday and Fury fell to Brute by 3, so they'll need to beat Brute pretty cleanly to advance in that situation.
The other possibility is that Fury, Scandal, and Showdown all win and create five-team tie. Point differential within that group currently heavily favors Brute Squad (+9) and hurts Fury (-10) and Showdown (-11). Traffic (-2) and Scandal (-4) would be in ok positions.
Tomorrow's one round of Pool Play gives us three key games to keep an eye on prior to the semifinals. USAU couldn't have scripted it this well, although ESPN probably wishes their semifinal broadcast was easier to plan.