The recently announced AUDL Pittsburgh franchise got a cool reception, but Tad Wissel says things are on the right track for long-term success.


Since the dawn of professional Ultimate it seemed a foregone conclusion that eventually someone entrenched in the Pittsburgh Ultimate community — with all the support of the area college and club talent — would step up to the plate and start a franchise. With a great youth scene, some current and former USA Ultimate board members, and a perennial college title contender in Pitt, the climate was right for a pro venture. It was just a matter of time.
It's a little off script, but professional Ultimate has come to Pittsburgh.
After a series of leaks last week, two men unknown to the local community at large made the initial announcement. Andrew Gardner and Elliott Diamond emerged on a closed Facebook group (created to evaluate interest in creating a pro team in the Steel City, oddly enough) and informed its members that they were part of a group that had purchased the AUDL rights to Pittsburgh.
Gardner (Miami (OH) University) will act as general manager and Diamond (Clarion University) as assistant general manager. Both are 22 years old and graduated from their respective colleges in May. Both hold management degrees and played college Ultimate. Gardner's stepfather Dr. Tracy Neuendorf is the owner and financial backing for the franchise.
The Announcement, the Community, and the Solution
The news was a surprise. Not that Pittsburgh's rights had been purchased — but that they had been purchased by people outside the community. Assistant general manager of the new team Elliott Diamond has played a few recreational leagues in Pittsburgh but aside from that the ownership group has no first hand experience with their new team's local Ultimate scene.
The community's reaction was pretty critical. And at a glance, why wouldn't it be?
At the time of the unofficial announcement on Facebook, no Pittsburgh Ultimate board members, players, or people of influence had been contacted about the possibility of the franchise. A lot of that is due to AUDL confidentiality agreements, but that's not really the concern of the average league player who will be asked to support this team next year. It's not concern of the people who have been doing the hard work for years to make Pittsburgh a great Ultimate city. It came off as…
Hey, I just met you.
And this is crazy.
But I own your city's franchise.
Support us, maybe?
So the team faces it's first major obstacle: winning over the community.
"We understand the skepticism," Gardner told me while taking in a summer league game. "It's a new thing. Pittsburgh Ultimate has been around for a long time. The community members definitely want to feel involved and they've been doing this for a long time. We're two new guys coming in that they don't know, but I think we're highly qualified. We're going to make sure that we involve the community."
Community involvement is something the ownership group — the newly named AmtranDisc, Inc. — stressed repeatedly during interviews. They've been acting on it. Last week Gardner and Diamond have been meeting with board and community members, attended league games, and offered up their personal email addresses to those with questions.
They also know Pittsburgh's hospitality doesn't start and end with some hasty, reactionary Facebook posts.
Elliott Diamond, who grew up about 40 miles east of Pittsburgh, has seen first hand what kind of greeting the city is capable of and offered some perspective on what it's like being a new player in town. "The experience has been incredible. The people here are so welcoming," the new assistant manager said. "They're very receptive to new people and quick to include them into the community. I feel like I've been a member of Pittsburgh Ultimate for 10 years and I've only been here for one."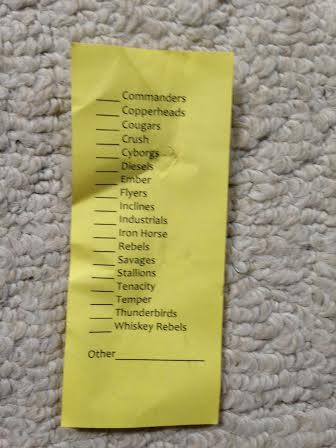 Gardner and company want Pittsburgh Ultimate to have a stake in this from the very beginning. So much so that they polled players at MARS (Pittsburgh's summer mixed tournament) with slips of paper and let the community chose the team's name.
"We want the name to be community driven," said Gardner. "I don't want our group to just pick the name. I want it to be up to the Pittsburgh community."
The people have spoken.
Introducing the Pittsburgh Thunderbirds.
The On-Field Product
When asked what kind of team Pittsburgh fans could expect to see in 2015, Gardner said, "A great one. We're going guns blazing. There's such a great Ultimate base, such talent here… I think we're going to come in year one and compete for the playoffs. We're going to compete for a title."
That's coming from a first time general manager of a first year franchise that doesn't play its first game for 10 months.
Yet you've got to believe him. The potential is there.
Some high profile players are already commuting from Pittsburgh to play professionally. Former Callahan finalists Alex Thorne and Tyler DiGirolamo are already in the AUDL with the DC Breeze. Six recent or current Pitt players just wrapped up an MLU season with the Philadelphia Spinners including native Pittsburghers Marcus Ranii-Dropcho, Pat Earles, Max Thorne, and Aaron Watson. The DC Current will compete for an MLU title next weekend with Rob Dulabon and Eddie Peters both driving down from Western Pennsylvania. There are other good players in the city, too. These are just the guys that are accepting the inconvenience of all the travel — when even your home games are away games — and playing anyway.
If management can get the band back together (which shouldn't be too hard since most of them will be playing for the new Pittsburgh club team together), you've got to look at this team as a playoff contender.
***
The AUDL is still a young league and there's a lot to be learned from the early missteps of the teams that have folded, been unsuccessful, or been otherwise mismanaged. The new Pittsburgh management seems to have the foresight to avoid some of those pitfalls.
Financial Sustainability
Gardner told me this franchise was in it for the long haul. It's easy to say now. What if you start losing money? Are the pockets deep enough to keep pushing forward as you build the brand? The team's owner and financier Dr. Tracy Neuendorf assured that his team will have the means to let the process unfold.
"That was a big interest of the league. I talked to other owners and they said you're going to lose money in the beginning," Neuendorf said in an unfazed tone. "Our goal is to be here in 10-20 years."
The money is the biggest thing. There's a difference between having money and having enough money.
Neuendorf, an anesthesiologist and pain management specialist, has eight offices in Ohio and Pennsylvania. It's probably safe to assume he's put some long term thought into this investment.
Managers Manage 
There have been some comically bad player/manager situations and relationships thus far in the league. When someone who is not capable tries to do too much, it becomes painfully obvious, skews decision making, and the club suffers. Not everyone can wear both hats the way Mark Lloyd has in Toronto.
This group made it clear that they understand their roles in this team's potential success.
"I'm not planning on playing and neither is Elliott," Gardner said. "And we definitely don't plan on coaching. We feel the coaching job has to go to a qualified candidate."
Coaches coach, players play — and managers facilitate that process.
The Takeaway
As someone who's been a member of the Pittsburgh Ultimate community for 10 years, I initially wasn't thrilled with the announcement. Since then, I've liked the approach.
The ownership group is being proactive by reaching out to the community and its members. If they hire a good coach and let them do their job, the local talent will follow. Most of all, this team appears to be financially stable and mentally prepared to take an early hit without panicking. I feel like this is a better start than some contemporary AUDL franchises.
It's not like the Thunderbirds are trying to sell the city a monorail. Pittsburgh loves Ultimate. The city is as equipped as any to field a pro team.
Only time will tell if management can get the pieces in place on and off the field before the opener in April but it looks like they've given Pittsburgh a solid footing.
Notes:
– The teams colors will be charcoal grey and yellow. That makes it a mathematical certainty that Wiz Khalifa will be played over the loudspeaker at every home game.
– Pitt head coach Nick Kaczmarek has yet to be contacted by the Thunderbirds but is obviously on their radar.
– What was up with "Flyers" on the paper list of suggestions? For real? The team would have been better served under any other name like the Ravens or the Belichicks…maybe even the Sid Breams.