Chicago Machine has been good, but not great, for too long. The team is making three major changes in 2014 as they look to break through to semifinals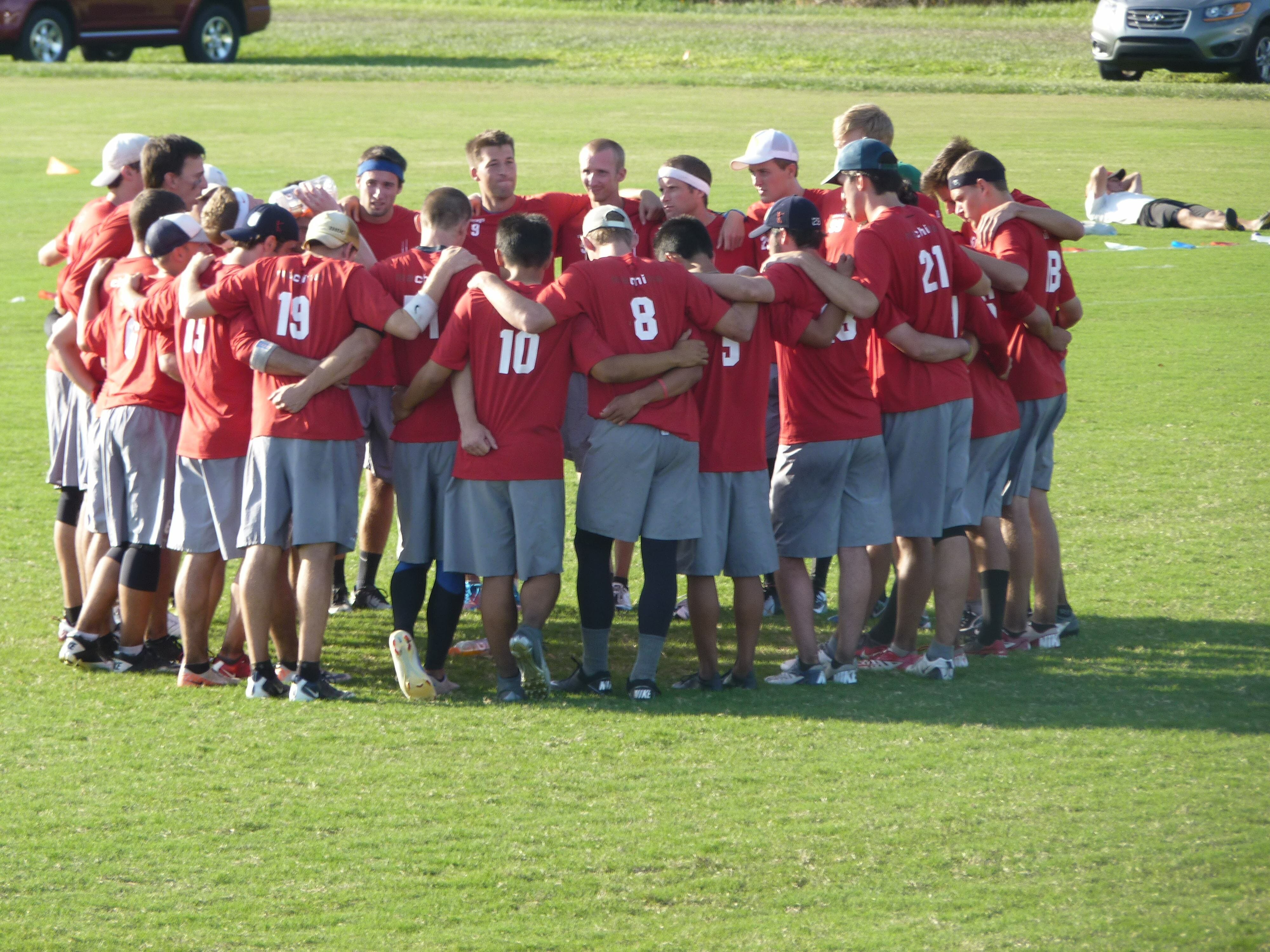 With the 2014 season underway, the focus in the Men's Division has largely revolved around last year's semifinalists — the four teams headed to Lecco for Worlds early next month.
Not to be counted out, Chicago Machine has proven they are a contender with their impressive victory at the Pro-Elite Challenge (Chesapeake Invite).
Machine has made three big changes in the off-season that have radically altered the squad and sparked the path for a red-hot summer.
Roster Moves
Machine has been the monster of the midwest for the past several seasons, reigning as very dominant regional champions since the realignment. They join many of the top teams in consolidating a high-powered roster in 2014.
Their squad only gets stronger as they add three former Madison stars in Dave Wiseman, Tom Annen, and Pat Shriwise, as well as Xtehn Titcomb (formerly of Sockeye), and several other young players of the area.
"[The three Madison players] help increase our top end skill/ talent and each fit big needs for our roster," said Captain Kevin Kelly. "We've had some of our best defensive players playing on our O-line in years past out of necessity, and being able to add such strong offensive players to this year's roster allows us flexibility to move certain returning [offensive] players over to the D-line where they could potentially have a bigger impact."
Annen and Shriwise will move into the O-line, allowing Walden Nelson and Cullen Geppert (a former Madison Club player himself) to switch to D, although those two will occasionally play both ways. Expect the additions to only add to the hucking offense of Chicago.
Madison and Machine, says Kelly, have become more friendly competitors, rather than inter-region rivals, since the region shift in 2011. This worked to Chicago's advantage, as Machine made a concentrated effort to recruit this year, knowing the other elite teams were only getting better in 2014.
"The opportunity to join together made sense for both parties from a competition standpoint and a cultural fit," said Kelly.
Adding a Coach
Perhaps most intriguing is the addition of Ron Kubalanza as a player and coach.
The last few years have seen a great increase in coaches around the game and Chicago now joins that trend. Machine actively recruited Kubalanza when he first moved to the city three seasons ago, and has been informally pursuing him since.
"He had elected to play Masters with friends on Surly and coach the women's team Nemesis to two of their most successful seasons," said Kelly. "Last year he did decide to play Wildfire, and enjoyed playing Open (he's clearly still talented enough) and enjoyed the camaraderie of traveling and playing as one of the guys. That itch brought him back to want to play Open once again, and he was brought into the Machine leadership because we respect his past experience and success as a leader."
Machine looks forward to having Kubalanza at the helm; he has knowledge of the nuances of the game that will especially help players develop. His experience is also a plus, as he is a veteran of many great teams and hopes to improve upon Machine's strategic weaknesses.
"He is passionate and fiery, and that is something Machine has been looking to improve upon in past years," Kelly goes on to say. "We've had hard-working, dedicated players who are very loose and fun, and take things seriously on the field, but sometimes lacked in killer instinct. As a player he adds another extremely skilled thrower to our handler core who push the disc downfield."
Embracing the AUDL
Last year, over half of Machine's squad played Wildfire — the Chicago-based AUDL team. That number increased in 2014. Combined with the Madison Club players who were participating with the Radicals, Machine went all in with the AUDL; the entire Machine team played in some capacity.
"Because the Machine and Madison players who would be playing AUDL regardless, we would have to schedule our practices around that season either way," said Kelly. "So, by committing the whole team we were able to get an early start on our season."
The move allows the younger players to grow into the club world more quickly, allows Kubalanza to test strategic changes against live opponents, and allows the squad to get high quality reps together in a fun, yet competitive atmosphere.
The team leaders hope the competitive games will help keep Machine from burning out mentally, and trust in Jonathan "Goose" Helton to build in strong workout routines to keep players healthy and peak at the right times. The squad will put in the same amount of practice hours overall, but now spread it out in different ways.
Last year, Machine had a few issues with injuries, but had an extremely strong regular season. If the team can stay healthy this year, playing Wildfire should boost their experience.
Outlook
Expect Machine to be strong in 2014.
They'll continue to run their horizontal and vertical stack offense, but have increased their speed. With tall, fast cutters like A.J. Nelson, Goose Helton, and Kevin Kelly, the team will be extremely tough to guard downfield, especially with handlers like Bob Liu, Walden Nelson, and Brett Kolinek moving the disc.
Patient offense, often led by Nelson, can be their hallmark, but their athleticism can sometimes be underestimated by bigger-named teams in the division.
Machine will take it one step at a time, but has high expectations. Regardless of the regular season, however, winning Regionals is the primary goal.
"We are playing to win every game and every tournament," Kelly explains, "but that is not mutually exclusive from playing to learn, practice implementing experimental strategies, getting reps for younger players. We actually do not have too many "development players". Our new players are predominantly veterans from other teams. We will let the regional bids fall as they will. We know we will have at least one bid no matter what, and our goal is to win the Region no matter what."
Machine was operating smoothly last year until Nationals, where they failed to meet expectations, but the team has worked to make sure it doesn't fall short again.
"Last year our struggles at Nationals, in our quarters elimination, came on the offensive end, with tight defenses disrupting our flow," Kelly says. "We are working with Ron to eliminate the guess work for our handlers and consistently give them a routine of check downs that they can run through. We've retooled our end zone offense to include a little more scripting."
They did struggle with tight handler defense from Chain Lightning in pool play at the Chesapeake Invite, which might suggest they are still susceptible to smart backfield defense. Machine is also a team that has failed to come up with big wins. After eking out a win over PoNY in prequarters at Nationals, they were pummeled by Sockeye 15-9 in the quarters.
They hope adding fresh eyes and veteran minds will be a boon, as the team looks to take some of the defensive insights and add them to the squad's philosophy.
Machine may experience a few growing pains with the new players and coach, but the additions are going to be incredibly beneficial in the long-run. They also don't have to deal with the distraction of a Worlds tournament and can focus solely on Club Nationals.
Early results suggest improvement; most impressive were the adjustments that allowed them to beat Chain Lightning handily in the Chesapeake finals after losing to them by a large margin the day before. It was obvious that Machine's superior fitness was a big part of that win, but they still looked like a team that stood above the pack in Virginia.
The entire season may not operate so smoothly, but the believe the end results will prove their point. They have semifinals on their mind.