Aurora, CO plays host to the Elite-Select Challenge at Colorado Cup. Home team Molly Brown enters as the top seed and definite favorite, but the competition is making for a level playing field. Can one of these teams emerge as one of the division's new favoites?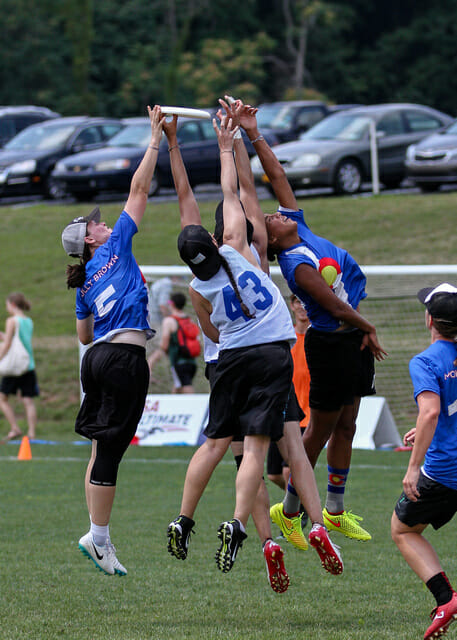 Colorado Cup – Women's Preview
WUCC may be the big news in Ultimate right now, but while the cats are away, the mice will play — at a gathering of 48 open, women's and mixed teams outside of Denver this weekend for Colorado Cup.
With Chesapeake Invite and the US Open in the rearview mirror, the Series is  looming over the thoughts of club teams across the U.S. With the exception of Heavyweights, the Colorado Cup this weekend in Colorado is the last opportunity most of the Elite-level women's teams will have to see each other before the Series.
It also gives us a chance to start predicting which of these teams we could be seeing in quarters come October.  It seems obvious to say that early favorites are the semifinalists from Chesapeake, Colorado's Molly Brown and San Fran's other nationals-level team, Nightlock, but challengers lurk in every pool.
Molly Brown: The Real Deal?
Coming off a strong performance in Virginia, the Colorado women are hoping to maintain their positive momentum to dominate in Aurora, CO this weekend. Proving that concerns about their ability to play consistently without a coach were unfounded, the Molly Brown women managed to maintain a stable rotation and keep their intensity focused all throughout the Chesapeake Invite, eventually taking out Nightlock 13-8 for third place. Their only loss of the weekend was to Brute Squad by eight points in semis.
The team will be missing captain Lindsey Cross this weekend, as well as Claire Henly, who is now out for the season with a knee injury. Cross's impactful downfield presence will be missed, but Molly will benefit from the appearance of several players who missed Chesapeake: Colorado College phenom Lisi Lohre, veteran handlers Dena Slattery and Jana Krutsinger, and offensive handler Shannon Waugh.
Henly's long-term loss is more troubling; while she is now playing an important role calling lines and stat-tracking on the sideline and filling part of the in-game coach role that Molly needs, this means that Molly's conservative 24-person roster is now down to 23 – and with nagging injuries in a few other players, their decision to not take practice players is showing its potential downside.
The home team is bringing a renewed defensive focused and, as expected this time of year, more systematic strategy. "We want to continue to define ourselves as a blue collar defensive team," says Captain Carolyn Matthews. Their offense was humming at Chesapeake, and even without Cross, an improved defense could be the best at the tournament. The challenge of improved organization sans coach will be a unique one.
If Molly Brown intends to be seriously competitive in quarters at Nationals this year, they'll have to dominate this weekend over the rest of the top-seeded Elite teams Nightlock, BENT, and Ozone.
The Rest of the Top
New York BENT had a respectable showing at Chesapeake – while they got knocked out at quarters against Molly Brown, 13-8, they came back to beat Ozone 11-10 for 5th place. They are also trying to break out of the Elite Flight this year, but this weekend may not reflect their full ability. They'll be missing top handler Liz Middleton, as well as solid contributors Akina Younge, Anne Silver, and Emily Cho. Regardless, captain Megan Randall says they'll be using this opportunity to see how deep their roster runs and Randall says they'll be honing their red zone and possession strategies, something they've struggled with this season.
Second-seeded Nightlock is looking to push itself out from the pack to challenge Molly Brown once more, and maybe get revenge. The Bay Area group notched victories over Ozone and Schwa so far this year, but still is preaching improvement and long-term focus. Nightlock will be short captain Katie Barry, still recovering from a concussion from Chesapeake, as well as Steph Lim, Marika Austin, and Sally Mimms for Worlds.
Regional Upsets in the Making
After a disappointing appearance at Chesapeake Invite where they got upset by BENT in pool play and lost to Phoenix in the 7th place game, Madison Heist comes in to Colorado Cup as the third seed in their pool. Their spot in the second tier was taken instead by Pop, their regional rivals from Minnesota.
Pop has turned in surprisingly impressive results this season at Boston Invitational and while Heist looked disappointing against BENT and Phoenix at Chesapeake. The potential for a Regionals-finalist upset will strongly depend on how they look on Saturday when they meet each other in pool play, although Heist will be missing captain Robyn Wiseman for Worlds.
Atlanta Ozone and Raleigh Phoenix have also ended up in a pool together, seeded fourth and fifth respectively. The North Carolina women will be coming in with a 19-person and youthful roster that has so far not been successful against Ozone but will be trying for an upset. Phoenix has been in a rebuilding mode and Colorado Cup provides an important stepping stone.
"We have an especially young team this year so we have been focusing a lot on fundamentals," says Phoenix captain Michelle Ng.
Atlanta is a solid squad that doesn't look likely to disappoint, but has yet to reveal a ceiling that paints them as a contender. Two of the four teams they've lost to this season will be in attendance and a tournament victory would be a step in the right direction.
The Wild Cards
We haven't seen much of Nova yet this season; this will be the opportunity to understand their inconsistent results from Boston Invite. However, they did take BENT to 11-13 in pool play so they're definitely worth watching. The second-year Canadian team benefitted from some fortunate circumstances last year and will have to fight harder to repeat their nationals appearance.
Lower down the seeding, Underground also had a close game against Schwa at the Eugene Summer Solstice and has a shot at Nova in pool play. Schwa's shorthanded squad demonstrated potential in Chesapeake, so either of these teams could score an upset or two.
Clear Second Tier?
Without the top ranked teams in the division to be compared to, we won't know for sure how the division stacks up, but we know it would take a very impressive outing from any of these teams to look like a semifinals contender. These are quality teams that can stand toe to toe with one of those top squads, but it takes consistency to be considered cream of the crop. Colorado Cup represents some opportunity to show that.
But it seems most teams are looking towards the Series and ramping up for that period. They know they'll need to bring their A game in Frisco to accomplish their goals and that winning Colorado Cup wouldn't mean as much as setting themselves up for a successful nationals run. Expect a more competitive weekend than Chesapeake, unless someone wants to prove the divide isn't so wide.