Molly Brown has been impressive this season and their run continued, undefeated, at the Elite-Select Challenge at Colorado Cup. New York BENT gave Denver a hard run in the final, but came up just short.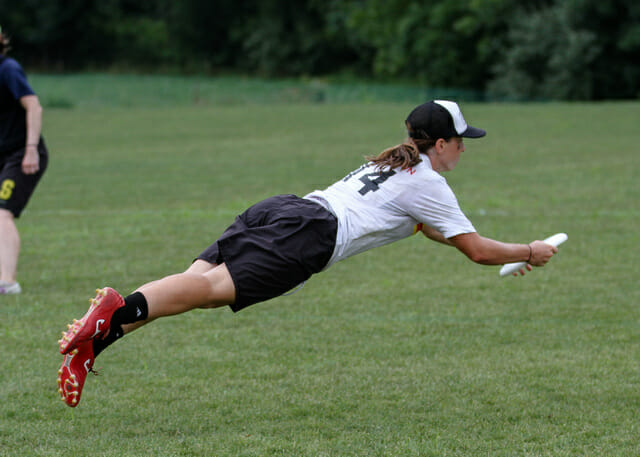 Colorado Cup's women's division saw lots of upsets and close calls this weekend, but the #1 and #3 seeds found themselves undefeated until battling it out in Aurora for the title.
Sunday saw New York's BENT line up against Colorado's Molly Brown in what would be a hard-fought battle for the title at Colorado Cup. Both teams came into the final undefeated, having just breezed through their semifinals matchups 13-5 and 13-7.
Molly Brown eventually claimed with the title by the score 13-11, after a close first half and a scrappy second. Denver may have won the final, but left with areas to focus on going into Heavyweights and the Series.


Molly Brown Stays Afloat, Despite Fight from BENT
All weekend Molly Brown was focused on improving the efficiency of their offense and maintaining the intensity of their defense while BENT was throwing polished defensive looks that unnerved weaker teams into turnovers that the D-line capitalized on. The two collided in the final in a scrappy game where every throw became hotly-contested and every player was all-in. The game, while it occasionally degenerated into turnovers and overthrows, was a tough battle with high intensity that was ultimately decided by just a break.
New York started on offense and the two traded points up until 2-2. A BENT isolation pull play was stalled out by tight defense and the disc was turned close to their endzone; the Colorado women used it to notch their first break for 3-2. BENT continued to trade points with Molly Brown despite tremendous defensive efforts thrown from both sides.
Both teams threw zones at various times during the game, although ultimately they failed to generate a break for either due to calm offensive handling. Many of the points in this game, particularly in the second half, saw multiple turns from both sides stemming from rushed D-line offense and aggressive defense on both sides.
Molly's second break came late in the first half with a huge layout D from Lauren Boyle in the endzone to prevent a BENT score. Molly Brown whipped it back down the field before BENT could recover to punch it in for 6-4.
BENT came out of half looking to even it up, and after a throwaway and drop-heavy point they scored a break to prevent Molly Brown from going up 8-5. The teams resumed trading points until a key drop from BENT allowed Christina Mickle to put it to Tina McDowell to bring the score to 12-9. Facing down a potential game point, BENT showed remarkable mental toughness to push it to 12-10 with a big grab from Lexi Zalk over Lisa Lohre in the endzone. An interception from Jackie Wang on the following point allowed the New York women to break to 12-11.
BENT called a timeout, clearly hoping to energize their defense and force the game to 14 under soft cap, but the Colorado women had other ideas. In the words of captain Carolyn Matthews, when faced with the threat of a cap at 14, "Our veteran O-line just looked at each other and said, 'Let's just score.'" They managed to work it cleanly down the field on offense and, despite aggressive redzone defense, put a big OI flick over the top in to Sally Lambert for the game, 13-11.
Molly Brown's Unsinkable Weekend
Molly Brown looked good at Colorado Cup, but not invincible. They tended to break early and often in the first half, but had a tendency to slow down in the second. Their games against Nightlock and BENT (both 13-11) showed an ability to generate Ds, but propensity to give them right back from overly-hasty offensive looks from their D-line. However, they had the mental toughness to finish strong both times and were undefeated all weekend.
They looked dominant on Saturday, with the only real challenge coming from their first game of the day against Seattle Underground, who came back to score six points in the second half after a halftime of 7-3. Molly Brown wrapped that game up at 13-9, and rarely turned it over in their next two games against Nova (13-6) and Encore (13-3). All of this was additionally achieved without their Chesapeake star duo in Claire Chastain and Lindsey Cross.
While their Saturday pool was not terribly challenging, Molly Brown's Sunday bracket saw them facing off against all three other one-seeds in the tournament—Nightlock, Ozone, and BENT. The Nightlock and BENT games were close, but Matthews believes that was mostly due to increased turns from aggressive offensive looks, which they have encouraged. However they will have to find a balance as the season closes to improve their conversion abilities in tougher games. The team will be working on offensive efficiency and red zone offense for Heavyweights.
The weekend featured great contributions downfield from Sally Lambert and Tina Snodgrass, and tough D from Lauren Boyle on BENT's Zalk and from Christina Mickle downfield. Having Chastain back for Sunday's games was also helpful, with a big layout D or two.
How does this weekend leave Molly Brown looking for Nationals? Quarters-worthy, but with some work to do on improving their mental game to stay chilly in high-level games. That being said, now that they've beat Nightlock and BENT twice and had a dominant showing over Ozone in semis, they've proved they're certainly the Elite Flight team to watch.
BENT Finding Ways to Win
BENT came into this weekend looking to prove themselves, test the depth of their roster, and fix some of the nagging issues from Chesapeake. These goals were handily accomplished; in the words of captain Megan Randall, the spacing and lane-clogging issues they had in Virginia looked "a billion times better" this weekend, and they successfully utilized deep cuts to open up space underneath. Only their red zone offense was not yet 100%; they scored well off of flow, but still turned it over more frequently when the disc stalled on the line.
However, their mental toughness was palpable in games like their quarterfinal against Green Means Go, when they came back from down a break to win 13-11. But it wasn't quite enough to come all the way back from being down two breaks after the first half of the Molly Brown game.
"It wasn't that we didn't think we could put the points on the board. I think halfway through there was just this idea that we were running out of time. We were trading for a long time and just didn't have enough time left to make the comeback that we thought we could do," says Randall of the loss in the final.
The New York women came into this tournament missing key center handler Liz Middleton and handler Emily Cho, and they had lost another handler, Katherine Cole, to a foot injury by the Molly Brown game. New players like Martha Gregory and Jackie Wang stepped up to offset their handler deficit and move the disc downfield. They also were missing a goal-scorer in Anne Silver, but rookie Sophie Hulbert was instead generating Ds and racking up goals all weekend. BENT's solid core of Cassie Wong, Rebekah Souder-Russo, Lexi Zalk, and Becca Turner also impressed, connecting well on the field.
BENT has shown they are a force to watch going into Nationals; they have only lost to Brute Squad, Molly Brown, and Scandal this season. But Randall believes they will have the mental fortitude to challenge teams of that level as they grow through the season.
"That's our last step in mental attitude. We've pulled out all the games we think we should win. I'm not sure that everyone on the team thought that we should win against Molly Brown. And there's growth there where we start to believe we can play with the top teams in the nation."
Regardless, Randall remains positive about their finals appearance. "I was proud of us at the end of the game, where we put up a couple points at game point. We were able to push at the end, where otherwise we might have rolled over."