Fury has dominated the Women's Division for years. But their reign has come to an end.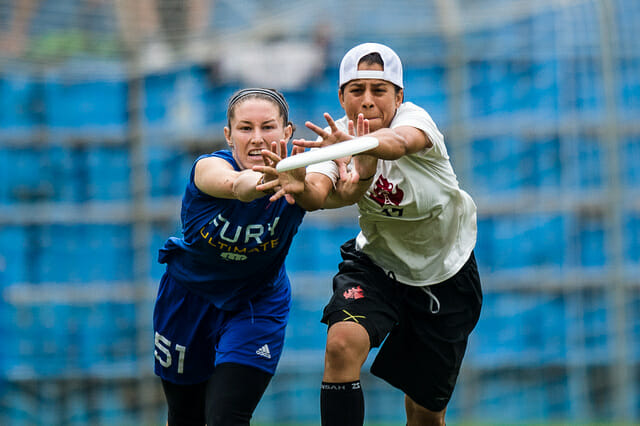 MILAN — San Francisco Fury was the undisputed heavyweight champion of the Women's Division for nearly a decade. No team has ever flashed the dominance of Fury in their seven consecutive National title run, and it seems possible that their record winning streak will never be broken.
They made the final of the National Championships again last year, but suffered a resounding defeat at the hands of Washington DC Scandal. But could it have been a fluke? Catching a hot team at the wrong time? Was Fury ready to burst back to the top spot in 2014?
We know now that the answer is no. Seattle Riot — a team that hadn't beaten Fury in a big game since 2005 — slammed the door shut on the Fury era this weekend in the World Ultimate Club Championship final in Lecco, Italy.
That doesn't mean that Fury can't still win the title this season, or that the team is no longer immensely talented. But the dominance that has waned over the last year and a half is now officially in the past. We will not head into Nationals sure to see Fury in the final, not with teams like Riot, Scandal, and Boston Brute Squad in the mix.
"Teams aren't going to look at us and say, 'Hey, they're unbeatable,'" said Fury coach Matty Tsang after their WUCC loss.
That's a good thing. Up until very recently, the Women's Division suffered from a stagnant top end. In their seven year run, Fury only had one final — 2011 v. Riot — that they didn't win by at least five points. Sports don't captivate participants or fans when the outcome is certain.
You can name several factors that have led to the gradual increase in parity — coaching, better participation, an increasing diversity of knowledge around the country. While elite women's talent is still concentrated heavily on the top handful of teams, there is a growing sense that multiple teams have a shot at the title. While that was part of the narrative last season, it was still Fury's title to lose.
This year, the crown is up for grabs.
It is expected that this will be the final year of coaching for the legendary Tsang as well, a move that will surely add a sense of closure to the end of this era.
Don't be mistaken: Fury's excellence has pushed the rest of the division forward. Providing a template for winning, Fury showed the rest of the country what it takes to become — and remain — champions. While of course it starts with talent on the field, it is more than just having great players. You need vision, buy-in, great coaching, trust, and a truly team-first system. Scandal found the right blend last season and romped their way to a title. You can be sure they were game planning for Fury for years before finally getting that win.
As we enter a new stage in women's ultimate, Fury will remain a powerhouse and surely will have trophies to add to their case in the future. But they won't again breeze to a Championship. That will make their next win that much sweeter.