Donate to help continue content production.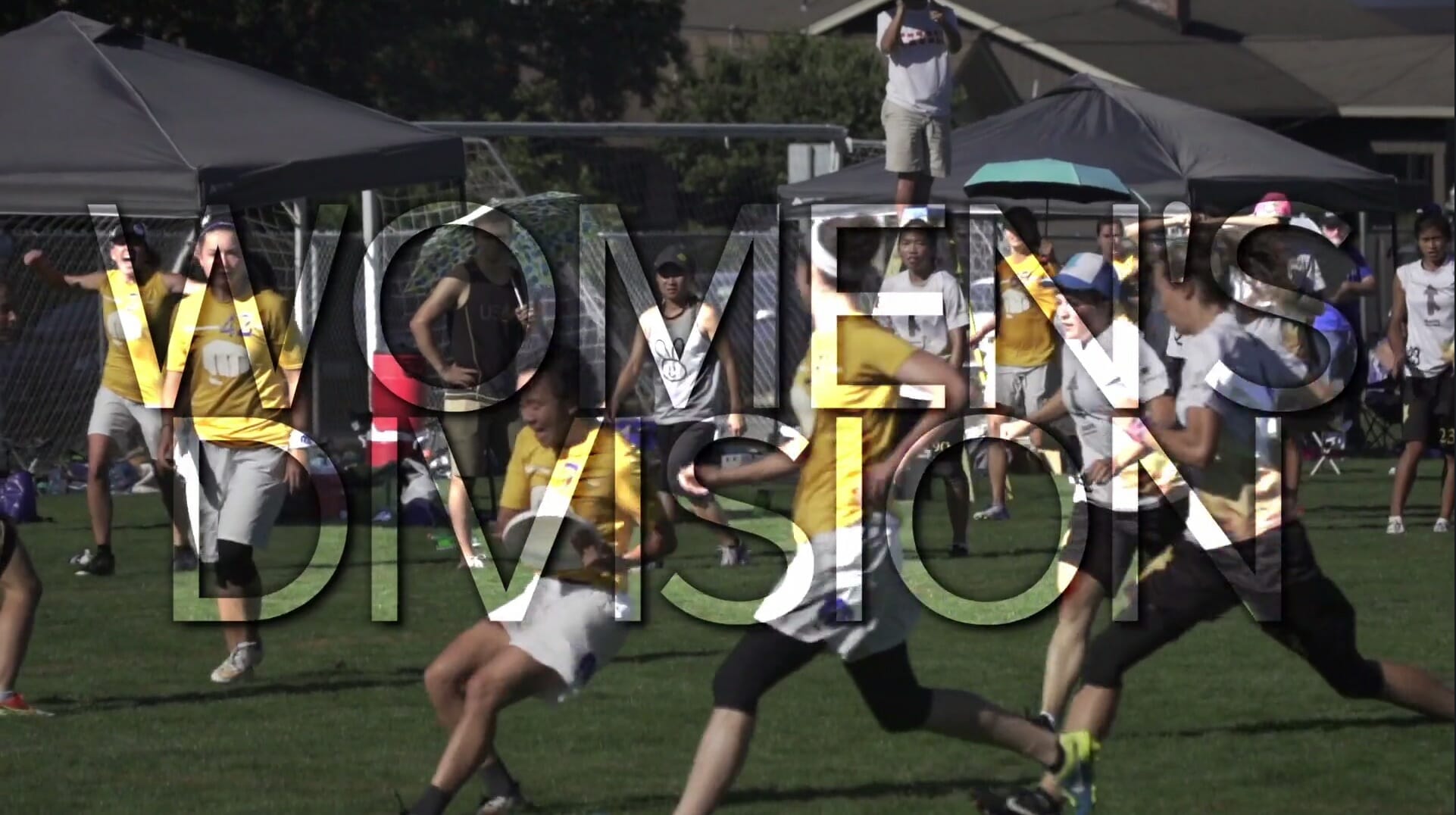 This post is sponsored by Fulcrum Media and written by the Fulcrum team.
The Equity Through Visibility Project, headed up by Callie Mah of Fulcrum Media and funded by the ultimate community, has helped to narrow the gender gap in media coverage. But before we could even get to this project, there had to be a crazy idea.
Genesis
Earlier this fall, Luke Johnson, co-founder of Fulcrum Media, contacted Brute Squad, Fury, Molly Brown, and Riot to discuss the differences in media coverage between women's and men's ultimate. Having witnessed the lack of coverage at Northwest Regionals, Luke suggested a bold plan to cover the women's division at the USA Ultimate Club Championships better than it had ever been covered before. The initial goal was to follow each of the four teams with two videographers and an on-site editor to produce content following each round. The reaction from each team was enthusiastic, but also pragmatic; they had budgeted for their seasons already and there was no money left to put towards coverage (save Riot who already budgeted for Fulcrum coverage).
Solving the $$$ Problem
So, Luke took the idea to his friend Jim Gerencser, who, along with Jimmy Mickle, secured two thirds of the budget in less than 24 hours with zero strings attached. The moment "gender equity" became the name of the game, Fulcrum's backers responded with "whatever you need." A response like that is something worth celebrating in a community that has focused so much time and energy discussing what the future of ultimate should look like.
Fulcrum insisted that Jim and the other backers be recognized publicly despite their desire to be anonymous. Fulcrum Media contributed the remaining third of the project's budget to reach full funding. Each team signed on and Fulcrum contacted USA Ultimate for permission to go forward on this project. Rather than simply give permission, USA Ultimate asked to partner with the project financially and kicked in an additional amount of money, allowing Fulcrum to bring a fifth video crew and set aside funds for post-championship content creation.
Equipment & Crew
Without the support of a fourth backer, the American Ultimate Disc League, Fulcrum would not have had the gear necessary to capture all four teams. Roughly 80% of the gear came from the production trailer parked in Rockford at the home of Fulcrum co-founder Joshua Havens following the AUDL Championship weekend a month prior. The project called for four Sony a7S II's each with a 100-400mm Canon lens capturing at continuous 120fps from an endzone & four Panasonic DVX200's capturing UHD at 60fps from an elevated 50 yard line shot. Fulcrum got the best videographers from around the country to come and pair up in order to capture the best of women's ultimate.
Camera Crew #1 (following Molly Brown): Nathan Kolakovic of Vancouver fame and Cameron Hodgkinson, AUDL ESPN3 replay op.
Camera Crew #2 (following Fury): Roberto Flores, AUDL ESPN3 Technical Director, and Ben Gabrielson, AUDL ESPN3 Driver, GFX and Audio Tech.
Camera Crew #3 (following Riot): Eddie Chan, All-Star Ultimate Tour 2016 camera op, and Ian Lunger, NGN, Ditch, and AUDL ESPN3 Director of Photography.
Camera Crew #4 (following Brute Squad): Noah Lunger, AUDL ESPN3 Camera op, and Alex Axworthy, All Star Ultimate Tour 2015 documentary filmmaker and AUDL ESPN3 Camera op.
Camera Crew #5: Lili Gu and Xtehn Titcomb focused on stories and interviews using a Sony FS700 and audio equipment.
Lastly, in the tent along with Luke Johnson, was Adam Ruffner, AUDL Social Media Director, curating and creating content for the world to see, and Amanda Kostic who took on the job of making sure each crew had the correct gear, batteries, and rain protection in order to capture footage at the highest quality. This crew is the best of the best; each of them considered it an honor to put their skills to use for this project.
Content Captured
The crew collected more than 7TB of data from 30 games & 46 interviews over four days. Every game had a minimum of two camera angles, but as the tournament progressed, crews combined and more cameras were on each field. By the finals, Fulcrum had both endzones covered along with an alternate top 50 angle, and four additional sideline cameras following players, coaches, and fans.
Initial Reach
During the tournament, multiple clips were published by Adam Ruffner to team social media accounts as well as Fulcrum's. Sophia Knowles' double game point catch is a shining example of the social media reach achieved by the published content. Her catch received more than 60,000 views & 150,000 person reach on Facebook, plus another 34,000 impressions on Twitter. And that was just one post on just the Fulcrum social media channels. To calculate the total reach achieved would take significant work but is something Fulcrum hopes to do over the coming months.
Post-Championships
While capturing content and posting the best plays was possible during Championship weekend, the vast majority of content captured remained on a hard drive waiting for the next phase. In order to produce content and take advantage of additional funding, the film had to be prepped. The first step involved the enormous task of tagging every game with keywords. Callie Mah and Eddie Chan completed the extent of the film tagging with additional donated time of Luke Johnson. Three identical 8TB drives were purchased and after 90+ hours of work, every play of every game was tagged. Now the fun could begin, but Fulcrum needed further funding.
Equity Through Visibility Funding
"You cannot be what you cannot see" – Marie Wilson. With this quote in mind, Callie Mah agreed to head up a project that would showcase incredible women's ultimate from the film already collected at Nationals. Since announcing the project and the need for further funding, more than $2,700 has been raised in the first 30 days. Though exciting, the goal Fulcrum looks to reach is $12,000 to fund the complete project.
How You Can Help
First off, spread the word and share the content that has been created. Visibility takes work and a community. If you're proud of what is being published, share it. Second, consider donating directly to the project. We have suggested amounts describing what each dollar can do. Know that $25 buys an hour of time by our editing team, $100 pays for an entire reel like our Top 10 series, and $250 pays for a Team Sizzle Reel or the remastering of an entire game.
The only way to close the gap in media coverage is to work for it. This is an opportunity to contribute to a project that provides high quality media coverage for every team in the women's division of the 2016 Club Championships. This is a chance to be a part of progress in the ultimate community.
It's time to #WatchUsGrow.
– Fulcrum Media Team