Utah's focus on youth development and grassroots growth has reaped dividends.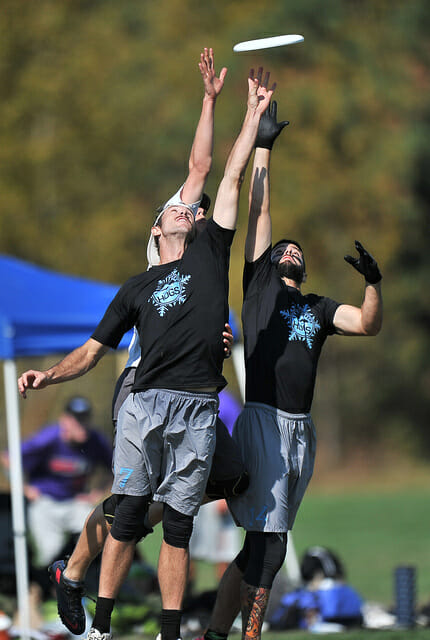 "Do you even play on Sunday?"
Probably every ultimate player in Utah has had to deal with this question at one point or another in their ultimate career. As stereotypes usually go, the idea that everyone from Utah doesn't play on Sunday, whether they are Mormon or not, is wrong.
Three weeks ago, the Utah PowderHogs, a mix of open players from Salt Lake City and Provo, upset Seattle Voodoo at Northwest Regionals, playing against Vancouver Furious George in a game to go. Although we lost, this was a huge victory for Ultimate in Utah — finishing 4th at Regionals is the highest that any open team from Utah or the Big Sky has every finished in the Northwest. That same day, some of Utah's youth and veteran women played in a game-to-go with the Big-Sky pick-up team Outlaw.
This is a story – ten years in the making – of how Utah made the game to go at NorthWest Regionals.
"Bring it Back"
In 2004, Chris Watkins, a 6'3'' cutter from Salt Lake City who dominated the air in the Big Sky, was invited to play for Johnny Bravo. While packing up for his move to the elite ultimate scene in Colorado – a state that seemed to be the epicenter of all things ultimate — Pat Benson, a well respected Big Sky veteran, told him to "be sure to bring it back."
Although Bravo had outrageously impressive talent, Watkins was more impressed by "how involved and committed a number of players were to building" the sport in Colorado. Watkins was inspired by the leadership of Will Deaver, who he frequently refers to as "one of the best people on the planet." But what Watkins remembers most about the exploding scene in Boulder "was the multiple players coaching high school teams, college men's and women's, and even working to get curriculum into middle schools."
After playing with Bravo for the 2004 season, Watkins returned to Salt Lake City and "immediately worked to get the local players talking about dedicating ourselves to developing ultimate." Watkins talked about a "ten year plan" to grow the sport in our state. He wanted to see Utah competing with teams like Furious George, Sockeye, and Johnny Bravo, so he did what any ultimate vet would do: start a college team at the University of Utah with two up-and-coming studs, Trevor Harper and Eric Christensen.
Watkins mobilized the veteran players in Utah to "volunteer for any UPA positions we could… offer UPA Coaching Clinics, run meetings with local players to begin volunteering at high schools," and invite young players to as many club tournaments as possible – paying their tourney fee and covering hotels.
My first tournament, Bozofest 2005, only happened because a couple of veterans from winter league decided that they would pay for my high school buddies and I to come play with them. Bozofest 2005 was my first taste of ultimate frisbee, and I knew after that weekend that I would be playing for four years in college (Tufts University). Trevor Harper, my best friend, did too – though he didn't have a storied program to go play with. He had to build one from the ground up with Watkins and co-captain Christensen.
Youth Development
Although BYU had been playing organized ultimate for quite some time, it wasn't until Sectionals 2005 that BYU and the University of Utah first played against each other. Christensen, Harper, Simon Pugh, and I put on red and played for Utah under Watkins' coaching. We got smashed. The holy war had begun.
The following year, Watkins worked closely with Harper and Christensen to develop the University of Utah's Zion Curtain Ultimate into a competitive team. Meanwhile, Bryce Merrill, the future coach of BYU, was setting foot on the ultimate field in Provo for the first time his career.
That same year, Tara Wion was unofficially named as Utah's State Youth Coordinator. Wion lead the charge for Utah's youth scene, providing the vision and the strategy for developing clinics, tournaments, teams, and recruiting players, coaches, and volunteers to make it all happen. In 2005, the state had 6 high school teams. Tara officially became the USA/UPA Ultimate State Youth Coordinator in 2008.
The following year, Utah ranked first in the nation for overall growth in the youth division with 1600% growth. Utah, a state of 2.8 million, currently has nearly 500 kids participating in our high school division. In 2014, Utah offered its first girls' high school tournament and its first girls' State Championship. Next spring, Utah is projected to have more than 36 rostered teams.
Simon Pugh and the Utah Ultimate Disc Association also played a crucial role in developing youth ultimate in Utah. Founded in 2010, UUDA was to act as a regional resource promoting the growth and development of our sport. Three years ago UUDA helped support the development of 12 high school teams, each practicing once a week and playing games every other week. Now, Utah has 28 high school (24 open, 4 girls) teams practicing from 3-5 times a week, playing games each week, and competing in at least 4 tournaments each season. For high school alone, UUDA runs and supports six clinics every year and hosts eight tournaments.
Another team that has had a huge impact on the high school scene is Lone Peak. Coach Dave Kroupa has taken the team to tournaments all over the United States, and has piled up a record of 115-3 in its first four seasons. Coach Kroupa says that "sending Lone Peak to big tournaments around the country has exposed the kids to high-level ultimate" and these athletes take "the good things they see and bring them back to help grow the sport at home."
Starting from scratch in 2011, Lone Peak's program has gained national prominence in a very short amount of time; Lone Peak has taken down teams that finished 1st, 3rd, and 4th at High School Centrals as well as the 2nd place finisher from High School Westerns for a combined total score of 47-19. Today, Lone Peak has four boys teams and two girls teams. Coach Kroupa is proud that "Lone Peak was the one high school last year that played teams from the east and west regions of the country." Kroupa makes a strong argument for placing Lone Peak at the top of the national rankings, saying that "putting the top 50 or so teams into any respected ranking algorithm puts Lone Peak first." None of his players came to him with previous experience on the field.
The Showcase
Growth from the youth division has overlapped into college, though has not magically happened without significant help from local college teams. Through clinics and recruitment, BYU Chi Ultimate and U of U Zion Curtain Ultimate have both seen a significant amount of interest in their programs from graduating high school students.
BYU coach Bryce Merrill has focused his efforts on "providing a community connection by offering clinics and camps, where participation last spring reached 160 kids." Merrill also organizes a successful 3-on-3 tournament every fall, with more than 200 people participating. BYU's full field 7v7 Frisbee intramurals are off the charts – with up to 140 teams per season and four seasons a year.
This spring, Merrill and BYU hosted a successful Provo Invite. Since Utah has struggled to attract teams from out of state, Coach Merrill bet teams to come to the Provo Invite, hoping to draw a crowd and build up our youth scene. The prize: if you beat BYU, your tournament fee is free. A key component of the Provo Invite was the Showcase Game between the U of U's ZCU and BYU's CHI. With over 500 fans attending the game at a local high school stadium under the lights, this game was surely the most successful ultimate showcase game in Utah's history.
Regardless of the outcome of that game, both teams won (well, BYU really did). Ultimate was not only cool in Utah, ultimate was life for some of the high schoolers. After that game, it was obvious that Utah had a lot of talent in college that was only going to get better when the new crop of high school recruits set foot on the field.
Although the holy war between Utah and BYU seemed to keep us at odds, it was really pushing the sport forward. After that game, the next step was obvious – we had to bridge the religious divide with a fully integrated roster of elite players. That is what we did this year with the PowderHogs — with Watkins as lead captain, and me and Merrill as assistant captains.
The Game-To-Go
Both college teams had their most successful seasons last spring, with BYU going 19-1 (no team beat them at the Provo Invite), and ZCU finishing sixth at Northwest Regionals with upsets over Whitman and Victoria.
Riding the momentum from the college season, we set our sights on playing in the game to go at Northwest Open Club Regionals. College players and vets were all on board to field the most powerful, competitive open team Utah could. We decided to split the leadership between Utah Valley (BYU and Lone Peak) and Salt Lake Valley (U of U) so we could mix styles of ultimate and attract the best players from both valleys, regardless of religion. We chose the most competitive tournament schedule we could to put ourselves in position to achieve our goal of earning Top Select Flight Status at Regionals, playing in Cal States, San Diego Slammer, Ski Town Classic, and the rainy Chicago Heavyweights.
Although losing the game to go would be a disappointment for teams from Boston, Boulder, Seattle, or San Francisco, simply making the game to go was a huge success for the PowderHogs and the women who played with Outlaw.
But it's not an isolated surprise. It is the result of ten years of dedicated and sustained community organizing. Three of the starters for the PowderHogs are currently playing for ZCU, one of the starters just graduated from high school, and two of the starters earned 2014 College All-Region honors in the Northwest as ZCU's captains last season. Three of the PowderHogs' players currently coach high schools in Utah, and three coach a college team.
So while it was disappointing for the Hogs to lose 15-10 to Furious after going up 6-4, and disappointing for Outlaw to lose 15-12 to Underground after being tied at 10's, those games were a celebration. Everyone in Utah has dreamed of playing in those games against that level of competition for years, and now we have earned our chance to prove ourselves in the Top Select Flight.
So yes, Utah plays on Sunday — we wouldn't sacrifice those games for anything.