Chain plays a lot like Prairie Fire, but with a lot more depth.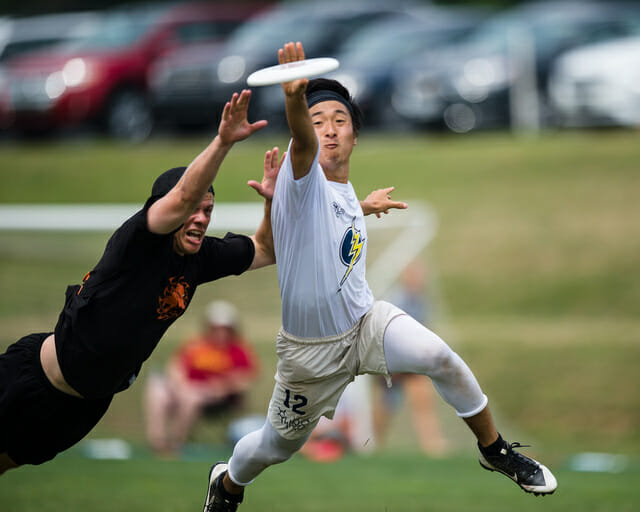 In the first round on Friday, Atlanta Chain Lightning looked like a brand new team, issuing a beat down to Kansas City Prairie Fire with a final score of 15-8.
Who shows up?
Coming into today, many wondered which identity of Chain Lightning would show up. Would it be the Chain thats offensive inconsistencies keep them from playing at the elite level they seem destined for? Or the team that boasts a talented roster of young, fiery, layout heavy defenders. To answer that you need to know a few stat lines:
Chain Lightning Offense: 3 Turns, 0 Breaks
Chain Lightning Defense: Forced 11 Turns
Chain Lightning Defensive Offense: Scored 7 out of their 11 Break Opportunities
This version of Chain Lightning showed true potential for a deep run. The offensive woes from yesterday were quickly silenced with the revival of the Atlanta deep game. "We made some strategic adjustments based on what little film we had of Prairie Fire," said Chain Lightning Coach Martin Aguilera. "We were able to keep our offense strong by moving away from their defensive strengths."
The defensive strength for Prairie Fire was their ability to poach lanes on the open side. Chain Lightning adjusted by using the full width of the field by attacking the break side. In this regard, Tyler Conger and Jared Inselmann were unstoppable. This utilization of the break side set up open deep looks, thereby neutralizing the Kansas City defense.
Youthful Contributions
Atlanta had six players aged 23 or younger throw an assist or catch a goal. For this team, that kind of contribution keeps the older guys off the field and effectively helps the offense stay consistent. An offense that, after going up a few breaks, heavily rotated their sixth and seventh person in an attempt to stay fresh.
"We focused yesterday on getting better through every game," Aguilera told Ultiworld. "We wanted to start today where we ended yesterday." No doubt that in their last two games the ability to play all of their 24 man roster for about three points a game set them up for a higher offensive efficiency in the long term.
The ability of players like Christian Olsen and Austin Taylor, just to name a few, to be consistent on both sides of the disc is something that will need to continue if they want to continue their run towards a title. Although the offense only gave the Prairie Fire defense just three break opportunities, it's likely that all of the teams Chain will see today will convert every opportunity.
Winning Your Matchup
Throughout this game Chain used one of their strengths: their depth. Coincidentally, that is probably Kansas City's most glaring weakness. The tough matchup of Prairie Fire handler Abe Coffin was delegated to a few different people. In straight up man coverage, Atlanta Captain Andrew Hollingworth was able to limit Coffin's ability to frequently get the disc back in his hands.
In zone looks, Taylor Goforth used his 6'7'' frame to crutch Coffin from a big mark. Combined, these two limited Prairie Fire's primary handler to just 2 goals and 3 assists. This may sound like a lot, but for a player responsible for 60% of their teams offense, he would have liked to do more.
Another important matchup for Chain Lightning was Kansas City's Valley Renshaw. There was again a heavy rotation to limit him, but for some points he was marked by Jared Inselmann. This is a familiar matchup, dating all the way back to the mid 1990's (high school for both players).
Looking Ahead
Chain Lightning will face a familiar opponent in the quarters: Raleigh Ring of Fire. Ring of Fire is back to form after a surprise win over Chicago Machine, and could present a few matchup problems for Atlanta. "Theres some chips on some shoulders for both parties," Aguilera told Ultiworld. "We're going to continue to get better. Our numbers might not continue to be as good, but we're doing the small things really well."