Drag'N Thrust cruised past Seattle Mixed to their second straight title.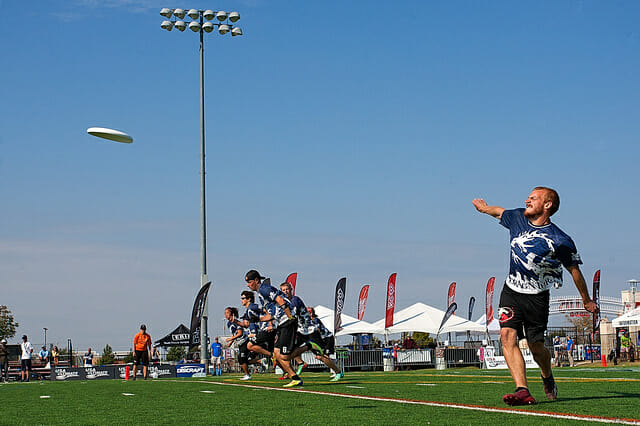 FRISCO — In a weekend rife with wacky upsets and close calls across all divisions, only one team separated themselves as the undisputed best in the country, and the world: Minneapolis Drag'n Thrust.
The defending national and world champions continued their dominance at the USA Ultimate Club Championships in Frisco, TX, this weekend, with an undefeated run culminating in a resounding 15-9 victory over upstarts Seattle Mixed in the title game to repeat as back-to-back winners of the club mixed division.
From the onset, Drag'n Thrust crushed the competition with flustering defense, disciplined offense, and an overall vastly superior ability to execute.
Central handler Austin Lien tallied three assists, knifing through the Seattle Mixed defense with a serious of precision hucks, clean breaks, and lethal hammers and scoobers. Big men Brian "Strings" Schoenrock and James Hron, as well as Sarah Meckstroth, relentlessly worked the unders, which helped open up the deep game. Hron, in particular, had a huge game, notching four goals and an assist.
Minneapolis' patience and team cutting neutralized the effectiveness of Seattle's poachy defense that worked so well against Boston Wild Card in the semis.
"We just came prepared for that style," Lien said. "We did a good job of spreading the field and working them. It was business as usual for us."
Seattle Mixed would only snag one poach D all game.
Coach Jaime Arambula said that his team perhaps wasn't quite ready for the bigger stage or the dynamism of their opponent.
"Our O was always counting on the D getting four or five breaks. But [Drag'n Thrust] run a type of offense they weren't used to," Arambula said. "They have been here before and are a good example of how to play when you get here."
That type of offense is a kind of modified horizontal stack where Minneapolis like to load the break side with three cutters to give more room to the fourth in the open side lane. If the player in the open lane doesn't get the disc, the next cutter has plenty of room to set up the following cut.
Should the defenders on the break cutters attempt to poach or sag in the lane, the poached cutters often find ways to attack the free space on the field. Handlers like Lien, Dave Klink, Jay Drescher, and Tallis Boyd often use their arsenal of break and over-the-top throws to find those open downfield players, who then commonly have a free throw before their mark can catch up and set the stall. Poach effectively punished.
On the defensive side, Drag'n Thrust largely relied on tight man D, with an emphasis on containing Seattle Mixed's dangerous deep game.
Lien said one particular strategy Minneapolis employed was to put one of their best defenders, Drescher, on Seattle's Mark Burton. Normally, Drescher plays both O and D. But for the final, he was directed toward a single focus.
"His only job today was to take care of Mark [Burton]," Lien said.
For the most part, it worked.
Burton may have still managed two goals and three assists, but his effectiveness at coming up with big plays and leading his team was patently diminished.
Just about every time Burton busted deep, there would be a Drag'n Thrust defender respecting the cut and working hard to maintain as little separation as possible.
Seattle Mixed's deep game as a whole struggled throughout the contest. Seattle cutters caught Boston defenders off guard in the semis and put themselves in better situations to get good positioning and come down with some huge skies or layouts.
In the finals, however, that separation often just wasn't there. So when Seattle put up hucks to streaking cutters, those cutters would frequently have to jockey much harder for good positioning, making it difficult for them to make those same big plays again, especially if the throws weren't perfect — which they often were not.
That also played a big part in the difference between Seattle Mixed's dominance in semis to their lackluster showing in the final. Their hucks and mid-range away passes were more commonly blading, instead of the nice lofty floaters they put up against Wild Card.
Those sharper trajectories made it a lot tougher for cutters to go up and sky someone, especially when their defenders were right on their hip. Maybe the wind played a factor, but it seemed as though Seattle just couldn't execute the same way they had all weekend.
That lack of execution let Minneapolis jump out to an early lead, which they only periodically increased over the course of the game.
After holding on their initial point, Seattle Mixed suffered an unforced drop on their second possession, which gave Drag'n Thrust their first break at 3-1.
The teams traded to 5-3 before a rushed throw on the goal line resulted in another break for Drag'n Thrust thanks to a huck to Schoenrock.
Seattle would put another deep throw too far out for Drew Johnson on the next point, and another big rip to Schoenrock, culminating in a huge sky, would give Minneapolis a four point lead.
Though it seemed like Seattle Mixed might still have a chance coming out of halftime with the score 8-4, if only they could generate some Ds and start converting more of their chances, Drag'n Thrust made sure that wouldn't happen.
They went on a 3-0 run out of the break to make it 11-4, all but sealing the victory. Seattle Mixed wouldn't get their first break of the game until 14-9, but by then it was far too late.
Drag'n Thrust scored the next point to take the game 15-9, repeating as national champions and completing the prestigious double peak: winning Worlds and club Nationals in the same year.
Though Seattle would still be able to walk away proud of their spectacular run on the weekend, it would be Minneapolis emerging as the undeniably best team in the country. Perhaps the only question left is whether or not Drag'n Thrust can create a dynasty — and if so, how long they can maintain it.