Snowy, sloppy conditions didn't stop DIII teams from getting the most out of some elite competition.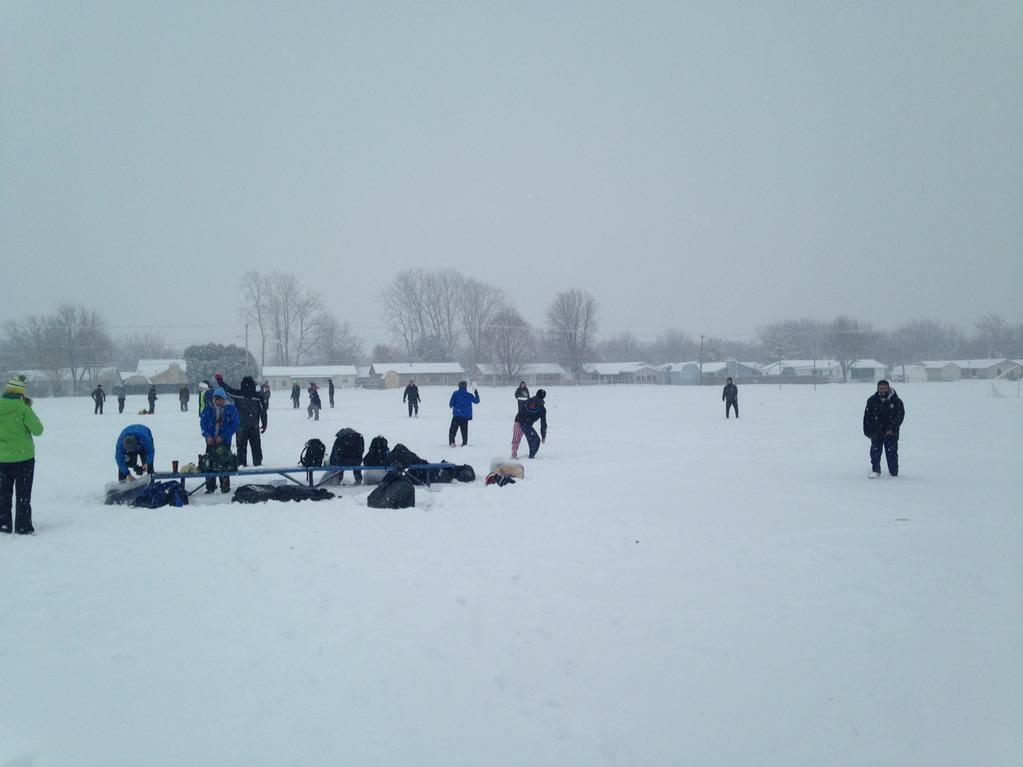 While the fields were snow-covered and not ideal in Marion, Indiana, and some of the teams had short rosters, there were many emerging storylines to come out of the weekend at the DIII Midwestern Invite. This weekend's play should definitely impact the D-III scene this year. Here is a pool by pool breakdown.
Pool A: Brandeis deep and talented; IWU plays sloppy, but tough.
Brandeis was one of the top teams on display this tournament. Showing impressive depth and resilience, they also displayed sound team strategy and execution that was matched by only a few other teams on the weekend. While they didn't look perfect, it's fair to say that it was largely due to a combination of the playing conditions at the fields along with the fact that they have not been able to practice outside all semester.
Brandeis displayed incredible resilience against Indiana Wesleyan (IWU) in what was probably Saturday's best game beating the host team by a score of 9-8.
Later, they would show off their dominance by beating St. John's 13-1 in their crossover. All in all, TRON's play on Saturday only bolstered the thought that they should be a contender at Nationals this year.
IWU, the host team, also played an inspired tournament. The weather conditions actually seemed to favor their playing style as they are a very intense, energetic team. While other teams seemed uncomfortable on the snowy, and later muddy, fields, IWU seemed to own the conditions. IWU did not look sharp offensively for long stretches of time, but their team culture of gritty, bid-heavy defense benefitted them greatly on a day when cuts were not sharp and throws were not as crisp from opposing offenses.
This led to low-scoring games for them against Oberlin, an 8-6 win, and Brandeis, which they lost 8-9. IWU will need to clean up their offense and rely less on DIII player of the year candidate Travis Carpenter to bring home victories. Especially against the zone defenses they played much of Saturday, it would help them if Carpenter didn't have to handle. While he is a very competent thrower, he looks more natural cutting out in space.
Oberlin and Johnson both showed some great heart in their games, especially Oberlin's upset bid against IWU, which they eventually lost 6-8.
Pool B: Franciscan skilled; St. John's shows flashes but needs improvement.
Franciscan. Wow. People better take note of this team going forward. As far as talent is concerned, they are as impressive as anyone else I watched play. Their handlers looked excellent working the disc, and they had the best deep game I watched all weekend long. That's not to say they relied upon hucks, but when they did the throws looked crisp. Combine solid handler work with skilled athletes and you have a team that will not be easy to eliminate come postseason.
The quality of the playing fields was miserable, so it's possible this weekend was a fluke. But the way they handled both St. John's and IWU, beating both 13-7, spoke to the competency of their team. Watch for them to make a serious run at Nationals this year.
You can see the talent on St. John's BAM's roster. They have athleticism, they have throws, and they have the confidence that it takes to be a great team. But, just like last year, they couldn't seem to put it together against the best teams they faced and were easily dispatched by Franciscan and Brandeis.
Overall, if they had played in a tougher pool, this St. John's team might not have made quarterfinals this weekend. But that is no reason to write them off at Regionals. St. John's has enough experience as a program and a talented enough roster that I would not be surprised to see them vying for a Nationals bid again this year. Something just wasn't clicking for them this weekend.
Kalamazoo and Drake did their best to disrupt the top of their pool, but both ended up lacking the talent to make any noise.
Pool C: North Park impressive fundamentally; Cedarville and JBU lack consistency.
North Park proved to be the most underseeded team at the tournament. Boasting a strong cast of upperclassmen, they showed the best fundamentals I saw from any team. Almost no one on their team looked uncomfortable with the disc or unsure of what the best strategy was in a given situation. Plus, the Lost Boys had a 4-man cup that was giving everyone fits.
Offensively, they were the best team I watched all weekend, and that allowed them to win their pool and crossover game going away. If there was one area of concern for the Lost Boys, it was that defensively many of their breaks felt unearned. They had a handful of great layouts and skies, but mostly they relied upon other teams' mistakes to turn the disc against their zone.
This allowed North Park to quickly shift the momentum to their side, and it seemed that once they gained the mental edge in any game there was nothing anyone could do to stop them.
Cedarville brought a small squad to the tournament but showed enough heart to get into championship play, particularly in their game against John Brown (JBU). After losing a tough game to North Park in which they led 9-8, they had a key game against JBU for the second seed in their pool. They would go on to win 12-10 in what was one of Saturday's best games.
It was disappointing that, after finding their stride against JBU, they went on to look so lethargic against Amherst in their crossover, losing 4-13. Perhaps it was that their small roster got tired or maybe they were just happy to be in championship bracket, but they will need to bring fire to every game they play throughout the season if they want to thrive in a very tough region.
John Brown was an interesting team to watch this weekend. Athletically, they matched up well with every team they played, but Ironfist too was extremely inconsistent. Each game they played, they came out on fire and took early leads. They lead Cedarville 4-1 and North Park 5-3, but in both games the other team stormed back to take half.
If last year's JBU team was reliant upon their O line to win games for them, this year's team did a complete 180. While their D line was hungry enough to earn tough breaks, the O line was not able to hold up their end of the bargain; their O line rarely got broken just once in a row. North Park, for example, had a run of 9 straight points against JBU to go up 12-5, while Cedarville outscored them 6-2 to take it to half.
While JBU had a bit of a shorthanded roster, they also had enough talent to win either of these games with better execution from their offense. They will need to clean it up to start factoring in as a legitimate threat on the National scene.
Cornell College was clearly a developing team and while they seemed to be having plenty of fun, they were also not a major factor in the pool.
Pool D: Amherst rolls; S&T surprises; St. Olaf has work to do.
Amherst Army of Darkness was also a very impressive team this weekend, beating up on everyone who got in their way. This was a team in semis of Nationals two years ago and they showed the talent and execution of a team that could find their way back to placing that high again.
Keep an eye on New England this season. Between AoD, Bentley, and Brandeis, not to mention a handful of other schools, it will easily be one of the deepest regions in the country. Whichever teams can fight their way to the top of the region during the series should be one of the favorites at Nationals this year.
Missouri S&T Miner Threat is perhaps not a name many are familiar with. However, they earned their stripes this weekend by fighting through Pool D and into the championship bracket.
Moving forward, they will need to show they can play an entire game against Nationals-level opponents before they can gain control of the South Central. Amherst and North Park both ended up winning convincingly over S&T. While their win over St. Olaf was convincing, the Berzerkers did not look strong on Saturday
St. Olaf has work to do. They got destroyed by S&T, and while they played with more heart against Amherst, Army of Darkness ended up winning by a fair margin. For a team that had the spotlight on them for much of last year, they seem to have slipped a bit this year and none of their results offer any indication of a return to DIII supremacy. We'll see if they can right the ship before the end of the season.
Trine had awesome spirit and fought hard in every game they played in their pink uniforms. But they need a lot of development before they're ready to compete at a tournament of this magnitude.
Sunday Play Cancelled
Despite the overall cancellation due to inclement weather, there were sanctioned games that got played on Sunday. But by the point those games were approved as sanctioned games, many of the most impressive teams at the tournament — including Franciscan, North Park, and Amherst — had left. Between that and the amount of the snow on the ground, it would have been hard to extrapolate insights based on the rescheduled games played.
"Teams trickled in on Sunday but most needed to get home because of safety concerns regarding the weather," said IWU captain and tournament director Travis Carpenter. "USA Ultimate approved teams leaving without penalty. Brandeis, Cedarville, IWU, and Missouri S&T stuck around and played a four team, sanctioned bracket. IWU beat Missouri S&T 12-9 and Brandeis beat Cedarville 15-11. Brandeis beat IWU in the 'finals,' 10-7, and Cedarville beat S&T 14-9 in the consolation."