Here is the latest on the 2015 Player of the Year race.
See our 2014 College Player of the Year selections and other awards here.
The Player of the Year race is heating up now that we are into March. Stanford Invite is behind us; Centex and Easterns are still to come, and then, of course, the Series. Who is your pick for POTY thus far?
The Favorites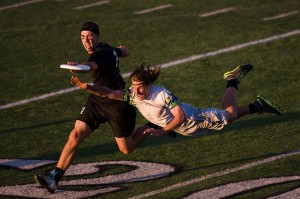 Jon Nethercutt (UNC)
We haven't seen UNC since the Queen City Tune Up, when the team was bounced from the semifinals at the hands of UMass in a blustery game. Jon Nethercutt was obviously the focal point of the offense, and the team leaned on him to create with his throws against a tricky UMass zone. Nethercutt already has a case as the most valuable player in the Division, as it is clear that the team lives and dies with his performance.
In that game, Nethercutt made some great throws, but also had some miscues, including some no look scoobers that missed the target. He didn't have a great game by his standards against the only team that challenged them on the weekend.
But, on balance, he has had a very strong year and is clearly one of the very top talents. But this year is not last year, where Jimmy Mickle lead wire-to-wire in the POTY race. Nutt has not created separation, despite coming in to the year as the favorite. We will need to see more from him at Centex this weekend.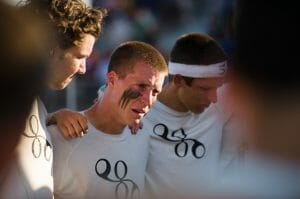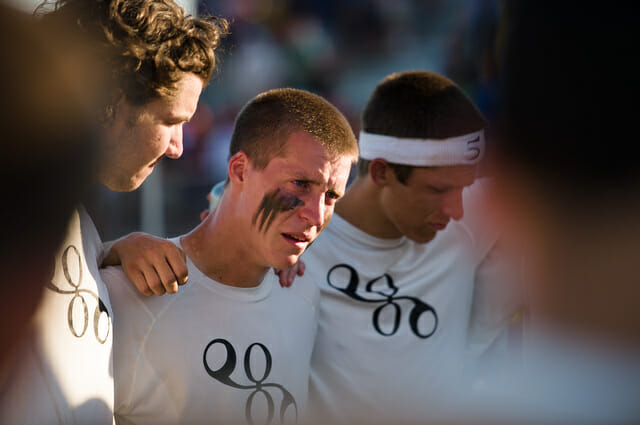 Dylan Freechild (Oregon)
Dylan Freechild led Oregon to a 2nd place finish at this past weekend's Stanford Invite, and it was obvious that he was the best player on Oregon's roster throughout the weekend. Whether he came back to handle or operated downfield as an initiating cutter, Freechild was finding separation from even the best defenders; he roasted Pitt's Trent Dillon on multiple points and defied containment.
Also notable is that the team isn't quite so Freechild-centric as it has been in the last two years. They don't really have a choice; the team's 18-man roster requires contributions from everyone and a balanced attack. But it makes Freechild more dangerous when those around him are operating at a higher clip.
Freechild's speed and game IQ are plusses compared to many of the other POTY candidates; can he lead the team to continued success in the postseason?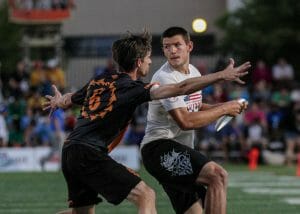 Jeff Babbitt (UMass)
Note this: Jeff Babbitt was the best player on the field during the UNC/UMass semifinals game at QCTU. Although Babbitt was limited due to an injury in the final against UNC Wilmington, it was obvious that he was one of the tournaments most effective players, if not #1.
His size is an obvious advantage, and he is quicker than you might think. He came up with some incredible layout blocks for the defense while continuing to be a headache for opposing defenses with his threatening deep ability.
Still, UMass hasn't done anything since QCTU, and Babbitt will need to stay healthy and show up ready to play at Centex this weekend. He doesn't have much of a track record, which is perhaps his greatest weakness. Still, the ceiling is extremely high and he has shown glimpses of being the country's best player this year.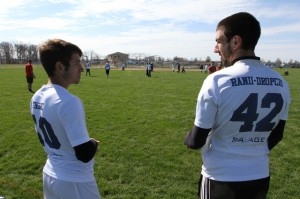 Max Thorne (Pittsburgh)
Pittsburgh's stars still face the same challenge in the POTY race they did at the season's start: there are a lot of them. How do you decide which of Pitt's top players deserves the nod? So far, one player has distinguished himself: Max Thorne.
Thorne is the vital piece on the Pitt offense and does more than score goals and deliver assists (though he does plenty of both): he creates. He is asked to initiate the offense on most possessions. He gets open consistently against top defenders. He has an extremely high ultimate IQ.
Could you make a case for Pat Earles or Trent Dillon over Thorne? Sure. You absolutely can. But it seems that Thorne is the player that makes everyone around him better. He is asked to do more because he has that next-level talent.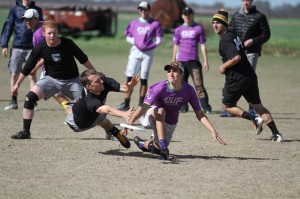 Chris LaRocque (Florida State)
Chris LaRocque is one of the most well-rounded players in the Division. From bombing hucks to playing lockdown defense, LaRocque finds a way to contribute in most areas of Florida State's success. Although they finished with a subpar weekend in California, LaRocque still played great.
The knock on LaRocque has to be that his teammates often define how successful he can be. He can't throw a flick huck to a double covered deep cutter, and doesn't always find a way to dominate a point in a way that overrides teammates that aren't getting open. Of course that's true of any of the candidates, but Florida State does seem at times to lack the same depth that other top programs have, programs that allow their stars to flourish in a natural role.
Still, there is no question that LaRocque is deeply talented — and there is a lot of season left for him to add to his candidacy.
The Contenders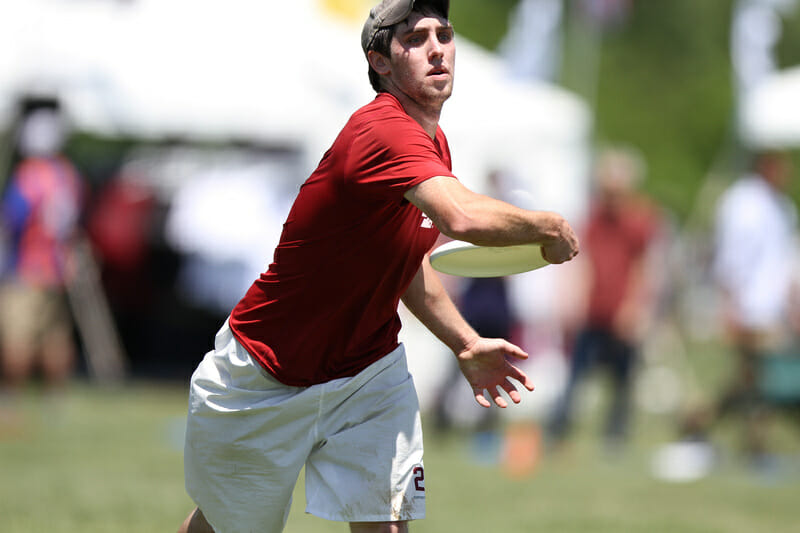 Matt Bennett (Texas A&M)
There may not be a player in the College Division that does so much for his team. Texas A&M's Matt Bennett goes to the mat for his team, often touching the disc on every other throw and subbing on nearly every point when they need him. In fact, the team is trying to reduce its reliance on his skills by keeping him on the defensive line and trying to build an offense without him.
They may not be able to do that. Bennett has an incredible throwing talent and is a hummingbird around the disc, flitting back and forth to find room for resets and then stretch the field with some of the most versatile throws in college. His gravity on the opposing defense is obvious when you watch the team play — the teams that face A&M must game plan specifically for him.
Bennett's shortcomings are also clear: he turns it over a lot and he lacks patience. He wants to score early and often. Against less skilled teams, it works; they dominate. Against top teams, they struggle, because they are able to adjust. If he can find a way to dial it in and put together more touches with fewer turnovers, he'll have a real shot at POTY.

Jeremy Langdon (Central Florida)
Jeremy Langdon has all the talent he needs to be one of the most devastatingly effective players in college. The problem is that he just doesn't bring it every game. When Langdon is on, few can match his defensive skill with his offensive weapons. But — like the team as a whole — he sometimes isn't there mentally and the turnovers come in droves.
But we've already seen what can happen when Langdon and UCF are focused — they can upset the country's top ranked teams and win tournaments.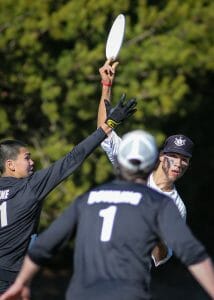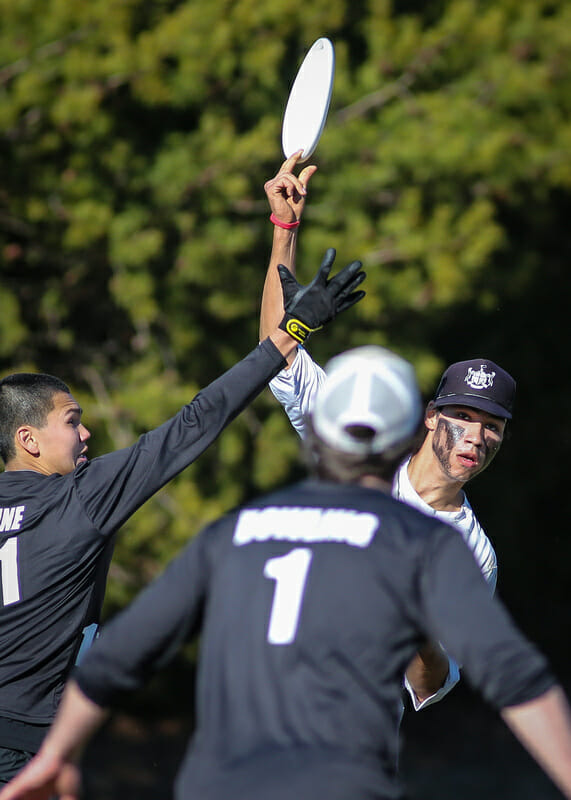 Xavier Maxstadt (UNC Wilmington)
Xavier Maxstadt has long been in the shadow of Jon Nethercutt because they play a similar game in the same region, but UNC has had just that little bit more success and Nethercutt has had those more impressive games. But Maxstadt is the vital piece of Wilmington's offense, and he has shown that he has not just the throwing prowess but also the drive to become one of this year's best players.
Maxstadt has been knocked in the past for not working hard enough on defense, for not digging deep. But he wants to take UNCW to new heights this year; it was evident in his play at Queen City Tune Up.
Consistency will be key for Maxstadt to move up the list.
On The Radar
– Hunter Corbett (UC Santa Barbara)
– Nate Bridges (Arizona State)
– Khalif El-Salaam (Washington)
– Trent Dillon (Pitt)
– Pat Earles (Pitt)
– Ryan Landry (Auburn)
– Travis Carpenter (Indiana Wesleyan)
– Bobby Ley (Florida)