Here are the 2014 College Award Winners, featuring Player of the Year, Offensive/Defensive Player of the Year, Breakout Player of the Year, Rookie of the Year, and Coach of the Year.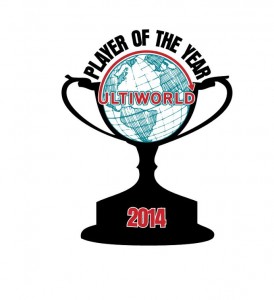 After an exciting regular season and USA Ultimate College Series, here are the 2014 Ultiworld College Awards, presented by VC. Descriptions of the criteria for each award can be found here, and all selections were made after discussion with the entire Ultiworld editorial staff. The final picks in the Men's Division were determined by Charlie Eisenhood; the final picks in the Women's Division were determined by Keith Raynor.
All of the award winners will receive custom jerseys and shorts by VC Ultimate. Congratulations to each of these players and coaches and to the entire division for an outstanding season.
***
MEN'S DIVISION
PLAYER OF THE YEAR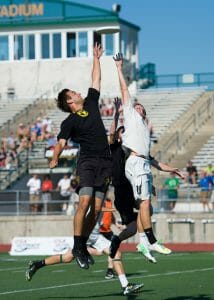 Jimmy Mickle (Colorado)
Jimmy Mickle led his Mamabird team to a National title, adding the finishing touches on a dominant 2014 that left no question about who the best player in the country was this season. Mickle already held the distinction of being the only active player in college to make Ultiworld's 2013 All-Club selection, where he was an obvious first teamer.
His performance during this college season was just as impressive. Mickle's versatility made him threat anywhere on the field. As he so expertly showed during the College Championships final, he can break the mark with ease and in a variety of ways. When's he called upon, he can go down field and is as dangerous as any player in the division in the air.
Perhaps most impressively, Mickle didn't press this year. It was evident in the semis and finals, when Colorado played their best ultimate of the season, that Mickle was the driving force, but he wasn't trying to do everything. It was a well-rounded performance from the best player in the country.
First Runner-Up: Marcus Ranii-Dropcho (Pittsburgh)
Second Runner-Up: Will Driscoll (Texas)
OFFENSIVE PLAYER OF THE YEAR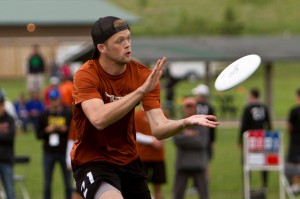 Will Driscoll (Texas)
"We live by the sword, we die by the sword. We've been so reliant on Will (Driscoll) to make big grabs." – Texas coach Calvin Lin after the team's loss to Oregon in the quarterfinals
No player was so vital to their team's offense as Will Driscoll was to Texas'. Widely considered one of the top college talents in the country, Driscoll finished Nationals tied for 3rd in the Men's Division in both goals (17) and assists (26). He stood head and shoulders above the field with that combined line.
Driscoll's hucks were excellent all season long, and he could often get great looks because of how threatening he is when he feints going downfield. He can also dust elite defenders one-on-one with cuts straight out of the handler set.
You can see just how much attention Driscoll commands in that Oregon loss — Ego at times triple teamed Driscoll as he sprinted deep. Game planning for Texas meant game planning for Driscoll.
First Runner-Up: Jimmy Mickle (Colorado)
Second Runner-Up: Dylan Freechild (Oregon)
DEFENSIVE PLAYER OF THE YEAR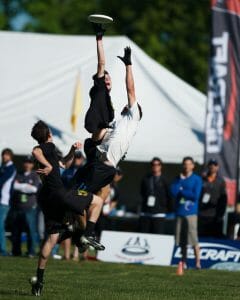 Stanley Peterson (Colorado)
Stanley Peterson is getting some well-deserved recognition for his remarkable block over the head of Dylan Freechild, but his defensive skills this season went far beyond the highlight reel. Peterson, a defensive standout on Johnny Bravo, routinely took the opposition's best player and made them work for everything. It was often the Colorado offense that was celebrated — and for good reason — but the team's defense was what carried them to so much success on Sunday and Monday at Nationals. Peterson was the centerpiece of that defense this weekend, and all season long.
Peterson's consistency and superior performance at Nationals pushed him above a very talented short list of top college defenders from the season.
First Runner-Up: Ben Snell (North Carolina)
Second Runner-Up: Brian Penner (Oregon)
BREAKOUT PLAYER OF THE YEAR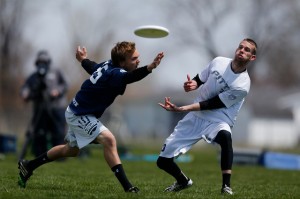 Pat Earles (Pittsburgh)
Amongst a strong field of breakout player candidates, Pat Earles shone above. The lanky lefty had a remarkable season, capped by an astonishing Nationals. In one of the best games of the tournament, Pittsburgh took on Central Florida to determine who would receive a bye into quarterfinals. Earles rose to the occasion and threw a number of incredible hucks to finish the game with six assists, two goals, and no turnovers.
The junior may strike some as an unusual pick for breakout player because he was already a contributor for Pittsburgh last year. But no player stepped into a significantly larger role with as much poise as Earles. He became a critical part of the Pitt offense, which was nearly unstoppable this weekend, until giving up the only break of the game to UNC Wilmington in quarters to get knocked out of the bracket.
Earles uses his length extremely well, and is a two-way threat. His quick release, lefty blading flick is a huge weapon, and he put it to good use all season. If you're wondering who Pitt will lean on next year for big plays, you don't have to look far.
First Runner-Up: Jeremy Nixon (Harvard)
Second Runner-Up: Jeff Babbitt (Massachusetts)
ROOKIE OF THE YEAR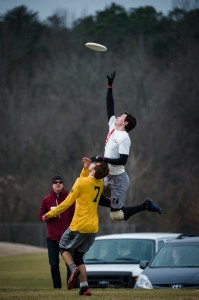 John Stubbs (Harvard)
The most celebrated recruit of this past offseason, John Stubbs came into Harvard with high expectations and big shoes to fill. His brother, George, won the Callahan at Harvard in 2011 and was, as you might expect, a standout rookie.
John went above and beyond expectations. After performing confidently in his defensive cutter role early in the year and even crossing over onto some offensive points, the freshman bloomed late in the season and was one of the top performers — rookie or otherwise — at the College Championships. Stubbs absolutely put the team on his shoulders in the prequarters against UNC Wilmington, coming up with some incredible plays down the stretch to serve up a 3-0 run for Harvard that put them in front by one. He had a head-high layout block in the endzone that wowed the surrounding crowd and finished with four goals and three assists.
That was the cherry on top of an amazingly productive rookie season. No other freshman in the country had such an important role on such a good team. He was a unanimous and easy choice for rookie of the year.
First Runner-Up: Jonah Wisch (Pittsburgh)
Second Runner-Up: Jack Williams (UNC Wilmington)
COACH OF THE YEAR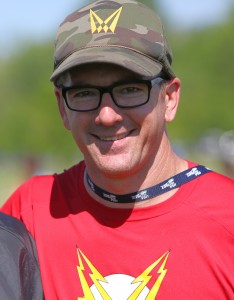 Phil Bowen (Carleton)
It's hard to overstate what Phil Bowen accomplished this season with Carleton. While the team may have not made it as far on the field as they did last season, when they made it to the semifinals at the College Championships, what they managed to do, despite roster turnover and heartbreaking adversity, is incredible.
Coming into the season, Carleton had graduated nearly all of their stars, including Justin Norden, Simon Montague, and Nick Stuart. It was shaping up to be a tough year for CUT to make a run to Nationals, especially in a deep North Central region. The team had just four seniors on its roster.
The team was looking to continue to improve and develop its young players after a slow start at Florida Warm Up by flying out to Stanford for the Invite. Then the unimaginable happened. Three juniors on the team — Michael Goodgame, James Adams, and Paxton Harvieux — were killed in a car accident on an icy highway. CUT was devastated.
All of the school's ultimate players canceled their tournaments to grieve for the three young men, and CUT didn't take the field for three weeks. Behind the scenes, Bowen had to be a rock. Dealing with a wide gamut of emotional responses, Bowen was the constant for the team, serving as a mentor, therapist, and coach all at once.
He traveled with the team to the memorials of each of the fallen. He sent out updates to the parents, sometimes as often as every day following the accident. As one person close to the team put it, "he redefined what it means to be a coach."
The team took three weeks away from the practice field. No ultimate for three weeks. They reemerged, still shaken, at Easterns in mid-March, where they played some close games but largely struggled against top teams. With the North Central closing out the year with just two bids, it didn't look good for a return to Nationals, not with everything that had happened during the year.
Somehow, someway, Carleton dug deep and made it back. They upset the region's favorite, Minnesota, in the game-to-go, a stunning moment that reverberated around the ultimate scene.
Then the team came to Nationals with a small roster of less than 20 players. Many of the team's biggest contributors were sophomores. The team was playing without one of its captains, John Raynolds. Budding star Jesse Bolton got hurt and missed games late in the weekend. And yet the team, in a very tough Pool D, wearing jerseys featuring three CUT logos and the number of three fallen players, emerged with victories over UNC Wilmington, Florida, and Rutgers to reach the prequarters, where they took an emotional loss to their biggest rival, Wisconsin.
It was a remarkably successful season. And so much of the credit falls to Bowen, who sustained his team's focus and comforted their souls, going far above and beyond the call of duty. College sports, certainly more than club or professional sports, are about a lot more than x's and o's and on-field performance. The hard work and preparation of a season, the competition — it teaches lessons that go well beyond the realm of ultimate. To add into that the excruciating challenge of dealing with the loss of three of your brothers that you spill sweat with in workouts makes the season about so much more than defeating your rivals.
Phil Bowen was a remarkable coach this year, helping his team improve not only as ultimate players, but as people.
First Runner-Up: Greg Vassar (UNC Wilmington)
Second Runner-Up: Nick Kaczmarek (Pittsburgh)
*Note: Selecting coaches to recognize was by far the most difficult for the Ultiworld editors and staff. The coaching around the division this season was remarkable, and there are numerous coaches — including those of all of the other semifinalists (Mike Denardis – UNC, Jim Schoettler – Colorado, and Jay Janin – Oregon) — that deserve accolades for outstanding seasons. As one Ultiworld writer put it, "There was so much good coaching at Nationals this year it really made the bad coaching moves stand out."
WOMEN'S DIVISION
PLAYER OF THE YEAR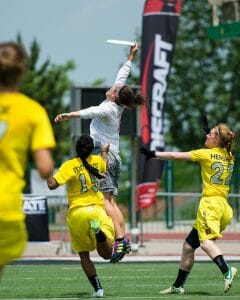 Paige Soper (Ohio State)
"She's probably the best player in college Ultimate…"
2014 Callahan winner Cassie Swafford said that, just after the national championship game, in which Paige Soper was a dominant force. Soper has, for the past two years, been one of the college game's premier handlers and playmakers.
Soper was a Callahan finalist last year and reliably controls play. She is one of the game's most instinctual players, and to be honest, often plays completely on feel. Attuned to her team and the flow of the game, Soper's able to set the tone every time she takes the field. Her poise is superhuman, unfazed by situation or circumstance.
Her influence on the field is massive and her consistent ability to deliver on both fundamental and system oriented player while also making huge plays – like her monster sky over two Oregon defenders in the final or incredible layout D against Michigan – make her one of women's Ultimate's toughest players to disrupt.
First Runner Up: Cassie Swafford, Ohio State
Second Runner Up: Sophie Darch, Oregon
OFFENSIVE PLAYER OF THE YEAR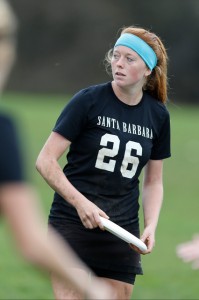 Lisa Pitcaithley (UC Santa Barbara)
Pitcaithley's offensive skillset cannot be duplicated and every team that takes the line against her knows that failing to gameplan for her means certain defeat. It is very clear that UC-Santa Barbara's highs and lows this season mirrored Pitcaithley's, and her value to their offense is unquestioned.
Her 15 goals (T-9th overall) and 26 assists (6thoverall) at the College Championships reveal how versatile she is; she led the Burning Skirts in both categories. Even with defenses throwing everything at her and even when her intent was obvious, Pitcaithley tore a path to the end zone time and time again.
Pitcaithley is able to thrive against pressure with her mutli-faceted attack. She throws over and through zones with ease, bombs hucks that hit receivers in stride, and caught discs over multiple defenders more times than anyone I watched all season. Her teammates implicitly trusted that if there was a tough play to make, no one was going to make it over Pitcaithley. She'll begin 2015 as the Callahan frontrunner.
First Runner Up: Sunny Harris, Central Florida
Second Runner Up: Shellie Cohen, North Carolina
DEFENSIVE PLAYER OF THE YEAR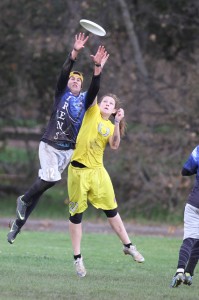 Mariel Hammond (Central Florida)
There is no doubt that Hammond is one of the premier athletes in college women's Ultimate, but she does more than run fast and jump high on defense. Hammond is pivotal for Central Florida's zone, the only player really capable of covering both the wing and short deep positions at the same time and reading throwers to make big plays on their looks.
In man defense, her footwork and instincts are superb and she's an aerial dynamo. A tireless worker willing to be physical, keep her legs moving, and remain aggressive, Hammond showed she was an elite defender game after game.
Because of Hammond's physical skill set and competitive fire, few players get the best of her in a matchup and no one can accuse her of playing lazy. But she grew from being just an athlete to a thoughtful defender with a high level of awareness, able to make adjustments to challenge matchups in new ways midgame.
First Runner Up: Megan Cousins, Colorado
Second Runner Up: Kate Flood, Northeastern
ROOKIE OF THE YEAR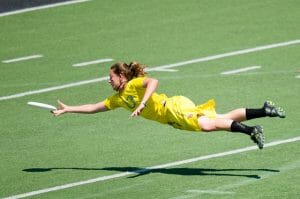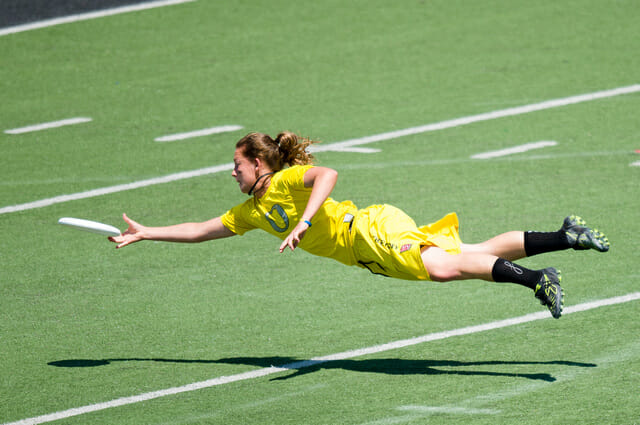 Hayley Wahlroos (Oregon)
When people talk about a great freshman, there is always a line about how they look like a veteran. And while that's true of Wahlroos, you can see when she plays that her ceiling is stratospheric.
The Northwest FOTY was forced to step up with injuries on the team, and she carved out a role as one of Oregon's best defenders and biggest throwers; her 14 assists were third for Oregon at nationals and in the top 20 overall. She's got a fantastic mark, good size, and an eye for what offenders are looking for.
On most teams in country, she would have been their best player and will be one of the nation's premier players for the rest of her career. She was undoubtedly the best freshman in the division this year.
First Runner Up: Claire Revere, Whitman
Second Runner Up: Victoria McCann, British Columbia
BREAKOUT PLAYER OF THE YEAR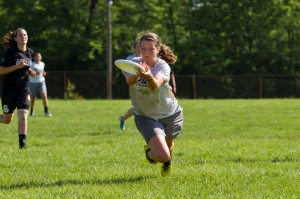 Abbie Abramovich (Western Washington)
Western Washington Chaos burst onto the national scene this year with an impressive run out of the Northwest region.
Abramovich turned in an incredible effort for Chaos game in and game out; when Callahan finalist Callie Mah missed time with injuries this year, Abramovich carried Western forward. Her grit helps her make defensive plays most players would give up on and she muscles her way through offense with her big throws.
As just a sophomore, Abramovich captained her team further than Western had ever been before. Not only that, but she lead by example, instilling her team with the heart and scrappiness that characterize their play this season and is her squad's greatest strength. She'll be one to watch next season.
First Runner Up: Stephanie Miller, Ohio State
Second Runner Up: Sarah Hansen, Virginia
COACH OF THE YEAR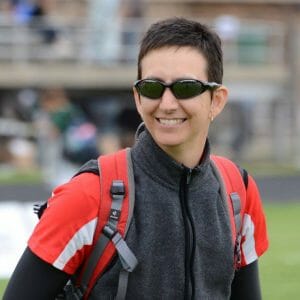 Joe Tilley (Central Florida) // DeAnna Ball (Ohio State)
The discussions that occurred behind Ultiworld's closed doors around this award were particularly spirited. The case for each coach is so compelling, and while both are most certainly worthy candidates, slotting one to the Runner Up just did not feel right based on their accomplishments this year.
Joe Tilley did something incredibly unique with Central Florida. He took a collection of athletes, turned them into a team of Ultimate players, and turned that into a program. The Sirens didn't exist six years ago. He has built them a unique framework to operate in as players that maximizes the resources the team has and positions them for maximum success. A team that didn't make prequarters last year was a few yards away from playing for the national championship. No Callahan finalists, no U-23 or former U-19 stars, and no experience at this level as a team. It is unbelievable that the Sirens not only accomplished all they did this season, but in a fashion truly all their own.
Ball has a well established reputation as one of the nation's best coaches, and like Tilley, oversaw and empowered the rise of a program from humble beginnings. While the talent along Ohio State's roster was clearly some of the nation's best, it is their style of play that demonstrates the job she has done. No team was smarter, more disciplined, and more poised than Fever. She not only gave them the tools to compete, but then helped make those tools easily accessible to the players on the fly. Their chemistry, instinctual understanding of timing and spacing, and patience are a testament to what Ball's gift for crafting great players.
First Runner Up: Jason Adams (Northeastern)