The AUDL Midwest Division doesn't always get the buzz, but history has shown it to be the most competitive AUDL division.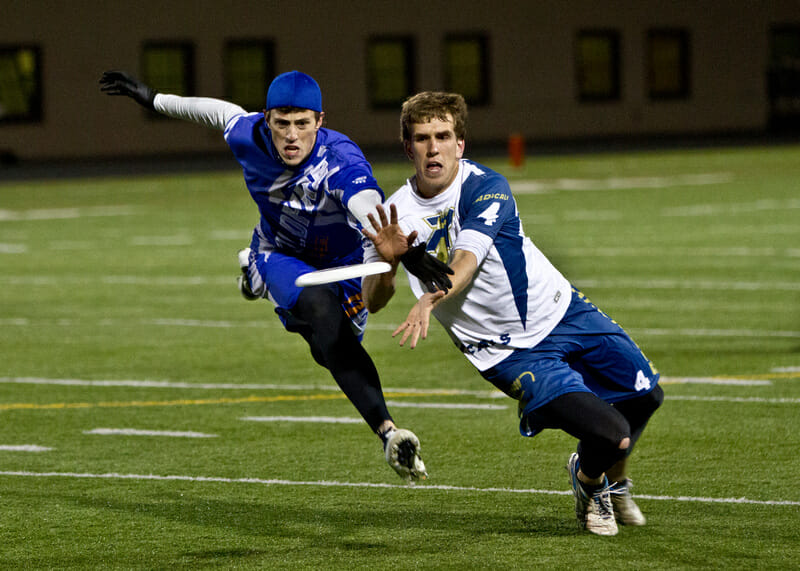 As professional ultimate expands across the country, excitement continues to grow around the world of the AUDL. Last season saw new teams added along the coasts, and this year an entire division was created in the south.
Across the league, improvements abound, and the reliable Midwest division is not to be left behind. Evolving strategies, star players, and a brand new team are ensuring that the Midwest grows stronger and more successful in 2015.
Madison Radicals: The Team to Beat
Madison is the team to beat once again in the Midwest Division.
The Radicals' success story is perhaps one of the more interesting and important in the world of ultimate. This is a team that has embraced the AUDL with a commitment that other cities are envious of and beginning to emulate.
Madison has always been a hotbed for ultimate success, especially with the University of Wisconsin's perennial contender Hodags based there. However, Madison Club has struggled to maintain consistent success over the years in the Great Lakes and North Central Regions, often frustratingly in the lower tier of the elite twenty, completely missing Nationals in 2014.
And yet the Radicals have thrived in the first years of professional ultimate, consistently getting the better of Chicago Wildfire and taking the top spot into the playoffs (whereas Chicago Machine has almost always finished higher than Madison in the club post-season).
"I think compared to the rosters of other club teams," said captain Pat Shriwise, "Madison has really bought into the Radicals. Our players really enjoy it and and it's part of the culture in Madison, getting to play ultimate in front of our friends and fans."
Madison's commitment is basically unrivaled around the league. Almost their entire squad has the Radicals as a high priority; other AUDL programs around the country have often struggled to find the balance between the club and pro teams in the areas, with players either opting out of the pro leagues or only partially committing.
This year, Colin Camp returns to the roster, along with some new additions from Milwaukee and almost the entire 2014 group, giving them a very strong position to build into 2015. Tom Annen, who moved to the east coast for medical school (after finishing up the 2014 club season with Machine), is still trying to play with Madison when he can, which is an excellent sign of high buy-in and eager support.
Madison's top weapon is their defense, most often featuring a strong, innovative zone and a punishing double team that really hems in their opponents, proving that they have adapted more quickly to the different rules in the AUDL.
"I think over the first few years, our team did a good job of adapting to the new style of play," Shriwise explains, citing the influence of owner and coach Tim DeByl (whom the captains raved about) in terms of strategy and style.
"The first few years, a lot of teams were playing the same style of ultimate on a different field," added captain Andrew Meshnick. "Tim really tried to use the new rules to figure out ways to make our defense and offense work better. It's hard to play defense on that large field, but Tim's defensive strategies have really helped."
The zone relies on forcing opponents to one side of the field, where the Radicals hope to outnumber the offensive players with defenders, cutting down throwing lanes, and choking the open options in a "Divide and Conquer" style of limiting field play.
Once throwers are in these uncomfortable situations, they're often forced to throw over-the-top of the zone or huck the disc, and Madison has the athletes to make the plays.
Peter Graffy has emerged as a defensive titan, while Shriwise anchors the offense, with Tom Annen previously as a rock at handler (although that role may with the move and time commitment shift). Add in the likes of Brian Hart, Seth Meyer, Dave Wiseman, Mike Swain, and captains Andrew Brown and Andrew Meshnick, and this roster will be tough to beat.
Last season, the Radicals went undefeated at home with some of the AUDL's strongest crowds throughout the summer.
"It's great to play in front of 800 people," Meshnick says. "And it's clear we have a home-field advantage and a stronger roster at home, with our guys having fun and wanting to play in front of a crowd, which not every other team has."
Madison also won the series against Chicago Wildfire, their main rival, 2-1, capturing the division in the playoffs, but falling just short in a loss to San Jose in the final four. This year they hope to cross that wall and get to the next level, focusing on mental toughness and avoiding the little mistakes that cost them playoff games in the past.
Looking to only build on their success, continuing to gain excitement and commitment from the group, Madison plans to stay on top.
Pittsburgh Thunderbirds: The Unknown Newcomer
The newest addition to the Midwest division is also the most exciting. While much of the off-season was spent talking about what new talent would go pro in the south, Pittsburgh, almost under the radar, has added a lot of big names to the brand new Thunderbirds club.
The announcement last summer came as a bit of a surprise, both in its timing and style, and there had been some questions about how the community would react. But things have fallen into place and the ultimate world seems ready to connect. Now, as more and more talent has jumped on board, the excitement around the city is building.
Nick Kaczmarek, Tyler Degirolamo, Alex Thorne, Pat Earles, Ethan Beardsley, Max Sheppard — the list goes on and on of guys you've heard around the Pittsburgh ultimate scene, with experience on the national level. Now they reunite as professionals.
The city is a rising force of ultimate, specifically with the University of Pittsburgh achieving such profound dominance recently, but the club results have been inconsistent and have experienced a string of changes, the most recent of which was a merger of the clubs Dire Wolf and Temper.
The changes in club may have set the perfect scene for a true power surge taking place, with the Thunderbirds on the receiving the end of many benefits. Here we have both star players and a likely strong buy-in, a deadly combination that can mean Pittsburgh may be the new top dog.
The Thunderbirds went 3-1 in the "AUDL Mega-Scrimage" a small indoor round-robin tournament held against AUDL clubs from Nashville, Cincinnati, and Indianapolis early in March, working out some early chemistry issues to finish ahead of the small pack, relatively even with Indy (1-1 record against). Their first game will be against the AlleyCats and will be a good test for their season.
Regardless, it's going to be exciting watching the Thunderbirds match up against the best of the Radicals and Wildfire, and rising Indianapolis, all fighting for the top spot.
Chicago Wildfire: Consistent Contender Looking to Break Through
The Chicago Wildfire finished last season second in the Midwest division, which earned them a playoff berth and AUDL Final Four play-in opportunity against the New York Empire. They lost that game against New York, and while the score line was respectable, the energy just wasn't there, adding to the whispers that Chicago ultimate has an issue winning when it counts. (Wildfire also had a strong 2013 AUDL regular season, only to fall to Madison in the semifinals.)
While the Wildfire hasn't released an official roster yet, we do know that one big name addition will be Brett Matzuka. The skilled handler is coming off two recent championships — with Denver's Johnny Bravo and Team USA Open at Beach Worlds (WCBU) — and will travel from Kansas City to play with the team.
"Needless to say, Brett is a big addition and we are excited to have his experience and talents," said Wildifre captain A.J. Nelson. Of course, integrating Matzuka with other active handlers like Bob Liu and Brodie Smith may prove more difficult in practice than it is on paper. "With some new members joining the team, Brett included, we are in the process of figuring out the best way to tailor this new strategy to our players," Nelson added.
The team has never lacked for star power. In addition to Brodie Smith, ultimate's most recognizable face, the Wildfire boasts Matzuka, former MVP Jonathan "Goose" Helton, deep threat A.J. Nelson, and the hip handler Liu — known for his wide arsenal of throws. Chicago has also enjoyed regular season success in both the semi-professional and club divisions due to consistent play from deeper in their roster. Because the team has yet to release their final roster, it's hard to say exactly how many of those role players will be returning.
Chicago's post-season performance, in both club and semi-pro, may have spurred a slight change in the relationship between Machine and Wildfire. Last year the teams were deeply interwoven, in terms of players, timing, and tactics. That relationship appears to be evolving in a slightly different direction. "The Machine-Wildfire relationship is still very strong, but Wildfire has shifted to becoming a little more independent of Machine this year in both personnel and strategy," A.J. Nelson told Ultiworld. He noted that, specifically, the Widlfire team is hoping to add more AUDL-tailored strategy to their playbook. "We expect a strong amount of overlap between the two teams, but both groups of leadership recognized that as organizations, the two teams would benefit most from implementing their own strategies."
Indianapolis AlleyCats: Young and Hungry (Again)
The Alley Cats have the grit to hang tough.
An original AUDL squad, the Indy team seems perpetually young and hungry. Similar to Madison, Indianapolis's club scene has had its ups and downs. However, just like the franchise in Wisconsin, Indianapolis has talent, and that talent has, in many ways, coalesced fully and concretely with the new league, rules, and team. That's all because of the squad's hardwork and determination.
Could Indianapolis transform into Madison's success down the road?
Players like Cameron Brock (an AUDL record holder for goals), Keenan Plew (all-star and another leader for number of goals and assists), Travis Carpenter (defensive standout), and up-and comer Levi Jacobs show that this squad can indeed compete. Look for Michael Ames, who played last season with Cincinnati, to return to be a nice addition to the strong core. What's more, these players have the focus to make the AUDL their top priority.
Close games were the hallmark of the squad last season — with only a positive 13 in point differential — but the wins were there (9-5 record) and took them to the third spot in the standings and a playoff appearance.
"We will continue to rely on our youth, speed and athleticism to compete with the more experienced teams," says Team President Tim Held.
Youth is the byword; most players are fast, athletic, and under the age of 27. If this team lacks anything, it is probably experience and the club star-power to go with it. Lacking a nationals-level club in Indiana, this group has come together to really grind out every single game, something they should be admired for. This is not a team winning on talent alone, but on hard work.
"Our team goals continue to be AUDL Championship…period," Tim Held went on to say, and it's not as far fetched as you might think. This team was only a few points away from a higher playoff spot last year and they have the ability to come out and surprise other squads. If they build on their success, they can move even farther down the road.
The addition of Pittsburgh into the division will definitely make things difficult, however, as, on paper, the Thunderbirds have the stronger roster. Still, Indy took down Pittsburgh (and lost to them once) in the round-robin indoor scrimmages earlier this year, with the AlleyCats also beating Cincinnati and Nashville to finish 3-1.
It will be Indianapolis in that fourth spot, fighting tooth and nail to rise, surprise, and upset as many as they can to claw their way into a playoff chance. It won't be easy, and they'll be discounted as an overmatched underdog in half their games, but in many ways that can be just the way this team likes it.
Minnesota Wind Chill: Closing the Gap or Lacking the Talent?
The last two seasons Minnesota has missed the playoffs by one spot, showing flashes of great talent, but also the inconsistencies that come from a roster filled with different club players and commitments.
Minnesota has a community with winning teams. Sub Zero continues to perform on the regional and national level, while Drag'n Thrust brings a large collection of national championships, trophies, and swagger to the state.
And this team is filled with national and world champions, but also players who are hungry for even more success and recognition for what they have done. Austin Lien, Jay Drescher, Pat Niles, and David Shirley all bring winning experience to the roster, mixed in with skillful players like Ben Jagt, Neal Hanke, Brian Schoenrock, and Liam Shramko. It's a group that Santiago Escobar, owner and GM of the Windchill, says "will create a strong defense and sharp offense that will be difficult to stop."
And the team isn't done adding pieces. "We are bringing in our fair share of new names to the professional level," adds Escobar, "but doing so will make us a more athletic team as well. The roster also counts with the leadership and experience of returning players (many of them entering their third year of play with the AUDL) that have played at the biggest stages of Ultimate."
However, it's not the names that appear on the roster, but those that are missing which will give opponents and analysts pause. Many Drag'n Thrust veterans appear on Windchill. But where is Sub Zero's presence?
Grant Lindsley, Simon Montague, Josh Klane, Ben Feldman, and so many other top studs for the best club team in the state haven't played a point for the pro team. And those that did are missing in 2015.
The bottom line, therefore, becomes that Minnesota lacks the star power of their upper echelon counterparts. Eric Johnson will not return to the team this year, and the lack of any many of Sub's other top players raises serious questions about the team's depth.
Many of Sub Zero's top players aren't originally from the state and don't have their home base there; others are busy guys (it's one of the reasons you rarely see their full roster together until the post-season), but still, such a dramatic lack of connection raises eyebrows. Has Sub Zero specifically distanced itself from Windchill or are their players too busy or too disinterested in the AUDL to commit?
And unlike the AlleyCats, who also experience star-power shortages, Minnesota has struggled to adapt its game and its core to a consistent level, often lacking the raw athleticism of their Midwestern rivals around the division.
The solid foundational core, largely thanks to experience and high-quality disc skills, leads to their success, but the lack of superstars and fast athletes makes it tough for them to close the gap. In the end, Wind Chill often sits just below the playoffs, a rough spot for any team to be in. This year may only be tougher for them.
Cincinnati Revolution: Stagnating?
Good, but not great: a statement that has described the Revolution in their history, as well as several other Ohio programs, both across college and club, throughout the last five years or so.
2014 was disappointing, as the squad finished in the bottom two of the division, with a 4-10 record and a -73 point differential.
Changes in the Ohio Valley show the depth of talent to be plucked, however, should the team be appealing and enterprising enough to take it. Madcow, Bro Cats, and High Five of Michigan have been on the edge of club success, and Madcow and High Five have now announced a merger that could have a glimmer of hope for AUDL buy-in. But can Revolution scoop any of those players, all with elite club aspirations?
So far, it's not looking like it, with the team instead trying to build from within.
"As part of a different approach this year, we are wrapping everything around building a sustainable program versus just fielding a long list of guys," says captain Eddie Mack.
Making stronger in-roads to the universities in the area (like U of Cinci) picking up young players in the area like Scott Schriner, Gus Misleh, senior Kieran Kelly, and junior Justin Latz. Other top players will include the return of both Tim "Skittles" Settles and Isaac Jeffries, both injured last year. On the field, Isaac is the main guy for the defense, Settles is the offensive leader, and Mack balances out both sides of the disc.
"We know we don't have the big names or players people outside of the Midwest know, but ever since our open recruit camps in the winter, we have started to push in the right direction," he added.
Tom Phillips has stepped in as offensive-coordinator and is working to advise the captains after analyzing film. Expect him to have a big hand in the strategy of the team, which is still very uncertain at this point, as the group works to define itself and its strengths.
Inconsistency is one of the areas this team has struggled with, both fundamentally and strategically, and they'll be at a disadvantage again, as the teams above them look to build on pre-established core groups and stars.
Mack knows the process may be gradual, but they will work hard. "We aren't going after typical ultimate team goals (i.e. winning a championship or making the playoffs)," he says, "because we are making a ton more individual strides by focusing on individually improving so we can create winning situations both on and off the field."
"We're in the process of building a program that is successful and sustainable," says GM Raymie Younkin. "Captains Eddie Mack, Isaac Jeffries and Tim Settles all signed to two year contracts to provide stability and growth in the team's leadership."
Younkin cites scheduling commitments for one of the reasons there have been so much roster turnover, as several players have been unable to balance work or family commitments with weekly practice schedules and 14 games.
"As far as our roster goes, you'll see some familiar faces and some fresh ones as well. New guys to the AUDL to put on your radar are Cody Fox from Columbus, Justin Latz and Scott Schriner from Cincinnati, and Colin Grandon from Louisville. They'll be making some waves."
Revolution has the work cut out for them in 2015.
Detroit Mechanix: Very Slow Build
"Detroit ultimate is not as developed as other areas yet," said Mechanix GM Brent Steepe, "and thus there will be a consistent turnover of players as people come into and out of the area due to job opportunities. You will still see some of your favorites on the field, and whether it is for a day, a season, or a lifetime, once you join, you will always be considered a part of the Mechanix.​"
It hasn't been easy so far for Detroit. One of the original eight in the AUDL, the program has struggled in a variety of areas, having trouble both putting talent on the roster and developing a core group of committed players. In 2014, they went 0-14 and had a -169 point differential.
Brent Steepe isn't discouraged yet. The talk around the Mechanix is about the slow-build and the long term, eventually gathering enough talent around coach Joe Sullivan and establishing a system that will work towards success.
So far, however, it's been tough sledding, with Detroit finishing at the bottom of table in the division and the league, and lacking a consistent roster. This squad has varied throughout the years, and so far this season, little is known about this year's team. Steepe hints, "We have a lot of emerging talent, and international flavor as well."
Detroit's ultimate scene may be a bit behind, but the rest of Michigan, especially in the south, is showing signs of revitalization. High Five has quickly risen to become a very solid club team, taking most of the talent in the state (indeed even drawing some possible commitments away from the Mechanix) and now they have announced a merger with Madcow out of Ohio.
It will be interesting to watch how these mergers affect the AUDL. On the one hand, consolidation of power could mean greater talent heading into the state; on the other hand, with Cincinnati having its own pro squad, some of the players may make connections that lead them south and out. Or, could High Five, so determined to succeed and break through as an elite club, have its players forsake the AUDL altogether (as many have in the past)?
Unfortunately, Detroit has simply appeared overmatched the last two years, and as the rest of the league gets stronger, the challenges only increase. Time will tell whether Detroit is able to improve to compete.
Outlook
Madison, Pittsburgh, and Chicago look to be the favorites, but Indianapolis has an outside shot at sliding into that top three, provided they can continue to use their grit to hang on to close games.
A gap may widen under the top four, depending on how well the Windchill respond after losing Eric Johnson. Minnesota has a slim chance to be a playoff contender, but they'll need a lot of hard work and extremely solid fundamentals to balance out the athleticism ahead of them. For Cincinnati and Detroit, 2015 may be about trying to build a solid and sustainable team for the future.