A two bid Atlantic Coast won't go without drama, but Elon looks like a lock.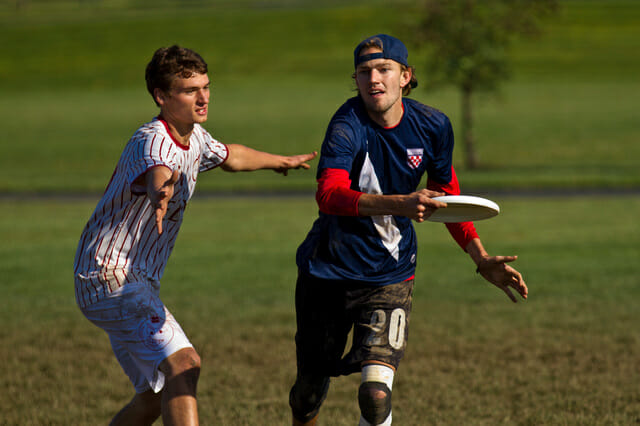 Disclosure: The author is a player for Richmond.
The Atlantic Coast region has developed into one of the strongest in the country over the past two years. Elon again looks like a top contender, hoping to find continued success after their DIII College Championships finals appearance last season. Richmond and Davidson are not far behind.
Here's a team-by-team breakdown of the field.
Pool A
Elon
Last year, Elon saw their season end in the championship game of DIII Nationals after taking an 11-7 lead late in the game. They were four points away from victory, but allowed Bentley to go on an 8-2 run to win the game and the D-III title. Even after losing a strong core of seniors, Elon Big Fat Bomb came back hungry and only saw room for improvement.
The team decided to make an effort this year remain consistent throughout the game in order to finish contests just as strong as they open them. During the championship game of DIII Easterns, Elon was able to mount a second half comeback and hold off Richmond on double game point. They believe it is crucial to maintain their mental strength during these moments, and they are going into Regionals confident that they are prepared for these big games on Sunday.
Elon also proved this year that they were ready for any team in any condition. During the wet and sloppy Woodside Invite, they stuck close with a strong D-I team in Maryland. They took the confidence built in that game and used it at DIII Easterns, where they went 8-1 and took their second consecutive championship at one of the top DIII tournaments. Big Fat Bomb then carried their success into conference play where they once again took home the victory. They come into Regionals with an amazing 8-0 record against the other teams in attendance.
On Saturday, Elon should be able to take care of business and win Pool A. Despite being in what appears to be the tougher pool, Elon has shown that they can win games on Saturday while still running pretty deep lines and staying fresh for a strong Sunday push. Expect Davidson to give Elon a good game, but it seems like Davidson just might not have what it takes to take down the efficient Elon team. Their zone has wreaked havoc for teams throughout the semester, and this weekend should be no different.
If they take the one seed going into Sunday, they will have the easier of the two semifinals and may be able to go into the finals with confidence and fresh legs. In the end, Elon Big Fat Bomb comes into this weekend as the favorite to avenge their loss and win Regionals. It is extremely hard to imagine a scenario where they don't at least capture the second bid and make a return trip to Nationals. However, Captain Zander Taylor recognizes how unpredictable a tournament like this could be. Anything could happen and that's what makes it exciting.
Davidson
Last year, Davidson began Saturday play at Easterns with nine players. They took two subs to a tournament full of teams with rosters up to 30 deep. Yet, they still found a way to finish in third place. Despite the difficulties they faced with commitment and numbers, Davidson had one of their most successful season and found themselves fighting for the second bid to nationals in the game to go. This year, they have set their sights on a stronger team unity and look to make an even stronger run at Nationals.
The Davidson captains realized early on that their main priority was building a program that could be maintained in the future. While they enjoyed their run last year, they felt the lack of numbers was a dangerous sign that could spell trouble if the trend continued and the numbers dipped too low at future big tournament. They wanted to build a program that would be strong for many years to come.
The captains dedicated their seasons to creating a team that bonded together and felt a strong commitment to both each other and the sport. Their new motto "One Team, One Duff" embodied their newly developed team unity and led to a strong bond of teammates that spend their time together both on and off the field; the practice for an extra day each week, firing Rapchats back and forth in their free time. This new chemistry shows on the field and has turned into one of their greatest strengths.
They had a strong Easterns, where they earned a bye into the quarters and lost on double game point to a hot Richmond team. Even without their star player Mikeie Reiland, who went down with a broken collar bone, Davidson was able to end a strong season with a second place finish at Conferences.
This weekend has the potential to be Davidson's coming out party. They are one of the three teams with a legitimate shot to win the title. They drew a tough schedule and will face Elon in pool play, who they seem to have a tough time against; losing 11-8 and 11-7 in conference play. However, they should be able to take the two seed and make the semi-finals, where they will face the winner from Pool B. If Davidson is able to flow out of their ho-stack like they are capable of, it may be tough for teams who rely on hard man defense to generate turns. They will most likely match up against Richmond at some point in the weekend, who they barely lost to on double game point at Easterns. Come Sunday, Davidson is likely to find themselves in a situation where they are one win away from Nationals. Don't be surprised if it is the championship game, and don't be surprised if they win it.
Wake Forest
This used to be Wake's region. Last year was the first year they weren't able to take the DIII Atlantic Coast championship. They were upset by both Davidson and UNC-Asheville to finish off pool play. The Atlantic Coast has become one of the stronger regions in the country, and the question now becomes whether or not Wake Forest will be able to adjust and continue to fight to represent the AC once again at Nationals.
If their performance from this season is a sign of things to come, Wake may not be able to compete with the rising DIII teams. They had a very underwhelming performance at Easterns where they failed to even make prequarters. Then, at Conferences, they went 2-4 in pool play and fell to fourth place in the tournament.
While earning a bid to Regionals was never really in doubt, it is going to be tough for Wake to come out and fight for a bid this weekend if they have shown that they are unable to beat any of the major players in this division. Their best game was a 12-11 loss to Elon, which may show that they have the ability to put together a solid game against a strong opponent. If last year's performance proves anything, it's that come Sunday, the seeding doesn't matter.
It is going to take a big effort from Wake to make it to the semifinals after pool play on Saturday. Both Elon and Davidson are considered two of the favorites for the title. However, Sunday provides the bottom four teams a fair chance to fight their way through the consolation bracket. If Wake is able to gain momentum on Sunday with a few early wins, they may be able to give one of the early favorites a tough game. However, four elimination games are a really tall order for any team coming off a Saturday with a few losses. Wake Forest may have the ability to surprise a team with a good game, but their realistic ceiling could be a game away from the game to go.
High Point is getting ready for their first Regionals ever. This is the first year the team has competed in the series and is extremely excited to come to Richmond to compete against the best teams in their region. They made it their goal to make it to Regionals and put in the effort to be playing this weekend. It should be a lot of fun to watch them play.
The team gives a lot of credit to their new head coach, Brian Gane. He is an experienced Masters player who has helped guide this young team and give them an identity. In the program's first ever sanctioned game, High Point won with a score of 12-10 against RPI. This was a great confident boost for them and showed them they had the ability to stick with some of the better teams in DIII. They carried that confidence all the way into the play in game for Regionals. With their season's goal on the line, High Point was able to come away with a 12-5 victory and left Conferences with a feeling of accomplishment.
While they may have a tough time against the veteran teams at Regionals, High Point will be happy with competing and providing their dedicated seniors one more tournament. They come in to Regionals with the ability to only surprise people with great play and maybe even a few wins. This is a huge step for this young program, and will give them confidence for years to come
Pool B
Richmond
Its funny how things work out sometimes. In 2014, Richmond wasn't on anyone's radar until Easterns. They then surprised everyone by making it to the championship game, only to lose to Elon. Then they win Conferences. In 2015, poor play and the loss of DIII POTY James Robb took Richmond out of most conversations. They then surprised everyone by making it to the championship game at Easterns, only to lose to Elon. Then they win Conferences.
Now they are hoping the similarities continue as they head into Regionals trying to win for a second straight year.
This year, Richmond struggled out of the gate at Rip Tide, where they failed to make semifinals. The captains recognized that coming off a week of spring break, the team wasn't mentally ready for the level they expected themselves to play at. After only a short week of preparation, they traveled back to Myrtle to try and turn their season around at DIII Easterns.
It was clear from the beginning that they had finally found their team identity and put together their first solid tournament of the season. A disappointing championship left the team confident in their ability, but hungry for another rematch against division rival Elon. First, however, they would have to make it through Conference play. After a rough start to Saturday and a loss to St. Mary's, Richmond once again pulled themselves together for a dominant Sunday. Richmond has shown they have the ability to beat just about any DIII team, but they have to be able to avoid starting slow as they look forward to another tough weekend.
Richmond comes into this weekend as the #2 overall seed and the #1 seed in their pool. They are one of the early favorites for a bid to Nationals. While they can technically avoid Elon this weekend, chances are high that at some point the two teams will face one another with a lot on the line. The past two years have shown that Elon has the advantage, but Richmond can pull out a victory at any moment. If they find themselves in the back door bracket, expect Richmond to make a strong push for the second bid. Their ceiling is the championship, and like Elon, their floor could be the game to go.
UNC-Asheville
UNC-Asheville was able to pull off a big upset against Wake Forest in what was probably the most watched game at Regionals last year. They put together one of their better games of the season and put themselves two wins away from a Nationals appearance. They fell to Davidson in the next game, but left Regionals knowing that they have what it takes to compete with the best teams in the Atlantic Coast.
This year, UNC-A decided to spend their season focusing on the team's development rather than their results. They put in extra hours of practice time each week and focused on distributing the playing time evenly in order to develop as much of their team as possible. All year they gave their players the opportunity to earn their spot on a starting line at Sectionals.
Like many other teams this season, UNC-A felt the effects of the weather. They were unable to practice outside as much as they would have liked and even played four games in half a foot of snow at Catfight. When it came time for sectionals, UNC-A felt that they had put in the work and were ready to put forth their best effort and show what they were made of. Despite injuries to their captain, Chad Gerber, UNC-A was able to take third place and play an extremely competitive game against Davidson.
This weekend, UNC-A could find themselves in a position to capture another upset and steal a bid away from one of the early favorites. They earned the second seed in Pool B and have a very realistic shot of taking first or second in pool play and entering the semifinals on Sunday. In what seems like a realistic goal for every team fighting for one of the two bids, if they can avoid Elon in the semifinals matchup, they could potentially pull off an upset on Sunday and find themselves with two games to go to Nationals. However, they will most likely enter the back door bracket one way or another and will need to come away with some clutch victories late Sunday afternoon if they want to make the big show.
Mary Washington
For Mary Washington, it is huge for them to finally be able to play at Regionals. The past few years they have qualified but were unable to attend due to school sanctions. This year they earned the second bid from Conferences and come into this weekend excited over the fact that they finally get to defend their bid and show their talent on a bigger stage.
It is fitting that this is the year they finally attend Regionals, as this has been one of their more successful years in the recent history. They played extremely well at Woodside Invite, where they won their pool and made it to the semifinals. At Conferences, Mary Washington was able to take down every team except Richmond. They finished the weekend 6-2 and allowed no more than 4 points during all 6 of their losses. They play an aggressive D and a quick paced offense that poses a tough challenge for most teams. They are able to jump out to early leads and they know how to attack teams with their D-lines to climb ahead. This year has been pretty successful for Mary Washington, and they will look to carry their momentum going into this weekend.
Mary Washington may be the team at this tournament that has the most potential to shake things up. They are the 3 seed in pool B and have the skill necessary to jump seed. Based off their conference play, they may have a tough matchup against Richmond, which may hurt them this weekend. That being said, they definitely have the talent to possibly take down Richmond or any of the other top teams. Expect them to find their way into the back door bracket and make a serious run to make it into the game to go.
Catholic
Catholic always seems to be a team that hangs around and performs well at Conferences, but has yet to crack the top echelon of teams in the Atlantic Coast. Two years ago they won the North Atlantic Conference, yet they were unable to make regionals the following year. They earned the third bid this year and will once again try their hand at Regionals.
This year at Conferences, they seemed to do just enough to make it to Regionals. They were able to beat St. Mary's twice and snag the third and final bid by beating Christopher Newport in the game to go. They don't have the deepest roster, but they definitely have a few top players that lead them in big games. It may be tough for them to win any big games this weekend. Much like High Point, Catholic will be able to surprise people with strong play. If they are able to challenge any of the teams above them, they will show the region that they are still a strong team.