Clea Poklemba was the youngest player on Team USA's U19 team last year, and she's poised to be a star in the Youth Ultimate scene for a few more years, too. Check out her perspective on playing internationally, playing mixed, and what it's like to be exposed to some of the country's elite coaches.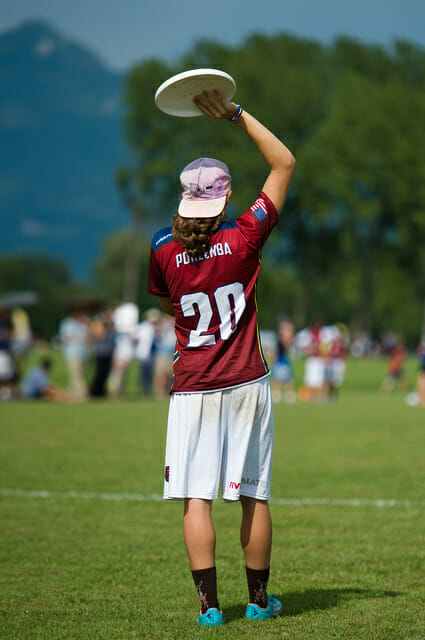 When I moved to Corvallis, Oregon in the fall of 2013, I soon found a very small ultimate scene. It consists of a city league, run by the nonprofit organization Corvallis Ultimate, and a couple of pickup groups. For this post college player, it didn't seem like very much was going on, until I changed my perspective. The youth scene in Oregon is growing very quickly. I immediately began to notice the high school players when they showed up to city league last summer. These kids had some serious skills — beyond their springy athleticism — and my curiosity was piqued.
There are quite a few young and talented players in the high school division. The one that tends to stand out more than the others, and not just because she wears a bright neon hat, is 16 year old Clea Poklemba. In 2014, at the age of 15, Clea was the youngest player to qualify for the US Women's Junior National Team. I caught up with her recently to find out what's in store for this promising youth player.
Clea started playing ultimate the summer before she began middle school, at the age of 11. After finding an ad for an ultimate frisbee camp in the Corvallis Parks & Recreation catalog, she decided to sign up. After just a few practices, Clea was hooked and stuck with the sport ever since. Besides ultimate, Clea participates in track, cross country, and basketball.
As for her experience, Clea said that it's been fun and educational so far. Playing ultimate meant participating in local one day scrimmages held by then combined high school team Tribe. Spring Reign was her first tournament where she was able to compete with a middle school team. Later on, as a freshman, she played with the newly formed Corvallis High School mixed team. The previous year, both high schools in town had to combine per their phase of growth. The two high schools are Corvallis High School and Crescent Valley HS. Today, both are able to compete as separate mixed and open entities.
As for the girls division, the two high schools combined to form CLU, Corvallis Ladies Ultimate. After one year of growth, CLU came out with great results in their second year of existence. They won Oregon Girls' States, took third at the Seattle Invite, and second place at the High School Western Championships. This year each high school is able to field their own ladies team.
As for Clea's high school team, she shared the following: "This year we hope to have a varsity and JV program on the mixed side, and possibly Open, as well as our own Ladies team. GO SPARTAN FORCE!!!!"
***
Note: The interview was slightly edited for length and clarity.
Kathleen: You were the youngest player to be selected for the U.S. Women's Junior National Team. What was it like to try out? How did you train/prepare in the Corvallis ultimate climate? 
Clea: Honestly, when I applied for the Juniors team I was just hoping to make it to tryouts, I never even imagined actually making the team. So going into tryouts I just wanted to make a name for myself; "when I come in 2 years y'all are going to know who I am." I was a little intimidated knowing that many of the players there had college and club experience, but I wouldn't have called it nervous.
The first day started out with a bunch of agility/conditioning stuff, and after that I felt more confident in keeping up with everyone else. I felt kind of weird at tryouts because there was an intense competition between players, but at the same time you had the Ultimate atmosphere and all these players you wanted to be teammates with. I think I went after tryouts like a lot of other people, just played my hardest and accept any coaching I got and try to incorporate it as fast as possible. There was a major focus on defense, as it was a basis for the team.
Training in Corvallis before tryouts was just playing and trying to get back into shape after basketball. After I made the team, one of our assistant coaches, Jamie Nuwer, sent out mental and physical conditioning stuff. From there it was a lot of lonely track workouts at the CHS turf, pickup with the HS team and I played on a summer league team.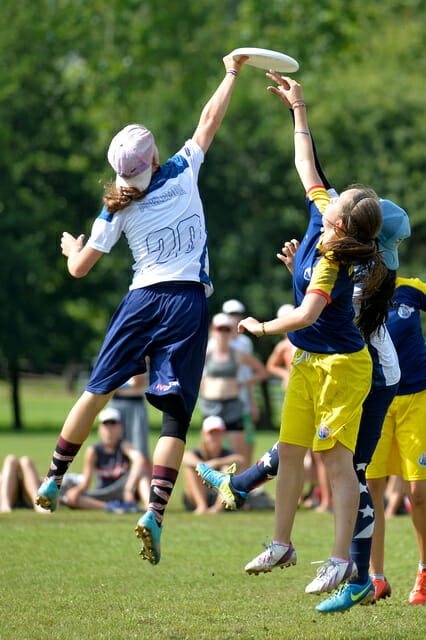 Kathleen: What was it like to work with a whole new team and coach?
Clea: I had only had 3 coaches in my entire career up to the point of worlds, where that number doubled with the actual coaching staff plus another two, Lane Siedor and DeAnna Ball. This team experience was very different from most, instead of a long, spread-out season to build as a team, we had 2 weeks of being together for basically 24/7. We did buddy groups on Skype or Google Hangout, but prior to playing in our first game at Worlds we had had a weekend in Seattle and a week in New York to really BE A TEAM, and after an experience like that it was weird to just leave it at "Someday I will see all of you in the same place again, but I have no idea when."
Being together for such a short time, there was a lot to learn quickly. We had to learn our offense (robot handlers) and defense and all the zone stuff and all our hand signals and called plays. Kyle had sent out a playbook for us to read before New York, but I am one of those people who learns by doing, so I had a pretty tired brain for the first couple days of training camp. Because it was so much different from a regular and seasoned team, I am not sure what to compare it to.
Kathleen: Any insider fun facts you can share about playing on the world ultimate stage? How did it differ from say, your high school competitive games?
Clea: The World has its differences with HS, but also some similarities. First of all, level of play was just higher. There weren't any teams thrown together with a bunch of newbies and people from different school just so that a few who really wanted to play could. Every team was well put together and everyone wanted to be there. At the HS level you also run into teams that have one or two players that are notably better than everyone else and they will just run the show.
At the Worlds level you still have those people who are better than others, but not the people that are just not there yet who you can poach off and not even worry about them getting it. There is a lot less knowledge about the other teams when playing at the world level, because it only happens every 2 years and teams change so much. There are always the top competitors (USA, Canada, Japan, Colombia), but there are many more wild cards. At the HS level you can know who graduated and what a team's scheme might look like, but unless you scout someone in their week at Worlds, you can't be certain what they bring to the table
Kathleen: What is your favorite memory from the experience (besides winning!)? Any cool experiences that you had with meeting other teams and such?
Clea: There was a lot of interaction with the other teams. While we didn't stay in the player lodging, during the rain delays during pool play everyone gathered in the big white tent. There were many games, including slack jaw, ninja and the disc stack one. It was such a great experience that it is really hard to pick just one favorite, but a few that come to mind are: our team meeting the night before finals where everyone had to express their feelings through a facial expression; the joke that Kyle and Moses told the same night; the talent show during our weekend in Seattle; and getting to play with instead of against all the ladies on the team.
Kathleen: What is your favorite position? Throw? Do you prefer mixed or women's?
Clea: I prefer to cut, but handle quite a bit too. My favorite throw is the IO look to that person standing wide open in the middle of the field or hammer, but backhand hucks are pretty great too. I think mixed is more fun than women's, at least in my experience (I know a lot of people who disagree) but women's is usually more competitive than mixed. I don't really think I could pick one. I just like ultimate.
Kathleen: If you could play on any team, which one would it be?
Clea: I am kinda lovin' the team I am on now…I think it would be fun to just play with a high level club team like Riot or Polar Bears.
Kathleen: We all have ultimate frisbee idols/people we admire. Do you have anyone in the ultisphere in mind? If so, why do you look up to them?
Clea: I haven't really seen enough ultimate to get a grasp on the great players at there. One person that comes to mind in Opi Payne of D.C.'s Scandal. She is a very dynamic and diverse player, and just fun to watch.
***
As for the future, Clea is looking to try out for the Oregon YCC team and Portland Schwa, Oregon's top women's club team. Oregon Flood made an epic return last year and took first place in Minnesota. As a junior, Clea says she is starting to think about potential colleges. Keep an eye out for this girl because she is one of many next generation ultimate players we're going to watch in the next ten years.