Franciscan is the obvious favorite, but there are some quality teams lurking in Pool A.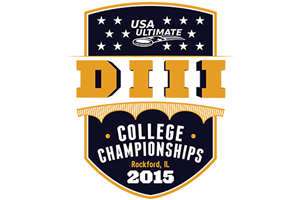 In only its second season Franciscan Fatal has risen to the top of the DIII ranks, while John Brown Ironfist regularly qualifies but has failed to make a big splash at Nationals. Middlebury is just two years removed from a National Championship but did not qualify in 2014 and only played in one tournament before Conferences. Davidson is a first-time qualifier but they're finally getting healthy and may play spoiler to someone's Saturday.
Franciscan Fatal
Franciscan Fatal has been the real deal this season. Coming into 2015, there was a level of excitement around the young upstart, but no one knew just how high their ceiling was. Even the team itself was unsure just how good it could be.
"So far we are 22-0 on the season and this is something we never expected," explained senior Patrick Flanagan.
The team has yet to lose this season but there were still some questions about their strength of schedule heading into the series. Fatal made quick work of the skeptics, dismantling the region and topping it off with a 15-8 thwomping of Messiah, a team that many thought should earn a strength bid for the Ohio Valley.
"Regionals was a great learning experience both positive and negative for us," said Flanagan. "For starters we learned we have a bad habit of slowing down the intensity when we think we have a game under control… On a positive note we were very dynamic with our throwing during all of the games."
While other top teams like Claremont, Geneseo, and Elon have found success through an experienced roster of upperclassmen, Franciscan has thrived with the help of some talented underclassmen. Freshmen Stephen Babcock and Dom Schuster have come in and made an immediate impact for Franciscan. Schuster, in particular, has become perhaps the team's go-to player — an amazing feat for a freshman.
Still, Franciscan is immensely talented from top to bottom. JP and Tony Bort, Jay Ratajczak, and Tommy Koch round out a group of six all-region players.
Fatal has played down their top seeding, making sure not to get complacent and play down to their opponents.
"We need to respect every opponent we face as if they are favored to win so we play to the best of our abilities every game. We have not faced a single team at Nationals, therefore we cannot assume we have the upper hand ever," explained Flanagan.
Despite their relative inexperience and only being in their second season as a club team, they know well what it's going to take to grind through the gauntlet that is Nationals.
"We need to come out hot and keep the same level of play until the last point if we want to have a chance to win."
John Brown Ironfist
John Brown Ironfist comes into the tournament as the 8 seed, some would say overseeded based on their regular season results. They took down Nationals qualifying Truman State twice this season as well as bid-earning Rice, but neither team has proven to be too ferocious on the national scene.
With a tough pool nipping at their heels, they'll rely on the stellar play of Matt Weeden and Drew Taylor to carry them through. Weeden commands the disc on offense, whether handling or making big plays downfield. He'll be one of the tougher covers in Pool A.
Aric Powers, Ethan Penner, and Kyle Dyer will also have to play well if this team hopes to hold seed and even advance past quarters. If Ironfist can get contributions across the board and not let close games get away from them early on, they may be able to hang in a tough pool.
Middlebury Pranksters
The 2013 National Champions are back at the big show with the same tough brand of ultimate and lovably sarcastic attitude.
When asked about their pool, the team replied via email, "Love our pool. I come from old wealth so my parents bought the school an infinity pool on the roof of our science building with a perfect view of the Adirondacks."
Expanding on their thoughts on Pool A, they said, "Well, the only team we know we cannot beat is Davidson because Steph Curry went there and Steph Curry is the NBA 2015 MVP so gg everybody, we will probably just forfeit that game."
Interestingly, the Pranksters only played in one regular season tournament but got their 10 games in, and played well enough to earn a bid for the Northeast. This wasn't always their plan but unforeseen circumstances lead them to only participate in DIII Easterns.
"We were originally signed up to lose to Tufts at New England Open, but the entire northeastern section of the country got really wet so that got canceled. We needed sanctioned games though so we tried to play in some tournament in Saratoga Springs but they got rained out too and it was moved to New Jersey," explained the Pranksters. "Then we tried to host Newer England Open at the Middlebury campus but everybody we invited was being a coward and they wanted to play in some dumb tournament down south."
With 10 games and a bid locked up, they went the way of Cincinnati and retained their bid instead of "losing to Elon for the third time anyway."
Regardless of their appearance, the team can really ball out on the field. They've taken down the tournament's 5th seed, SUNY Geneseo, as well as strong opponents in Fredonia, Bates, Williams, and Amherst.
They'll lean on Phil Chang, "the Dylan Freechild of DIII frisbee," as well as Sam Hage and his "primo blade hucks." Asa Julien is likely the team's best player and controls the offense for the Pranksters.
Look for them to make some noise this weekend.
Davidson DUFF
Davidson DUFF has finally reached Nationals for the first time in its 20-year history. Captain Kyle Taylor attributes it to the team's renewed mentality this season.
"At the beginning of the fall season, our captains laid out one major goal for the year: build a program. In pursuit of that goal, we have increased the number of practices, developed a cohesive training plan, and worked tirelessly to get younger players involved in the team," he explained.
The system has worked as Davidson took down a very strong Richmond team to advance to the championships in Rockford. However, the regular season did not always go the team's way. They finished just 4-13 heading into the series and it was not clear whether they could hang with the big dogs in the region.
"The words that come to mind as I think about our season are adversity and resilience," Taylor explained. "We were out-matched on paper at Queen City but put together some very strong results. We fought through six inches of mud and driving rain at Woodside, and played well at Easterns without some of our top players the next weekend."
Finally with a complete roster and equipped with star Mikeie Reiland, DUFF stormed into Regionals and had their statement win. The team took half 7-5 behind strong play from their O-line and never looked back. At 14-10 Reiland found Patrick Spauster deep for the win. The team did not get broken all game.
Reiland and Chris Peek push the pace for Davidson. Running out of a horizontal stack, they aim to move the disc quickly and change the point of attack. The chemistry of Peek and Reiland along with a solid offensive supporting cast will give teams a hard time. If their defensive line can generate breaks like they did against the Spidermonkeys, they can be a feisty four-seed.